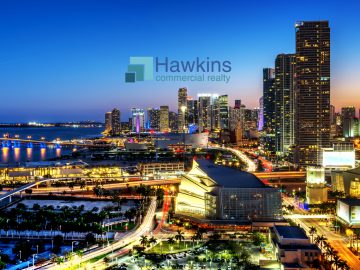 Moishe Mana spent $500 million on Miami's Flagler Street. Can he make his vision reality?
On a warm weekday afternoon, billionaire immigrant entrepreneur Moishe Mana, who took control of much of downtown Miami's tattered Flagler Street district in an eight-year $500 million buying spree, arrives to tour the first of his 70 properties to go into construction — the grandly named Nikola Tesla Innovation Hub — in soft Louis Vuitton loafers, no socks.
The 22 Tallest Towers Under Construction In Miami In 2022
Miami is now enjoying its greatest high-rise construction boom in history, according to our new list of the tallest buildings under construction in the city. There have never been as many 500 foot towers under construction in Miami as there are this year. For the first time ever, all 22 towers on this year's list of under-construction buildings surpassed the 500 foot mark.
Aby Rosen's RFR expands downtown Miami portfolio with $26M hotel purchase
In a four-month span, Aby Rosen's RFR Holding paid nearly $107 million for two adjacent downtown Miami properties, including a recent $25.7 million hotel purchase. An affiliate of New York-based RFR acquired the Yve Hotel Miami at 316 Northeast Second Street, also known as 146 Biscayne Boulevard, according to records. RFR paid $106,846 per key for the 241…
Altman wants to build 370-unit apartment project with grocer near Homestead
Altman Companies wants to build a 366-unit multifamily project with a shopping center near Homestead, amid the ongoing rush to develop rentals in the robust South Florida market. The Boca Raton-based developer is seeking to build Altis Palms on the southeast corner of Southwest 112th Avenue and Southwest 248th Street, and also just west of the Florida…
Miami overtakes Boston as third-priciest city for renters
As U.S. rents hit another new high in April, Miami edged out Boston as the third-most-expensive city to lease an apartment. Nationally, the median rent for a one-bedroom hit $1,410, the thirteenth all-time high in the past 14 months, according to apartment listing site Zumper's monthly ranking. In Miami, rental prices have been rising at a fierce clip. Only in March, the…
Rental Asset Management buys Little Havana apartments for $30M
Rental Asset Management paid $30.1 million for the First & Sixth apartment building in Miami's Little Havana neighborhood. The Oakland Park-based firm, through an affiliate, purchased the 13-story building at 35 Southwest Sixth Avenue from the developer, Eastern Atlantic Companies, according to records. The deal for the 100-unit property breaks down to $301,000…
South Florida's retail market rebounds from pandemic but could face inflation, Russia war challenges: report
South Florida's retail market rebounded from the pandemic-induced slump in the first quarter, as vacancies fell and rents rose, with Miami-Dade outperforming Broward and Palm Beach counties, according to a recently released report. Miami-Dade County had the lowest vacancy rate and highest asking rent of the three counties in the quarter, according…
Massachusetts investor pays $18M for Miami office building
Valero Capital Partners picked up a Miami office building for $18M, amid an uptick in South Florida sales in the sector. An affiliate of Lowell, Massachusetts-based Valero paid $218 a square foot for the nine-story, 82,298-square-foot building at 5040 Northwest Seventh Street, according to a press release. It is near Miami's Blue Lagoon business district and…
Northeast Capital Sells Miami Office Building for $18 Million
Valero Capital Partners has acquired 50Forty on 7th, an 82,298-square-foot medical and professional office building in Miami, from Northeast Capital Group, according to CommercialEdge information. The same data provider shows Northeast Capital Group had purchased the building in January 2021 for $14.5 million. During its 14 months of ownership, the firm renovated…
Melreese Major League Soccer stadium impact on airport still unresolved
A new Miami-Dade Aviation Department draft report to the mayor, to which Miami Today got access, points to unresolved potential impacts on Miami International Airport from a proposed soccer stadium, food and beverage stores, offices, a hotel, conference center, and other commercial uses to replace the Melreese golf course next door. The developers, retired…
Fed's Beige Book: Global Markets Affecting Southeast Energy Producers
Turbulent global energy markets are affecting oil producers and refiners across the Southeast, according to the Federal Reserve Bank of Atlanta's latest Beige Book survey of business contacts across the Reserve Bank's six-state region in the Southeast. Generally, business activity across all industries including energy expanded from mid-February through March.
City review narrowly recommends major Wynwood project
A developer plans to construct a major mixed-use residential project that will include new office space and nearly 40,000 square feet of commercial uses in the Wynwood Arts District. LIV WRK Wynwood is proposed for a site at 2400 and 2500 N Miami Ave. The project was considered April 20 by the city's Urban Development Review Board. In a rare split vote…
University of Miami vast development program speeds up
Changes to the physical plant of the University of Miami that are projected as multimillion-dollar developments continue after a pandemic hiatuses. After the university announced plans to build Centennial Village, a freshmen on-campus housing project on the Hecht Residential College site, in January 2019, work to demolish the property on site is to begin in May.
Three firms paid grants for moving to downtown Miami
Miami's Downtown Development Authority has approved funding three companies that would relocate to Miami and provide high-paying jobs. Two companies would receive grants from the authority of up to $50,000 yearly over three years under requirements of the Follow the Sun campaign, implemented in the fall of 2020, which incentivizes companies to relocate…
Courthouse repairs cost less, faster than inspection indicated
County courthouse basement repairs were faster than Miami-Dade authorities expected after consultant EXP U.S. Services Inc. determined following an extensive inspection last October that repairs to the 140-plus basement columns for an estimated $3.79 million were no longer necessary, two senior Internal Services Department officials confirmed to Miami…
Giralda Plaza dining experiment in Coral Gables came just in time
For nearly four years, Coral Gables' Giralda Plaza has been a closed to vehicular traffic since the completion of the Downtown Streetscape Project. The Giralda Plaza Streetscape has worked brilliantly since the beginning and helped to further mitigate the ravages of Covid-19, said Mark Trowbridge, president & CEO for Coral Gables Chamber of Commerce.
Esteban Bovo Jr.: Hialeah mayor looks to streamline development process
Esteban Bovo has a lifetime in public service. He became a Hialeah council member in 1998, was reelected various times and became council president. The accomplishment as a councilman of which he is most proud is legislation that bars sexual predators from a radius of schools and parks; then the county adopted its own legislation, superseding his initiative.
Developer, glorify thy neighborhood: Lissette Calderon launches Allapattah-centric magazine
The AllaWay magazine cover and photos of AllaWay Creative Director Maria Galli, Editorial Director Jenny Starr Perez and Publisher Lissette Calderon: How do developers market their projects and neighborhoods to boost interest? Lissette Calderon is going the literary way. Calderon launched a luxury lifestyle magazine about Allapattah, the once…
Condo insurers exit market and hike rates after lawmakers fail to pass safety reform
Insurers have become increasingly averse to issuing policies for aging condominiums in Florida following the state legislature's failure to pass safety reforms, despite the deadly Surfside collapse last year. Insurers are either retreating from the high-risk market or jacking up rates, leaving associations in a bind, the Miami Herald reported. The issue has…
Miami Office Property Transaction Volume Decreases YOY
Year-to-date through February, Miami's office market has seen a total of $100 million in transactions, according to CommercialEdge data. In the same period last year, sales volume reached $129 million, at an average sales price of $154 per square foot. Transactions have been slower in the Magic City than in all other gateway cities, registering the lowest amount…
Beacon nabs Kendall office building for $20M
Beacon Real Estate Group acquired a Kendall office building for $20 million, as the sector rebounds from the pandemic. An affiliate of the Coral Gables-based commercial real estate investment firm bought 117 Professional Arts Center at 11731 Mills Drive in southwest Miami-Dade County, records show. Beacon Real Estate, led by CEO Richard Kulick, paid $316 a square foot…
Harrison LeFrak headed for big-ticket divorce: report
The real estate industry is set to witness another mega-divorce. Harrison LeFrak, the billionaire scion of the LeFrak Organization, is reportedly set to split from his wife, Katherine Embiricos LeFrak, Page Six reported. The couple had a son in 2019 and married within the last five years. One insider told the publication the decision to part ways was Harrison&rs…
Clara Homes wins approval for 28-unit first phase of luxury rentals in Bay Harbor Islands
Miami-based Clara Homes won approval for the 28-unit first phase of a luxury apartment project planned in Bay Harbor Islands. Construction of the six-story, 28-unit Clara Bay Harbor building will start by August, Clara Homes founder James Curnin told The Real Deal. It will be the first of three planned buildings with a total of 150 apartments. The first phase is…
Major Food Group, developer detail plan for Miami skyscraper
JDS Development Group and Major Food Group have filed detailed plans for a Miami condo that could become the tallest building in Florida. It was first announced in December that The Major would rise 1,049 feet with 259 condos and an assortment of restaurants at 888 Brickell Ave. Recently, 888 Brickell Owner LLC, owned by JDS Development's Michael Stern, filed…
Turnberry, Carlos Rosso to develop condo tower at massive SoLé Mia in North Miami
Developer Carlos Rosso is partnering with Turnberry Development to launch a condo tower at SoLé Mia, a massive $4 billion mixed-use development in North Miami, The Real Deal has learned. The developers will begin accepting reservations for the building, called One Park Tower by Turnberry at SoLé Mia, in May, said Rosso, though brokers have been…
Miami-Dade May Move Its Resources Recovery Facility From Doral
Miami-Dade is looking to replace its Resources Recovery Facility, located in Doral since 1982, with a state-of-the-art waste-to-energy plant on the same or a different site. County commissioners approved a resolution directing the administration to develop and issue a request for information within 60 days for design criteria professionals to create a design criteria package…
Don Peebles on the hook for $800K in legal fees tied to Overtown lawsuit
Michael Swerdlow and Don Peebles along with a rendering of Block 55 in Miami's Overtown neighborhood: Don Peebles is on the hook for $800,000 for Michael Swerdlow's legal fees and costs tied to a lawsuit over the development of Block 55 in Miami's Overtown neighborhood. Miami-Dade Circuit Judge Michael Hanzman on Thursday ordered Peebles…
Investors score $36M loan to renovate Publix-anchored shopping center in Kendall
A Miami Lakes investment duo scored a $35.6 million loan for a major makeover of their Publix-anchored shopping center in Kendall. An entity managed by Michael and Spencer Friedman… CF Properties… owns Crossings Shopping Village, at 12955 Southwest 112th Street. Howard Taft, Charles Penan and Joel Zusman, with Miami-based real estate…
Lender takes control of The Collective's Wynwood dev site through foreclosure auction
The Collective lost its planned co-living development site in Wynwood to its lender through a foreclosure auction, The Real Deal has learned. New York-based Gamma Real Estate took control of the property at 166 Northwest 29th Street by placing a "credit bid," or an offer using its existing debt of $27.6 million, to win the UCC foreclosure auction on Wednesday, a…
Waterfront Brickell development site of planned supertalls sells for record $363M
A waterfront development site in Miami's Brickell traded for a record price of $363 million. An affiliate of Florida East Coast Realty, led by Tibor Hollo and his family, sold the empty lot at 1201 Brickell Bay Drive to a Delaware company. A Florida LLC with the same name as the buyer was created this month and is managed by Randall Davis with a Chicago address. 
Video: Consensus Strategies CEO Patrick Fox Discusses Zoning and Development Trends
Patrick Fox, CEO of Consensus Strategies, a company specializing in specializes in strategic advocacy and survey research services for leading corporate and institutional clients, joins America's Commercial Real Estate Show to discuss zoning and development trends all around the country for 2022. Discussion topics include strategies for building consensus…
Colombian developers score $55M construction loan for Edgewater apartment project
A duo of Bogotá-based developers scored a $55 million construction loan for a multifamily project in Miami's Edgewater neighborhood. Grupo Diana and Korner are building the 32-story Metro Edgewater with 279 units at 430 Northeast 31st Street, according to a news release from lender Madison Realty Capital. Melissa Rose and Jesse Wright of…
Miami's Mayor on the City's Growing Tech Sector
Miami Mayor Francis Suarez has an interesting perspective on COVID-19, after testing positive for the virus in March 2020. He was the first person in Miami-Dade County and one of the first elected officials to come down with the illness, thrusting him into the national spotlight to talk about the ongoing pandemic and how the city was responding to the crisis.
Demand driver: Grosman family plans to expand Hollywood rental complex
The owner-operator of a Hollywood multifamily complex dusted off its old plan and won renewed approval to expand the property to 277 units, as demand for apartments heats up across South Florida. Nautilus Apartments, a two-building, 193-unit rental complex at 3500 Washington Street, in the Hillcrest area of Hollywood, is set to grow by 84 units.
Lease roundup: Charles Cohen's DCOTA scores 11 new tenants for 100K sf combined
Medtronic, PropertyForce, Bitty Advance and more I DCOTA | Dania Beach Charles Cohen's Design Center of the Americas office and showroom complex in Dania Beach scored 11 new office tenants for a combined 100,057 square feet. Cohen owns DCOTA through his New York-based Cohen Brothers Realty Corporation of Florida. Five tenants to…
Italian developer plans 180-unit apartment project in Hollywood
An Italian developer closed on the site of a planned Hollywood apartment project, adding to a growing pipeline of multifamily developments in South Florida. Coral Gables-based Calta Group, led by founders and brothers Ignazio and Gaetano Caltagirone, and Managing Partner Igor Blatnik, paid $9.5 million for the 1.6-acre property at 2215 Hollywood Boulevard…
Catalfumo to launch sales of luxury condos on waterfront site in Palm Beach Gardens
Developer Dan Catalfumo plans to launch sales in June of a waterfront Palm Beach Gardens luxury condo project in Palm Beach Gardens, where units will begin at about $4 million. Palm Beach Gardens-based Catalfumo Companies plans to develop Landing at PGA Waterway on the 11-acre property south of PGA Boulevard along the Intracoastal Waterway…
Montreal investor pays $20.5M for Palm Beach County assisted living facilities
A Montreal-based firm specializing in health care real estate bought a pair of assisted living properties in Palm Beach County for a combined $20.5 million An affiliate of Comprehensive Care Capital (CCC) acquired the 125-unit Banyan Place at 2950 Northwest Fifth Avenue in Boca Raton for $16.4 million, according to records. The buyer, led by Managing Principal…
BGI scores $82M construction loan for luxury condo project in West Palm Beach
BGI Companies' Kenneth Baboun, a rendering of Alba Palm Beach and Trez Capital's Ben Jacobson BGI Companies landed an $82 million construction loan for a waterfront condo tower planned for West Palm Beach, as more developers enter that market, The Real Deal has learned. BGI Capital's Robert Barthelmess Miami-based BGI secured the financing for…
It's fun to buy the YMCA! Mast Capital JV pays $10M for Palm Springs center as multifamily dev site
A Mast Capital-led joint venture paid $10 million for an 18-acre YMCA property in Palm Beach County with plans to redevelop the site into an apartment complex. Coconut Grove-based Mast Capital, in partnership with Fort-Lauderdale-based The Spear Group and Boston-based Rockpoint Group, wants to build 11 three-story buildings with 264 class A…
Fuller, Pinilla make Palm Beach County debut with shopping center buy
Bill Fuller and Martin Pinilla's Barlington Group entered Palm Beach County, paying $14.4 million for a shopping plaza. Barlington, through an affiliate, bought The Market Place in an unincorporated part of the county between Wellington and Greenacres, according to the buyer. The seller is J.J.D. Associates of Palm Beach Limited, tied to…