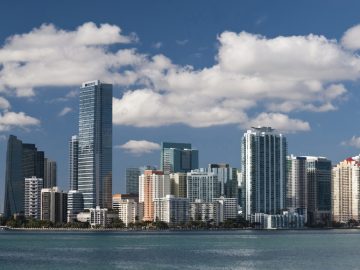 Homestead salmon farm reels in $210M construction loan
An under-construction salmon farm in Homestead just reeled in $210 million in refinancing. Atlantic Sapphire secured the construction loan for the four-phased development at 22275 Southwest 272nd Street from DNB Bank, according to a spokesperson for Holland & Knight. Attorneys Alberto Hernandez and Elena Otero and associates Faisal Kraziem, Brittany Fox…
Private Equity Investor Looking To Buy Up To Half Billion Dollars of Distressed Loans
Since 2005, Miami Beach-based Safe Harbor Equity has been purchasing distressed, nonperforming loans secured by real estate, usually in the $2M to $20M range, usually from regional and community banks. Last May, the private equity firm announced it was raising a $100M fund to pick up more distressed assets. With that, it began… Managing Director Rafael Serrano…
Miami Workforce Housing Exec: 'I Don't See Rental Rates Dropping'
Economic downturns are also called "corrections" for a reason — they enable peak-level prices to come back down to a reasonable level. Given its scope, one might expect the coronavirus crisis to harshly correct Miami's long-rising prices. But workforce housing developers in Miami doubt rents will drop, because their own costs remain high and tenant demand…
Owner of CMX Cinemas files for bankruptcy, hopes to get help from landlords
The owner of the movie theater chain CMX Cinemas filed for bankruptcy due to the financial impacts of coronavirus. Miami-based Cinemex Holdings USA filed for Chapter 11 bankruptcy on Saturday in Miami. The company is owned by Mexico-based Grupo Cinemex SA de CV, which controls CMX Cinemas with 41 locations in the Midwest, Northeast and the South…
Miami-based Theater Chain Files for Bankruptcy
Cinemex Holdings USA, Inc. and Cinemex USA Real Estate Holdings, Inc. filed for bankruptcy protection and reorganization under Chapter 11 of the U.S. Bankruptcy Code in Miami, where the companies are based. It is reportedly the first theater chain, or retailer, to file for Chapter 11 as a result of the COVID-19 pandemic. The company indicated the filing will…
Past the pandemic: Rockefeller family, partnered with Miami company, pitches global luxury development projects
It may seem like a bad time to pitch a series of luxury lifestyle development projects around the world. But SixRock Group — a Rockefeller family-led real estate services firm — believes the global coronavirus crisis has created opportunity for low-cost land and construction deals. It has partnered with Miami-based Brands Lab International to make a push…
Pressure Mounts To 'Commandeer' Hotels For Coronavirus
Homelessness in the U.S. was already at crisis levels before the coronavirus hit. When it did, some cities began arranging for people experiencing homelessness to stay socially isolated in empty hotels. Fort Lauderdale has been doing the opposite. In March, city commissioners voted to crack down on the homeless, moving to extend a ban on camping, which now covers…
Fed "not in any hurry" to raise interest rates: Powell
The Federal Reserve won't push up interest rates any time soon, the central bank's chairman said Wednesday as the U.S. economy shrank the most in over a decade. The Fed's Federal Open Markets Committee said it was keeping the range of its benchmark interest rate between 0 percent and 0.25 percent after slashing rates twice in recent weeks as part of sweeping…
Ritz-Carlton Residences Sunny Isles developers pay off $212M loan
The developers of the Ritz-Carlton Residences, Sunny Isles Beach paid off their $212 million construction loan after shifting to virtual sales over the last month. Fortune International Group and Château Group paid off their lender, Little Rock, Arkansas-based Bank OZK, which provided the loan in September 2016. The 52-story, 209-unit luxury condo tower was completed…
Gio Midtown Opens During Pandemic: 'Going Great, All Things Considered'
The 39-story, 447-unit Gio Midtown was built to be one of Miami's trendiest new apartment buildings. There's a fifth-floor pool deck, a 4,500 SF gym, a basketball court and a Himalayan salt room. After 31 months of construction, the building at 3101 Northeast First Ave. began leasing in January, with studios starting at $1,695 per month and three-bedrooms…
Here's how South Florida's office market is changing in the coronavirus era
Developer Avra Jain, one of the first believers in revitalizing dilapidated motels in Miami's MiMo neighborhood, is used to taking chances. And now, despite a widespread belief that the workplace will change post-pandemic, she's still betting big on the office market. Jain is pushing forward with plans to build a major mixed-use project on the Miami River – anchored…
Simon will use tech to track occupancy for mall-reopening strategy
Simon Property Group intends to reopen 49 malls in 10 states across the country, and has a detailed plan that includes deploying tracking technology to welcome shoppers while adhering to prescribed safety measures. The giant mall REIT will start opening its shuttered shopping centers on Friday, according to the New York Times, which obtained…
Miami Hotelier: Numbers Won't Bounce Back Until '2023 At The Earliest'
Miami saw record tourism numbers when it hosted the Super Bowl in January, and February was likewise gangbusters for the hospitality industry. Then coronavirus hit. "We lost about 30% of asset values overnight," said Miami investor and developer Robert Finvarb during a Bisnow webinar Thursday. His Robert Finvarb Cos. owns a portfolio…
Miracle Mile gears for a new bounce-back
Even before the Covid-19 health crisis crippled the economy, from a global to a hyper local reality, Miracle Mile – the commercial soul of Coral Gables – was dealing with vacant storefronts and other challenges. But even in the face of unknown factors brought on by the pandemic, business leaders and officials are striving to proclaim positivity. The message is: The long-term…
Plans for Metrorail line headed north may be going south
At least one prominent Miami-Dade official is having second thoughts about pursuing a northern Metrorail extension, citing figures from a new report that favor two cheaper, easier alternatives. County Commission Chairwoman Audrey Edmonson said she saw "nothing but issues" with building new Metrorail, which transportation decision-makers here…
A safe bet: South Florida's industrial market could boom after pandemic
Industrial developer Jose Hernandez-Solaun of The Easton Group has seen Amazon spur the rise of e-commerce over the last few years. But now, he sees the coronavirus pandemic rapidly ramping up that growth — putting it on steroids. "What we are finding now is the coronavirus effect," said Hernandez-Solaun. "If the Amazon effect was strength training, this was…"
Opinion: The future of commercial real estate
The world of commercial real estate is getting turned upside down by the coronavirus pandemic. We're seeing the first signs of stress in the industry as clients are seeking to move out of office spaces they can no longer afford and the number of accounts receivable ticks up. While some semblance of normality could return by early next year, there's likely to be a lot of pain…
Restaurateurs have ideas on how to get cooking again
Who isn't longing for a meal at a favorite eatery? Michael Stillman of Quality Branded — the restaurant group behind Quality Meats, Park Avenue and Smith & Wollensky New York — is craving a meal at classic Upper East Side Italian restaurant Elio's. Bill Bondrest, COO of TAO Group, is missing the food at any of the hospitality company's many restaurant…
AOC claims rent strikers have no choice
Rep. Alexandria Ocasio-Cortez — progressives' rock star from New York — threw her support behind rent strikers Monday. In a virtual town hall hosted by New York tenant coalition Housing Justice for All, Ocasio-Cortez called for Gov. Andrew Cuomo to cancel rent and mortgage payments at the state level and expressed support for those who do not pay rent because…
Where can Haim Chera take Vornado's retail business?
The retail apocalypse delivered a one-two punch to Vornado Realty Trust last year when a pair of its largest retail tenants filed for bankruptcy. The first came in May 2019, when British apparel company Topshop announced it was closing all of its U.S. stores, including two locations, on Fifth Avenue in Midtown and Broadway in Soho, owned by Steven Roth's publicly…
Warning: An Ownership Pledge In a Mortgage Transaction May Be Dangerous
Over the last few years, certain nontraditional lenders and a few banks have asked for a pledge of the ownership interest in borrowers as additional security to their mortgage on the property. The typical reason provided is that this allows the lender to avoid a long and costly foreclosure if the borrower fails to make its mortgage payments. While the above is…
The federal government was launching round 2 of the paycheck protection program to aid small businesses, but the SBA's computer system was experiencing glitches at times on Monday. The money also was expected to run out quickly. There was widespread unhappiness with the first round with some major companies returning money after negative publicity.
Office landlords finding out which tenants are paying up during lockdown
Public office landlords are starting to report their first-quarter earnings — and investors and analysts are paying close attention to just how much rent they were able to rake in as tenants like law firms and advertising companies complete nearly a full month of working remotely. Empire State Realty Trust — whose biggest property is the Empire State Building…
Tom Barrack says RE industry verging on collapse over rent, mortgage waivers
The country's real estate market is in chaos and on the verge of collapse. That's according to Colony Capital CEO Tom Barrack, who said the industry was in such dire straits because the government is letting renters and homeowners skip payments due to the coronavirus. He made his comments in an interview with Bloomberg Television Friday. Lenders and landlords…
Nation's richest ZIP code, that of Fisher Island, received a $2M PPP loan. Now its HOA is deciding whether to accept it
Fisher Island's homeowners' association was approved to receive a $2 million loan through the federal government's Paycheck Protection Program, and now the association is asking its residents whether it should accept the funds. The $349 billion PPP program was created by Congress to help small businesses, providing loans of up to $10 million to cover rent…
CARES Act Offers Help for Investors, Small Businesses
As we go through the coronavirus crisis, we are all, first and foremost, concerned about the health of our loved ones and communities. But the economic implications of the virus have also weighed heavily on our minds. However, if you're an investor or a business owner, you just got some help from Washington – and it could make a big difference, at least in the short…
J.C. Penney in talks for $800 million plus bankruptcy financing
J.C. Penney is in advanced talks for bankruptcy financing as it faces financial pressure from the coronavirus pandemic. Struggling retailer J.C. Penney is in advanced talks with its lenders to reach a bankruptcy agreement. The department store chain is in discussions for a debtor-in-possession loan between $800 million and $1 billion with its lenders…
City of Miami could provide $2M in rent, utility assistance in May
The city of Miami could offer rent and utility assistance to residents who lost their jobs, starting as early as May, possibly becoming one of the first cities in the U.S. to do so. Mayor Francis Suarez announced the program during a virtual press conference on Friday. It's subject to city commission approval at a meeting next week. Using federal money, the city would…
Major South Florida Lendar Bank OZK's Q1 earnings fall 90%, but sees lending opportunities ahead
Bank OZK, one of the most active construction lenders in Miami and New York, is bracing for losses from the coronavirus pandemic, but says that it sees opportunities ahead as competitors back out of the market. Little Rock, Arkansas-based Bank OZK reported its first quarter earnings on Friday, and increased its provision for credit losses to $117.7 million, up from $6.6…
Emerald Construction sues for $4 million in unpaid work at South Beach Kimpton hotel
A month after Ronny Finvarb completed a Kimpton Hotel in Miami Beach, a general contractor is accusing the developer of skipping out on more than $4 million in unpaid construction work. Hollywood-based Emerald Construction Corp. sued Finvarb's Sobe Alton LLC for nonpayment… The Kimpton Hotel Palomar South Beach at 1750 Alton Road opened in early…
China City's Brickell development site under new ownership
A full block of vacant land in Brickell is under new ownership, court records show. The development site, at 1420 South Miami Avenue, was previously owned by CCCC International USA, an affiliate of China City Construction Holding Group Co. It is now controlled by entities tied to Rega Group, a California developer. The land has been vacant since before…
'We're going to have to redesign everything': Flex-office heads discuss industry's survival
When we finally leave our apartments, pale and scruffy after months at home, what will going back to work look like? It's a concept that feels far off in a city like New York, but it's a daily consideration for the leaders of flex-office companies, who are trying to reshape their businesses to reach the next wave of workers — a cohort likely to be hyper-alert about density…
Releated CEO Jeff Blau predicts "wave of defaults" on commercial and hotel loans
Related CEO Jeff Blau says he anticipates there will be a wave of defaults on commercial and hotel loans as the implications of the pandemic become clearer. In an interview with Bloomberg this week, Blau said that with the beginning of May looming, landlords are again wondering what will happen with rent payments. "Landlords use those rents to pay their…
Blackstone: "We don't need financing to get things done"
BlaBlackstone wants investors to know that it is ready to pounce on investment opportunities. In a first quarter earnings call Thursday, the company reported a net income loss of $2.6 billion — or $1.58 per share — but highlighted the ample dry powder it's ready to deploy. Distributable earnings were $557 million…
Architecture firm billings suffer record drop in March
Billings from architecture firms plummeted in March at a rate not seen in 25 years. The Architecture Billings Index dropped 20.1 points in March to a score of 33.3. Any score below 50 represents a decline. "This is by far the largest single month decline the index has seen in its nearly 25-year history, far surpassing the declines of 9.4 points seen at the start of the 2001…"
Remember that Casino Project in Edgewater? Saga Continues as Perez takes Legal Action
Famed local developer Jorge Perez, CEO of The Related Group, has taken his opposition to an approved Miami casino and jai alai fronton in Edgewater up a notch. The namesake behind the Perez Art Museum Miami (PAMM) joined forces with Norman Braman, owner of the Braman car dealership chain, along with two Miami neighborhood homeowner associations to file a lawsuit that aims to block a settlement agreement between the owner…
Fannie, Freddie will buy loans in forbearance — for a pricey fee
Struggling mortgage firms have been thrown a lifeline. The Federal Housing Finance Agency announced Wednesday that firms saddled with loans they would usually offload can now sell them to Fannie Mae and Freddie Mac. "Purchases of these previously ineligible loans will help provide liquidity to mortgage markets and allow originators to keep lending," Mark Calabria…
Can You File a Business Interruption Insurance Claim to Survive COVID-19?
Does business interruption coverage provide protection during a pandemic? As commercial property owners and their tenants continue to seek new ways of coping in a COVID-19-weary world, they are looking at ways to recoup some of the losses incurred as a result of preventative shutdown and isolation measures. The post Can You File a Business… Interruption Insurance Claim to Survive COVID-19? appeared first on Commercial Real Estate South Florida….
Video: Integra CEO Anthony Graziano Discusses Their Viewpoint 2020 Reports: Office; Retail; Industrial; Multifamily; Hospitality
The CEO and Chairman of Integra Realty Resources, Anthony Graziano, appears on a commercial real estate show to discuss his firm's (Integra's) annual Viewpoint report. Topics include economist's perspective on the economy, local and national market growth, and expected performance for the major commercial sectors. This is presented in two parts, the first concentrating more on office, retail, and industrial properties…