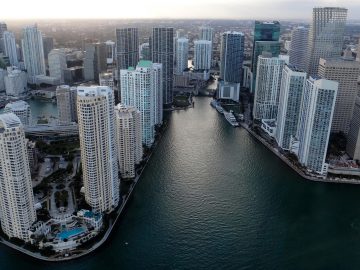 Miami's Blue Lagoon Has 888 Apartments, 294 Hotel Rooms Coming
The turquoise Blue Lagoon swimming hole in Jamaica is stunningly picturesque. Miami's Blue Lagoon, just south of the international airport, is, uh, slightly less so, surrounded by boxy office buildings and efficient business hotels. That's changing, though, as Miami last week approved a plan for 888 mixed-income apartments, plus another 294 hotel rooms.
Major mixed-use project in Allapattah scores first commission approval
A major mixed-use project with thousands of co-living apartments in Miami is one step away from fully moving forward. The Miami City Commission voted on Thursday to approve Robert Wennett's Miami Produce Center special area plan on first reading. The proposed 1.4 million-square-foot development would be built in Allapattah, a neighborhood east of Miami International Airport and west of Wynwood.
Joint Venture Delivers 294-Unit Apartment Community in Miami
A joint venture between Adler Group, 13th Floor Investments and Barings LLC has delivered Motion at Dadeland, a 25-story, 294-unit apartment community in Miami's Dadeland submarket. The joint venture also teamed with Miami-Dade County Department of Transportation and Public Works to deliver the asset. Motion at Dadeland offers studio, one-, two- and three-bedroom floor plans and…
Miami is the most rent-burdened city in the country: report
More than a third of Americans are considered rent-burdened, meaning they spend at least 30 percent or more of their monthly income to pay for rent. A new report from Freddie Mac shows the most expensive cities aren't always at the top of the list. Miami ranked as the most rent-burdened of the top 50 metro areas in Freddie Mac's report. It was followed by San Diego, Los Angeles, New York and…
365K SF Lease Renewed in Miami's Airport North Submarket
CEVA Logistics has signed a long-term lease renewal with Clarion Partners for the entire 364,608-square-foot industrial building in Miami's Airport North submarket. A Transwestern team comprising Executive Managing Directors Ben Eisenberg and Walter Byrd, Managing Director Thomas Kresse and Vice President Carlos Gaviria negotiated the lease on behalf of the landlord, while CBRE Senior Vice…
South Dade Transitway developer may be on board this year
Miami-Dade could pick a firm to develop "gold standard" bus rapid transit on the South Dade Transitway by year's end, Transportation Director Alice Bravo says. "That's our goal," she told commissioners Daniella Levine Cava, Dennis Moss and Xavier Suarez at a transportation fiscal priorities meeting Monday. The 20-mile transitway last year became the first of six corridors targeted for upgrades…
Miami seeks expert to negotiate with David Beckham team
Miami commissioners have agreed to hire a third party to assist city administrators in their negotiations with the David Beckham group for a long-term lease of city-owned property adjacent to Miami International Airport. The deal, if approved, would turn the Melreese Golf Course into a sweeping commercial development anchored by a Major League Soccer stadium. The controversial matter has led some…
Miami OKs its first legislation to protect from sea level rise
The Miami City Commission made history March 28 by approving the city's first piece of legislation related to protections from sea level rise. The move to add resilience methods into the Miami 21 zoning code was met with support from environmental organizations, community leaders and from residents who say the City of Miami is Ground Zero for sea level rise and climate change concerns.
No Ferris wheel for Maurice A. Ferre Park
There will not be a Ferris wheel erected at Maurice A. Ferré Park on the City of Miami waterfront. That was the clear message from city commissioners March 28. Will city rules be changed to allow a Ferris wheel at Bayside Marketplace, a large open air mall of stores and restaurants on leased city-owned land? Maybe. Commissioners directed the city Planning Department to go back to square one in…
Melo Group nabs $63M loan for Miami Plaza apartments
Melo Group closed on a construction loan for Miami Plaza, a 36-story tower in Miami's Arts & Entertainment District, property records show. BB&T Bank is the lender on the $62.7 million loan for the property at 1502 Northeast Miami Place. The project, planned to have 437 apartments and 7,000 square feet of ground floor commercial space, broke ground in March, Carlos Melo previously said. Miami Plaza…
CIM Group scores $71M loan to build Wynwood Square
CIM Group scored a $71.2 million construction loan to start building its 12-story Wynwood Square mixed-use project. The Los Angeles-based company secured the loan from Sumitomo Mitsui Banking Corp., one of the largest Japanese banks, records show. Wynwood Square will include 241 apartments, 60,290 square feet of office space, 27,212 square feet of retail and 481 parking spaces. The project…
Home sale prices in Opportunity Zone jump 25%
With government officials projecting that more than $10 billion in private capital will pour into federal Opportunity Zones, real estate values in those areas are expected to jump. According to one study, so far they're right. Home sale prices of residential properties in designated Opportunity Zones rose by more than 25 percent over the past year, according to the new Zillow report. Created as part…
Brazilian developer, contractors facing wrongful death lawsuit over Miami Beach building collapse
The family of a project manager who was killed after a Miami Beach building unexpectedly collapsed last year is suing the developer and construction team behind the demolition, citing a wrongful death. Judith Anne Landis filed a lawsuit Monday against AlliedBean Demolition, Alan Wackes, Miami Beach Associates LLC, AA Demolition Management, Safety & Risk Solutions, and MREAM LLC, the latter…
Keller Williams franchise owners buy Doral office building
The local owners of a Keller Williams Realty franchise paid $5 million for an office building in Doral, with plans to add agents and create a training facility. KW Doral Property LLC, led by Louis Erice, bought the 19,166-square-foot building at 10900 Northwest 25th Street for $261 per square foot. Jeffrey Roa, co-owner and managing director of commercial sales for the franchise, Keller Williams Realty…
Metronomic expands to Miami's Upper East Side
Developer Ricky Trinidad is tapping into Miami's Upper East Side neighborhood with three boutique apartment projects in the works and more planned. Trinidad's Metronomic recently closed on three development sites in the area, where the company plans to build Shorecrest Place, Bayshore Point and Metronomic Place Dos, with a combined 49 units. The sites are near North Bay Village, where…
For more than a year, nearly 850 construction workers have been furiously transforming 27 acres of once-abandoned lots in downtown Miami into one of the biggest developments in city history. Within the sprawling $4 billion Miami Worldcenter project, work crews have completed a 444-unit rental apartment tower called Caoba while putting the finishing touches on the 60-floor luxury condominium…
CA Ventures pays $21M for site of student housing project near University of Miami
Chicago investment firm CA Ventures paid $21 million for an assemblage of properties near Coral Gables, where it's planning to build a student housing development. Property records show 5830 SW 57th Ave LLC paid $15 million in a bulk purchase for the Cloisters at the Gables, a 79-unit condo complex at 5810, 5830 and 5840 Southwest 57th Avenue. The CA Ventures affiliate also paid $6 million for the…
New investor values to-open-hotel-in-Miami CitizenM at $2.6B
Singapore's sovereign wealth fund has acquired a 25 percent equity stake in CitizenM, a chain of 15 boutique hotels based in the Netherlands. CitizenM said the undisclosed investment gives the hotel company an enterprise value of €2 billion, according to the Financial Times. Founded in 2008, CitizenM targets business travelers seeking short stays and was the first hotel company to list…
Miami city commissioners approve rezoning for mixed-use Blue Lagoon development
Miami city commissioners approved a rezoning that would permit a mixed-use development in the Blue Lagoon area just south of Miami International Airport. The rezoning proposed by the Weiss Group of Companies raised the development site's maximum building height from eight to 12 stories… to develop 888 apartments and 294 hotel rooms in the area of 4865, 4875 and 4885 Northwest 7th Street.
FIU plans to build hotel as part of $66M project
FIU will build a hotel, alumni center and conference center on its main campus as part of public-private partnership. The $66 million project in Sweetwater will include a 13,700 square-foot alumni center, 33,000 square feet of meeting space and a 150-bed hotel. It will be privately funded, and is expected to open by the fall of 2021, according to a release. The meeting space will host academic, research…
Project manager sues China-based developer over abandoned Brickell tower project
The project manager of a planned major mixed-use tower in Brickell has sued the developer, claiming breach of contract on a property that has remained vacant more than four years after it was acquired. The project manager, American Da Tang and its CEO, Shanjie Li, are suing CCCC International USA, a subsidiary of Beijing-based China City Construction Holding…
Former Collection Residences site in Coral Gables will become luxury senior living
The former site of the planned high-end luxury condo development, The Collection Residences in Coral Gables, will soon become senior housing. Baptist Health South Florida and Belmont Village Senior Living are partnering to build a luxury senior living facility at the 2.8-acre site at 250 Bird Road, according to a press release from HFF. Baptist Health recently closed on the site in January for $37 million.
Robert Zangrillo is no longer involved in Magic City Innovation District
In the hours before a Miami commission meeting Thursday to decide the fate of the Magic City Innovation District in Little Haiti, confusion reigned as to whether the $1 billion project's primary investor Robert Zangrillo — who was charged in the recent college admissions scandal — was still playing a leading role. MCD Miami LLC, the partnership developing the project, notified city commissioners on…
Former Ecuadorian official accused in bribery scandal has ties to SoFla properties
As South Florida real estate has long…  an investigation reveals the family of a disgraced former Ecuadorian official, Carlos Polit, has ties to three Miami area properties. They include: 1830 Coral Way: A small office building, bought for $1.8 million in 2013; 1902 Southwest 22nd Street: An office building near downtown Miami, purchased for $2.67 million in June 2016.
South Florida construction starts plummet in February
South Florida construction starts plummeted for the second straight month. Total construction starts declined 63 percent on a year-over-year basis in February to $589 million, according to a new report by Dodge Data & Analytics. Commercial real estate saw the biggest drop, falling 78 percent to $190.1 million, while residential starts declined 43 percent to $399 million. While monthly housing starts reports…
Coral Gables changes direction on Allen Morris and Related's mixed-use project
The Coral Gables City Commission has a new plan for one of its city-owned garages near Miracle Mile. The commission voted on first reading on Tuesday to build a replacement for the Garage 1 at 245 Andalusia Avenue, giving itself three years to build a 750-space garage. If, after three years, the city doesn't develop the garage, the city would move forward with the previous proposal from Coral…
Baywood scores $17M construction loan for Hilton near MIA
An entity affiliated with Baywood Hotels closed on a $16.6 million construction loan to build a 134-room hotel near Miami International Airport. Baywood Hotels is planning to build a Home2 Suites by Hilton on a 83,200-square-foot lot at 8852 Northwest 26 Street in Miami. The developer secured the loan from Ocean Bank, a Miami-based community bank that is one of South Florida's most active…
South Florida's top 5 office sales for February
Bridge Investment Group paid $74.3 million for Sawgrass Technology Park in Sunrise. A joint venture between funds managed by Oaktree Capital Management L.P. and Fifteen Group sold the 11-building office park at 1601 Northwest 136th Avenue. Chris Lee, José Lobón and Marcos Minaya of CBRE represented the seller. SR Technology is one of the major tenants at the office park. The software company…
AirbnBuzz kill: An intensified crackdown on short-term stays is hurting Miami Beach home sales, local brokers say
Two years ago, Natalie Nichols was getting unsolicited cash offers north of $1.7 million to buy her waterfront home in Miami Beach's Sunset Islands neighborhood. She stood to make at least $500,000 on any potential deal. However, the Miami Beach resident and real estate investor wasn't interested in selling the two-story residence, which features four bedrooms, three bathrooms, a pool with a bay…