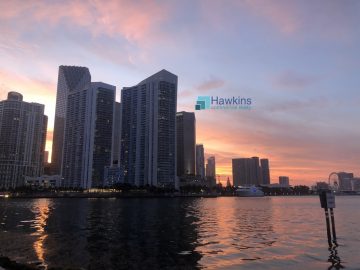 Related, 13th Floor offer $500M for aging, oceanfront Miami Beach Castle Beach Club condo building
Owners of an aging, oceanfront condo building in Miami Beach who banded together late last year in hopes of finding a bulk buyer have their wish granted. The Related Group and 13th Floor Investments offered $500 million to buy out the owners of Castle Beach Club, a roughly 18-story, 570-unit condominium at 5445 Collins Avenue. Now it's up to the owners…
Lawsuit aims to stop controversial Grove Isle project now developed by Ugo Colombo
A group of residents sued the city of Miami in an effort to stop the controversial Vita at Grove Isle condominium development, now spearheaded by Ugo Colombo. Colombo, founder of CMC Group, is developing the six-story, 65-unit luxury project on part of Grove Isle. The 20-acre island is just off Miami's Coconut Grove neighborhood and is…
Vivian Dimond, partners acquire Ross-anchored building on Lincoln Road from lender
Developer Vivian Dimond and her partners acquired a retail building on Lincoln Road from the property's lender for about $30 million. Synovus Bank sold the note at an undisclosed discount to the Dimond's 230 Lincoln MB Title LLC, she said. Her company also obtained the deed to the property at 230 Lincoln Road and financed the purchase with a $19.6 million…
Suffolk sued for allegedly bilking PortMiami terminal subcontractor out of $2.6M
Suffolk Construction's CEO and chairman John Fish in front of 905 South America Way: Suffolk Construction is accused of shortchanging a subcontractor on PortMiami's newest terminal by $2.6 million. Suncor, a structural steel fabricator, sued Suffolk for withholding payment, including for extra expenses accrued because the plans Suffolk provided were…
Parking mogul Andrew Mirmelli and partner pick up South Beach garage for $20M
Miami Beach parking mogul Andrew Mirmelli is scaling up his operations with the $19.6 million acquisition of a seven-floor garage. Entities managed by Mirmelli and his business partner Shawn Vardi bought the parking structure at 237 20th Street in the city's South Beach neighborhood, according to records. The buyers obtained a $13 million loan from…
Feds seek seizure of Coral Gables condo, Miami office building tied to alleged Odebrecht bribery scheme
Authorities are seeking the forfeiture of three properties allegedly tied to the bribe money. They are: Unit 702 at Merrick Manor at 301 Altara Avenue, a Miami office building at 1902 Southwest 22nd Street, and a vacant site at 1010-1030 Northwest Ninth Court, north of the Miami River. The 1,107-square-foot Merrick Manor condo has three bedrooms and two baths…
Wash, rinse, repeat: How money launderers exploit real estate
In early March, Lakshmi Kumar got a chance to tell Sens. Chuck Grassley and Sheldon Whitehouse that crooks across the globe were taking the U.S. to the cleaners. She didn't miss it. Kumar, the policy director at watchdog group Global Financial Integrity, told the powerful lawmakers that Congress had failed to close the loophole…
Garage bid offers Miami Beach parking plus windfall
An unsolicited proposal to redevelop a parking garage on 13th Street and Collins Avenue that promises to quadruple revenue after a ten-year period has sparked interest from the City of Miami Beach. Location Ventures – which is currently developing a $60 million co-living, co-working building on Washington Avenue called URBIN – proposed to the city, in an…
Miami voters to weigh in on century-long Riverside Wharf lease
City of Miami voters will get a second chance to weigh in on a vast mixed-use downtown project at an August special election that would add a luxury hotel and a site lease up to a century. In December, MV Real Estate Holdings, along with Driftwood Capital, announced Riverside Wharf, a hospitality-driven entertainment complex on the historic Miami River. The public…
Coral Gables sidelines plans for bonding for youth center, parks
Coral Gables commissioners agreed last week not to place on the November general election ballot a $60 million bond referendum that would have financed construction improvements for the War Memorial Youth Center and Phillips Park. Instead of letting voters decide on the construction project, city officials preferred staff to come back with improved…
Miami signs deal to develop Advanced Air Mobility
It's a bird. It's a plane. It's an electric air vehicle! Did someone say flying car? Supernal, a fledgling smart mobility service provider, has reached an agreement with the City of Miami to enable development of advanced air mobility, or AAM. Supernal announced it signed a Memorandum of Understanding with the city to create a comprehensive engagement…
June contract due for final stretch of Underline
The team guiding the Underline, a 120-acre park stretching 10 miles underneath Miami's Metrorail, expects to award a contract in June to create the final and longest phase of the project, the seven miles from Southwest 19th Avenue to the Dadeland South Metrorail Station. That stretch of the fully-funded $140 million project is now under a Miami-Dade County…
North Miami Beach orders unsafe bayfront apartment building evacuated
North Miami Beach declared a bayfront apartment building unsafe and ordered its immediate evacuation on Monday, marking the second residential building in the city to go through a similar ordeal following the deadly Surfside condo collapse last summer. The Bayview 60 Homes apartment building, at 3800 Northeast 168th Street, will be fully…
Special delivery: Thor Equities lists former Miami Design District post office for $80M
A former post office building in a prime area of the Miami Design District is hitting the market, The Real Deal has learned. New York-based Thor Equities put the 12,972-square-foot building at 66-70 Northeast 39th Street up for sale, listing broker Stefano Santoro with Disruptive Real Estate told TRD. The 30,600-square-foot lot is zoned…
Former Kushner exec buys Miami development site in Wynwood
New York developer Jenny Bernell picked up a site in Miami, The Real Deal has learned. Bernell, former executive vice president of development at Kushner Companies, paid $19.1 million for the assemblage at 2000 North Miami Avenue and 2021 Northwest Miami Court in Miami's Wynwood neighborhood. She acquired the 1.4-acre development site via her…
Investors flock to short-term rental condo projects in Miami
Rishi Kapoor, Eric Fordin, Suzanne Amaducci-Adams with The Crosby and Urbin Developers of short-term rental-friendly condo projects in Miami are experiencing quick sellouts, as investors and end-users flock to more affordable units. The projects offer units priced as low as the $300,000s, close to what a starter home would cost, in a market that has become…
Lease roundup: NYC-based Vibrant Capital Partners opens first Miami office in Brickell
Vibrant Capital Partners I 1200 Brickell Avenue | Miami Vibrant Capital Partners opened an office in Miami's Brickell Financial District, marking out-of-state financial firms' continuing expansion to South Florida. Vibrant Capital, an alternative credit investment manager, leased 3,000 square feet on the eighth floor of the 1200 Brickell Avenue…
German firm picks up Midtown Miami retail properties for $23M
Block Capital Group sold a pair of retail buildings near Midtown Miami to a German buyer. Rüger Holding KG, headed by René Gerdom, paid $23 million for the adjacent properties at 3300 North Miami Avenue and 30 Northwest 34th Street, according to a press release. An affiliate of Miami-based Block Capital, led by principals Gustavo Mic…
Russell Galbut's Crescent Heights scores $224M loan for Whole Foods-anchored Edgewater project
Construction is underway at Crescent Heights' Whole Foods-anchored luxury apartment tower in Edgewater, after the developer secured a major construction loan. Miami-based Crescent Heights, led by Sonny Kahn, Russell Galbut and Bruce Menin, closed on a $224 million loan from Blackstone, according to a spokesperson for the developer. The mixed…
Rubells expand their Allapattah art space with $11M industrial building purchase
The Rubell family, well-known art collectors in Miami who run the Rubell Museum, expanded their Allapattah art and cultural space portfolio, paying $10.7 million for an industrial building. Through an affiliate, they bought the former headquarters for Rex Discount Wholesale Grocers at 1090 Northwest 23rd Street from Carrera Family Investments, according to…
East End Capital sells Wynwood retail building for $11M
For the second time in a 13-month span, East End Capital sold a property in Miami's Wynwood neighborhood to a partnership… 7G Realty and Forte Capital. Both 7G Realty partner Jon Krasner and Forte Capital President Chaim Cahane told The Real Deal that the joint venture paid $10.8 million for an 18,256-square-foot warehouse at 2214 North Miami Avenue that…
Keystone proposes 600-unit apartment project near Dadeland Mall
Keystone Development + Investment wants to build a high-rise apartment complex with almost 600 units near Dadeland Mall, an area experiencing an uptick in multifamily investment appetite. The Hyve Dadeland project would have three towers with a combined 596 units on 8.3 acres south of Southwest 88th Street and from the…
Mobile home park moguls buy entire North Bay Village condo building for $17M
Torres Properties' Christian and Brooke Torres, Adagio Condominium's Anil K. Monga and Adagio Condominium at 7939 East Drive: An entire condo building in North Bay Village that's leased to a short-term rental operator sold for $17 million, or more than $1 million per unit, The Real Deal has learned. The deal checks off all the boxes of what's in demand by…
South Florida by the numbers: Record rents go through the roof (part 2)
"South Florida by the numbers" is a web feature that catalogs the most notable, quirky and surprising real estate statistics. When we reviewed the explosive rise in Miami rental prices in August, we were hoping the market might find a steady supply and demand balance. But that just hasn't been the case, to say the least. By all measures, reports, and analysts, rents…
Judge approves $83M settlement in Surfside condo collapse litigation
Champlain Towers South unit owners will receive an $83 million payout for the loss of their condos, a controversial outcome to the monthslong dispute over how financial disbursements should be divided between those who lost loved ones and those who lost their units. Miami-Dade Circuit Court Judge Michael Hanzman approved the settlement on Wednesday…
Mortgage rates surge, capping fastest rise since 1994
Mortgage rates last week jumped to their highest level in more than three years, which could bring the housing market frenzy to a close. The contract rate on a 30-year fixed-rate mortgage shot up to 4.8 percent in the week ended March 25 from 4.5 percent a week earlier, the Mortgage Bankers Association reported. That was the largest one-week increase since…
GID buys Downtown Doral apartment building for $150M
GID bought a Downtown Doral apartment building for $149.8 million, marking the real estate company's continued bet on the robust South Florida market. Boston-based GID purchased the eight-story, 385-unit building at 8425 Northwest 41st Street from the developer, Charleston, South Carolina-based Greystar, according to records. GID…
Medical Marijuana Dispensary-Leased Building in Miami Sells for Record High
SRS Real Estate Partners' net lease group has completed the $5.3-million, off-market sale of 3,600-square-foot single-tenant retail property in Miami, FL occupied by Curaleaf. The property on 152nd Street was formerly a Chase Bank branch and was renovated for the medical marijuana dispensary's use. William Wamble and Patrick Nutt with SRS…
It's a go: Michael Shvo scores final approval for Raleigh Hotel development in Miami Beach
Developer Michael Shvo is moving forward with his major redevelopment of the Raleigh Hotel and adjacent properties in Miami Beach after obtaining approval for a deeper underground garage. Shvo's attorney, Alfredo Gonzalez of Greenberg Traurig, and architect Kobi Karp presented a proposal to the Miami Beach Historic Preservation Board last month…
Duke Realty Inks Its Largest South Florida Lease Deal In Medley
The South Florida office of Duke Realty Corporation, the leading domestic only, pure-play logistics property REIT (Real Estate Investment Trust) in the United States, secured a long-term lease agreement with FedEx Ground, a leader in cost-effective package ground shipping, for a new facility, at Miami 27 Business Park 10300. The company announced the start of…
Duke Realty Leases 500 KSF Miami-Area Facility to FedEx
The South Florida office of Duke Realty Corp. has leased a 501,200-square-foot speculative building at Miami 27 Business Park, the pure-play logistics property REIT's new two-building development in Medley, Fla. FedEx Ground committed to the entire facility, leaving nary a square-foot available at the approximately 723,200-square-foot South Florida…
Cardone Capital buys Waterline Miami River apartments for more than $100M
Fresh off his annual investor conference, Grant Cardone's firm closed on a Miami River apartment complex for more than $100 million. Aventura-based Cardone Capital, the real estate investment firm founded by the social media star, author and motivational speaker, bought the first phase of Waterline Miami River at 1001 Northwest 7th Street, according to a…
TA Realty sells Coral Gables office building to Mexican buyers for $25M
In a $24.7 million deal, TA Realty cashed out of a class A office building in Coral Gables. An entity managed by Mexican real estate investors Benjamin Cojab and Eduardo Gildenson bought the six-story building at 2990 Ponce de Leon Boulevard, according to records. Cojab is CEO of Mexico City-based real estate investment firm BEA Equities. Gildenson, who is also Mexican…
Vroom boom: Bomnin Automotive pays $7M for 5 acres in Kendall
A dealership is expanding its Miami-Dade County presence by buying part of a church's property for $7.2 million. Property records show Calvary Church Ministries sold the northern 5-acre portion of the 10.2-acre-property at 16435 Southwest 117 Avenue in Kendall to the Bomnin Automotive group, led by Arnaldo and Yanisley Bomnin. Records show the…
Shaya Boymelgreen scores $30M construction loan for Surfside hotel
Jeshayahu "Shaya" Boymelgreen scored a $30 million construction loan for a hotel in Surfside, on a site the developer previously planned for a townhouse complex. Boymelgreen plans to build a three-story, 200-key hotel at 9300 Collins Avenue, according to Eyal Peretz, CEO of the lender, Fort Lauderdale-based Fuse Group. The hotel will have three rooftop pools…
Tri-Rail plans arrival in downtown Miami by Nov. 1
"We are showing a revenue starting date of Nov. 1," said Steven Abrams, executive director of the South Florida Transportation Regional Authority, about Tri-Rail service into Miami Central Station. The long-awaited service that would finally bring decades-old public Tri-Rail into downtown Miami was supposed to be open by March 2017 but problems in design…
Cost analysis a setback for Miami Marine Stadium return
It appears the restoration of historic Miami Marine Stadium could be destined for further delays as City of Miami staff work to prepare a cost analysis report for the city commission. That news came at the latest meeting of the Virginia Key Advisory Board last week. Loraine Rosado-Pietrie, with the city Office of Capital Improvements, offered an…
Coral Gables mobility hub hits a retail barrier
The Coral Gables Transportation Advisory Board presented Tuesday to the city commission its suggestions for the ground floor of the mobility hub on Andalusia Avenue. The current configuration, which allows for only minimal substandard and inadequate parking for bicycles on the open ground floor level and parking at scooters with charging stations on…
Cutler Bay ready to define its new municipal complex
Now that Cutler Bay voters have approved a $37 million general obligation bond to develop a park, community center and municipal complex transforming 16 acres into the heart of the community, public meetings will begin to define the vision, including its features and amenities. Town residents would see an estimated property taxes increase of $89…
Land gobbler: Lennar pays $25M for dev site near Pinecrest
For the second time this month, Lennar acquired another builder's development site, dropping $24.5 million for 10 acres near Pinecrest. The land was slated for a 54 townhouse and single-family home luxury project. Lennar, led by Executive Chairman Stuart Miller, bought the 433,422-square-foot lot at 8290 Southwest 120th Street in an off-market deal…
Naftali buys Miami Worldcenter development site for $41M
A NY-based developer is diving into the Miami Worldcenter… plans for two residential towers on a site the seller had proposed for a multifamily, retail and co-working MXU project. In a $40.5 million deal, Naftali Group, led by Chairman and CEO Miki Naftali, and… Cara Real Estate Management, acquired the 44,500-square-foot property at 1016 Northeast Second Ave…
AHS Residential pays $57M for North Miami Beach dev site
AHS Residential scooped up a 17.8-acre mostly vacant site in North Miami Beach for $57 million, marking investors' insatiable appetite for developable land in South Florida. The Miami-based company bought the property on the southeast corner of Northeast 159th Street and West Dixie Highway from New North Equities LLC, records show. It was previously…
Forte Capital flips Wynwood property for 75% gain in 3 months
Chaim Cahane's Forte Capital Management flipped a property in Wynwood to a Miami Beach couple for 75 percent more than he paid in December, as demand for development sites continues to soar in South Florida, The Real Deal has learned. Alex Kleyner acquired the corner property at 2830 Northwest Fifth Avenue for $11.2 million in an off-market, all cash…
Univista Insurance honchos pick up North Miami Beach office building for $9M
An insurance company husband-and-wife team expanded their office portfolio with a $9.3 million acquisition in an Opportunity Zone in North Miami Beach. An entity managed by Miami-based Univista Insurance CEO Ivan Herrera, President Ania Herrera and CFO Luis Castro bought the North Miami Beach Financial Center at 16051 West Dixie Highway, according…
Kolter wants to build 563 townhouses near Homestead
Kolter Group wants to build a 563-townhouse community near Homestead, amid a development boom in south Miami-Dade County. Delray Beach-based Kolter Group proposes the Antillia project on 45.8 acres of land it owns on the northeast corner of Southwest 360th Street and 180th Avenue, according to an application submitted to the county on Wednesday.
A ratio for labor market tightness : There are just 60 unemployed workers for every 100 job openings
The unemployment rate is the highest-profile labor market data point, but there are plenty of other ways to gain additional insight into the job market. One such figure is the ratio of unemployed workers to job openings. It's a straightforward statistic created by combining two key BLS series: unemployment level (via the Current Population Survey) and total…
David Grutman's Papi Steak sues Miami Beach over emergency curfew
A celebrity-friendly steak joint co-owned by hospitality mogul David Grutman is suing the city of Miami Beach in an attempt to block an emergency curfew tied to Spring Break mayhem. Papi Steak at 736 First Street in the city's South of Fifth neighborhood filed its lawsuit in Miami-Dade Circuit Court Thursday afternoon, hours before a curfew in…
Miami Office Vacancy Catches Up With Manhattan
As of February, Miami's office vacancy rate clocked in at 13.1 percent, representing a 270 basis-point drop year-over-year and 30 basis points lower compared to January, according to CommercialEdge. The Southern Florida metro is among the few markets that have lowered their vacancy rate since February 2021. Magic City gradually shed vacancy in 2021…
MV jumps into Miami Springs by renovating two retail centers
MV Group USA is aiming to kickstart commercial activity in downtown Miami Springs by renovating two retail centers the Miami-based development firm owns. MV Group President and CEO Manny Varas told The Real Deal that the project will cost $12 million to $14 million, and work is expected to begin in June. In January, an MV Group affiliate paid…
Kolter Group wants to build a 563-townhouse community near Homestead
Kolter Group wants to build a 563-townhouse community near Homestead, amid a development boom in south Miami-Dade County. Delray Beach-based Kolter Group proposes the Antillia project on 45.8 acres of land it owns on the northeast corner of Southwest 360th Street and 180th Avenue, according to an application submitted to the county on Wednesday.
Miami tops list of most rent-burdened metros in the nation
The Miami metro area ranks as the most rent-burdened in the nation, according to a recently released report. Rents climbed after vaccine rollouts drove Americans' return to cities, and now the average tenant is on the brink of being rent-burdened. A report by Realtor.com revealed that last month, tenants earning the median income in their metro areas…
McDowell wants to build 201 apartments near Homestead, puts land under contract
McDowell Properties wants to build a 201-unit multifamily project on land it has under contract near Homestead. McDowell, based in Dallas, proposes a seven-story Coronado Park building on 4.8 acres at 29500 Old Dixie Highway, according to an application filed with Miami-Dade County last week. McDowell is asking for the site to be included in the Leisure…
MHG Hotels plans to redevelop downtown Hollywood properties into Courtyard by Marriott
MHG Hotels is aiming to tear down a pair of single-story office buildings in downtown Hollywood to make way for a mid-rise Marriott-branded hotel. The Indianapolis-based hospitality developer recently submitted plans to the city of Hollywood to build the 13-story, 112-key Hollywood Courtyard by Marriott at 1926-1934 Tyler Street. In October, MHG Hotels, led by…
New York investor picks up Hollywood multifamily portfolio for $11M
A New York investor paid $11 million for a multifamily portfolio in Hollywood, The Real Deal has learned. Brooklyn-based Elite Acq, led by CEO Harry Bodansky, bought seven single-story apartment buildings and a single-story office building near downtown Hollywood, according to the seller's broker, Jacob Serure. Known as the Colony Club Apartments…
Dania Beach-based hotelier scores $10M loan to build Tru by Hilton hotel in Miramar
DP Hotels plans to expand its South Florida portfolio after nabbing a $10 million construction loan to build a 97-key Hilton-branded hotel in Miramar. The Dania Beach-based hotelier, led by President and CEO Dan Patel, obtained financing from Conway, Arkansas-based Centennial Bank, according to a press release. The city of Miramar approved a site plan…
Fort Lauderdale approves new Bahia Mar lease, paving way for Jimmy and Kenny Tate's planned development
After years of wrangling, Fort Lauderdale commissioners voted to lease the city-owned Bahia Mar to an entity led by Jimmy and Kenny Tate for up to 100 years, enabling them to move forward with development plans. The Tates' Rahn Bahia Mar, LLC plans to develop 350 condos and 88,000 square feet of commercial space on the Bahia Mar property and build a new…
Hawaii's former richest person pays $108M for newly built Fort Lauderdale apartments
Jay Shidler, who years ago ranked as Hawaii's wealthiest resident, is expanding his South Florida multifamily portfolio, scooping up a newly built Fort Lauderdale apartment complex for $108.3 million. His Honolulu-based Shidler Group bought the Riverland Apartments at 420-432 Southwest 27th Avenue from the project's developer, Houston…
DiamondRock buys Kimpton-branded hotel in Fort Lauderdale for $19M
DiamondRock Hospitality added a second Fort Lauderdale property to its nationwide portfolio after buying a Kimpton-branded hotel for $18.9 million. An entity managed by DiamondRock executives acquired the Kimpton Goodland Fort Lauderdale Beach at 2900 Riomar Street and the adjoining parking garage and amenity deck at 401 North Birch Road…
Steven Hudson, Charles Ladd expand Las Olas commercial portfolio with $7M deal
Steven Hudson and Charles Ladd Jr. paid $7 million for two adjacent commercial properties in downtown Fort Lauderdale, expanding their East Las Olas Boulevard portfolio. The duo bought the two-story restaurant building at 1103 East Las Olas Boulevard and the ground-floor retail and office space at the adjacent Villaggio di Las Olas condominium…
California investor pays $195M for Motif apartments in Fort Lauderdale's Flagler Village
A California-based investor paid $195 million for the newly built Motif apartment building in Fort Lauderdale's Flagler Village. Developers Bluerock and ArchCo Residential, through an affiliate, sold the 385-unit property at 500 North Andrews Avenue to an entity tied to property management company Thomas Tomanek & Associates, according…
Wynwood investor Doug Levine enters Fort Lauderdale with $15M office purchase
Douglas Levine bought a fully leased Fort Lauderdale office building for $15 million, marking his first investment in the city as he expands his portfolio focused on Miami's Allapattah, Little River and Wynwood neighborhoods. Levine purchased the 133,000-square-foot building at 1100 West McNab Road from Clark-Ohio Associates, according to a release from the…
Dania Beach approves multifamily development with almost all affordable housing
Dania Beach commissioners approved a site plan and municipal financing for City Place Apartments, an eight-story multifamily project reserved almost entirely for low-income tenants. Commissioners voted unanimously Tuesday night to approve the site plan for the 110-unit development near Dania Beach City Hall, and to increase from $640,000 to $1 million a…
West Palm Beach office building trades for $32.5M
The EcoPlex office building in West Palm Beach traded for $32.5 million. A joint venture between affiliates of MHCommercial Real Estate Fund II and New York-based Waterfall Asset Management bought the four-story building at 1641 Worthington Road and the attached five-story garage, according to the buyers' news release. MHCommercial…
Dallas multifamily firm pays $127M for Jupiter apartments
Northland's founder and chairman Lawrence Gottesdiener; president and COO Suzanne Abair; and CEO Matthew Gottesdiener; S2 Capital's founder and CEO Scott Everett; Jupiter Isle apartment complex at 6705 Mallard Cove Road in Jupiter: Dallas-based multifamily firm S2 Capital bought an apartment complex near Jupiter for $127 million, marking continued…
Arquitectonica opens first Palm Beach County office in downtown West Palm
Prolific Miami-based architecture firm Arquitectonica opened its first office in Palm Beach County, as it expands its project design portfolio in West Palm Beach. The firm leased 5,000 square feet at Rosemary Square, Stephen Ross' mixed-use development in downtown West Palm Beach. The office is at 477 South Rosemary Avenue, according to an Arquitectonica…
Avid Asset scoops up West Palm Beach industrial building for $22M
A New York real estate investment firm boosted its Palm Beach County portfolio by acquiring an industrial building for $22 million. Avid Asset Management, led by real estate investor and developer Steven Samuels, in a joint venture with Fogel Capital, a Stuart, Florida-based financial advisory firm, bought the 142,082-square-foot warehouse at 1601 Hill Avenue…
Tech tycoons enter SoFla market with $15M purchase of Palm Beach vacation rentals
Tech tycoons Chad and Doug Clark made their first South Florida real estate investment, paying $14.7 million for a boutique Palm Beach vacation rental property. The brothers bought the six-unit building at 106 Hammon Avenue, in an off-market deal, according to broker Sabra Kirkpatrick. The property is one lot away from the ocean and a block away from Worth Avenue.
Winn-Dixie-anchored shopping center in West Palm trades for $25M
The Winn-Dixie-anchored Shoppes At Palm Coast Plaza in West Palm Beach traded for $24.8 million. An entity tied to Johnstone Capital Partners' Edmund Beebe bought the 246,753-square-foot retail center at 7587-7785 South Dixie Highway from Dania Beach-based Dacar Management, according to a deed. Beebe's entity borrowed $13.8 million from…