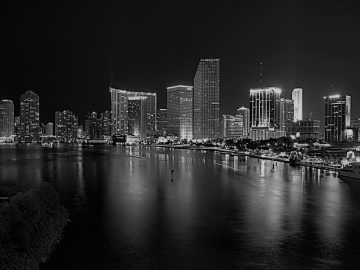 Joint Venture Expands Beachfront Footprint with Acquisition of Two Hotels in Miami Beach for $139.9M
A joint venture between SHVO, Bilgili Group and Deutsche Finance Group (DFG) has acquired the Richmond Hotel at 1757 James Avenue, Richmond Apartments, and South Seas Hotel at 1751 Collins Avenue for a total of $139.9 million. The companies purchased South Seas Hotel from Majestic Hotel Corp. for $52 million. Along with direct access to the beach, the hotel offers amenities such as a swimming…
CCIM Economist KC Conway Provides Industrial Real Estate Update ~ Part 1 of 2
K.C. Conway, Chief Economist with CCIM and Director of the Alabama Center for Real Estate, joins America's Commercial Real Estate Show host Michael in Studio One to discuss the industrial property market, including new supply coming online and the impact of tariffs industrial property holdings. In this part, he notes that much of the boom in industrial is related to the shift from retail to online…
Landlord Liable for Subtenants' Trademark Infringement
If you asked most commercial landlords what keeps them up at night, they probably wouldn't say that they worry about their tenants committing trademark infringement.  Granted, trademark infringement is not likely to be an issue for most tenants.  But when it does happen, the landlord might be on the hook.  In fact, in 2017, we wrote about that happening. Now it's happened again.  Just last week…
General contractors are suffering under Trump's new tariffs on Chinese goods
The trade war has created an uncertain environment for construction. (Credit: iStock and Getty Images) Anthony Rinaldi has learned first-hand what President Donald Trump's trade war with China can mean for business. One of his eponymous firm's current projects, backed by a Chinese-government-owned company, has recently stalled. He's unsure when, or if, it will get back off the ground. Delays are,,,
Bridge Investment to pay $123 million for office properties in Medley and Doral
Offices at Flagler Station and Offices at Doral Square and Bridge Investment Group Executive Chairman Robert Morse Bridge Investment Group is buying two office properties in Medley and Doral for nearly $123 million, a source told The Real Deal. New York-based investment manager DRA Advisors is selling the 387,000-square-foot Offices at Flagler Station in Medley and the 141,000-square-foot…
Miami is Defying Nation's Retail Woes With Thriving Malls, Shopping Centers
While there are mass retail closings around the country, in Miami, there is typically someone waiting on space to become available. Think about it: In Miami, there is actually a shortage of retail space. Uber luxury markets in Miami are performing extremely well with Bal Harbour Shops (owned by Whitman Family Development) being one of the top retail complexes in the country, followed closely by…
A rarity in Key Biscayne: commercial land hits the market for $21M
Listing broker Manny Chamizo and 12 Crandon Boulevard (Credit: Google Maps) The last piece of vacant commercial land in Key Biscayne is hitting the market for $20.6 million, The Real Deal has learned. The 1.4-acre property at 12 Crandon Boulevard, at the entrance to the Key Biscayne village center, is listed for sale with Manny Chamizo of One Sotheby's International Realty. Property records show ES KB…
Epicure owner slices up Miami Beach space to sublease
Brian Carter, Ross Padfield and Filippo Incorvaia and the building Gone are the days of Epicure Gourmet Market & Café's matzo ball soup, tuna sandwiches and baked goods. But Epicure owner Jason Starkman is working to redevelop the retail space in Miami Beach into smaller units that he can sublease, The Real Deal has learned. Starkman, who closed the Miami Beach institution in September 2017 following…
$300 Million Construction Loan Arranged for Office Tower in Miami
JLL has arranged a $300 million construction loan for the development of 830 Brickell, a 56-story, 1 million-square-foot office tower in Miami's Brickell district. MSD Partners provided the four-year loan to the developers, a joint venture between OKO Group and Cain International. Located at 830 SE First Ave., 830 Brickell is slated for completion in early 2022. The property is situated next to a…
Miami Office Project Secures $300M Loan
JLL Capital Markets has facilitated a $300 million construction loan for 830 Brickell, a 1 million-square-foot office development in Miami's financial district. Developed by a joint venture between OKO Group and Cain International, the project is expected to reach completion in the 1st quarter of '22. MSD Partners originated the financing… Adrian Smith + Gordon Gill is the architect. Located at 830 SE 1st Avenue…
South Florida Retail Property Summary (Q2 2019)
Market Snapshot for South Florida Retail A summary of the highlights, trends, and current market activity of Q2 2019 for South Florida commercial real estate focusing on Miami-Dade County: Analysis derived and compiled from leasing data and transaction reports in order to better understand the overall health of the CRE market in Miami-Dade County. In…
Mega-yacht shiplift coming to renovated RMK Merrill-Stevens
RMK Merrill-Stevens, Florida's first shipyard (founded in Jacksonville in 1885 and operating on the Miami River since 1923) will open its newly renovated and upgraded North Yard early next year. The company's two boatyards straddle the river; the North Yard borders the Health District and the South Yard is near Marlins Stadium. The $30 million renovation, which included dramatic changes to both yards…
After years of study, premium Flagler transit a decade away
Three years after state transportation personnel began studying the project, premium transit on Flagler Street connecting downtown Miami to West Miami-Dade remains nearly a decade off. A Florida Department of Transportation (FDOT) milestone timeline, whose dates are "tentative and subject to change," shows construction starting in early 2025 after 14 prior steps. Members of the county's…
As PortMiami rides high, more development deals on horizon
PortMiami, the world's busiest cruise port in passengers by industry figures, is on course to maintain that distinction for the foreseeable future. Throughputs at the port in 2018 rose 4.7% from the year prior to roughly 5.59 million passengers, according to the port's annual financial report. That number represents a new world record, said PortMiami spokesperson Andria Muniz-Amador. To meet future…
To Buy or Build a Commercial Property?
There's few things more exciting than a growing business. But whether you're starting a new venture or simply outgrowing your old space, you need to decide between buying or building a commercial property. Both options have their merits and downsides, so it's important to look at all of the factors at play. A wrong decision here could significantly affect your business' profitability down the line. Here's a few…
Setai and other Miami Beach property owners sue city over stormwater fees
The Setai Miami Beach In the midst of near-daily rain storms and the semi-regular flooding in Miami Beach, a group of property owners in the city including the Setai hotel are alleging the way the city collects stormwater fees is illegal. The Nakash family, which owns The Setai Miami Beach, along with 24 other condo associations, multifamily owners and commercial property owners filed a lawsuit in…
Coral Springs investor buys apartment complex near North Miami Beach
A company tied to Coral Springs broker and investor Deepak Khosa paid $7 million for an apartment complex in northeast Miami-Dade. Club California LLC sold the California Club Apartments, a 64-unit complex at 750 Northeast 195th Street, to Khosa's Miami Condo Holding Company LLC. The property traded hands for about $110,000 per unit. The complex was built in…
North Beach Yard is called off amid partnership split
The music has stopped for North Beach Yard. The entertainment and food venue that was supposed to replicate Wynwood Yard will not open, after Miami Beach City Manager Jimmy Morales informed commissioners he is terminating the lease agreement, according to RE Miami Beach. On June 6, Morales told commissioners that founders Della Heiman and Ken Lyon had not complied with several terms…
AIDS Healthcare Foundation sells three vacant lots in Miami Gardens
The AIDS Healthcare Foundation sold three vacant lots in Miami Gardens to ahs Residential for $9.5 million after buying the site a year ago. The nonprofit sold the 13.1-acre site near 2255 Northwest 167th Street for $725,190 per acre, records show. AIDS Healthcare Foundation is a Los Angeles-based global nonprofit provider of HIV prevention services, testing, and healthcare for HIV patients.
Financially troubled Hotel Astor in Miami Beach listed for sale
The financially troubled and now-closed Hotel Astor is on the market for $12 million. The 42-room, three-story hotel at 956 Washington Avenue was renovated in 2014 using $9 million raised from EB-5 investors. It closed nearly a year ago after the ground lessor, 1651 Astor LLC, filed a lawsuit to evict the hotel from the property. Manny Chamizo of One Sotheby's International Realty was hired to sell the…
Miami Mixed-Use Project Scores $13 Million Loan
A joint venture of Coral Rock Development Group and Arena Capital Holdings has obtained $12.8 million in financing for the retail portion of Pura Vida Hialeah, a 9-acre mixed-use project in Hialeah, Fla., the first of its kind in the area in more than 20 years. BB&T Bank originated the construction loan. General contractor Bluewater Construction broke ground on the project in April and plans to…
Attracting Foreign Direct Investment to South Florida via Direct EB-5
The controversial idea of granting U.S. residency to those willing to invest in America became a reality with the enactment of the Immigration Act of 1990 and the creation of the EB-5 Immigrant Investor permanent visa category. In crafting the EB-5, Congress had a clear vision: to stimulate job creation in poor and rural parts of America by allowing qualified foreigners to privately invest in projects…
Bayside Marketplace is planning another high-rise entertainment venue with a view
The manager of Bayside Marketplace has another towering attraction in the works: a rotating set of high-rise observation capsules. The Miami Planning and Zoning Board has approved the 176-foot observation wheel, which would be smaller but comparable to the London Eye and the Wheel at ICON Park in Orlando. SkyViews America hopes to erect the observation wheel at Bayside before the Super Bowl…
Robuchon restaurants set Miami opening dates, new restaurants planned for MiMo & other restaurant news
Miami Design District L'Atelier de Joël Robuchon and Le Jardinier are both opening later this month, New York-based Invest Hospitality announced. Joël Robuchon, an award-winning French chef, died about a year ago. Le Jardinier will open on Aug. 16 in a 4,200-square-foot, 108-seat space, according to a release. The restaurant, at 151 Northeast 41 Street suite 235, will also…
Defunct Facchina sues to collect $4.3M for MiamiCentral office building work
2 MiamiCentral and 3 MiamiCentral When Shorenstein Properties purchased 2 MiamiCentral and 3 MiamiCentral in May for $159.4 million, the San Francisco REIT also allegedly inherited millions of dollars in construction debt from the previous owner. Florida East Coast Industries, the parent company of VirginTrains USA, sold the buildings at 600 Northwest First Avenue to Shorenstein. Last month…
"Rich people are going to get richer anyway": HUD Secretary Ben Carson dismisses concerns that Opportunity Zones will only benefit rich people
Ben Carson is well aware of the complaints directed at federal Opportunity Zones, and how the tax incentive program meant to boost struggling communities may only end up benefiting rich investors and developers. On Friday, Carson, the Secretary of the Department of Housing and Urban Development, offered his frank assessment of that belief. "Some people have complained, and said, 'This is…
Inside Stephen Ross' massive empire of gyms, condos, coffee and more
The backlash over hosting a Trump fundraiser has been swift for developer Stephen Ross. Within 24 hours of word getting out, Equinox members and SoulCycle devotees have threatened to boycott both brands, which are owned by Ross' Related Companies. (In San Francisco, some staged a protest.) Miami Dolphins receiver Kenny Stills publicly criticized the team owner for agreeing to host the event…
Overtown Opportunity Zone project snags $55M loan
Michael Tillman and Soleste Grand Central Michael Tillman's PTM Partners and Estate Investments Group scored a $55 million loan from Bank OZK to build an 18-story apartment project in an Opportunity Zone in Overtown. The developers are building Soleste Grand Central, a 360-unit multifamily building at 218 Northwest Eighth Street in Miami near the MiamiCentral train station. The project will be a mix…
Related Group Bags $190M in Financing for 2 Luxury Resi Properties
Miami-based developer The Related Group has scored $190 million in financing for two luxury apartment developments in Tampa, Fla., Commercial Observer has learned. Deutsche Bank provided a $115 million floating-rate loan to refinance Manor Riverwalk, and SunTrust Commercial Real Estate lent $75 million on Town Westshore. Both transactions were negotiated by Newmark Knight Frank's Dustin…
Lissette Calderon scores $24M construction loan for Allapattah apartments
Allapattah 17 and Lissette Calderon Developer Lissette Calderon scored a $24.4 million construction loan for a planned 192-unit apartment building in Allapattah. Calderon's Neology Development Group is using the loan to build Allapattah 17, at 1569-1652 Northwest 17th Avenue. Calderon secured the loan from MidCap Financial, a subsidiary of Apollo Global Management, according to…
Hunt Real Estate Capital Refinances a Multifamily Property Located in Homestead
Hunt Real Estate Capital announced today it provided a Fannie Mae conventional multifamily loan in the amount of $10.5 million to refinance a multifamily property located in Homestead, Florida. Homestead Gardens I & II is a 148-unit, garden-style apartment community that consists of two locations, 15451 SW 288th Street near Leisure City, and 527 S. Flagler near the city center. Homestead…
Town explores land swap for 'potato field' property
The Town of Cutler Bay is looking to engage in a land swap with the owners of a parcel on Old Cutler Road and SW 212th Street, commonly known as the "potato field," with that property being exchanged for the six-story building and adjacent property at 10720 Caribbean Boulevard where the current Town Hall is located. Mayor Tim Meerbott published an open letter to residents on Aug. 5 stating…