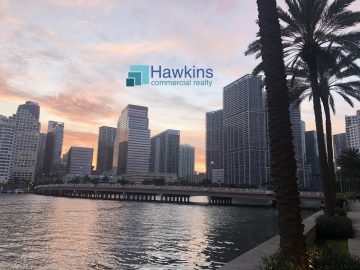 Related Urban Kicks Off $106M Allapattah Redevelopment
Related Group and Miami-Dade County have broken ground on Three Round Towers B&C/Brisas del Este, a $106 million affordable housing redevelopment project in the Allapattah neighborhood. The 383-unit Opportunity Zone project will draw on federal, state and county funds for the rehabilitation of two existing towers and the creation of an adjacent…
Duke Realty Leases 72% Of Yet-To-Be-Built Medley Facility
In another sign that industrial real estate is running strong despite the coronavirus, Duke Realty has already leased up 72% of a new industrial facility in Medley that it hasn't even started building yet. The news came Tuesday as Duke announced it signed a pre-lease with a tech products distributor to take up 161K SF at a 35-acre site off U.S. 27 that is being…
Hilton and CGI plan $500M fund to acquire distressed hotels
Hilton and a Miami-based partner are planning to launch a $500 million fund to invest in distressed hotels in North America and the Caribbean, The Real Deal has learned. The hotel giant is partnering with private equity firm CGI Merchant Group to acquire about 20 properties in the next few years, said Raoul Thomas, founder and CEO of CGI Merchant Group. The venture…
Mall owner CBL Properties nears bankruptcy
Suffocating under retailers' inability to pay rent and more than $3 billion in debt, CBL Properties is on its way toward declaring bankruptcy. The company announced that it reached an agreement with some of its creditors to hand control to holders of its unsecured notes and that it is negotiating with senior lenders and others who haven't yet signed onto…
Tech deals give hope to shaky office market
Amazon and Facebook both made major commitments in the past two weeks to a New York City office market with an uncertain future. But that shot in the arm belies the fact that many companies are still in wait-and-see mode. "A lot of tenants are punting on the whole topic and saying they're going to continue working remotely," said Grant Greenspan, head of…
Another drugstore sells: Lauderdale Lakes Walgreens flips for $8M
A Walgreens in Lauderdale Lakes, last purchased in April, changed hands again. Real estate investor and developer Ricardo Carozzi bought the Walgreens-leased property at 3099 North State Road 7 for $8.1 million, according to records. He made the purchase through an entity he co-manages along with Daniela and Nara Carozzi. The seller was a company…
Authentic Brands raises $600 million for retail acquisitions
Authentic Brands Group is on the acquisition hunt, after bolstering its war chest by $600 million. CEO Jamie Salter said the cash injection from BlackRock, General Atlantic and Leonard Green & Partners now brings the apparel licensing firm's total cash up to $1 billion, according to CNBC. Salter said he's looking to use that to buy up struggling retailers. Authentic has…
92K SF Doral Industrial Lease Brokered
Transwestern has arranged a 92,579-square-foot lease renewal at Westpointe Business Park, a three-building industrial facility totaling 260,000 square feet in Doral, Fla. Managing Director Thomas Kresse, Executive Managing Directors Walter Byrd and Ben Eisenberg and Vice President Carlos Gaviria brokered the deal on behalf of the landlord…
Aircraft Maintenance Company Triples Footprint, Inks 81,000 SF Lease Deal
Newmark Knight Frank (NKF) announced an 81,250-square-foot lease for Aerotech Ops at Pan American North Business Park, owned by Link Logistics Real Estate. NKF's Executive Managing Director Steve Medwin and Nick Wigoda along with Associate John Mejia represented the landlord in the transaction. Aerotech Ops (ATOPS) is an organization that primarily…
Target will open 27 new stores as Q2 sales soar
The pandemic has dealt a crushing blow to countless retailers, but for behemoths like Amazon, Walmart and Target it has brought outsized profits. Target said it expects to open 27 new stores between now and the end of the year, part of a rosy second quarter earnings report it released Wednesday. The big-box retailer's net income soared to…
North Beach Residents Petition to Stop Development of Byron Carlyle Theater
North Beach residents are petitioning against a developer's proposal to build micro-size apartments at the historic Byron Carlyle Theater, which was most recently home to O Cinema. The petition, which has more than 500 signatures, asks the City of Miami Beach to reject a proposal that would give the theater to a developer to build the apartments. An August 3 letter…
Are office landlords turning a corner or rolling over?
Empty room in a building Office landlords and leasing agents breathed a sigh of relief this month when Facebook inked a massive lease deal at Manhattan's landmark Farley Post Office building. The deal with Vornado Realty Trust for 730,000 square feet at the $1 billion-plus redevelopment — which includes new commercial space and the expansion of Penn Station…
Annie Lord: Leads Miami Homes For All to increase our housing stock
Housing in Miami-Dade County is expensive, burdening Miamians across the county. Among entities trying to make Miami more affordable is Miami Housing for All, founded in 1985, which strives for everyone in the county to have safe, stable housing and prevent homelessness. Annie Lord, the executive director, earlier led the South Florida Community Development…
Office is out, school is in: Co-working operators try to lure students into workspace
Laura Kozelouzek, CEO of Quest Workspaces, and a Quest classroom Office is out, but school is in session. Quest Workspaces, a co-working operator with 12 locations in Florida and New York, is turning some of its enclosed office space into small pods where groups of students can gather for virtual learning. The move comes as many school districts are opting to forgo…
Florida Law Keeps Developers From Having To Subsidize Affordable Housing
Affordable housing has long been a crisis issue in Florida, which leads the nation in housing unaffordability. One study by Apartment List shows that 56.5% of renters spend 30% or more of their income on housing. The state fund for affordable housing gets raided by the state legislature year after year, its monies diverted to other issues. So, throughout the state, local…
130-Foot-Tall, High-Tech Marina Coming To Fort Lauderdale
Boating is so popular in South Florida that marinas are getting more dense, just like multifamily buildings. With dockage in short supply, boaters often keep their boats stored on top of one another in dry dock facilities, but top concerns are whether slips are big enough, whether facilities are hurricane-proof, and whether boaters can get their boat down without hassle when…
Stuart Elliott Remember when August was the time of year when the news cycle slowed, there weren't that many big stories, people were on vacation, and there was the expectation that life would return to its regular rhythm in the fall? Like everything else this year, you can throw those rules out the window. Because we have been living inside the pandemic bubble for…
Amazon plans office expansion in six US cities
Amazon is planning to expand its offices in six major U.S. cities, just weeks after announcing plans to double down on its fulfillment centers and warehouses. The tech giant plans to add new hubs in New York, Phoenix, San Diego, Denver, Detroit and Dallas, which will bring about 3,500 corporate jobs, the company announced on Tuesday, according to the…
August brings no sign of the rent apocalypse
Tenants across the country are largely still paying rent despite high unemployment and waning government aid, a new report found. About 87 percent of apartment households made a full or partial rent payment by Aug. 13, according to the National Multifamily Housing Council's Rent Payment Tracker. That was only a 2-point drop from the same period…
Superblue, Miami's First Experiential Art Space, is Coming to Allapattah
If you're an art lover, you may be feeling a little blue these past months. With the Miami art scene, like many other major art cities, including Art Basel, relying on virtual exhibitions, a seasoned New York Art gallery has the solution to your art blues — and it's called Superblue and it's coming to Miami this December. So, what is Superblue? Many people aren't always…
Not your father's distress: Down market could be opportunity of a lifetime or a big letdown
As the coronavirus pandemic bore down on the economy, veteran investor Tom Barrack emerged as one of the loudest voices urging a lifeline for the real estate industry. Barrack, the head of Colony Capital and a longtime friend of President Donald Trump, penned a series of much-discussed blog posts and took to the airwaves, warning that the real estate industry…
Drugstores in demand: Pembroke Pines Walgreens flips for $9M
The owner of a Pembroke Pines store leased to Walgreens flipped it for $9 million, just a few months after purchasing it. DS Pembroke Pines Florida Landlord, tied to SunTrust Funding, sold the 15,458-square-foot property at 18410 West Pines Boulevard for $582 per square foot, records show. West Pines EDN RE LLC, led by Enzo Dalmazzo, the CEO of the…
Walker & Dunlop Provides $67M HUD Construction Loan for Shoma Village Apartments in Hialeah
Walker & Dunlop has provided a $67 million HUD construction loan for Shoma Village Apartments, a 304-unit multifamily community that will be located in Hialeah. The borrower was locally based developer Shoma Group. Shoma Village Apartments will include 11,625 square feet of retail space fronting Hialeah Drive, about 15 miles northwest of downtown…
South Florida Property Receives $67 Million Construction Loan via Walker & Dunlop
Walker & Dunlop, Inc. announced today that it structured $67,211,400 in financing for the construction of Shoma Village Apartments, a Class A mixed-use property with 304 apartment units and 11,625 square feet of retail. Located in Hialeah, Florida, just 15 miles northwest of Miami, the local area is experiencing a significant uptick in real estate investment.
North Beach's Ocean House apartments hit the market for $50M
One of Miami Beach's largest apartment complexes is hitting the market with a target price of $50 million. Miami-based developer and investor Ytech is listing Ocean House, a 186-unit garden-style multifamily property at 7790 Tatum Waterway Drive in Miami Beach's North Beach area. Cushman & Wakefield's Calum Weaver, Robert Given, Zachary Sackley…
Florida Streamlines Requirements for Lease Execution
Florida's Governor signs into law HB 469, which streamlines the execution of Florida real property leases by eliminating all statutory witness requirements. On June 27, 2020, Florida Governor Ron DeSantis signed into law House Bill 469 (HB 469), which amends Section 689.01 of the Florida Statutes, eliminating the requirement for two subscribing witnesses to…
Taurus pays $31M for Civica Center, adjacent building in Miami's Health District
A shopping center in Miami's Health District changed hands from one Boston-based private equity firm to another, with plans for a major facelift. Taurus Investment Holdings paid a combined $30.5 million for Civica Center, a two-story, 47,000-square-foot retail center at 1050 Northwest 14th Street and an adjacent 4,200-square-foot building, according to a press…
AMC theaters to reopen next week, but not in New York
AMC theaters will reopen more than 100 of its movie theaters on Aug. 20, with another 300 the following two weeks, according to Newsday. None of those theaters will be in New York, however. The state, where less than 1 percent of coronavirus tests are coming back positive, has indefinitely pushed back the reopening of movie theaters, along with gyms and…
Blackstone snags eight industrial properties in Miami-Dade
Blackstone bought eight industrial properties in Miami-Dade County from Elion Partners as part of a $93.5 million portfolio deal in South Florida. Blackstone's purchases include properties at 16200 Northwest 49th Avenue and 16100 Northwest 49th Avenue in Hialeah for $11.7 million. The investment firm also bought a warehouse at 7425 Northwest 79th Street…
Developer completes $225M Paseo de la Riviera mixed-use project
Paseo de la Riviera and Brent Reynolds The developer of Paseo de la Riviera in Coral Gables opened the hotel component last week, completing the mixed-use project that has been in the works for about five years. Nolan Reynolds International, led by CEO and managing partner Brent Reynolds, decided to open ahead of the University of Miami's fall semester that…
Miami's Bar Invest pays $56M for West Palm apartments
Jonathan Shechtman from Axonic and Herve Barbera from Bar, with 4860 Sandstone Lane Miami real estate investment firm Bar Invest Group bought a 300-unit garden-style apartment community in West Palm Beach for $56.2 million. The apartments, known as Visions at Willow, at 4860 Sand Stone Lane, include 17 two- and three-story buildings with a mix of one- to two…
Bloomingdale's sued for $2.5 million in missed rent
Bloomingdale's is getting into some heat with its landlord. The famed retailer began skipping rent payments in April and now owes nearly $2.5 million on its outlet at 2085 Broadway, the landlord alleges in a lawsuit. The lease for the store states Bloomingdale's will pay the Stahl Organization $437,500 of fixed rent plus a percentage sales. Stahl is also suing its parent…
Richman plans senior housing on Allapattah Opportunity Zone property
The Richman Group is planning a senior housing development in Allapattah. Richman, a major multifamily developer, is planning a 105-unit building for the site at 2137 Northwest 36th Street, and 3629 and 3645 Northwest 21st Court in Miami, according to MSP Group, which brokered the sale of the 0.7-acre assemblage.
Simon, Brookfield in talks to buy bankrupt J.C. Penney
Simon Property Group and Brookfield Property Partners are reportedly in advanced talks about buying J.C. Penney's retail business. J.C. Penney filed for bankruptcy in May and said it would close 242 stores. Simon and Brookfield — two of the retailer's biggest landlords — are now competing against other bidders to acquire the retail operations, and the Wall…
The Looming Legal Challenges of COVID-19
COVID-19 has come to mean many things to many people, from a global public health crisis to a logistical nightmare to a political hot potato. It has also presented a new set of legal challenges. With lockdowns, re-openings, and a hodgepodge of rules, business owners are worried about lawsuits related to exposure, workplace health and safety, termination, and…
How Two U.S. Religious Aid Workers, Miami Commercial Property Investors, May Have Helped Launder Millions
In the early 1990s, Mordechai Korf and Uriel Laber traveled to Ukraine as Jewish humanitarian volunteers as the country gained its independence and ended Soviet restrictions on religion. Korf was still a teenager just out of a rabbinical institute when he arrived in 1991. His friend Laber, whom he met at a religious school in Detroit, came a few years later. When…