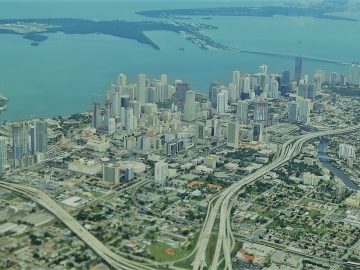 Melo Group reveals plans for massive 60-story towers in Edgewater
Melo Group has finally unveiled its plans to build two 60-story waterfront residential towers in Edgewater. The Miami-based developer is planning to build 782 units and 9,000 square feet of ground floor retail and commercial space at the property at 700 Northeast 24th Street. The Next Miami first reported the proposal. Melo Group is requesting approval from Miami-Dade's Shoreline Review Committee…
Jared Kushner's Family Wants to Build $500 Million Tower on Biscayne Boulevard
Many of the land developers gentrifying portions of central Miami are already fairly annoying. For example, Bob Zangrillo, one of the major investors in the controversial Magic City Innovation District in Little Haiti, is a Burning Man attendee who was indicted earlier this year for allegedly… Kushner… filed paperwork to build a 1,100-unit apartment tower next to Braman Motors at 2000 Biscayne Blvd.
WeWork's IPO filing sheds light on a startup posting massive losses, while issuing huge loans to execs
The We Company, whose imminent IPO stands to be one of the most hyped of the year, has laid bare its innerworkings. The WeWork parent company's S-1 filing — filed Wednesday with the U.S. Securities and Exchange Commission — tells the story of a company experiencing massive growth while also sustaining massive losses. It's also lent millions to members of its executive team at remarkably…
WeWork landlord, spooked by scrutiny over IPO filing, sues to get out of lease
A landlord is suing to get out of a lease agreement with WeWork amid fears the co-working company can't support its lease. The office space giant, whose parent the We Company is expected to go public next month, currently occupies multiple floors at 21-33 Irving Place in Manhattan. The landlord — identified as Belvedere Management Co. in property records — claims that when WeWork signed its…
Don't worry, WeWork has only committed $47 billion to landlords
WeWork's future as a public company collided headlong this week with investors' biggest concern: What happens in a downturn? Nine hours after the co-working company filed its IPO prospectus, the Dow plunged 800 points on Wednesday. With a possible recession looming, WeWork's parent, the We Company, disclosed that over the next 15 years, it has $47 billion in lease commitments. That's…
Forte Capital Management and GSI Equities under contract to buy Opportunity Zone property in the Design District
Alex Karakhanian is under contract to sell a Miami Design District property in an Opportunity Zone to Forte Capital Management and New York-based GSI Equities, The Real Deal has learned. The property, at 45 Northeast 41st Street, is expected to close in September for nearly $10 million, prior to completion of a building that is under construction. That benefits the buyers since it is in an Opportunity Zone…
CCIM Economist KC Conway Provides Industrial Real Estate Update ~ Part 2 of 2
K.C. Conway, Chief Economist with CCIM and Director of the Alabama Center for Real Estate, joins America's Commercial Real Estate Show host Michael in Studio One to discuss the industrial property market. In this second of two video segments, discussion includes whether the end of the cycle is approaching. Conway discusses the fundamentals of the market as they are, noting things as essentially steady…
Condo-Laden Sunny Isles Mulls Development Moratorium
Like its neighbor, Miami Beach, Sunny Isles Beach is located on a narrow barrier island squeezed between the Atlantic Ocean and the Intracoastal Waterway. Towering condominiums — including six Trump-branded towers and buildings by Porsche, Armani and Ritz-Carlton — line the easterly beachfront. To the west of its main drag, more old-school one- and two-story buildings dominate. With all this prime…
Blackstone buys industrial portfolio near Miami airport for $56 million
Blackstone bought a giant industrial portfolio next to Miami International Airport for $56 million. The private equity giant bought the three warehouses totaling 367,848 square feet at 3208 Northwest 72nd Avenue and 3108 Northwest 72nd Avenue for $152 per square foot, records show. Airport Trade Center, which lists Haim Yehezkel as one of its principals, is the seller. Yehezkel leads the real…
David and Lelia Centner bought a shuttered charter school in Wynwood for $13M
A company tied to real estate investors David and Leila Centner bought a shuttered charter school site in Wynwood for $12.8 million, signaling growing demand for charter school sites in South Florida. DLC Capital Management LLC bought the former Aspira Arts DE/CO Charter School at 1911 Northeast Miami Court from Aspira of Florida. Aspira of Florida's board of directors agreed in January to…
200-bed Palmetto Bay hospital caught in zoning battle
A proposed 71-acre, 200-bed waterfront hospital campus in Palmetto Bay at 6525 SW 152nd Street won't be built anytime soon, with a drawn-out court battle expected between the village and the intended developer. The dispute boils down to what the property's zoning allowed prior to its purchase, as well as whether zoning changes by the village after the land purchase are an encroachment on the…
China trade spat spurs rush of courthouse construction
Miami-Dade's efforts to build a new civil and probate courthouse must speed up or at least remain on track to avoid a potential fiscal quagmire due to souring trade relations with China, Commissioner Sally Heyman says. Ms. Heyman, the main county legislator behind the Flagler Street courthouse project, said Friday that things are running ahead of schedule, with negotiations progressing well with the…
Luxury private Drivers Club Miami doesn't race to starting line
A year after a lease took effect between developers and Miami-Dade County for significant community investments within the Carol City neighborhood in Miami Gardens, including a luxury private auto track and club, construction has yet to begin. Zoning agreements, environmental testing, design meetings and construction-preventing covenants have been slowing progress under the lease between…
Allapattah to get 267 affordable units for elderly
Hundreds of affordable apartments are coming to Allapattah, all designed for elderly tenants. Allapattah Ventures LLC is proposing a 13-story structure at 1396 NW 36th Street to be called Mosaico, home to about 267 dwelling units, mostly in small floor plans. At a special meeting, the city's Urban Development Review Board unanimously voted for a resolution recommending approval of the project, with…
Beckham's soccer site has high levels of arsenic, contaminated soil: report
David Beckham's plans to develop a Major League Soccer stadium at Melreese golf course in Miami hit another snag. An environmental analysis for the planned site for the Inter Miami team reported high arsenic contamination levels and surface-level soil samples containing debris that pose a "physical hazard," according to the Miami Herald. The environmental firm EE&G…
Arsenic In The Soil: A Bargaining Chip For David Beckham's Miami Soccer Stadium?
The Miami site where David Beckham and his business partners want to build a Major League Soccer stadium and $1B mixed-use complex is tainted with arsenic and other pollutants, an environmental analysis has found. The team says it intends to clean the site and move forward, while skeptics predicted the team will use the environmental findings to reduce what it pays for the land it's acquiring from…
Developer Harvey Hernandez reaches settlement in BrickellHouse in failed robotic garage related lawsuit
Miami developer Harvey Hernandez has finally reached a settlement in a long-running case over a failed robotic car garage at the BrickellHouse condo development. Hernandez settled for $275,000, which dismissed with prejudice all claims against him, according to the Daily Business Review. The settlement pertains to a 2016 lawsuit filed by the condo association over BrickellHouse's car garage…
The economy may be starting to slow. Real estate is taking notice
The yield curve inversion and threats of an escalating trade war recently sent markets into a tizzy last week. If those economic jolts are going to hit the real estate industry hard, it largely hasn't happened yet. But that doesn't mean there aren't red flags waving in the wind and questions over long-term growth aren't lurking in the background. "This is the…"
A Disheveled History of Miami's Shopping Malls
Until the mid-'50s, Miami's definitive shopping district was nestled on bustling Flagler Street in downtown. Many amenities standard in today's shopping malls could be found there: department stores (most important, the Burdines on South Miami Avenue), restaurants, general retail, and movie theaters. The area was a place to eat, drink, exchange ideas, watch movies, and, of course, buy things. But as…
Busy Subcontractors Pushing Prices Skyward Call it the downside of an upturn.
South Florida construction prices are hitting record levels and commercial real estate developers, landlords and occupiers haven't felt this type of wallet wallop since the last building boom of the mid-2000s. Driven by a messy stew of tariffs on steel, aluminum and other key materials, labor shortages, rising insurance premiums, insatiable demand and a healthy dash of opportunistic pricing power…
Crescent Heights buys Staples building in Edgewater
Crescent Heights added to its massive portfolio along Biscayne Boulevard in Miami. The Miami-based company, led by Russell Galbut, paid $14 million for the Staples-leased building at 2121 Biscayne Boulevard, according to Marcus & Millichap. Property records show BG7 LLC sold the 20,388-square-foot building, built in 2008. The company is tied to J and R Managers LLC and is managed by Richard…
Rezoning Property From Residential to Commercial
Converting commercial property into residential space—like turning a parking garage into condos—has been popular recently. But what about rezoning property from residential to commercial? Commercial real estate is lucrative. Nearly $90 billion is spent building it each year. If you have a residential property, it's well worth your time converting it to residential. But where do you start? There are several…
Habitat Group buys land for new west Brickell project
Rendering of Brickell 12 and Santiago Vanegas Habitat Group paid $6.1 million for a site in west Brickell where it's planning to build a hotel project. Habitat Group, led by Santiago Vanegas, closed on the 10,500-square-foot lot at 1200 Southwest Second Avenue, according to property records. A spokesperson for the developer said Habitat is planning to build Brickell 12, a 96-key hotel project, on the site.
Regal Cinemas Extends 500,000 SF Miami Lease Kendall Village Center
Regal Kendall Village IMAX & RPX, part of the Regal theater chain, has renewed its long-term lease for 72,000 square feet at Kendall Village Center, a 500,000-square-foot retail, office and entertainment development in the Kendall Lakes suburb of Miami. According to the new contract with the ownership, Berkowitz Development Group, the movie theater will undergo multimillion capital improvements…
Edgewater Opportunity Zone site hits the market for $14M
A 30,000-square-foot Opportunity Zone site in the burgeoning Edgewater neighborhood of Miami just hit the market for $13.5 million. A developer could build a 36-story condo, apartment or commercial building…  The site totals five parcels at 2650 Biscayne Boulevard, 2265 Northeast 26th Terrace, 3255 Northeast 26th Terrace, 4245 Northeast 26th Terrace and 5250 Northeast 27th Terrace. The property has…
Menin, Galbut sell shuttered South Beach hotel to Blue Road for $14M
Companies tied to Menin Hospitality and Russell Galbut's Crescent Heights sold the shuttered Sanctuary Hotel in Miami Beach for $14.4 million to Blue Road. Sanctuary South Beach Inc., Sanctuary SB Properties LLC, Sanctuary RonRuss Properties and MJK Group LLC sold the 32-key condo-hotel at 1745 James Avenue to Jorge Savloff and Marcelo Tenenbaum's Blue Road, according to Marcus & Millichap.
Bridge Investment Group Acquires Two Office Properties Totaling 528,679 SF in Metro Miami
Bridge Investment Group LLC, a Salt Lake City-based investment firm, has acquired two office properties totaling more than 500,000 square feet in the western Miami metro area. The price was not disclosed. The properties include the Offices at Flagler Station in Medley and the Offices at Doral Square in Doral. The buildings are approximately five miles away from each other, and just west of Miami…
Miami River apartments sell amid development boom
Miami real estate investor Jorge Ariel Lopez paid $7 million for an apartment building on the Miami River, signaled growing demand for properties along the waterway. Lopez bought the 42-unit building at 1160 Northwest North River Drive for $166,666 per unit, according to Fausto Commercial Realty. The seller is R/S Management of Charlotte, North Carolina, which is led by Larry Sorkin…
REIT to pay $322 million for sprawling Pembroke Pines apartment complex
In what will likely be the largest multifamily sale in South Florida this year, NexPoint Residential will pay $322 million for a 1,520-unit multifamily property in Pembroke Pines. NexPoint Residential, a publicly traded real estate investment trust, is under contract to buy the apartments, known as the Avant at Pembroke Pines, at 11801 Pembroke Road for about $212,000 per unit, according to a press release…
South Beach Is Heading to North Beach
Despite a 2015 public vote against increasing density in North Beach, Miami Beach will allow a luxury condo tower and refurbished hotels on North Beach's Ocean Terrace in exchange for a $15 million public park. Commissioners last week unanimously voted to change the future land-use designation and zoning regulations of a two-block stretch between 73rd and 75th Streets on Ocean Terrace. The move…
Henley Investments Picks Up Miami Beach Hotel
Private equity firm Henley Investments has acquired its fourth boutique hotel in metro Miami with the purchase of Lord Balfour Hotel at 350 Ocean Drive for $34.7 million. The deal is reportedly Henley's largest U.S. hotel acquisition to date. Life House, a company that frequently collaborates with Henley, will manage the asset. The total project capitalization, including acquisition and renovation costs, is…