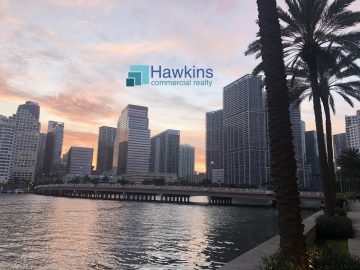 Udonis Haslem, Magellan plan 200-unit low-income housing project in North Miami
Former Miami Heat star Udonis Haslem and Magellan Housing plan a 200-unit project with affordable apartments and workforce-priced townhouses for sale in North Miami, The Real Deal has learned. Miami-based Magellan and Haslem, who retired from professional basketball this year, want to develop Catherine Flon Estates, with one building of 174 apartments and…
Clara Homes Wins Site Approval For Third Rental Property at Clara Bay Harbor
With its Clara Bay Harbor project, Miami-based real estate development firm Clara Homes, led by founder James Curnin, is making significant strides in the luxury rental market. The firm has recently secured approval for the third building and site plan at Clara Bay Harbor, a distinguished ultra-luxury rental community. This achievement is a testament to the developer's…
Brickell Gateway Tower Approved By FAA At 761 Feet
The Federal Aviation Administration sent a letter this morning stating that the proposed height of the Brickell Gateway tower does not pose a hazard to air navigation. The letter was sent to a Development Manager at Atlantic Pacific Communities. The 61-story Brickell Gateway tower can rise to a height of 761 feet above ground, or 772 feet above sea level, the letter said.
Eco Stone plans $35M multifamily project in Allapattah
Eco Stone Group plans to begin construction this month on its first ground-up development, a $35 million apartment building in Miami's Allapattah. An affiliate of Miami-based Eco Stone secured a $23 million construction loan from Popular Bank for Eco Landing at 1515 Northwest 18th Street and 1601 Northwest 18th Street, said company CEO Javier Gomez.
Tri-Rail Now Staffed For 26 New Trains To Downtown Miami
Tri-Rail has reached several milestones as it prepares to begin train service to downtown Miami's MiamiCentral, according to Miami Today. A total of 26 new trains per day are planned. South Florida Regional Transportation Authority Executive Director David Dech told the paper that they are now "staffed up to the levels we need to be" to allow for the new service.
Brightline Selects Contractor For Pedestrian Bridge To Aventura Mall
A Brightline selection committee has chosen a contractor to build a pedestrian bridge from Aventura station to the Aventura mall property. Middlesex, which "performed well" on previous Brightline construction work, was chosen following an RFQ process, the company said in a construction update yesterday. Brightline will now begin contract negotiations with the firm…
Torose Equities, LNDMRK, Terranova Acquire 220,000 SF Office Building in Coral Gables
A joint venture between Torose Equities, LNDMRK Development and Terranova Corp. has acquired 255 Alhambra, a 220,000-square-foot office building located in downtown Coral Gables. Situated on 1.3 acres on Alhambra Circle, the property features floor-to-ceiling windows and a newly renovated lobby. An affiliate of Deutsche Bank/RREEF sold the building. The sales price…
Trio Of Miami Firms Buy Coral Gables Office Building For Over $50M
A joint venture purchased a Coral Gables office building in what one of the buyers called a contrarian approach amid a slowdown in leasing across Miami this year. Torose Equities, Lndmrk Development and Terranova Corp. purchased 255 Alhambra Circle from a Deutsche Bank fund. Miami-based firms Torose Equities, Lndmrk Development and Terranova Corp. joined…
Torose, Lndmrk and Terranova buy Coral Gables office building for more than $50M
Torose Equities teamed up with Lndmrk Development and Terranova to buy a Coral Gables office building. The joint venture acquired 255 Alhambra, a 13-story mid-rise with 220,000 square feet of office space at 255 Alhambra Circle, according to a press release. Torose, Lndmrk and Terranova declined comment about the sale price through a spokesperson. But the joint venture…
Blackstone, Link nab $51M construction loan for Medley industrial project
Blackstone and subsidiary Link Logistics are on an industrial binge in South Florida. The joint venture broke ground on two warehouses in Medley after nabbing a $51 million construction loan from Boston-based AEW Capital Management, records and Vizzda show. Eastdil Secured represented Blackstone in obtaining the loan. Since May, Blackstone and Link have also dropped…
Lease roundup: Robert Rivani's Black Lion scores Mexican restaurant at SLS Brickell
Mexican firm Grupo RosaNegra will open a restaurant at a Robert Rivani-owned commercial space at SLS Brickell. The company signed a 10-year lease for 13,600 square feet, including 4,600 square feet of outdoor space, at 1300 South Miami Avenue in Miami for its RosaNegra eatery. It will mark the restaurant's U.S. debut, according to a news release from Rivani's Black…
Design District team seeks 20-story apartment tower
The primary developers of the Design District are proposing a unique and colorful mixed-use building to serve as the southern gateway to the booming Miami neighborhood. The developers are Design District Associates LLC and Prinz Corner LLC, which are affiliated entities of DACRA and the owners of the property at 91-93 NE 36th St. The companies plan a 20-story building there…
Investors Are Hot For South Florida Hotels Despite The Chilly U.S. Sales Market
Hotel sales, like trades in other property types, have plummeted so far this year, with total dollar volume from transactions down 50% compared to 2022, according to LW Hospitality Advisors. Investors in South Florida's hospitality industry may not have noticed. The $835M sale of the Diplomat Beach Resort in Hollywood is the largest hotel deal in the U.S. so far in 2023.
Will new South Florida office projects find tenants?
South Florida's office market earned a reputation in recent years of being immune to the slowdown in demand found in other parts of the country. The influx of out-of-state businesses pushed up asking rents at prime buildings to well-above $100 per square foot, a new high for the tri-county region. Developers were eager to join the party. At the end of the second quarter, more than…
31-story Edgewater apartment tower wins backing
A developer is proposing a new tower in Miami's Edgewater neighborhood to be home to multi-family apartments. Owner-developer Mill Creek Residential plans the new project, Modera North Bayshore, for property at 411 NE 21st St. The 31-story mixed-use building is to include 275 apartments, indoor and outdoor amenities, and parking for about 363 vehicles. The city's Urban…
Oldest public building in Miami Beach gets new life
Miami Beach's oldest surviving public building, most recently called the Miami Beach Municipal Golf Course Clubhouse, has been restored as the Carl Fisher Clubhouse along with an adjoining annex building as part of the Miami Beach Convention Center complex. The clubhouse, opened originally in 1916, and the annex, opened in 1937, have been restored as a single entity…
Ricardo Dunin, Edifica propose 29-story condo-hotel in Brickell
Developer Ricardo Dunin and Peruvian firm Edifica propose a 459-unit condo-hotel in Brickell, marking the partners' second Domus-branded project in Miami's financial district. Dunin, founder of Miami-based Oak Capital, and Edifica want to develop a 29-story building on a half-acre lot at 221 and 229 Southwest 11th Street, according to the developers' application filed to…
Tesla Proposes Venture at 9950 NW 25th Street in Miami
Tesla hopes to get approval for its third service and sales center in Miami-Dade County. The multi-million-dollar venture would require redeveloping an already-existing 78,026-square-foot warehouse that was built in 1984. Plans also call for 150 parking spots—two-thirds of which would be located outside of the building. EV 9900 LLC purchased the 5.3-acre build site for $19.75 million…
Location Ventures' Coral Gables dev site faces foreclosure
A second Location Ventures project site is in the crosshairs of a lender seeking repayment. On Tuesday, 1200 Minorca Acquisition filed a foreclosure lawsuit in Miami-Dade Circuit Court against two affiliates of Location Ventures, the Coral Gables-based firm previously led by embattled developer Rishi Kapoor. The complaint alleges the affiliates defaulted on a $2 million mortgage…
The Crosby At Miami Worldcenter Gets Permit For Vertical Construction
Miami's Building Department has recently issued a construction permit for The Crosby, an upcoming 33-story mixed-use building located within Miami Worldcenter at 601 North Miami Avenue in downtown Miami. Designed by Cohen Freedman Encinosa & Associates Architects with interiors envisioned by AvroKO and developed by DT G Block LLC, a joint venture between…
Florida East Coast Realty Sells Another Coral Gables Office Condo Unit at 2020 Ponce Building for $1.56 Million
Florida East Coast Realty (FECR), an integrated real estate development and management company with more than 60 million square feet of construction completed, has announced the sale of Suite 1101 at its 2020 Ponce office condo building, located in Coral Gables, Florida. The unit is 2,185 usable square feet and sold for $1.56 million ($714/USF). The buyers, Lillian A. Ser and Juan…
River Tower Tops Off At 54 Stories, Becoming Miami's Westernmost 600 Footer
Chetrit Group's first 54-story tower at The River District in Brickell has topped off, becoming the westernmost 600-foot tower in Miami. A top off ceremony was held at the Miami River Tower Phase 1 construction site yesterday, according to engineer JALRW. It took just 14 months from the start of vertical construction to top off. A foundation pour took place in June 2022.
$7.5M Sale of Multifamily Development Site in Hialeah Arranged
Colliers has arranged the $7.5 million sale of a multifamily development site located at 1033 E. 25th St. in Hialeah, a suburb of Miami. Virgilio Fernandez of Colliers represented the undisclosed buyer and seller in the transaction. The shovel-ready site, which spans less that one acre, is located a half-block from the intersection of the Metrorail substation and the Tri-Rail Metrorail…
Estate scores $71M construction loan for downtown Hollywood multifamily project
Estate Companies scored a $70.8 million construction loan for a 12-story multifamily project in downtown Hollywood. The South Miami-based developer plans the 12-story Soleste Hollywood Village North with 300 apartments and eight live-work units at 2001 Van Buren Street. The loan comes amid expensive financing caused by the Federal Reserve's interest rate hikes.
Velvet Taco To Open Its First Florida Location In Fort Lauderdale In Early September 2023
Velvet Taco has announced the imminent opening of its inaugural Florida location in early September 2023, nestled in the heart of Fort Lauderdale. With its chef-driven, scratch-made menu showcasing distinctive recipes, Velvet Taco has garnered a dedicated following, leading to rapid expansion across six states: Texas, Oklahoma, Illinois, Tennessee, North Carolina, and Georgia.
The Terraces Ft. Lauderdale Planned for 527 Orton Avenue, Fort Lauderdale Beach, Florida, 33304
Comprising just 22 luxury condos, the Terraces Ft. Lauderdale is a high-rise residential community planned for Broward County. Our sources indicate that the boutique condo will measure 10 stories above grade, offering two-bedroom to three-and-a-half-bedroom homes…
3000 Waterside Set for 2910-3000 East Oakland Park Boulevard and 3000 Northeast 30th Place in Fort Lauderdale
By 2025, Fort Lauderdale could be home to an exciting luxury venture: 3000 Waterside. The community, measuring 15 stories, will offer 103 residences. The 100 condos will measure 1,559 square feet to 4,817 square feet, and the three three-bedroom townhomes will measure 3,064 square feet to 3,156 square feet. There are 13 exclusive floorplans to choose from, including…
Benderson picks up Publix-leased building in Pompano Beach
Benderson Development bought a Publix-leased building in Pompano Beach, amid an uptick in South Florida retail investment sales. An entity tied to Thomas Neary's Miami-based Bowery Properties sold the 33,800-square-foot building at 1140 Southwest 36th Avenue to Benderson for $7.1 million, according to records. The buyer said through a spokesperson that it does…
Quest Workspaces Adds to Boca Raton Location
Across 11 locations Quest Workspaces has a 92 percent average occupancy rate. Image courtesy of CommercialEdge Flexible office provider Quest Workspaces is adding 20,844 square feet of coworking space in Boca Raton, Fla. The new space will span a full floor at 1200 Corporate Place, where the company already operates a 21,120-square-foot location undergoing renovation.
Related Companies Acquires RAMSA-Designed South Flagler House Development In West Palm Beach
Related Companies recently announced the purchase of the development site for South Flagler House, situated at 1355 South Flagler Drive along the prestigious Gold Coast in West Palm Beach, Florida. Acquired from global real estate development firm Hines and Palm Beach-based real estate investment firm Frisbie Group, this significant acquisition marks a new chapter…
Housing Trust Group Completes 'Flagler Station', Celebrates Grand Opening Of Affordable Apartments In Downtown West Palm Beach
Construction is complete on Flagler Station, a groundbreaking $33 million affordable apartment community at 991 Banyan Boulevard in downtown West Palm Beach, Florida. Developed by Housing Trust Group (HTG), this project is a monumental achievement, addressing the city's pressing need for affordable housing. This public-private collaboration introduces an innovative concept…
District Pointe, LLC Proposes Mixed-Use Venture at 1501 to 1505 Belvedere Road in West Palm Beach
Index Investment Group, a Swedish developer, hopes to get approval for a mixed-use development in Palm Beach County, Florida. In a joint partnership with Verdex Construction (called "District Pointe, LLC"), the venture would comprise both commercial and residential aspects, all resting on a 7.85-acre build site. Per the South Florida Business Journal, the residential aspect…
Bellissimo's proposed Wellington mixed-use project heads to village council
Mark Bellissimo and his partners are heading to the Wellington Village Council after securing two favorable recommendations and three against their controversial proposal for a mixed-use luxury housing development in Wellington. The non-binding votes from the Wellington Planning, Zoning and Adjustment Board came last week at the third meeting covering proposed…
Affiliate of Jupiter Realty Seeks Approval for 25-Story Tower at 315 S Dixie Highway in West Palm Beach
Linton Jog Associates, an affiliate of Jupiter Realty and Norbert Kent Wilmering, hopes to get approval for a high-rise building in West Palm Beach, FL. The 25-story tower would require 212,707 square feet of new construction, redeveloping the already-existing commercial building on the site. Before construction would start on the high-rise, the general contractor would demolish…
Developers propose 25-story apartment project in downtown West Palm
Developers want to build a 25-story apartment project in downtown West Palm Beach, marking a continued wager on the area's residential market. An entity tied to John Hoecker of real estate firm Jupiter Realty and Norbert Kent Wilmering propose a 190-unit building on nearly an acre at 315 South Dixie Highway and 411 Fern Street, according to city records.
JBCC buys West Palm Beach retail dev site
A Sarasota-based developer specializing in single-tenant retail stores is branching out with a planned shopping center project in West Palm Beach. An affiliate of JBCC Development paid $12 million for a nearly 10-acre development site at 4651 45th Street, according to records and Vizzda. The deal breaks down to roughly $1.2 million per acre.
Meyers Accesso nabs $46M in construction financing for Lake Worth Beach project
Meyers Accesso, a joint venture between South Florida developers Meyers Group and Accesso Partners, secured $46.1 million in construction financing for a planned multifamily project in Lake Worth Beach. Iowa-based American Equity Investment Life Insurance provided a $38.2 million mortgage, and Greenwich, Connecticut-based StepRock Capital gave a $7.9 million loan…
Video: Moody's Analytics Commercial Real Estate Head Tom LaSalvia on Firm's Mid-Year Commercial Real Estate Outlook
Tom LaSalvia, Head of Commercial Real Estate with Moody's Analytics, discusses the current state of commercial real estate including performance indicators , transaction volume, financing of commercial properties, and expectations moving from this point on. He discusses the stubbornness of inflation and the Federal Reserve's aggressiveness in fighting it. This discussion…
Video: PwC Global Real Estate Deals Leader Tim Bodner Discusses Mid-Year Update and Outlook
Tim Bodner, Global Real Estate Deals Leader with PwC joins America's Commercial Real Estate Show to discuss his firm's (PwC's) mid-year commercial real estate outlook. Discussions include the major sectors, niche sectors of commercial real estate, commercial property lending, and CRE equity. He notes that the environment has changed, essentially that it is less of a seller's market…
Flood Insurance Reforms Loom In Florida
Florida wades deeper into hurricane season as the debate heightens over what to do with the deeply indebted National Flood Insurance Program and its coverage of properties prone to repeated flooding. The Sunshine State ranked fourth nationally in damages paid by the national program to rebuild homes and businesses that have suffered repeated and severe flood losses…
Determining Apartment Building Risk
Ideally we all would like to know the amount of risk involved before making a decision. That's why we evaluate the side-effects before trying out a new medication, check online reviews before eating at a restaurant or check a vehicle's motor history before purchasing a used car. It's safe to say that knowing certain information pertaining to risk helps us to understand…
As Temperatures Rise, The Global Cooling Problem Comes Into Focus
The need for space cooling has been increasing dramatically around the world, primarily driven by urbanization in developing nations and the increase of extreme heat across our warming planet. With 2023 on track to be the hottest year on record, building owners are seeing higher energy consumption, rising costs and growing concerns over resiliency in extreme heat events.
Jim Costello: Do Not Fear the Impact of AI on Commercial Real Estate
Hype over the negative impact of AI on commercial real estate is on the rise. To hear some commentary, we should be welcoming our new robot overlords in the hopes that they will deign to give us menial jobs since all knowledge-driven activity will be replaced by machines. Forget about debates over the return to office — such a worst-case scenario caused by AI could be far…