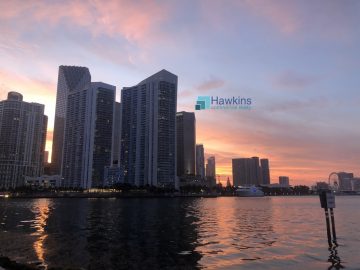 Despite mounting opposition, Miami Beach board endorses taller Aman tower
Developers Vlad Doronin and Len Blavatnik can now go to the Miami Beach City Commission with proposed legislation that would allow them to build a 250-foot tall tower on the site of the Versailles building in the Faena District. The billionaire developers face mounting opposition from nearby residents, including a number of fellow billionaires at Faena House, an ultra-luxury…
Miami Beach board rejects Mast Capital's plan to build 12-story tower
Miami Beach's Planning Board unanimously rejected Mast Capital CEO Camilo Miguel Jr.'s request for zoning changes that he needs to build a 12-story condo tower beside the Julia Tuttle Causeway. The project, now called Alton Bay, at 4000 Alton Road in Mid-Beach, is actually smaller than the concept the developer presented to Miami Beach's Land Use Committee…
Asia Capital Real Estate Provides $86.3M Refinancing Loan for Apartment Complex in Midtown Miami
Asia Capital Real Estate (ACRE) has provided an $86.3 million refinancing loan for Yard 8, a 387-unit apartment complex in Midtown Miami at 2901 NE 1st Avenue. Borrower Wood Partners will use the permanent financing to refinance the construction loan. The Atlanta-based developer opened Yard 8 in May 2019. Daniel Jacobs of ACRE originated the loan on behalf…
Moss Construction Completes University of Miami Development
Moss Construction has completed Lakeside Village, a $134 million student housing project at the University of Miami. Arquitectonica served as the architect for the development. Moss is also slated to manage the property. The 569,441-square-foot development comprises 25 seven-story, interconnected buildings. The 1,115-bed project includes classrooms…
Moss Construction Completes $134M University of Miami Lakeside Village Student Housing Property
Moss Construction has delivered University of Miami Lakeside Village, a $134 million, 1,115-bed student housing community on the University of Miami campus. The 569,441-square-foot, seven-story project features 25 interconnected buildings and several outdoor spaces. The property offers classrooms, music rooms, study areas, recreation rooms, a 200-seat…
Retail's Flexibility, Versatility in Pandemic Times
The $424.8 million River Landing Shops & Residences project along the Miami River, west of downtown Miami is currently one of the largest mixed-use developments in South Florida. Upon completion, the 2.2 million-square-foot modern urban lifestyle property will offer 345,000 square feet of commercial space—including 25,500 square feet of waterfront dining…
Apartment giant Aimco buys waterfront Hamilton on the Bay tower in Edgewater
A company affiliated with the Arison family sold Hamilton on the Bay, a large waterfront apartment building in Edgewater, to investor Aimco, The Real Deal has learned. Carnival Cruise Line founder Ted Arison built the 28-story apartment building in 1984, and the property, which includes three parcels and a total of 275 units, hit the market last year unpriced. It was…
Miracle Mile to get four murals to stimulate economy
Coral Gables residents and visitors will soon have a new backdrop to photograph and post on social media with the year-long installations of four art murals along Miracle Mile. Presented by the city's Economic Development Department during Tuesday's city commission meeting, commissioners voted 5-0 approval of four murals on Miracle Mile to boost…
Miami Hotels see visitor uptick as they market safety
Miami-Dade's hotels have undeniably taken a hit, but with Covid cases plateauing for the moment they are seeing an incremental, if small, uptick in business and focusing on marketing safety measures, local experts say. "We welcome you to Miami but please, please behave in a responsible way," said Rolando Aedo, chief operating officer of the Greater Miami…
Felonious CPA Seeks Millions In Lawsuits Involving Developers Jorge Perez, Stephen Ross
While President Donald Trump is fighting efforts to bring his tax returns and financial history into the light, there's another real estate billionaire whose taxes are wanted in court: Miami "condo king" Jorge Perez, the founder, chairman and CEO of Related Group. As part of two civil lawsuits he filed in Florida's 11th Circuit Court in Miami-Dade County, Ronald Katz…
Team produces package to battle pandemic economic slide
An advisory team tasked with developing ideas to help Miami-Dade emerge from economic peril caused by the coronavirus pandemic has delivered a score of recommendations. For now, most of those recommendations remain ideas, but each has been designed to be actionable, said Beacon Council CEO Albert Finney, chairman of the Covid-19 Economic Recovery…
President Trump seeks to move federal agencies into Opportunity Zones
President Donald Trump signed an executive order Monday to push federal agencies to move into Opportunity Zones as he continues to promote the program as a key part of his re-election campaign. The president's order will direct some federal agencies such as the Department of Labor and Department of Housing and Urban Development to look outside of city…
Concessions stand: Wary of another shutdown, retail landlords sweeten pot for tenants
Some retail landlords are offering additional concessions to tenants in case the government mandates another Covid-related shutdown. Landlords are including language in new leases that allows retail tenants to defer part of their rent if the government requires store closures, according to the Wall Street Journal. Many insurance policies did not cover pandemic…
Restaurants can reopen their dining rooms in Miami-Dade starting next week
Restaurant dining rooms in Miami-Dade County can reopen beginning on Monday, more than a month after restaurants were ordered to close indoor seating due to spiking coronavirus cases. Miami-Dade Mayor Carlos Gimenez said restaurants will be able to operate at 50 percent capacity indoors, as long as tables are spaced at least six feet apart with a…
A few big-box stores now account for 29% of US sales
Despite fears of decreased spending amid the pandemic, big-box stores — plus Amazon — raked in the cash last quarter. Walmart, Amazon, Target, Home Depot, Lowe's and Costco accounted for 29.1 percent of all U.S. retail sales in the second quarter, up from 25.6 percent a year ago, the Wall Street Journal reported. That's a 14 percent increase in market share.
Bondholders approve Sapir Corp debt restructuring
Sapir Corp's Israeli bondholders have decided that it's a good idea to give the development firm a few more years to pay off its debt, given current economic uncertainty caused by coronavirus. In a Monday vote, investors in Sapir Corp.'s $44 million bond series overwhelmingly approved of the company's proposal to push back the maturity date from 2022 to 2025.
Wood Partners lands $86M refi for Midtown Miami apartments
Multifamily developer Wood Partners sewed up $86.3 million in refinancing for its 387-unit apartment complex in Midtown Miami. Asia Capital Real Estate provided the first mortgage from its latest debt fund, with a loan-to-value ratio of 57.5 percent, according to a release from the company. The term of the loan is five years, inclusive of extension options. The…
Here are the landlords benefiting from Amazon's tech workforce expansion
Amazon recently announced plans to expand its tech workforce at the 660,000-square-foot Lord & Taylor building it recently bought in New York, and in five other cities across the country. Amazon has inked leases totaling about 270,000 square feet in those office buildings in Dallas, Denver, Detroit, San Diego, and Tempe, Arizona. Here is a rundown on Amazon's…
Flower Firm Renews 93,000-SF Industrial Lease At Westpointe Business Park In Doral
Transwestern has arranged a 92,579-square-foot lease renewal at Westpointe Business Park, a three-building industrial facility totaling 260,000 square feet in Doral. Managing Director Thomas Kresse, Executive Managing Directors Walter Byrd and Ben Eisenberg and Vice President Carlos Gaviria brokered the deal on behalf of the landlord, Clarion…
Italian restaurateur lists Sunset Juice Cafe property for $24M
The owner of Sunset Juice Cafe and other restaurants in Miami Beach wants to sell his Sunset Harbour property for $24 million. The corner building, at 1920 Alton Road, is home to the Sunset Juice Cafe, Rosinella Market and Anatomy Gym. Restaurateur Tonino Doino, who owns both Sunset Juice and Rosinella, is listing it with Brown Harris Stevens Miami, led by Phil…
Bal Harbour Shops seeks to give Saks Fifth Avenue the boot
Matthew Whitman Lazenby and Bal Harbour Shops One of South Florida's longest running retail marriages could be headed for a bitter breakup. For nearly 45 years, Saks Fifth Avenue has anchored Bal Harbour Shops, helping transform the shopping center into one of the most exclusive luxury retail destinations in the world. Now, mall owner Whitman…
Real estate investors raise billions while skipping debt payments
In the real estate investment world, being delinquent on debt doesn't mean investors have run out of money. They are likely to be cutting losses to shift funds into something more lucrative. Colony Capital, for example, stopped making payments on many of its hotel bonds when the pandemic hit, while raising at least $6 billion to invest in properties such as cell towers and…
How Carl Icahn and others made a killing shorting malls
The pandemic has devastated brick-and-mortar retail, but some investors profited handsomely by betting on shopping malls' misfortune. Among them is Carl Icahn, one of the country's best-known investors, who took a calculated risk that malls would suffer. Read more Investors who shorted malls stand to make out big Party's over: Neiman Marcus to close its…
39K SF Hialeah Warehouse Trades
An industrial team announced the successful sale of the 39,000 SF warehouse facility at 595 E 10th Avenue in Hialeah, Florida. The seller, 595 Realty Corp, was represented by Patrick McBride, Esq. and Edward Redlich, SIOR, CCIM. CarSafe Storage purchased the warehouse for $3,350,000. The property was extensively marketed for lease prior to the seller testing…
Europe tops United States in commercial real estate deal volume
The U.S. property market is no longer on top. For the first time since 2017, Europe saw more commercial real estate deals than the U.S. America saw $19 billion less in property trades above $10 million than Europe during the second quarter, Bloomberg reported, citing data from Real Capital Analytics.
Cast away: Boatmaker Invincible sells Opa-locka warehouses for $11M
The founder of a high-performance saltwater fishing boat manufacturer sold three warehouses in Opa-locka for $11.4 million. Alex Lipworth, who founded Opa-locka-based Invincible Boat Co. in 2006, sold the warehouses at 13185 Northwest 47th Avenue, 13050 Northwest 47th Avenue, and 4700 Northwest 132nd Street, according to a press release. The warehouses…
US hotel occupancy hits highest point since mid-March
As travelers throughout the U.S. try to make the most of a surreal summer, hotel occupancy has slowly improved, and has finally hit the 50 percent mark for the first time since mid-March. While overall occupancy has risen for 17 of the last 18 weeks, growth in demand has slowed, according to the latest occupancy rate from industry tracker STR. Occupancy is also about…
Mall of America, behind on mortgage, fights foreclosure
The country's biggest shopping mall is trying to stave off foreclosure after falling months behind on its $1.4 billion mortgage. Triple Five Group, which owns the Mall of America, has entered into a cash-management agreement with a special servicer, CWCapital Asset Management, according to the Star Tribune. Canada-based Triple Five began to…
Wiped out: Firm says stakes in Brooklyn, Miami projects now worthless
The private equity firm behind a $1 billion real estate portfolio in Brooklyn and Miami said its investments in two big projects have been wiped out — and one critic is blaming a pair of 20-somethings who were trusted with the company checkbook. JZ Capital Partners recently wrote down to zero its stakes on a Downtown Brooklyn development site and a portfolio of…
Miami Beach to allow short-term rentals in condos, hotels
The city of Miami Beach loosened its restrictions on short-term rentals, more than a month after banning them, as the coronavirus positivity rate falls in South Florida. The city will allow such rentals to operate in condo buildings and hotels beginning on Saturday, Aug. 22. The positivity rate declined to 9.7 percent on Wednesday. In Miami-Dade County, hotels…
Duke Realty Inks 161,000 SF Lease Deal At New Logistics Facility In Medley
The South Florida office of Duke Realty has signed a prelease with a distributor of technology products for 160,793 square feet in a new 221,984-square-foot logistics building in Medley. The building is one of two logistics facilities planned on the 34.92 acre site, which will be known as Miami 27 Business Park. The tenant, which…
Wayne M. Boich Announces Approved 16,000 sq ft Mixed-Use Building in Miami Beach
The City of Miami Beach has approved entrepreneur Wayne M. Boich and Boich Companies plans for a mixed-use building in Sunset Harbour. Construction on the five-story project, located at 1910 Alton Road, will begin immediately. "We at Boich Companies are not only looking forward to developing this project in one of Miami Beach's most vibrant…"
SunTrust Equity Funding closes on Amazon-leased site at Palm Beach Park of Commerce
SunTrust Equity Funding paid $21.8 million for land leased to Amazon, property records show. An affiliate of TPA Group sold the 100-acre site within the Palm Beach Park of Commerce to AZ Palm Beach FL Landlord LLC, which is tied to SunTrust Equity Funding. Included in the deed is the mention of a lease with the e-commerce giant Amazon. A spokesperson…
Restoration 1 franchise founder buys North Lauderdale office and retail center for $6M
The founder of a restoration franchise that helps with damage from water, fire and other disasters bought a North Lauderdale office and retail center for $6.3 million. A company tied to Andor Kovacs bought the center, called Jefferson Square Plaza, at 6041-6047 Kimberly Boulevard, records show. The 53,000-square-foot center is on about 5 acres of land, with four…
Fifteen Group Proposes Mixed-Use Project On Plantation Office Site
The developer is seeking site plan approval for 442 residential units in three buildings totaling 444,168 square feet, 150,000 square feet of offices, and a 2,500-square-foot retail building, which would likely be a drive-thru fast-food restaurant. The project would have 1,326 parking spaces, including a 238,739-square-foot garage.
Addiction treatment firm Banyan buys Pompano Beach office tower for $6M
An entity tied to a drug and alcohol addiction treatment provider bought an empty office building in Pompano Beach sold for $5.9 million. Banyan Corporate Center LLC, which shares an address with Banyan Treatment Centers, bought The Tower at Avery Place, formerly called Atlantic Tower, at 225 North Federal Highway, records show. Built in 1973, the eight-story…
Convenience be gone: Sunrise suspends small store developments that pose "food desert" threat
Sunrise Imposes Moratorium To Avoid "Food Desert" Threat Convenience stores must stay away from Sunrise, a city apparently at risk of not having enough grocery stores serving fresh food. The city commission last week enacted a one-year moratorium on the development of what it calls "small box discount stores" that are 16,000 square feet or smaller and…