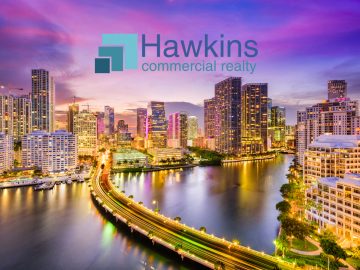 Swiss developer debuts in Miami with multifamily project
Swiss firm Empira Group is making its foray into South Florida with a $9 million purchase of a multifamily development site in Miami's The Roads neighborhood. Empira wants to build the eight-story CoralGrove Brickell project on a half-acre site along Coral Way, at 3025 and 3051 Southwest Third Avenue, according to the developer's news release. Sources…
Setai wants Miami Beach to reverse Shore Club approval
Setai's Ariel Nakash, Monroe Capital's Theodore Koenig and Witkoff's Steve Witkoff with rendering of planned Shore Club project: Owners at the Setai are challenging the approval of the neighboring Shore Club project in Miami Beach. The Setai Resort & Residences condo association is seeking a re-hearing of the city's historic preservation board vote in favor of…
Lissette Calderon's third Allapattah project scores $58M loan
Lissette Calderon's third apartment project in Miami's Allapattah neighborhood nabbed $57.5 million in construction financing. Churchill Real Estate provided the loan for Fourteen Residences Allapattah, a two-building complex with 237 units planned for 1470 Northwest 36th Street, according to a press release. Berkadia's Charles Foschini and Chris Apone…
Hines pays $430M for mixed-use Gables Station
Hines' Jef­frey Hines and Alfonso Munk; Nolan Reynolds International's Charles Nolan Jr.; 54 Madison Partners' CEO Henry Silverman; Nolan Reynolds International's Brent Reynolds; and the Gables Station at 235 and 237 South Dixie Highway in Coral Gables: Hines bought a mixed-use multifamily development in Coral Gables for $430 million, marking one…
A recently completed mixed-use development in Miami's Coral Gables submarket has traded in one of South Florida's largest deals this year. Hines Global Income Trust bought the 1.2 million-square-foot Gables Station from co-developers Nolan Reynolds International and 54 Madison Partners. According to The Real Deal, the price of acquisition was $430 million.
Hines Drops $430M On 1.2M SF Mixed-Use Building In Coral Gables
A mixed-use development in Coral Gables that features a Life Time residential, fitness and coworking concept has sold for $430M in one of the largest real estate deals in South Florida this year. Houston real estate giant Hines, through its Hines Global Income Trust, has acquired Gables Station, the 1.2M SF building at 251 South Dixie Highway that stands 14 stories…
Lynd buys Miami Worldcenter multifamily dev site for $30M
E11even co-owner Marc Roberts and Lynd President and CEO David Lynd and aerial of the development site at 941 North Miami Avenue: Lynd Living bought a Miami Worldcenter development site for $30 million from a company managed by E11even nightclub co-owner Marc Roberts and Titan Capital's Ira Saferstein. The San Antonio-based firm is the latest…
Doronin's 830 Brickell scores Chicago law firms for 53K sf
Two Chicago-based law firms leased a combined 53,000 square feet at 830 Brickell, marking continuing tenant demand for the Miami office tower that's under construction. Winston & Strawn took 35,000 square feet and Baker McKenzie took 18,000 square feet at the project at 830 Brickell Plaza in Miami, according to a news release…
Developer Jackie Soffer on SoLé Mia, Miami's boom & more
Developer Jackie Soffer is working on some of South Florida's largest projects, but that doesn't stop her from noticing the smallest of details — like the placement of power outlets. "Outlets are a big issue for me," she said. "Plugging in your phones and your computers is so important. It's such a pain when you can't find the outlets easily. I don't know that it affects…"
Developers study North Miami Beach's tennis complex
The City of North Miami Beach gave local developers an opportunity to learn more about a 10-acre P3 development opportunity and explore creative ways to reimagine the space. During last week's private pre-solicitation open house for the proposed city-owned development site at Arthur I. Snyder Tennis Complex at 16851 W Dixie Hwy., city officials…
Riverside Wharf heading for City of Miami lease
City of Miami voters have granted overwhelming approval to advance a vast mixed-use downtown project that will add a luxury hotel and a site lease for up to a century. At a special election Aug. 23, voters approved a proposal to allow the development of Riverside Wharf, a $185 million hospitality-driven entertainment complex on the Miami River.
Miami to seek proposals for large Allapattah complex
In 2019, Miami was eyeing 18 acres it owns in Allapattah for private development. Now an unsolicited proposal for development of the city's General Services lot on Northwest 20th Street is triggering a request for proposals for a large mixed-use development including 2,500 housing units, a hotel and office space. According to city representatives, as part of…
578 apartments, townhomes replace South Miami public housing
A $158 million mixed-use affordable housing development in South Miami will produce 458 housing units after both construction phases are completed, replacing the South Miami Gardens public housing. Miami-Dade County, in partnership with Related Urban Development Group, Related Group's public-private development arm, which has built over 22 public…
County to buy Girl Scouts camp, create park, save Rocklands
Miami-Dade is buying 20.2 acres from the Girl Scouts where Camp Choee stands for about $2.7 million. The land is to be used for public park and conservation purposes. The property includes 14 acres designated as a Natural Forest Community by the county and about six acres with camp improvements and supporting facilities in poor to average condition.
University of Miami expanding campus
The University of Miami is advancing plans to expand and lift its Coral Gables campus buildings with the construction of new projects with just a few delays. During the summer, the Florence Ruth Hecht Residential College site, which was built in 1968 on the shores of Lake Osceola as a 12-story dorm building, was demolished, making way for the start of the…
IHOP heir's family sells Aventura industrial complex
An IHOP heir and his family sold an Aventura industrial complex for over $300 a square foot, an indication that properties in this sector are selling at a premium due to low inventory and a lack of developable land. An entity… Yakov Cohen paid $10.7 million… 35,000-square-foot industrial site with two buildings at 2655 Northeast 189th Street and 2660 Northeast 189th Street.
After Drawn-Out Legal Saga, Wawa Backs Out Of Planned Coral Gables Store
After a nearly decadelong battle, a group of elementary school parents has defeated an attempt by a developer to put a Wawa gas station in Coral Gables. A Miami-Dade County Circuit Court judge has approved a settlement agreement voiding Wawa's deal to open a location at 280 South Dixie Highway, across from George Washington Carver Elementary School…
Berkadia Arranges $57.5M Construction Loan for Multifamily Project in Miami's Allapattah Neighborhood
Berkadia has arranged a $57.5 million construction loan for Fourteen Residences Allapattah, a 237-unit apartment community located within an opportunity zone at 1470 N.W. 36th St. in downtown Miami's Allapattah neighborhood. Charles Foschini, Chris Apone and Shannon Wilson of Berkadia's Miami office secured the financing on behalf of the borrower…
Singapore wealth fund, U.S. REIT splurge on suburban office properties
A foreign wealth fund and a U.S. partner cast a billion-dollar wager on suburbs as the future of offices. Singapore's GIC and Boca Raton-based Workspace Realty Trust bought majority stakes in 53 suburban office buildings, the Wall Street Journal reported. The properties are scattered across the country, but many are concentrated around Atlanta, Dallas…
Lease roundup: Brick & Timber, UBS nab tenants
Solana Spaces I Wynwood Annex I Miami Solana Spaces, the retail arm of blockchain company Solana, will open a location in Miami's Wynwood. The crypto event venue, called Solana Embassy, leased 4,200 square feet at the Wynwood Annex building at 215 Northwest 24th Street, according to a news release from Retail by MONA, which advised the tenant. The store…
Changes Made to 40 Year Recertification Inspections
If you own any South Florida real estate, there's something important that you need to know about commercial properties: the 40-year recertification requirement. In Miami-Dade and Broward Counties, all buildings which are 40 years old from the date of the original Certification of Occupancy must be recertified by the Building Official every 10 years to ensure they are…
Namdar pays $41M for downtown Miami apartment towers dev site
Namdar Group paid $40.5 million for the downtown Miami development site where it plans to build a pair of apartment towers. The New York-based firm bought 1.3 acres at 50 and 60 Northeast Third Street, and at 222 and 234 Northeast First Avenue in two deals, according to records. Namdar also scored a $195 million loan for the purchase and construction of the…
Trinity buys, flips Hialeah Gardens gas station for $3M-plus gain on same day
Talk about jacking up the price at the pump. Trinity Pro bought, then immediately flipped a Hialeah gas station for a $3.7 million gain. The Boynton Beach-based retail investor, led by CEO Christopher J. Martonaro, paid $12 million for a Citgo station at 13899 West Okeechobee Road, records show. It purchased the property from an entity managed by Rodolfo…
Bentley Plans 62-Story Sunny Isles Condo Tower
Luxury brand Bentley Motors, in partnership with REALM-Global, is planning to develop Bentley Residences, a 62-story condominium high-rise located in Sunny Isles Beach, Fla. Dezer Development is in charge of the project, while Sieger Suarez Architects is handling design. Expected to become the tallest coastal residential building in the U.S., the project is…
Lender seeks foreclosure of stalled Arbor Coconut Grove project
The developer of a boutique condo project near CocoWalk at 3034 Oak Avenue in Coconut Grove has gone dark, and its lender is looking to foreclose on the partially completed building. Canadian lender Trez Capital filed a foreclosure lawsuit against the developer of Arbor Residences, alleging the company failed to repay its nearly $21 million loan and…
South Florida by the numbers: Headquarters heading here
Cube Wynwd, Ken Griffin and a Windstar Cruiseship: "South Florida by the numbers" is a web feature that catalogs the most notable, quirky and surprising real estate statistics. Over the past few years, South Florida has been transformed by the unprecedented flow of capital, people, jobs, and companies to the region. While the names of companies that have…
Namdar nabs $195M loan for downtown Miami apartment towers
Namdar Group scored a $195 million loan to buy the development site and build a pair of apartment towers in downtown Miami. The New York-based real estate investment and development firm wants to build Namdar Towers, with a 41-story, 640-unit tower and a 43-story, 714-unit tower, for a total of more than 1.2 million square feet, according to the lender's news…
U.S. property value to fall 20% in likely recession, Cushman forecasts
Economic uncertainty is the flavor of the day, but Cushman & Wakefield foresees a sour taste for U.S. property values. The brokerage forecast a 50 percent chance of a mild recession. There was also a decent chance of a soft landing for the economy (30 percent), but only a marginal shot at stagflation or an upside scenario. Under a mild recession, Cushman…
Avra Jain and Robert Zangrillo get new partners for Miami River project
Dragon Global's Robert Zangrillo and Vella Group's Zach Vella with Vagabond Group LLc's Avra Jain and 555 Northwest South River Drive: A stalled Miami River mixed-use project is getting restarted after Robert Zangrillo and Avra Jain landed new partners in a $21 million buyout deal. Oklahoma-based Zerby Investments sold its 74.1 percent stake in the…
Coral Rock plans workforce, affordable housing in North Miami
A rendering of the Kayla at Library Place apartment building planned for North Miami with Coral Rock Development Group's principals David Brown, Michael Wohl, Victor Brown and Stephen Blumenthal: Coral Rock Development Group plans a 138-unit workforce and affordable housing project in North Miami. The 10-story Kayla at Library Place will rise…
Miami-Dade judge sides with Caroline Weiss in property dispute with daughter
With the recent dismissal of a lawsuit filed by her daughter, Caroline Weiss is one step closer to removing a familial obstacle blocking development of a 7-acre site in Miami's Blue Lagoon. Miami-Dade Circuit Court Judge Alan Fine on Tuesday tossed a complaint Adeena Weiss-Ortiz filed in April against two entities controlled by her mother and TIG Romspen, a lender…
Azora Exan pays $22M for Aldi-anchored retail center in Plantation
In a $22.2 million deal, a partnership involving a Spanish real estate investment firm added an Aldi-anchored shopping center in Plantation to its South Florida shopping spree. Azora Exan, a joint venture between Madrid-based Azora and Miami-based Exan Capital, acquired Plantation Crossing, a 70,369-square-foot retail site at 2140 West Sunrise…
Lender pays $43M for Broward Mall in foreclosure auction
The Broward Mall has a new owner after a lender acquired the retail property for $43 million in a foreclosure auction. An entity representing a U.S.-Barclays commercial mortgage-backed securities trust, or CMBS trust, submitted the winning bid for the roughly 469,000-square-foot mall at 8000 West Broward Boulevard in Plantation, court records show. The only…
Dania Beach mobile home park residents buy out landlords
Why rent when you can own? Residents of a historic Dania Beach mobile home park bought the 27-acre property from their landlords for $7.8 million. Records show Ocean Waterway Co-Op bought the mobile home park at 1500 Old Griffin Road from Amy Fletcher, James Branham, Dewey Daniel, and David Daniel III. The buying entity took out a $6.8 million…
James Batmasian buys Walmart shopping center in Deerfield Beach
Boca Raton-based commercial real estate investor James Batmasian picked up another retail plaza in Deerfield Beach, paying $17 million for a shopping center anchored by a Walmart Neighborhood Market. An entity managed by Batmasian bought Palm Trails Plaza at 1101-1149 South Military Trail, records show. The seller, an affiliate of Savitar Realty…
Sternlicht's Starwood makes Lantana affordable housing play
Barry Sternlicht's Starwood Capital Group scooped up an affordable housing complex near Lantana, adding to its portfolio of low-income rentals in Palm Beach County. Starwood, through an affiliate, bought the 94-unit Villas at the Cove Crossing at 2738 Lantana Road and 2735 Donnelly Drive for $16 million from an entity tied to…
Oregon firm pays $33M for two Palm Beach County self-storage facilities
A Beaverton, Oregon-based self-storage firm scored a double play in Palm Beach County, acquiring a pair of facilities for a combined $32.5 million. Entities tied to State Storage Group CEO David Heil acquired a self-storage complex at 500 North Haverhill Road in Haverhill for $24 million, and a self-storage building at 900…