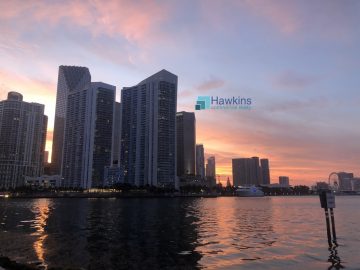 Robert Finvarb sells AC Hotel Miami Beach to TPG
Global investment firm TPG continues its hotel buying spree in South Florida. An affiliate of TPG paid $45.3 million for the 150-room AC Hotel Miami Beach at 2912 Collins Avenue, records show. The price represents what TPG paid for the real estate, but it is not the total price for the hotel asset, which the buyer and seller declined to disclose. At $45.3 million…
Bowery Properties buys Little Haiti apartment portfolio for Near $12M
An apartment portfolio in Miami's Little Haiti sold for $11.6 million, as the neighborhood undergoes redevelopment. Bowery Properties, led by Thomas Neary, bought Buena Vista Gardens, an 89-unit complex at 5601 Northwest First Avenue, according to a news release. Secamar LLC, led by Carlos, Martha and Carmen Sesin sold the apartments, records show.
Landlords plead rent relief as Biden to approve new, targeted eviction ban
Three days after the federal eviction ban lapsed, President Biden is expected to introduce a new moratorium that would freeze proceedings for up to 60 days in areas with the highest rates of new Covid infections. The White House expects those areas to cover about 90 percent of the nation's renters, the New York Times reported Tuesday. Like using duct tape to…
Miami-Dade judge nixes Fisher Island lawsuit, paving way for new condo project
Miami-Dade Circuit Court Judge Michael Hanzman blocked a legal maneuver aimed at stopping Heinrich Von Hanau from building one more luxury condominium and 12 houses on Fisher Island. Hanzman approved a settlement agreement on Monday involving Von Hanau's Fisher Island Holdings, while dismissing a lawsuit filed by homeowners Thomas…
Miami Beach seeks buyers for city-owned development sites
Miami Beach will be entertaining offers for five city-owned development sites, but it is holding off on listing the more valuable oceanfront site of North Shore library. The Miami Beach City Commission last week opted to delay issuing requests for proposals for the lots making up the 1.37-acre library parcel at 7505 Collins Avenue, following push-back from several…
Michael Stern forms $200M SPAC with former Citadel analysts
Michael Stern of JDS Development JDS Development's Michael Stern has found his next venture, confidentially filing to form a SPAC with two former Citadel credit analysts. The blank-check firm, called Onyx Acquisition Co. I, will seek $200 million to target general industrial and construction-tech companies valued at between $1 billion and $2 billion, Bloomberg News…
Fill 'er up: RaceTrac buys Medley auto junkyard for $9M
RaceTrac closed on an auto junkyard in Medley, paying $8.9 million for the redevelopment site. The 8.3-acre property at 8300 Northwest 74th Street will likely be converted into a filling station, convenience store and truck rest stop, according to Daniel Pou, leasing director for Horizon Properties of Miami. Pou, along with Alex Sanchez of commercial real estate firm…
Twin 60-story Edgewater towers on Biscayne Bay win OK
The Melo Group plans a pair of 60-story towers for Edgewater and the promise of a major portion of the growing public baywalk. Aria Reserve is proposed for a more than three-acre site on Biscayne Bay at 700 NE 24th Street. The owner is listed as 24 Plaza Corp, an affiliate of the Melo family development company, owner-developers of many major mixed-use…
Ferry linking Miami to Miami Beach to cast off this month
Poseidon Ferry, Miami's long-awaited waterborne commuter service, plans to resume hourly trips between Miami and Miami Beach on Aug. 26, and CEO Johnathan Silvia says he expects smooth sailing ahead. The ferry, which was launched at the end of last November, "had a good run for about a month and a week," he said, before the second wave of Covid-19 forced…
Miami cuts Jungle Island debt to get hotel project moving
Miami city commissioners have approved a deal giving the owners of Jungle Island a financial break on money they owe the city, and the move is hoped to help the company get financing so it can build a big hotel at the Watson Island site. The decision came at the commission's July 22 meeting, but only after spirited comments from Commissioner Joe Carollo who…
Lane closures, traffic shift coming in I-395 mega-change
Two major lane closures and a traffic shift are planned soon as construction moves ahead on the expansive I-395/SR 836/I-95 Design-Build Project in Miami. The work by the Florida Department of Transportation (FDOT) is a partnership with the Miami-Dade Expressway Authority and its contractor, the Archer Western – de Moya Group Joint Venture. The massive project…
Simon Property raises full-year guidance as shoppers return to stores
Simon Property Group raised its full-year earnings guidance as consumers returned to shopping centers and malls after Covid-19 lockdowns were mostly lifted across the country in the second quarter. Funds from operations rose to $1.21 billion, 53 percent higher than the year-ago period when some stores were just beginning to reopen after months of…
David Edelstein, partner close on missing piece of Wynwood assemblage for office towers
Developer David Edelstein's TriStar Capital and partner RAL Development paid $13 million to complete an assemblage in Miami's Wynwood where the two firms are planning a $200 million Class A office project, The Real Deal has learned. Edelstein said the partnership plans to break ground in about six months on a two-tower, mixed-use development with 300,000 square…
Cardboard demand could fuel an industrial real estate boom
In the industrial real estate sector, e-commerce is the rising tide that lifts all boats — even those made of cardboard. As consumers and retailers alike rely more heavily on e-commerce during the pandemic, the demand for packaging has increased too, from cardboard boxes to plastic bags and padded envelopes. With production increasing, more cardboard factories…
Longpoint Realty adds three Opa-locka warehouses to South Florida portfolio
Longpoint Managing Partner Dwight Angelini and the properties Longpoint Realty picked up three Opa-locka warehouses for $21.8 million, beefing up the Boston-based private equity firm's South Florida portfolio. The company acquired the industrial properties at 13200, 13260 and 13290 Northwest 45th Avenue from J.R. Realty Corp, a Hialeah-based real estate firm…
Democrats urge Biden to extend eviction ban after House effort falls short
Hours after a federal stay on evictions lapsed, Democratic lawmakers pleaded with President Joe Biden to extend the ban, warning that millions of Americans are now at risk of being put out on the street. The moratorium officially expired at midnight on Saturday, threatening an estimated 3.6 million renters. In response, Congressional Democrats are calling on…
South Florida industrial sector keeps beating pandemic odds, Q2 report shows
South Florida's industrial sector continues to outperform the rest of the market still battling through the pandemic. Industrial rents rose significantly and leasing activity more than doubled throughout the region, according to second quarter reports by Avision Young. In turn, industrial investment activity in Miami-Dade, Broward and Palm Beach counties…
OKO, Cain Top Off 57-Story Miami Tower
Missoni Baia tower, a luxury condominium from OKO Group and Cain International, has moved one step closer to completion with the topping off of construction. The 57-story, 649-foot-tall, Missoni-branded residential tower, situated at 777 NE 26th Terrace within Miami's Edgewater enclave, is on track for completion ahead of schedule later this year. The one- to…
Here's what tenants pay at MG3 REIT's Doral Concourse
The following is a preview of one of the hundreds of data sets that will be available on TRD Pro — the one-stop real estate terminal that provides all the data and market information you need. Next to Related Group and Shoma Group's CityPlace Doral in the growing city of Doral in northwest Miami-Dade County, the six…
Doral Population Rises 6.3% In A Year
Doral has been a culturally diverse city being represented by many nationalities, with a recent influx of people moving from other regions in the US. People coming from Argentina, Brazil and across the country have grown substantially and are welcomed as new Doral residents to help thrive an eclectic and culturally rich city, said Mayor…
Johnson & Wales sells more North Miami properties for $21M
Johnson & Wales University is not done… Izhak's Biscayne Apts Development LLC this week paid $12.3 million for the shuttered college's golf management center and an adjoining student apartment building at 12350 Biscayne Boulevard, along with a surface parking lot and a vacant lot at 1650 Northeast 124th Street, according to records. Last month…
Lions Group NYC buys downtown Miami dev site to build apartment tower
A Long Island-based real estate investment firm is making its first dive into the downtown Miami multifamily market, The Real Deal has learned. Albert Shirian's Lions Group NYC closed Thursday on a development site at 56 Southwest First Street and 65 Southwest 2nd Street that includes air rights above a parking garage owned by the Miami Parking Authority. The…
Rubells add to Allapattah portfolio with former pork processing facility
A former pork processing facility in Allapattah could be given a new life. Jason and Mera Rubell of the art collector family paid $5.4 million for the former Hightop Products warehouse at 1000 Northwest 23rd Street in Miami, The Real Deal has learned. A company led by Charlie and Marilyn Vazquez sold the 1-acre property. Stefano Santoro, broker and partner…
'Very, Very Seller-Friendly': Prime Miami Retail Properties Going To Auction
On Tuesday, a 7,762 SF building at 226-228 Lincoln Road, Miami Beach's famed shopping street, traded for $5.8M. It was sold at auction… The owner of the neighboring building at 230 Lincoln Road, a four-story retail building with a Ross Dress For Less on the second and third floors, watched and admired the process and decided to auction his building too. That wil…
Bankruptcy could lead to redevelopment of downtown Miami Holiday Inn
The owner of a Holiday Inn in downtown Miami filed for Chapter 11 bankruptcy protection, with a plan aimed at luring investors to redevelop the site. With its close proximity to PortMiami, Bayside Marketplace and the planned Waldorf Astoria Miami luxury tower, the hotel owner's attorney Linda Worton Jackson said the 10-story… at 340 Biscayne Boulevard…
Warehouse Distributor Carbel Signs 360K SF Lease at First Park Miami
Warehouse distribution company Carbel signed a 368,287 square-foot lease at First Park Miami, in a deal announced by CBRE, which represented the owner, First Industrial Realty Trust. The 126-acre complex, currently under construction, will comprise four buildings with 2.5 million square feet of logistics space. Located at 8801 NW 87th Avenue, the property sits on…
Was The Great Pandemic Migration To Miami Overhyped?
As the coronavirus spread last year, there were stories galore about people moving away from major cities to places that are less dense and more affordable. South Florida was made out as a big beneficiary of this trend, with a governor who resisted mask mandates and lockdowns and warm weather that allowed people to be outdoors even during winter. People…
South Florida resident Jared Kushner to launch Miami investment firm
South Florida appears to be having an inspirational effect on Jared Kushner. The ex-White House adviser and son-in-law of former President Donald Trump is launching a Miami-based investment firm called Affinity Partners. Kushner has spent the past six months with his wife Ivanka Trump in Surfside, where he's been working on a book about his…
Miami Market Update: Office Vacancy Stays on Downward Trajectory
By the end of June, Miami's office vacancy clocked in at 14.6 percent, down 20 basis point month-over-month and up 10 basis points year-over-year, according to CommercialEdge data. Coming into the second half of the year, Miami and Los Angeles are the only gateway markets to see vacancy come down since the start of 2021. Magic City's office vacancy rate has fallen…
Biden wants Congress to extend the eviction ban
In another eleventh-hour intervention, President Biden is urging Congress to extend the federal ban on evictions past its scheduled expiration on July 31. In a statement Thursday morning, the White House cited the spread of the Delta variant, particularly among Americans "both most likely to face evictions and lacking vaccinations" as grounds for continuing the ban…
Sunset Harbour's new zoning district bans Ronny Finvarb's planned hotel, allows taller offices
Developer Ronny Finvarb won't be able to build his planned hotel in Sunset Harbour, but taller office buildings are now allowed. The Miami Beach City Commission unanimously passed a new Sunset Harbour zoning overlay district on Wednesday that increases the height limit for office buildings to 65 feet from 50 feet. The district — bounded by 20th Street, Alton Road…
Miami's Restaurants are Back on Track, Entertainment and Big Box Users are Still Healing
What a difference a year makes! Retail real estate in Miami is not dead nor in the depths of huge vacancy rates and declining rents; current vacancy rate is 4.3 percent and rental rates have slipped by 0.1 percent over the past year. Let's explore several indicators of the value and use of the current state of the shopping center industry, restaurant space, entertainment…
Flex Office Strives and Thrives in South Florida
South Florida has long been viewed as a center for tourism, hospitality and logistics. These traditional industries are combining with new sources of economic growth, and a wave of new-to-market companies—including Shiftpixy, Boston Private and Point 72 Asset Management—are further spurring interest in the area. Pipeline Workspaces is one of the shared…
Miami Baywalk and Riverwalk Design Approved – Marks Long-Awaited Progress
The Miami City Commission has approved the design guidelines for the Miami Baywalk and Riverwalk, a four-mile, waterfront promenade project in Downtown Miami that has been in development for over 40 years. Extending from the northern Coconut Grove/southern Brickell area north through Downtown Miami and up to Edgewater, the Miami Baywalk…
Five Questions With Miami-Based Multifamily Investor Tzadik Properties' Adam Hendry
Adam Hendry loves living and working in South Florida. But as a value investor, he simply can't find the sort of bargains that entice him. During the Great Recession, Hendry, head of Miami-based apartment company Tzadik Properties, snapped up South Florida units. Since then, Florida property values have soared, and Hendry has turned into a seller.
Biscayne Gardens incorporation comes to a head
Zero hour has arrived in Biscayne Gardens, population 34,800. The first clue is the proliferating red-and-white signs: "Vote NO Incorporation. Keep Your Taxes & Rent Low." More are scheduled to come in Spanish and Haitian Creole. The matter will come before the county commission on Sept. 1, which could then decide whether to put incorporation before the…
Conversions from offices to life science labs booming
While the office market grapples with the Delta variant, life science labs are enjoying a boom. In fact, many new labs are actually conversions from offices. The life science industry saw record investments in North America last year, bringing in $70 billion of capital investments. In six large industry markets, 20 percent of laboratory spaces being constructed…
Florida Freezer Inks New 85,000-SF Lease At Southeast Frozen Foods Building
In a strategy to expand into the Southeast Florida market, Florida Freezer has signed on for 84,993 square feet at the Southeast Frozen Foods building located at 18770 NE 6 Avenue in Miami. JC Conte, SIOR and Brian T. Ahearn, CCIM, with Butters Realty & Management Industrial Brokerage Team represented Florida Freezer in the deal…
Snow Real Estate buys Sunrise apartments for $15M
Snow Real Estate bought the Golfview Flats apartment complex in Sunrise for $15 million. Hollywood-based Snow Real Estate, through an affiliate, bought the property at 8445 Springtree Drive from Ortsac Capital Group, based in Fort Lauderdale, according to a news release. Snow Real Estate took out a $12.8 million loan to finance the purchase from New York City…