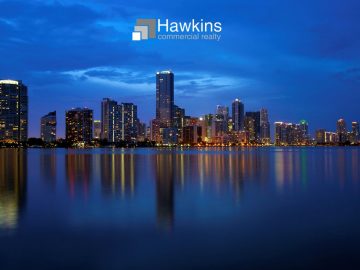 Federal agents raid Cleveland and Miami offices of company tied to Ukrainian oligarch
Agents with the FBI and the Internal Revenue Service on Tuesday raided two offices belonging to Optima Management Group, a company with ties to a Ukrainian oligarch, federal law enforcement sources tell CBS News. The federal agents conducted the raid of Optima Management's offices in Miami and Cleveland as part of an investigation out of the U.S. Attorney's Office…
Brian Pearl Talks About his 886-unit Development in Miami, Student Housing Operations During COVID-19 
Construction is underway on The One at University City, a 1,244-bed student housing community located across the street from the Florida International University campus in Miami. The developer behind the off-campus property, Global City Development, partnered with RER Ventures and Podium Developments to offer 886 units to students in need of housing…
WeWork's Lincoln Road landlord seeks $20M in unpaid rent
WeWork's landlord on Lincoln Road is suing the co-working giant, alleging it failed to pay rent in April, May and June while still occupying the space. SML 350 Lincoln Inc. sued WeWork in Miami-Dade Circuit Court in late July, alleging the company breached its commercial lease by failing to pay rent. The landlord, led by Shaul Levy and Meir Levy, is seeking more than…
Chart: June 1 Miami-Dade Unemployment Level Remains Steady Following Intial COVID-19 Surge in April
The continuing effects of COVID-19 on employment, and thus the economy, in the Miami area continue can bee seen in the June 1 unemployment rate of 11.5% for Miami-Dade county, down slightly from the prior month's 12.0% level. This is little changed from levels reached in April as unemployment levels made an initial jump due to the effects of…
92,550 SF Medley Industrial Lease Arranged
Cushman & Wakefield has arranged a 92,550-square-foot industrial lease at Medley 104 Industrial Center in Medley. The landlord, Lincoln Property Co., recently completed a $6.5 million renovation at the 263,131-square-foot property. Medley 104 is situated at 9400 NW 104th St., 10 miles northwest of Miami International Airport and 15 miles northwest of the Port of Miami.
Swire Properties Sells Brickell City Centre Office Towers in Miami to Northwood for $163 Million
Swire Properties has sold Two and Three Brickell City Centre, two office buildings at the $1.05 billion Brickell City Centre mixed-use project in Miami's Brickell district. The sales price was not disclosed, though The Miami Herald reports the assets traded for $163 million. The South Florida Business Journal reports Denver-based Northwood Investors LLC…
This New Miami Hotel Residence, Connected To A Medical Center, Is Poised For A Pandemic
The developers of a new mixed-use tower in Miami, set to open in 2024, weren't anticipating a global pandemic when they came up with the idea for their latest project — a medical center attached to a luxury hotel-condo. However, the coronavirus, which has hit Florida particularly hard, has spurred some changes in the complex and attracted interest. Legacy…
Miami Worldcenter developer sells site to Abbhi Capital for $24M
Miami Worldcenter's development group sold off another part of the mega-project. Abbhi Capital bought a 1.15-acre parcel of land at the Miami Worldcenter development site at 1016 Northeast Second Avenue for $24 million, according to a spokesperson for Miami Worldcenter. MWC Block A, LLC, led by Nitin Motwani, sold the property. The site is zoned T6-60a-O…
Low Income Housing Tax Credit Investors Fight Back, Say Miami Judge's Ruling Will 'Chill' Investment In Affordable Housing
Last month, a Miami judge ruled that a local nonprofit could buy a housing complex by assuming its debt and paying taxes owed — about $110K — icing out its Boston-based private investment partners who had hoped to sell the project for $21M and make a nearly $5M profit on the deal. But the investors, HallKeen, haven't given up the fight. They're asking the judge…
Construction accident at Vlad Doronin's Brickell tower site in Miami lands six workers in the hospital
A bundle of rebar collapsed at a construction site Wednesday near Brickell City Centre, trapping six workers who were eventually freed and sent to the hospital in serious or critical condition. The accident occurred before 11:30 a.m. at the site of 830 Brickell, where developers OKO Group and Cain International are building a 57-story, 724…
Starwood's Barry Sternlicht predicts demand for hotels, retail will not return to pre-Covid levels "for awhile"
Barry Sternlicht compares the coronavirus pandemic to a race at the Indianapolis Speedway gone wrong. As a pace car laps around the track, lenders have to pull into the pit to change the tires and replace auto bodies. "We have never experienced that," said Sternlicht, chairman and CEO of Miami Beach-based Starwood Property Trust, during a second quarter…
"We're seeing more militant direct action:" Tenant groups fight evictions with power drills and other tools
Responding to an eviction in progress in South Central Los Angeles, tenant organizers didn't call a defense attorney. They called a contractor, who came equipped with a power drill. When a local landlord removed a resident's belongings and changed the locks on his apartment a week after he missed rent, Paul Lanctot, an organizer with the Los Angeles Tenant…
Nationwide office leasing demand hits two-decade low
The coronavirus pandemic and its economic aftermath have put a damper on office leasing across the U.S. By one measure, the decline in demand for office space in the second quarter was the largest the country has seen since the dot-com crash. Net absorption in the U.S. office market — the amount of space leased minus vacated space and new space — turned…
Miami International Airport projects rushed in pandemic
Miami International Airport's multibillion-dollar overhaul is still taking off – just not exactly as originally planned. Some big-ticket projects in the $5 billion capital improvement plan for Miami-Dade County's top economic engine will start earlier than first scheduled. Others set to begin soon are now on hold. It's all to minimize harm to an air hub whose passenger…
Miami-Dade advised to fast-track transportation projects now
Miami-Dade County decisionmakers should now be moving as many worthwhile transportation projects as possible to the starting line in order to take advantage of free-flowing federal funds, Citizens' Independent Transportation Trust (CITT) Executive Director Javier Betancourt says. The county for years has sought hard-to-get dollars from Washington to help…
Eviction, foreclosure freeze in Florida delaying inevitable flood of cases
Florida Gov. Ron DeSantis' latest extension of the ban on residential foreclosures and evictions is expected to flood the courts with new filings once it is lifted, as layoffs continue to mount and federal funding runs out, real estate attorneys told The Real Deal. "Mortgage lenders are getting nervous that the people they're lending money to are no longer getting…
Inside Hudson Pacific and Blackstone's field of streams
As many developers just try to hang on during the pandemic, Victor Coleman is celebrating. During an earnings call at the end of July, Coleman could hardly contain his excitement about what he called "the milestone." Blackstone Group, the New York-based investment giant, had agreed to buy a 49 percent stake in his company and its $1.65 billion Hollywood real…
J.C. Penney taps Cushman, B. Riley to sell 163 locations
As part of its plan to reduce its portfolio and cut costs amid Chapter 11 bankruptcy, J.C. Penney is looking to sell off its interest in 163 locations across the country. The department store chain has tapped Cushman & Wakefield and B. Riley Real Estate to sell the leases for 142 locations, as well as 21 stores it owns, Business Insider reported. "There's all kinds…
"Blank-check" companies make a comeback in real estate
The 1980s called. They asked for their investment strategies back. In July, an affiliate of prominent New York-based real estate investment firm Benchmark Real Estate Group raised money through a vehicle known as a blank check company. The Benchmark entity, Property Solutions Acquisition, raised $200 million by selling shares of a shell…
'They Are Literally Exploding Right Now': The Rise Of Blank Check Real Estate Companies
Special purpose acquisition companies, known as SPACs, have been all the rage in the financial world this year. Now, they are starting to become en vogue in commercial real estate. "Today, three SPACs went public," former hedge fund portfolio manager Neil Danics, who tracks SPACs for the website he founded, SPACAnalytics, said Wednesday. "They're literally…"
Falcone Group Hires HUD Executive To Lead New Affordable Housing Arm
Prominent South Florida developer Art Falcone is launching a new affordable and workforce housing arm at his company, Falcone Group, and he has tapped the former deputy chief of staff for Housing and Urban Development Secretary Ben Carson to lead the division.Alfonso Costa Jr. will serve as executive vice president in the division of Falcone…
Brookfield's nixed mall redevelopment may signal strategy shift
A tough economic environment has led Brookfield Property Partners to cancel plans to redevelop a mall in Burlington, Vermont, and local officials aren't happy. Brookfield became involved in the project in 2017, with plans to build apartments and a 10-story office tower on the now-empty site. But last month, it sold its interest in the project to local…
The Recent COVID-19 Spike and the U.S. Employment Slowdown
The coronavirus pandemic continues to affect employment across the United States. In a previous blog post, we explored the idea of forecasting weekly changes in employment using data from Homebase, a data set that reports changes in employment daily. In this article, we discuss our updated forecasts for employment using this technique and investigate whether…
95% of commercial buildings violate of the ADA…and their owners don't even know it. But some lawyers make it their job to know. Here's how to avoid a costly ADA lawsuit. The Americans with Disabilities Act, or ADA, is a vital piece of legislation for ensuring that all Americans have equal access to the same resources. But it also means that property owners, builders…
Notable Retail Leases Signed in South Florida Q2 2020
South Florida Retail Leases 2020 We've compiled a comprehensive list of the top retail leases signed by square footage in South Florida during Q2 2020. This quarter was busy overall, especially considering the current pandemic, and saw several big box leases signed and sealed. Despite the sentiment that the traditional retail market is suffering due…
WeWork offers pay-as-you-go workspaces
With the office market in limbo, WeWork has launched a pay-as-you-go offering that allows users to drop in for as little as an hour (and $10). A source familiar with WeWork's new "On Demand" program said it's being piloted for the next 60 days in New York City. As companies reopen for business, it reflects a growing demand for a "third place" to work…
Trump says he is "going to stop" evictions
President Donald Trump said Monday that he was "going to stop" evictions by issuing a moratorium as negotiations in Congress bog down over a larger federal coronavirus relief plan. The White House is also looking into whether Trump can unilaterally extend the enhanced unemployment benefits that were part of the federal government's pandemic relief…
Codina Partners affiliate allegedly owes $3.6M for Downtown Doral condo construction: lawsuit
5350 Park with Armando Codina and Ana-Marie Codina A Codina Partners affiliate allegedly stiffed a Fort Lauderdale construction firm for $3.6 million after completing 5350 Park, the developer's latest condo project in Downtown Doral, according to a recently filed lawsuit. Grycon LLC is suing 5350 Park LLC and the project's surety bond provider Arch Insurance…
Dunkin' to shutter 800 US locations
America will soon have to run on 800 fewer Dunkin' Donuts. The retailer, one of the largest coffee and doughnut chains in the world, is permanently closing 8 percent of its U.S. locations, according to CNN. The company described the closures as "real estate portfolio rationalization" in its second quarter earnings, released Thursday. The closures will primarily affect…
WeMove: WeWork leaves Lincoln Road, consolidates Miami Beach operations to Lenox Ave
WeWork is leaving Lincoln Road after allegedly owing more than $650,000 in unpaid rent at Lenox Avenue, and is consolidating its two Miami Beach locations into one, The Real Deal has learned. The embattled coworking giant notified its members at 350 Lincoln Road in Miami Beach that it was closing the space effective Aug. 14, according to a letter…
Vishaan Chakrabarti on a Manhattan real estate market without private cars
Vishaan Chakrabarti has a message for real estate developers: Think outside your own black car. The founder of Practice for Architecture and Urbanism and the dean of the UC Berkeley College of Environmental Design joined TRD's Hiten Samtani to discuss his proposal for a Manhattan in which private cars would be banned. Instead, all the land devoted to…
Columbia Property Trust office REIT sees leasing, revenue rise while buildings just 5% full
Looking at the latest quarterly financials from Columbia Property Trust, you might forget that we're in the middle of a pandemic. The office REIT leased more square footage than it did in the same period a year ago, and recorded its highest normalized funds from operation since 2018. But the situation on the ground tells…
72K-SF Industrial Lease Secured in Miami
Cushman & Wakefield has secured a 72,304-square-foot industrial lease at Medley Industrial Center in Medley. Located at 6891 NW 74th St., the Medley Industrial Center is a 142,804-square-foot industrial facility featuring 24 foot clear heights, 12 dock loading doors, one ramp, and five rail doors on a Florida East Coast Railway spur line. The lease brings…
Ladder Capital seeks to foreclose on Witkoff's South Beach hotel
A lender is seeking to foreclose on the Witkoff Group's South Beach hotel after it alleges the developer failed to make its July payment on a $45 million loan. Ladder Capital Finance filed a foreclosure lawsuit against the owner of the 181-room Washington Park Hotel and is seeking to collect the entire loan, along with interest and late fees. Private equity giant…
"Headwind to profitability": Amazon doubles down on fulfillment centers
Amazon has been on a torrid pace of leasing and acquiring millions of square feet of fulfillment centers and warehouses across the country this year. And demand is there. The company, which reported $88.9 billion in second quarter sales Thursday, said it would increase its fulfillment center square footage by 50 percent in 2020. That's on top of the 15 percent…
Starwood eyes $11B raise for real estate, distressed bets
Barry Sternlicht is putting his money where his mouth is. The Starwood Capital Group CEO last month quipped, "when it's really ugly, it's a good time to invest." Now, the company is looking to raise $11 billion for real estate and distressed bets. The firm's Starwood Global Opportunity Fund XII is looking to raise $8 billion for real estate acquisitions, and a sidecar…
Hudson Pacific is effusive about Blackstone deal, defensive about office space
Hudson Pacific Properties reported a dip in second quarter net income, attributing it to retail tenants that deferred their rent payments because of the coronavirus. But taking into account the massive impact the pandemic has had on retail and office landlords, the real estate investment trust's net income of $3.7 million and revenue of $199 million in Q2, was…
Welcome to a world of the à la carte retail lease
In sickness and in health, till short-term, revenue-adjusted leases do us part. One of the U.K.'s biggest retail landlords is moving away from a traditional lease structure across its multibillion-dollar portfolio, opting to give tenants a basket of leasing options with adjustments based on in-store revenue. It's one of the most significant reevaluations of the relationship between…
Congress pitches relief to struggling hotel, mall CMBS borrowers
A bipartisan bill introduced in Congress on Wednesday is intended as a lifeline for hotel and shopping-center CMBS borrowers. The measure would provide preferred equity to borrowers hurt by the coronavirus pandemic, taking from a $454 billion pool set aside for struggling businesses in the earlier stimulus bill, the Wall Street Journal reported. Roughly 10…
Brookfield, creditors reach deal on REIT's $6.4B credit facility
Brookfield Asset Management has renegotiated a $6.4 billion credit facility for its retail-heavy real estate investment trust, Brookfield Property REIT. The deal imposes restrictions on dividends and requires other Brookfield Asset Management–owned entities to lend at least $250 million to the REIT, the Financial Times reported. In exchange, a group of creditors led by…
SoFla construction starts plummet 54% in June
(iStock) South Florida construction starts took a nosedive in June, continuing the trend since the coronavirus pandemic began. Nonresidential construction declined 43 percent in June, year-over-year, to $239.6 million, while residential construction dropped 61 percent to $265.4 million during the same period, according to a new report from Dodge Data & Analytics.