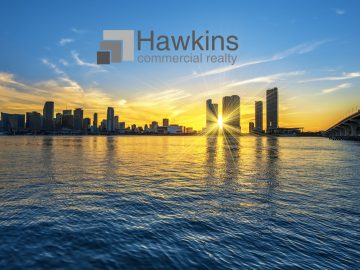 Malibu firm picks up mobile home parks near Coral Gables for $50M
A Malibu-based real estate firm paid $50 million to acquire two mobile home parks on Southwest Eighth Street… 1989 Sunny Court LLC, an affiliate of Marquis Property Company, bought the Silver Court park at 3200 Southwest Eighth Street and the Sunnyside/West Haven mobile home park at 6020 Southwest Eighth Street, according to the brokers involved…
Aventura assisted living and medical offices project scores $84M construction loan
An assisted-living facility project with medical offices and retail in Aventura scored an $83.8 million construction loan. Rieber Development is building 1212 Aventura with 163 luxury assisted-living units near Aventura Hospital and Medical Center. The financing breaks down to a $63.5 million senior construction loan from Miami-based BridgeInvest, and a $20.3 million…
Miami International Airport Weighs Private Deal For Five-Level Cargo Hub
Miami International Airport is in talks with a venture that wants to help double cargo capacity within three to five years by building a five-level cargo structure. CCR+Airis made the unsolicited proposal last year, aviation Communications Director Greg Chin confirmed to Miami Today. The $1.1 billion privately funded project would rise on 29.4 acres in…
Blackstone buys logistics portfolio for $2.8B
The Blackstone Group reportedly picked up a portfolio of 124 properties from Cabot Properties across the United States and Europe for $2.8 billion. The properties were sold in two deals, according to Bloomberg. One deal handed the firm 102 U.S. properties and the other 22 properties in the United Kingdom, Germany and the Netherlands. All told, the properties…
Jeffrey Soffer and Dave Grutman talk post-Covid concepts, more
Miami's tourism market is booming after a brief lockdown, but restaurants, clubs, and hotels have struggled to navigate staffing shortages. "When the government gave out big checks, people stayed home," Jeffrey Soffer, chairman and CEO of Fontainebleau Development said. But he doesn't anticipate that problem lingering. "The money is wearing off. The free…
Major Food Group partners with Michael Stern on its first branded condo tower in Miami
Developer Michael Stern is partnering with Major Food Group to build a branded luxury condo tower in Miami's Brickell neighborhood, The Real Deal has learned. Stern's JDS Development Group and the New York-based restaurant and hospitality group plan to build Major, a 259-unit tower at 888 Brickell Avenue, Major Food Group…
MMG Equity Partners Acquires Homestead Corner for $4.2M
MMG Equity Partners has acquired 1020 & 1090 N Homestead Blvd, a 1.99-acre site on the SW corner of US-1 and NE 11th Street in Homestead, FL. The property currently has two buildings totaling 23,629 SF, operating as Mario's Latin Café – a full-service restaurant, and The Inn… Read more » The post News first appeared on MMG Equity Partners…
Miami-Dade County slapped with ethics complaint over approval of 550-home Calusa project
Miami-Dade County was slapped with an ethics complaint over its approval of a controversial plan for a large housing community on a West Kendall golf course that was meant to be preserved as green space. Developer GL Homes wants to build a 550-home gated community on the Calusa Country Club, a 169-acre golf course on the southwest…
Last-mile facilities dominating industrial real estate
The last mile of the delivery chain is proving to be the most valuable one for industrial properties. A majority of U.S. industrial leasing during the third quarter involved parties hunting for less than 100,000 square feet, according to JLL data reported by the Wall Street Journal. The outlet noted that the size of the properties likely indicates a last-mile facility. The…
On holy ground: Sergio Pino's Century Homebuilders plans apartments, school on Coral Gables church site
In the rush to build apartments to capitalize on the hot market, developers are competing for increasingly scarce buildable sites. No ground is sacred – not even a church. Sergio Pino's Century Homebuilders Group wants to redevelop the… Pino, through an affiliate, bought the 1.5-acre property at 110 Phoenetia Avenue from St. James for $9.8 million, records show.
Thomas Conway's Qualcon eyes mixed-income apartment project in Little River Opportunity Zone
A mixed-income apartment project with commercial space could be on tap within an Opportunity Zone in Miami's Little River neighborhood. Developer Thomas Conway, through one of his Qualcon affiliates, is seeking zoning and land-use changes for the site of a former AT&T telecommunications facility that is steps from The Citadel food hall.
First building in vast Little Haiti project gets OK
The very first building proposed to launch a major mixed-use project destined to change Little Haiti gained the support of the City of Miami's influential Urban Development Review Board. At its November meeting the board unanimously recommended approval of what's identified as Parcel 11, part of the Magic City Innovation District – Little Haiti SAP…
Miami board denies Wynwood Station mixed-use project
A mixed-use residential project planned for the east side of the Wynwood Arts District, near Midtown and Edgewater, was denied by the City of Miami's Urban Development Review Board. Developer-owner Newcomb Properties #2 LLC plans to build Wynwood Station at 45 NE 27th St. But the board voted unanimously Nov. 17 to deny the project, after voicing…
Bonanza may raise Miami-Dade Transit federal funding by 24% to 30%
Funds directed to Miami-Dade transit projects from the Infrastructure Investment and Jobs Act will increase federal formula transit funds 24% to 30% and the county will still compete for additional money through grant programs, Eulois Cleckley, director of the Department of Transportation and Public Works, (DTPW) told Miami Today. The funds are to be used to…
Poseidon Ferry looks for dock use at Miami City Hall
As passenger counts on Poseidon Ferry's Miami-Miami Beach route, now at about 120-150 riders a day, continue to rise, CEO Johnathan Silvia is looking ahead to adding service to Coconut Grove in January. With the help of Irene Hegedus, the county's chief of transportation enhancement, the company is working on a docking agreement at Dinner Key Marina, just behind City…
Is privately built five-level air cargo hub at MIA too good to be true?
Miami-Dade is weighing an unsolicited offer to fill an air cargo gap made public last month amidst a global air shipping boom. The developer asks to multiply cargo capacity at a new vertical hub at landlocked Miami International Airport and pay for it all. If this sounds too good to be true, it might be. Details have yet to be unveiled and, if the county follows its…
Treasury Department to ease rent relief backlogs with reallocations
States struggling to keep rent relief efforts alive could soon benefit from a Treasury Department plan to reallocate funds. Rental-assistance money would be shifted from municipalities with unused funds to those who desperately need it, the Wall Street Journal reported. Officials didn't specify to the Journal which states and municipalities would gain and lose funds…
Black Friday retail traffic stuck below pre-pandemic levels
Even after the peak of the pandemic, Black Friday no longer appears to be the saving grace of retailers around the country. Retail traffic in the United States dropped 28.3 percent from 2019's holiday, according to preliminary data from Sensormatic Solutions reported by CNBC. The data show traffic was up 47.5 percent from last year, when coronavirus restrictions and…
Terranova scores $55M refi of Miracle Mile portfolio in Coral Gables
Terranova Corp. secured a $55 million refinance of its Miracle Mile portfolio in downtown Coral Gables, as the firm continues to take advantage of low interest rates. Miami Beach-based Terranova, led by Chairman Stephen Bittel, received the financing from City National Bank. The debt consolidates and replaces loans from three lenders on 14…
AJ Capital Partners invests in Opportunity Zone portfolio in Miami's Little River
MVW Partners secured a majority investment from a real estate firm that focuses on Opportunity Zone projects. Adventurous Journeys (AJ) Capital Partners, based in Nashville, Tennessee, partnered with Miami-based MVW Partners to acquire the majority ownership of the 24-acre portfolio MVW has assembled in Miami's Little River, according to Matthew Vander…
Kosher hotels planned near Seminole Hard Rock Hotel & Casino
Wyndham Grand in Hollywood by Sharon Sharaby Jewish tourists who want to visit the Seminole Hard Rock Hotel & Casino in Hollywood will be able to stay at a kosher hotel directly across the street starting next year, and they may have another kosher option near the tribal resort by 2024. The 100-room Wyndham Dolce Kosher House Hotel will have a…
Mindspace gets $72 million induction to continue shared-space expansion
Israeli shared-office space provider Mindspace has secured $72 million to help fuel its expansion in Europe, the United States and its home country. The fundraising round was led by Harel Insurance Investment and Financial Services to help Mindspace, which manages 1 million square feet of office space in 32 branches across 17 cities and seven countries…
Jared Kushner looks to Persian Gulf for investment-firm financing
Jared Kushner (Getty) Jared Kushner, who worked closely with Arab states on behalf of the US government and his father-in-law, then-President Donald Trump, is looking to the Persian Gulf to raise money for his new investment firm — a move that has ethics watchdogs on high alert. The New York Times reports that Kushner, the former CEO of Kushner Properties…
Crypto-talk: Real Estate in the Metaverse – "How deep does this "rabbit hole go?"
With regard to capital appreciation, real estate has traditionally been considered to be one of the more popular investment options. Remember, it is a limited resource whose value is intrinsically related to its status as a scarce resource. What happens, though, when real estate begins to lose its sense of reality? Please allow me to introduce you to the world of…
Crypto-talk: Sample framework for the trade of real-estate ownership rights via blockchain-enabled technologies, including NFTs – powered by ESQ.title
This article provides a sample framework for the trade of real-estate ownership rights via the "encapsulation" of those rights in a Non-Fungible Token (NFT), as well as NFT participation in the DeFi sector and the potential of providing crypto title insurance, for added confidence and security. Moreover, this Crypto-talk article will address some of the…
Rents in New York and South Florida metros surged more than 30%, led nationwide rise
Average monthly rents rose by 13 percent since last year, with the bulk of the price surges recorded in popular metro areas, according to a new report from Redfin. The report pins the average monthly rent nationwide in October at $1,858, a 12.5 percent year-over-year rise from 2020. Average rent in October in 2020 was only $1,651, but has been rising ever since.
The Fed: Beige Book Contacts Expect Price Pressures to Ease in 2022
The latest Beige Book report on economic conditions in the Southeast found that prices and wages continued to climb amid a tight labor market and ongoing supply chain challenges. But many expect price pressures to ease next year. On the employment front, turnover rose as employers lured workers from rivals with "significant wage increases and greater…
Lawsuit: Miami Beach Sidewalk Café Crackdown Would Be 'Death Sentence' For Restaurants
A crackdown on sidewalk cafés in Miami Beach means that 13 existing establishments could fail to qualify for renewed permits and be shut down by Tuesday, Nov. 30, potentially causing a ripple effect for landlords, a lawsuit warns. The Lincoln Theater and Lincoln Associates, parent companies of Tapelia restaurant and Ole Ole steakhouse, are suing…
The South Florida Answer to West Coast Logistic Bottlenecks
South Florida's industrial market fundamentals, particularly for bulk warehouse space, blew through the third quarter of 2021 on strong leasing demand and new construction. The region's healthy consumer market and growing population helped push investor and occupier confidence in the industrial market, which is likely to continue through 2022. The backlog…
Boca Raton office buildings sell in separate trades for $49M
Tricera Capital led by Ben Mandell, bought Milan at Town Center at 1675 North Military Trail, and Beverly, Massachusetts-based Brookwood Financial Partners, led by Chairman and CEO Thomas Nicholas Trkla, bought Sabre Centre I at 5901 Northwest Broken Sound Parkway. In separate deals totaling $49.1 million, Tricera Capital and Brookwood…
Overlooked downtown West Palm Beach area poised for redevelopment as Nora District
Downtown West Palm Beach's growth has caught the eye of developers and real estate investors, but one district has been left out of the activity. Now, this is poised to change. The city, working with NDT Development and Place Projects, wants to implement a set of building regulations aimed at breathing life into the area anointed…
Two Roads, Alpha Blue score $122M construction loan for West Palm Beach condo project
Two Roads Development and Alpha Blue Ventures scored a $121.5 million construction loan for their luxury condominium tower in West Palm Beach. The development duo are planning the 24-story waterfront Forté at 1309 South Flagler Drive, overlooking the Lake Worth Lagoon and Palm Beach. Little Rock, Arkansas-based Bank OZK provided the financing, according…