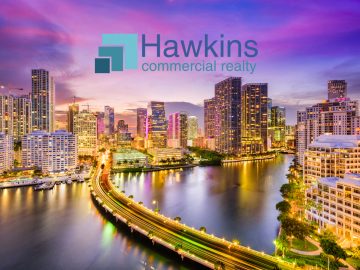 Chetrit Group to Transform Miami River Waterfront with 4M-SF of Residence, Office, Retail, Hospitality
New York based developer Chetrit Group, a privately held real estate development company, has begun its transformation of six acres of Miami River waterfront located between I-95, Southwest Second Avenue and Jose Marti Park in Miami, FL. When fully completed in 2026, the River District will comprise four million square feet of new development, including 1,600 residences, Class A…
Brightline Opens Aventura & Boca Raton Stations: Ticket Sales 'Encouraging'
Brightline opened two new train stations to the public today in Aventura & Boca Raton. The company told investors yesterday that advance ticket sales for the new stations are encouraging. Demand for Brightline's service to the original 3 stations also increased significantly last month, even before the new stations opened, the company said. Brightline told investors…
First Ever: 55-Story Brickell Office Tower 830 Brickell 100% Leased Before Completion
A giant new lease has just been finalized at the 55-story 830 Brickell office tower. It makes 830 Brickell the first ever trophy office tower in Miami fully leased upon completion, its developers said. The newly signed lease is also the largest new-to-market office lease signed in Miami in 2022 Kirkland & Ellis, the world's largest law firm by revenue, leased 115,000 square feet…
Law Giant Kirkland & Ellis Signs 115K SF Lease For First Miami Office
The largest law firm in the country is opening its first Miami office at 830 Brickell, putting an impressive bow on a record year for the tower and the city's office market. Kirkland & Ellis signed a lease for 115K SF at 830 Brickell, bringing the 55-story, 640K SF tower to 100% leased months before construction is expected to wrap up, the building's developers announced Monday.
Chetrit Group Starts Construction On $1B River District Development
The Chetrit Group's long-dormant plans to develop The River District, a $1B mixed-use project along the Miami River, have been revived. The New York development giant has begun construction on the 4M SF, four-tower project with 1,600 residential units, new office space, 30K SF of entertainment and retail space, a boat marina with space to house 60-foot vessels…
First Ground Floor Rendering Revealed Of 600 Miami Worldcenter
The developers behind 600 Miami Worldcenter have released the first rendering of the ground floor planned at the new tower. The rendering was first spotted by Ryan RC Rea. Pre-sales at the tower are off to a strong start, according to a statement this month by David Arditi, Co-Founder of Aria Development Group, which is co-developing the project with Merrimac…
Dallas firm buys Hyatt-branded hotel near Miami International Airport
MCR Hotels picked up a Hyatt-branded property near Miami International Airport, doubling… An affiliate of Dallas-based MCR paid $16.6 million for the Hyatt Place Miami Airport-East at 3549 Le Jeune Road in Miami, records show. The deal breaks down to about $123,000 per key for the 135-room hotel. Attorneys Michael Gallinar and Jason Camps…
Here are South Florida's biggest multifamily sales of 2022
From left: Harbor Group International's T. Richard Litton Jr and Jordan Slone, and Hines Global Income Trust's Jeffrey Hines with 100 Northwest Sixth Street and 237 South Dixie Highway: South Florida kicked off 2022 in high gear with the biggest multifamily deal ever on record. Since late 2020, the region experienced a market high, with the influx of out-of-state…
People may lease office, retail or commercial space annually or over a multi-year period. They often have a landlord to fix things and handle maintenance. Ground leases are an entirely different arrangement. They are typically 50 to 99 years. During that time, the tenant will develop the property by erecting a commercial building, making improvements to…
Trez Capital Restructures Florida Operations, Plans to Open New Office in Metro Miami
Trez Capital has restructured its Florida operations by closing its Palm Beach office with plans to open a new office in metro Miami under new regional leadership. The firm is ending its current joint venture partnership in the South Florida market as part of the restructuring. Under the continued direction of Trez Capital's global head of origination, John Hutchinson…
Related Group, Related Companies Both Reportedly Interested In Resorts World Miami Property
Both Related Group and Related Companies are interested in Genting's Resorts World Miami, according to the WSJ. Related Group was founded by Jorge Perez, while Related Companies was founded by Miami Dolphins owner Stephen Ross. The two were formerly development partners in Miami for over 40 years, but recently agreed to split. "We're always interested in prime…"
One Brickell City Centre: Expected Demolition Date Revealed
New details about One Brickell City Centre have been revealed, including an expected demolition date, according to the SFBJ. There is said to be "great momentum" in leasing of office space at the tower. Detailed plans for the project have now been filed with the city, the developer said. Demolition at the site "should begin" in the late first quarter, a Related Companies…
First Glass Installed At Caoba Miami Worldcenter's 40-Story Second Tower
The first glass has been installed at Caoba Miami Worldcenter's second tower, according to a photo by Kyle Merville. The second tower now under construction will rise 40 stories and have 411 residential units. It will share an 888-space parking garage that was completed in 2019 with Caoba's first 43-story tower. When the second tower is complete, Caoba's two towers will have…
The Standard Residences In Midtown Miami Files For Construction Permit
The Standard Residences in Midtown Miami has applied for a construction permit. Miami Building Department records show that the permit was applied for on December 6, with the full plans filed on December 14. Cavossa Management is listed as the contractor on the permit, which is already in review. According to the permit, 228 living units are planned, along with 11,000 sf…
Biggest South Florida real estate news of 2022
South Florida real estate continued to dominate headlines in 2022. The pandemic-charged housing market frenzy slowed dramatically as a result of soaring mortgage rates, inflation and other economic pressures. After nearly two years of nonstop sales and rent hikes, renters and buyers were pushed to their limits, and the housing crisis worsened with affordability reaching…
100-story glass boxes with Waldorf Astoria are advancing
Construction work on the unique skyscraper that will be home to the new Waldorf Astoria Hotel & Residences Miami is moving full speed ahead, reports the development partnership bringing the mixed-use project to the waterfront. The planned 100-story assemblage of glass boxes in downtown Miami is the product of a partnership between New York and Miami-based developer PMG…
First vertical North Miami housing in decades ready to go
A new mixed-use project, Residences at NoMi, is expected to break ground in the first quarter of 2023 after receiving long-awaited funding from the North Miami Community Redevelopment Agency. Residences at NoMi, approved by the North Miami City Council in March 2019, was awarded an $8 million infrastructure grant from the North Miami CRA at its Dec. 13 meeting.
Miami Beach seeks vision for cultural center at Byron Carlyle
Miami Beach is seeking letters of interest from artistic and cultural organizations and facility operators to gauge what visions they could have for the development of a Byron Carlyle cultural center in North Miami Beach. Miami Beach Commissioner Alex Fernandez asked the administration to request letters of interest to better understand "how would they envision the use…
Jimmy Morales: Cites infrastructure gaps as businesses flood into county
When Miami-Dade Mayor Daniella Levine Cava offered Jimmy Morales the job of chief operations officer, he knew her vision would match his own, he recalls. The county's need for resiliency infrastructure due to its own economic growth is a top priority, and he hopes to complete several transportation, sewer and water, housing and environmental infrastructure projects.
Why An Inspector Should Be Your Next Construction Project Manager
The construction management field is booming. The Bureau of Labor and Statistics predicted an eleven percent growth in this job market over the next 10 years. With economic growth comes more commercial construction and the need for a construction project manager to keep everything on-track. Construction project managers are key to completing a project in the most…
70-Story Ora By Casa Tua Tower Announced For Brickell
Plans have just been announced for a 70-story tower in Brickell called Ora. Developer Edgardo DeFortuna told The Real Deal that the project will have around 460 residential units. The tower will be built at at 1210 Brickell Avenue by developer Fortune International Group, with multiple restaurants, a market, and rooftop lounge by Casa Tua. Short term rentals will be allowed.
Miami Worldcenter Retail 75% Leased: New Tenants Announced
Multiple new retail tenants have just signed on at Miami Worldcenter, bringing the retail space to 75% leased. Club Studio, Earls Kitchen + Bar, and Luli Fama Join Dynamic Shopping and Dining Options at Miami Worldcenter. Expected to open in 2023/2024, the three national retail and restaurant concepts will become the newest tenants at the $4 billion, 27-acre mixed-use…
WNWD21 Breaks Ground In Wynwood, 304 Luxury Rental Apartments Planned
Leading developer Related Group, in partnership with private equity firm, Rockpoint, today broke ground on WNWD21, a new luxury mixed-use tower consisting of 304 apartments, more than 18,000 square feet of retail, and 63,000 square feet of office space. Located in the heart of the Wynwood neighborhood, at the intersection of 22nd and North Miami Avenue, the project…
40-Story Downtown Miami Tower Breaks Ground, Will Include 448 Condos
Construction is now officially under at downtown Miami's 501 First. A groundbreaking ceremony was held on December 13, according to a social media post by Oneworld Properties, which handled sales at the development. The 40-story tower is unusual in that it is being built without a parking garage. All 448 condos were sold out as of last year. Aria Development Group and Aqarat…
The Fed: How Well Does the Beige Book Reflect Economic Trends?
The Federal Reserve's Beige Book is released before each of the eight regularly scheduled Federal Open Market Committee meetings per year. The idea is that the report—which emphasizes anecdotal and qualitative information—will provide a timely assessment of economic conditions before the official statistics are released, as noted in a June 2022 Economic Synopses essay.
Vlad Doronin's 830 Brickell signs law firm for record 115K sf lease
Vlad Doronin's OKO Group and Jonathan Goldstein's Cain International scored their biggest lease at the 830 Brickell tower. Law firm Kirkland & Ellis took 115,000 square feet on six floors at the office high-rise, which is still under construction, according to a news release from the developers. The firm, which has no headquarters, was founded in…
Turnberry turns to Wynwood, plans mixed-use hotel project
Turnberry Associates is planning a mixed-use hotel project in Wynwood on a site it acquired from the Bacardi family, The Real Deal has learned. Aventura-based Turnberry, led by Jackie Soffer, paid $13.1 million for the properties at 127 and 135 Northwest 24th Street and 128 and 138 Northwest 25th Street, Vizzda data and records show. One of Soffer's brothers, Rock…
Jarden co-founder Martin Franklin nabs stake in Casa Tua
British-American businessman Martin Franklin bought a large minority stake in the hospitality firm Casa Tua as it expands, The Real Deal has learned. Franklin approached owners Miky and Leti Grendene about buying a stake in the company, Miky Grendene said. Franklin, a Miami-based executive, co-founded Jarden Corp., which was sold to Newell Brands in 2016, and he leads…
South Florida's biggest hotel sales of 2022
It was a good year to be in the hospitality business in South Florida. After a pandemic-induced nosedive in travel, visitors returned to the region in 2022 in a big way. Tourism jumped 15.3 percent compared to last year, according to Visit Florida. The Greater Miami Visitors Convention & Bureau reported that as of October, Miami-Dade's year-to-date occupancy rate was 72.2 percent…
Lease roundup: Deco Capital Nabs Pretium Partners as tenant
Investment management firm Pretium Partners will open an office at the Eighteen Sunset office project under construction in Miami Beach. New York-based Pretium, with more than $50 billion of assets under management, leased 11,600 square feet on the fourth floor at 1769 Purdy Avenue, according to a news release from the Miami Beach Economic Development…
Berkadia Secures $36.2M Acquisition Loan for Miami Office Building
Berkadia has arranged a $36.2 million loan for the acquisition of Cube WYNWD, an office building in the Wynwood neighborhood of Miami. Located at 230 NW 24th Street, the building comprises 90,000 square feet of office space and 10,000 square feet of retail space. Scott Wadler of Berkadia secured the financing on behalf of the borrower, a joint venture between San Francisco-based…
Here are South Florida's biggest industrial leases of 2022
Bigger is better when it comes to South Florida industrial leases. Across Miami-Dade, Palm Beach and Broward counties, major retailers and shipping services like Target and FedEx leased 2.8 million square feet of industrial space in the largest leases of 2022, far outstripping last year's total of 2.2 million square feet. Amazon was notably absent from this year…
Westpine bets on Brickell rentals for first project
Westpine Partners, a newly formed development firm targeting top U.S. markets, picked Miami's Brickell for its first project. Westpine wants to build a 43-story tower with 328 apartments at 160 and 180 Southwest Ninth Street, according to an application filed to Miami-Dade County last week. Plans call for the Behar Font & Partners-designed high-rise…
Menesse JV proposes 39-story Brickell rental tower
Menesse International is upping the ante on its Brickell bet. The development group filed a proposal for a 39-story tower with 400 apartments at 143 Southwest Ninth Street. It's a larger project than it had planned five months ago. Menesse International is a joint venture that combines a pair of Mexico-based developers that have largely focused on the Latin American…
Fortune plans 70-story Casa Tua condo tower in Brickell
Fortune International Group is planning a luxury Casa Tua condo tower in Miami's Brickell neighborhood that will allow short-term rentals, The Real Deal has learned. Ora by Casa Tua, a 70-story, roughly 460-unit development, is planned for the site at 1210 Brickell Avenue, Fortune CEO Edgardo Defortuna said…
Brightline Launches Ultra-Fast Service To Aventura & Boca Raton Next Week
Brightline has announced an official launch date and other details for service to Aventura and Boca Raton. Tickets are now on sale, with service to both new stations beginning December 21 The train ride between downtown Miami's MiamiCentral and Aventura will be especially fast at just 17 minutes, according to the newly released schedule. By contrast, a mid-day trip…
Study: Miami Was The Hottest U.S. Rental Market In 2022
Miami "was by far the hottest rental market in the U.S" in 2022, according to a new study by RentCafe. The analysis showed that 97.5% of units in Miami-Dade County were occupied  – the highest of all major markets. The lease renewal rate in the county was also exceptionally high at 75%. When apartments did become available, there were 32 prospective tenants for each unit…
Demolition Soon To Make Way For 57-Story Casa Bella, Sales Center Relocates
The sales gallery for Casa Bella by B&B Italia has relocated to make way for demolition and construction of the 57-story tower. The old sales gallery is now vacant and will be torn down, according to Olga Monson, Casa Bella's Director of Sales. Other businesses in the massive 1400 Biscayne office and retail complex have also relocated to make way for demolition…
65-Story E11EVEN Residences Beyond Enters Construction Permitting
Construction permitting is now underway for a second 65-story E11EVEN tower in Park West, according to Miami Building Department records. Demolition at the site took place in October. Construction on the first 65-story tower, known as E11EVEN Hotel & Residences, is already underway. A construction permit for the second tower known as E11EVEN Residences…
Chetrit Group to Build 4 MSF Waterfront Development in Miami
The Chetrit Group, a privately held New York City-based developer, plans to develop The River District, a 4 million-square-foot mixed-use destination in Miami. The project will span more than six acres along the Miami River waterfront. Total development costs will exceed $1 billion, according to Bloomberg. The Chetrit Group previously secured a $310 million loan from Madison Realty…
Video: National Retail Federation VP of Research Mark Matthews Provided Retail Sales Updates & Forecast
Mark Mathews with the National Retail Federation, the world's largest retail trade association, joins America's Commercial Real Estate Show to discuss how retailers are doing and expectations for retail sales activity going forward, which of course has implications for retail property investors. Discussions include holiday sales forecast, online sales vs in-store, and categories of retail…
SHVO Gets Approval to Renovate Landmark Miami Beach Office
Rendering of 407 Lincoln Road redevelopment. Image courtesy of SHVO SHVO has secured the unanimous approval of the Miami Beach Historic Preservation Board for the revitalization of 407 Lincoln Road in Miami Beach, Fla., into a Class A luxury office property, the development and investment firm announced on Wednesday, Dec 14. SHVO's plans to revamp the 13-story…
Pompano approves affordable housing project next to homeless center
A non-profit group won approval to develop as many as 138 income-restricted apartments behind a homeless assistance center in an industrial part of Pompano Beach. The Broward Partnership for the Homeless plans to build the apartments in a joint venture with Green Mills LLC, a Fort Lauderdale-based developer of affordable and workforce housing.
Juiciest South Florida real estate lawsuits of 2022
Pay up! Pay up! Pay up! That was a recurring theme for prominent South Florida real estate players feeling the sting of the judicial system in 2022. During the past year, Miami-Dade Circuit Court judges in separate cases slapped developers Armando Codina and Don Peebles, as well as hoteliers Nakash brothers, with hefty judgments and sanctions totaling more than…
Brickell Megaproject Announced: The River District To Have 4 Towers, Partnership With Groot Hospitality
New York developer Chetrit Group has just announced plans for a Brickell megaproject called The River District. Four towers are planned with condos, office space and rentals. Construction is already underway on the first. David Grutman of Groot Hospitality is partnering to provide restaurant and nightlife venues. A riverwalk and marina is also being built. The project website…
Jungle Island Owner Files Plans For Themed 300-Room Hotel
The owner of Jungle Island has filed plans for a themed hotel. The hotel is planned to rise 12 stories and include 300 rooms. A 7-story parking garage with 965 spaces will also be built. An outdated parking garage will be demolished to make way for the new development. The original Jungle Island ballroom and conference facilities will be modernized and integrated into…
Developer Unveils Plans To Build Civica With 342 Residential Units
Plans for Civica are being switched from office to residential. According to the newly revised plans, Civica will now rise 27 stories and include: 342 residential units amenities commercial and office 590 parking spaces in an 8 level garage (a minimum of 389 spaces are required by zoning) The number of floors is increasing from the 22 stories previously planned, but the height…
One Brickell City Centre – New Rendering Shows Helicopter
The developers of the One Brickell City Centre supertall have released a new rendering showing what appears to be a helicopter coming in for a landing. The rendering was first spotted by Ryan RC Rea at the project site. Developers Swire Properties and Related Companies plan to begin demolition at the property in early 2023, followed by foundation work. Related founder…
WeWork Miami Occupancy Hits 97% – Top Worldwide
Miami is the top performing market for WeWork worldwide when it comes to office occupancy, according to a new report from CoStar. WeWork's offices in Miami were 97% occupied in the second quarter – far above New York (68%), San Francisco (75%), and Boston (57%). Other coworking operators are seeing similar results in Miami, and are looking to expand. The report…
Phased Construction Permit Issued At Wynwood Diamedix
A phased construction permit has been issued for Wynwood Diamedix, Miami Building Department records show. The project is also known as PRH N. Miami. It includes two 12-story buildings across the street from each other on east and west parcels. The phased permit on one parcel was issued on November 18. Across the street, another phased permit for the second parcel…
Revealed: 43-Story Westpine Proposed In Brickell
Plans for a 43-story residential tower called Westpine have just been filed in Brickell. Westpine is planned to top off at 474 feet above ground and include: 328 residential units approximately 1,155 square feet of ground-floor retail space 357 parking spaces A letter from the developer's representative states: Consistent with the County's vision for developments within the RTZ…
Rents are now rising at the slowest pace in 19 months
Rents for both single-family homes and apartments are still rising, but at a far slower pace, as inflation squeezes consumers and landlords lose pricing power. Rent growth in November slowed for the 10th straight month, with rents up just 3.4% compared with November 2021, according to Realtor.com. That is the smallest gain in 19 months. In the 50 largest metropolitan markets…
First Financial drops $29M for Miramar gas station, convenience store
A Los Angeles-based investment firm paid a high-octane premium for a gas station and convenience store in Broward County. An affiliate of First Financial Capital bought the Mobil at 16961 Miramar Parkway in Miramar for $28.8 million, according to Vizzda and records. The buyer obtained a $20.1 million mortgage from Bank of Hope, also based in Los Angeles. The seller…
Kushner, Aimco sell piece of Fort Lauderdale assemblage
Kushner Companies and Aimco sold a piece of their three-lot development assemblage near downtown Fort Lauderdale's Brightline station. Woodfield Development paid $18.3 million for the 0.8-acre site at 520 West Broward Boulevard, with plans to build a 41-story multifamily tower, according to records. The buyer took out a $9.1 million loan tied to the property…
Todd Nepola pays $24M for Lauderdale Lakes shopping centers
Todd Nepola's Current Capital Management picked up a pair of adjacent shopping centers in Lauderdale Lakes, beefing up its Broward County retail portfolio. An affiliate of Hollywood-based Current Capital paid $23.7 million for Oakland Shopping Center at 4101-4397 North State Road Seven, and Lakes Medical Center at 4455-4485 North State Road Seven, according…
Developer wins approval for 13-story Embassy Suites hotel in Dania Beach
A Doral-based developer won approval in Dania Beach for a 222-room Embassy Suites by Hilton hotel on Federal Highway. Benito Irastorza, CEO of Iras Group, is the manager of an LLC that acquired the hotel development site in August 2016 for $3.1 million, according to state and county records. Irastorza plans to build a 13-story hotel on the 1.2-acre site, just south…
Merit Hill Capital picks up another Broward self-storage property
Merit Hill CEO Elizabeth Schlesinger and the Pines West Storage Center at 400 Northwest 172nd Avenue in Pembroke Pines (Merit Hill, Google Maps, Getty) South Florida is going through a mini-surge of self-storage deals, with Merit Hill Capital picking up its second Broward facility in less than a month. An affiliate of Brooklyn-based Merit Hill paid $17 million for Pines…
Trinsic scores $92M refi for Aura Boca apartment building
Trinsic Residential Group landed a $92 million refinancing for its Boca Raton multifamily project. MetLife Investment Management provided the fixed rate loan for Aura Boca, an eight-story building with 322 units at 789 West Yamato Road, a press release states. Steven Kohn and Alex Hernandez with Cushman & Wakefield arranged the financing. An affiliate of Dallas-based Trinsic paid…
Wanxiang's real estate arm sells Bristol condo in West Palm for $12M
Wanxiang America Real Estate sold a condo in West Palm Beach's Bristol tower for $12 million, setting a price-per-square-foot record in the building. Records show Wanxiang USA Holdings Corporation sold unit 1403 at the condominium at 1100 South Flagler Drive to Jason Horowitz as trustee of the LATOSUD Trust. The selling entity is an affiliate of Wanxiang America Real Estate…
Palm Beach Gardens Office Building Changes Hands
A joint venture between Alchemy-ABR Investment Partners and Breakers Capital Partners has sold 4200-4400 Northcorp Parkway, a Class A office property in Palm Beach Gardens, Fla. ABS National Business Parks acquired the asset for $38 million, in an off-market deal. According to CommercialEdge data, the 115,000-square-foot property previously traded in 2016 for $30.1M…
PrivCap sells assisted living facilities in Margate, Davie
PPrivCap Companies sold a pair of assisted living facilities in Broward County for a combined $12.7 million. The Boca Raton-based investment firm sold the properties at 6810 Southwest Seventh Street in Margate and at 4681 Southwest 66th Avenue in Davie to entities led by Zalman Skoblo and Zvi Jacobowitz of Brooklyn, according to records.
Deerfield Beach voters to decide on Hensel Phelps' mixed-use development
Voters will decide in a referendum if Deerfield Beach can sell city land for a mixed-use development with an office building, hotel, retail stores, restaurants, and income-restricted apartments. A development team led by construction company Hensel Phelps offered to pay $6.5 million to the city…