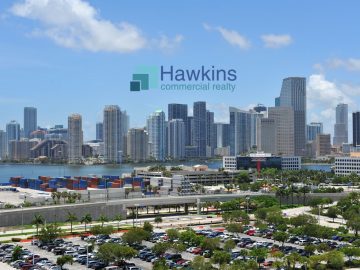 Greenstone pays $78M for Miami Gardens apartments
A New York real estate investment company paid $78 million for a 491-unit multifamily complex in Miami Gardens. Greenstone Property Group bought the property, called Lake House Apartments, at 2545 Northwest 207th Street, according to a press release. That equates to about $159,000 a unit. Ytech, a Miami-based real estate investment and development company…
Mango's owner lists South Beach assemblage
An assemblage of South Beach properties, including the home of Mango's Tropical Cafe on Ocean Drive, hit the market unpriced. The properties include 900 Ocean Drive and 909, 919 and 929 Collins Avenue in the Art Deco Historic District, according to the listing. David Wigoda and Lee Ann Korst of CBRE have the listing. The assemblage spans just under 1 acre.
Kushner Cos. Updates Miami OZ Project As Jared And Ivanka Eye City
The first Kushner Cos. projects in Miami, one of which is in an opportunity zone near the waterfront, will break ground next year after the coronavirus pandemic put the projects on hold, according to Kushner President Laurent Morali. The company plans to start work first, probably in Q1 2021, on 127 Northwest 27th Street/129 Northwest 26th Street, a development with 150…
Barry Sternlicht And A-Rod On Teaming Up In 'The Singapore Of The United States'
In 2016, Starwood Capital Group Chairman and CEO Barry Sternlicht left Greenwich, Connecticut, and moved to Miami Beach, near the headquarters of publicly traded arm Starwood Property Trust and its 300 workers. A new office building for the REIT, developed with Miami-based Integra Investments, topped off earlier this month. Speaking on CNBC Tuesday…
Shoma Group Lands $84M Refi for Miami-Area Project
Three months away from completing its latest Miami area project, Shoma Group has secured an $84 million loan for its mixed-use community Sanctuary at Doral. Walker & Dunlop brokered the loan to Walker & Dunlop Commercial Property Funding, the company's CMBS lending platform, which originated the financing and sold a piece to Pensam. The floating…
'The Sector Is In Complete Flux': Miami Hotel Experts Predict Shakeout Next Year
When the coronavirus hit the U.S. this spring, some experts predicted the economic fallout would be over in a few months and a V-shaped recovery would soon be underway. But hotelier Robert Finvarb, whose firm owns a portfolio of Marriott-branded hotels, boldly pronounced that pre-COVID-19 numbers would not bounce back until "2023 at the earliest." Almost 10…
Miami's commercial real estate boom picks up steam as pandemic pushes companies to seek new digs
"I've been buying real estate in Miami for over 20 years, and it has been a great flight. Since Covid started, it's a rocket ship," said Alex "A-Rod" Rodriguez. Rodriguez recently partnered with Barry Sternlicht in developing restaurant and retail space inside Starwood Capital's headquarters under construction in Miami Beach. According to the…
JPMorgan Chase Is Now Open To Relocating To Miami After Vetoing The Move A Few Years Ago
The CEO of JPMorgan Chase has reportedly changed his mind about relocating to Miami, according to the New York Post. Jamie Dimon, who has run Chase for 15 years, is now open to the idea. Here's a timeline of Chase and Dimon's flirtation with moving the company to Miami: 2013 – Dimon attends the Greater Miami Chamber of Commerce's Economic Forum…
Here are South Florida's biggest retail leases in 2020
Plenty of retail locations closed for good this year, but other businesses saw those closures as opportunities. Even with the escalation of e-commerce, the average square footage of the top five retail leases this year was only 10,000 square feet short of last year's average. Here's a breakdown of the top retail leases signed this year in South Florida. 1. City Furniture, Hollywood…
Bankruptcy judge paves way for Metronomic property auction
A U.S. bankruptcy judge this week approved Metronomic Holdings' settlement with a creditor, clearing the way for the developer to auction 17 properties in Miami-Dade County and two near Chicago. The creditor, Fuse Funding, had provided about $18 million in mortgages for the properties, according to court documents. Judge Laurel Isicoff approved the…
Tales from the South Florida industrial property boom
A former Miami golf course turned into an industrial park. A Hollywood warehouse chopped up into six smaller offerings. And a bidding war over industrial space in East Hialeah. Commercial brokers recount these tales in South Florida, a market with high demand for warehouses but not enough industrial-zoned land for new development. Industrial experts must turn…
Buttigieg hints at ripping up urban highways
U.S. Department of Transportation nominee Pete Buttigieg has urban highways in his crosshairs. The mayor of South Bend and former presidential candidate proposed changing federal policy that encouraged highways to cut through minority communities and have depressed property values ever since, Streetsblog reported. "It's disproportionately…"
South Florida construction starts fall in November
South Florida construction starts dropped in November, both year-over-year and month-over-month, according to a recently released report. Total building in Palm Beach, Miami-Dade and Broward counties dropped 30 percent, year-over-year, to $854 million last month, according to Dodge Data & Analytics, a Hamilton, New Jersey-based construction data…
County-developer deal around Dolphin Station nears
Negotiations with an unnamed company to develop up to 44 acres around Dolphin Station in West Dade are nearing the homestretch, says the project's chief supporter, Miami-Dade Commission Chairman-elect Jose "Pepe" Diaz. "They have somebody," he told Miami Today this month, adding that few details can be discussed due to a hush rule for active bids.
Wynwood mixed-use project gets design backing
One of the largest mixed-use projects coming to the booming Wynwood Arts District has received the support of an important review board. AMLI Wynwood is designed to bring 316 residential units and 30,596 square feet of commercial-retail uses to 70 NW 25th Street. Despite concerns about the massing of the project and its repetitive façade, the Wynwood Design…
To regain magic, Lincoln Road big boxes may be limited
Lincoln Road will soon undergo a roughly $50 million facelift, but Miami Beach commissioners are questioning if another step needs to be taken to bring back the "magic" on the street – limiting big box stores. At a Dec. 15 Land Use and Sustainability Committee meeting, officials discussed the possibility of enacting restrictions based on square footage or usage…
Jungle Island hotel plans check in with new backing
A Miami board is recommending special rezoning for the proposed Jungle Island hotel and the rest of the Watson Island land being leased by the city, moving the project closer to approval. While members of the Planning, Zoning and Appeals Board questioned whether the project could affect a nearby residential building and the use of the Special Area Plan…
The nitty gritty on federal rent relief
We read the details on federal rent relief so you don't have to. (Getty) As the multifamily sector welcomed the inclusion of $25 billion in rental assistance in the federal relief package, it rushed to decipher the 5,000-page bill. Here are some key details. The funds will be meted out by eligible states and localities, which are tasked with designing means-tested programs…
36-unit Miami multifamily property sells
A leading commercial real estate brokerage firm specializing in investment sales, financing, research and advisory services, announced the sale of Flamingo Garden, a 36-unit apartment property located at 1400 NW 95th Street in Miami, Florida, according to Ryan Nee, regional manager of the firm's Fort Lauderdale office. The asset sold for $4,572,000. Evan…
Here are South Florida's largest retail sales of 2020
Store closures and Americans' reliance on e-commerce may have affected the top sales in South Florida's retail market. The region's top retail sale of 2020, of $47 million, fell below 2019's $96.8 million top sale and 2018's $88 million top sale. However, the average price per square foot among 2020's top five retail sales bested last year's average — $396 compared to $349.
What the new stimulus means for restaurants & indie movie theaters
As part of Congress' $900 billion pandemic aid package approved Monday, $15 billion was dedicated for "live venues, independent movie theaters, and cultural institutions." The $325 billion in funding carved out for all small businesses represents the largest component of the package, more than the funds allocated to direct payment checks and unemployment…
A long road ahead for office landlords
Manhattan's Paramount Group received an unsolicited takeover bid early last month for about two-thirds of what the company was worth prior to Covid. Just a few weeks later, the real estate investment trust's board unanimously rejected the offer from activist investor Bow Street, noting that its offer was "inadequate and significantly undervalues" the office…
Stimulus deal includes major change to affordable housing financing
The proposed $900 billion federal relief package hands affordable housing developers a key win in the form of changes to a popular financing program. The bill includes reforms to the Low-Income Housing Tax Credit program, which has financed more than 3 million housing units since its inception in 1986. Lawmakers proposed a floor rate of 4 percent…
Here are South Florida's largest multifamily sales of 2020
3333 South Port Royale Drive in Fort Lauderdale Loosened requirements on business closures may have helped keep more Floridians employed, and thus paying their rent, but the pandemic may have hurt top sales in the multifamily market. The top South Florida multifamily sale of 2020 didn't beat 2019's $322 million sale, but it did best 2018's $149 million top sale.
Here are South Florida's biggest hotel sales in 2020
The hotel market was among the hardest hit sectors of the coronavirus pandemic in 2020, resulting in many owners scrambling to survive. After many hotels laid off the majority of their staff in March and subsequent months, a number of properties remained closed until the winter. And some have yet to reopen, as domestic and international travel remains…
Global CFOs have a message for real estate investors: We're cutting space
The Covid-19 vaccine is being distributed across the country, but it may already be too late for commercial real estate landlords and investors. Companies around the globe are looking at how they can cut costs in the wake of the coronavirus pandemic, and scaling back real estate holdings is one big way they're looking to do so. Bloomberg analyzed transcripts…
Experts Round-Up: Top Retail Trends to Expect in 2021
We reached out to a variety of industry experts in the retail real estate sector across the country to provide their perspective on what they expect for the retail real estate market heading in 2021. The good news is that despite the doldrums produced by the ongoing pandemic, retail real estate experts are feeling confident…
Here are South Florida's largest industrial sales of 2020
Blackstone paid $94 million to acquire an industrial portfolio, which includes 16100 Northwest 49 Avenue and 16200 Northwest 49 Avenue, Miami Gardens (Google Maps) A strong performance in the South Florida industrial sector during Covid-19 didn't fully translate to new milestones in the market's top sales. The largest industrial sale of 2020, of $94 million…
Jungle Island owner wins Miami board approval for hotel and attractions
Two years after Miami voters approved Jungle Island's expansion, the theme park's owners are moving ahead with a proposal to develop a new 300-room hotel, attractions and retail complex that incorporate green design elements. The Miami Planning and Zoning Appeals Board on Wednesday approved a special area plan proposal submitted by Jungle…
'Juice Your Return': South Florida CRE Experts Ready To Synergize With Newcomers
As the longtime CEO of Trust Hospitality, Richard Millard oversaw the management of hotel properties for big chains like Hilton and Marriott as well as smaller, boutique brands, all from his home base of Miami. Amid a pandemic and massive industry shakeup, Millard became managing director of hospitality management company Highgate when the firms…
HS Capital buys Fort Lauderdale office building for $18M
A Miami-based real estate investment fund paid $17.5 million for a Fort Lauderdale office building. An affiliate of HS Capital Fund bought the 141,000-square-foot building at 1901 West Cypress Creek Road, according to a press release. That equates to $124 per square foot. The six-story building also has the address 1901 Northwest 62nd Street, according to records.
Starwood sells Plantation office buildings in $78M deal
Starwood Capital sold several buildings within a Plantation office park for $78 million, as uncertainty continues to surround the sector. Companies affiliated with New York-based real estate merchant bank Island Capital Group, led by Andrew Farkas, bought the buildings at 8201 Peters Road, 8221 Peters Road, 8151 Peters Road and 8050 Southwest 10th Street…
Investors buy Weston office building for $9M
A partnership between two South Florida investment firms sold a Weston office building for $8.9 million. Highline Real Estate Capital, based in Miami, and Sefira Capital, based in North Miami Beach, sold the 27,000-square-foot building at 1040 Weston Road, according to a press release. The buyer is Shaked 21 LLC, managed by husband and wife Sagi and Anat Shaked.