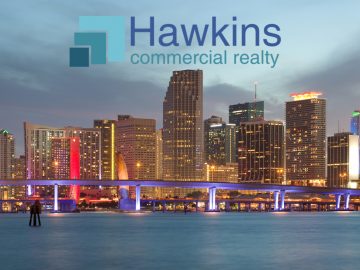 MetLife sells Pinecrest shopping center to Miami JV for $71M
After keeping it on its books for nearly 30 years, Metropolitan Life Insurance has sold a Pinecrest shopping center to a Miami-based joint venture for $70.5 million. An affiliate of Ibrahim Al-Rashid's Limestone Asset Management and Joseph Sanz' Orion Real Estate Group picked up the Colonial Palms Plaza at 13605 S Dixie Hwy, a retail outlet with four outparcels spanning…
Video: Financing Today with Tom Walsh of Grandbridge Real Estate Capital
Tom Walsh, Senior Vice President at Grandbridge Real Estate Capital, one of the nation's largest full-service commercial real estate finance firms, appears on America's Commercial Real Estate Show to share an inside look at the current state of commercial real estate financing. Topics discussed include interest rates, LTV (loan to value) rations, DSCR (debt service coverage ratio)…
Grant Cardone is back on the hook in a class action suit
Grant Cardone has said, "Most opportunities are disguised as problems." If that's true, he has had his share of opportunities in 2022. In May, unknown robbers allegedly stole his expensive designer watch in a VIP area at Hardrock Stadium during the Miami Grand Prix. A recent Palm Beach Post investigation uncovered Cardone Capital has overcharged tenants living in…
Here are South Florida's biggest industrial sales of 2022
Medley Commerce Center in Medley, 15998 Walgreens Dr in Jupiter, 4281 & 4341 W 108th St in Hialeah, 3701 Flamingo Rd, 2601 & 2701 SW 145th Ave in Broward and 11801 NW 102nd Ave in Medley: South Florida's Industrial market continued its hot streak in 2022 — even topping 2021. The top five sales for this year beat last year's top five by square footage, sale price and average price…
Miami-Dade Mayor Pulls About-Face On Recommending Stephen Ross, Jeffrey Soffer Group For Airport Hotel Bid
The delivery time for a new hotel slated to open at Miami International Airport is once again pushed back, as Miami-Dade County Mayor Daniella Levine Cava is looking for developers to propose new bids. In a statement released on Wednesday, Levine Cava said she intends to redesign the developer bid requirements for the anticipated airport hotel development launched in 2020 by her…
Rental Asset Management pays $31M for Little Havana apartments
Rental Asset Management scooped up a Little Havana apartment building with affordable and workforce housing units for $31.1 million. Rental Asset Management, or RAM, purchased the property at 590 West Flagler Street from the developer, Eastern Atlantic, records show. Construction of the 14-story building is almost complete and pre-leasing is underway, according to a…
Lease roundup: Glovina Shipping Leases in Hialeah, more…
International freight forwarder Gloval Shipping leased industrial space at Codina Partners' Beacon Logistics Park in Hialeah. Gloval took 43,400 square feet at the business park's Building B, at 9210 West 43rd Avenue, according to a news release from the tenant's broker. Wayne Ramoski and Gianluca Billau of Cushman & Wakefield represented Gloval. Sebastian…
Brightline gets back on track at Aventura station
At Brightline's new Aventura stop, the train has left the station – though despite fanfare hailing a first day of trips at the $76.7 million county-funded station last Wednesday, the first train didn't leave until 10:04 Saturday morning. The privately operated line, built to offer express rail linking Miami to Orlando with stops only in Fort Lauderdale and Palm Beach, last week trumpeted…
University of Miami to fight to save Virginia Key fisheries center
Speculation over whether the Southeast Fisheries Science Center on Virginia Key will be replaced or relocated continues to spiral amid plans by the University of Miami to request that the center stay where it is. "The University of Miami hopes to submit a proposal to the federal government to ensure that that lab stays on Virginia Key," said Benjamin Kirtman, director…
Here are South Florida's top office sales of 2022
From left: 5200 Town Center Circle, Rockpoint Group's Bill Walton and Keith Gelb, 1221 Brickell Avenue, 100 Southeast Second Street: Despite a strong start to the year and a steady march of corporate relocations to South Florida, the biggest office sales dramatically dropped in price in 2022, compared to last year. The rules tend to be different for South Florida, where…
Kirkland & Ellis Signs 115,000 SF Office Lease at 830 Brickell in Miami
Law firm Kirkland & Ellis has signed a lease at 830 Brickell, a 55-story office building located in downtown Miami's Brickell district. The firm will occupy a six-floor, 115,000-square-foot space at the property, which was developed by OKO Group and Cain International. Brian Gale, Ryan Holtzman and Andrew Trench of Cushman & Wakefield represented the landlord in the lease negotiations.
Galbut family and Matis Cohen score $98M loan for North Beach project
The Galbut family and Matis Cohen nabbed a $97.5 million construction loan for a Miami Beach mixed-use project featuring co-living apartments. Miami-based Ocean Bank, representing a group of lenders, provided the financing for 72nd and Park, a planned 22-story building with 270 apartments, including 121 co-living units, and roughly 12,500 square feet of retail, records…
Craig Robins, Fort Partners and Qatari hotelier buy Apollo site in Design District
A powerhouse team plans a mixed-use development on a Miami Design District assemblage purchased from Apollo Commercial Real Estate Finance, sources told The Real Deal. The buyers and seller declined to confirm the price, but sources said it is about $170 million. The purchasing partnership includes the Qatari firm Constellation Hotels Holding…
North Miami office building hits market for $45M
A North Miami office building hit the market asking $45 million. Biscayne Centre, an eight-story building at 11900 Biscayne Boulevard, totals roughly 156,500 square feet and has an attached parking garage. The asking price equates to about $288 per square foot. The seller is longtime Miami resident Ami Shashoua. CBRE has the listing. Ben Silver, senior vice president…
Renderings Revealed For $1B Master-Planned, Walkable, Transit-Oriented Neighborhood Near Dolphin Mall
Renderings have been released for Upland Park, a $1b transit-oriented development planned near the Dolphin Mall. The development will be "the first truly viable alternative to automobile commuting," according to the project website. Upland Park is being purpose-built for integration with the upcoming east-west transit corridor, according to the developer. The community will have…
790-Foot Tower Cranes Approved At Former Miami Arena Site
The Federal Aviation Administration has just approved a requested to install two tower construction cranes at the former Miami Arena site. The applications for approval to install the cranes was filed with the FAA on August 4, and approved December 18. According to the approval notice, the cranes are permitted rise 779 feet above ground. One will reach 793 feet above sea level…
Worldwide Survey Ranks Miami As The Best U.S. City For Expats To Live
A survey of expats living abroad has ranked Miami the best U.S. city for those moving overseas. Internations surveyed over 12,000 people living overseas. Only Miami and New York made the list in the U.S., since a minimum of 50 respondents were required for a city to be ranked. On a worldwide basis, Miami ranked 12th out of 50 cities. New York ranked 16th. Overall, 85% of expats…
A trio of Walgreens stores in South Florida sold for a combined $34M
From top: Walgreens stores at 1800 West Indiantown Road in Jupiter, 3595 Southwest 22nd Street in Miami, and 9921 Okeechobee Boulevard in Boca Raton: In a one week span, a trio of South Florida Walgreens stores traded for a combined $33.7 million, with a seller flipping one of the properties for a nearly $2 million gain. Walgreens will continue to operate the stores…
Terra nabs $35M loan to start Dolphin Station mixed-use project
David Martin's Terra scored a $35.3 million pre-construction loan for its Upland Park mixed-use project on Miami-Dade County-owned land near Dolphin Mall. The financing for site preparation work sets the stage for the start of the transit-oriented development at the Dolphin Station Park & Ride at 11897 Northwest 12th Street in Sweetwater. The property is at the intersection…
"Gotta go up": Mapping the supertalls on tap in Miami
Developer Jeff Berkowitz launched his plan for a 1,000-foot tower in Miami in 2013 in typical fashion: with a lot of fanfare over the city's first supertall. His plan for SkyRise Miami downtown ended seven years later, also in a typical way: scrapped. Developers in Miami for years have proposed supertalls, only to have their vision fizzle out for various reasons. In the SkyRise case…
Here are South Florida's biggest retail deals of 2022
Investors paying top dollar for South Florida retail properties had to dig deeper into their pockets this year than they did in 2021. Still, some sellers lost money unloading 2022's most expensive retail buildings and complexes. This year's top two deals surpassed last year's biggest transaction, the $108 million sale of the Shops at Beacon Lakes…
Video: Casa Tua founder Miky Grenden on hospitality-branded developments, barefoot luxury, and more
Miami is loud, and Miami is proud of being loud. But Miky Grendene envisions a different kind of city. Grendene is the co-founder of Casa Tua, a hospitality company with a restaurant and private club in Miami Beach that's become a favorite haunt of the real estate crowd. The spot's understated aesthetic, a throwback to his native Italy's "la dolce vita" days, is something Grendene…
Ronnie Strasser Purchases the Pro Padel League's Miami Franchise
North America's first professional Padel league – is excited to announce that Ronnie Strasser, President and Chief Investment Officer of Strasser Asset Management, has purchased the league's Miami franchise. A graduate of the Harvard Business School (OPM), Strasser is a Principal of Phantom Developments (a fifty-year-old real estate company that owns and manages millions…
Getting Creative With Vacant Office Space: Storage, Gym, Film Set
After two years of overhyped return-to-work prognostications, many desks around the nation still sit vacant. But on some empty floors of Midtown Manhattan office buildings, unused space has lately been playing a new role: film set. The transformation from a real-life office into a facsimile on the small screen is part of the business strategy of Backlot, a location service for film…
Kolter nabs $240M construction loan for Fort Lauderdale condo towers
Kolter Urban started building Selene Oceanfront Residences, after scoring a $240 million construction loan for the pair of condominium towers that will be the tallest along Fort Lauderdale's oceanfront. The firm is developing the 26-story buildings, with 194 units combined, at 3000 Alhambra Street. Wells Fargo, as an administrative agent for several lenders, boosted…
Topgolf advances plans for first Broward location with $15M land deal
Topgolf bought a Pompano Beach development site for $14.7 million, marking a step forward for the driving range chain's first venue in Broward County. The Dallas-based company purchased nearly 11 acres of land on the southeast corner of Southwest Third Street and Southwest 23rd Avenue, where it plans a three-story facility with 102 hitting bays, according…
Bainbridge buys Coconut Creek apartment complex for $69M
Bainbridge Companies bought a Coconut Creek apartment complex for $69 million, marking the firm's continued bet on South Florida's suburban multifamily market. Bainbridge bought Solaire at Coconut Creek at 5401 Wiles Road from an affiliate of Clarion Partners, according to records. The buyer took out a $50.7 million loan on the…
JV buys Palm Beach Gardens office complex for $38M
ABS' Earle Altman, Gregg Schenker, Peter Burack and Steven Hornstock along with the office complex at 4200-4400 Northcorp Parkway in Palm Beach Gardens: ABS National Business Parks paid $38 million for a Palm Beach Gardens office complex. The joint venture acquired Corporate Center at the Gardens at 4200-4400 Northcorp Parkway, according to Vizzda and records.
CS Ventures pays $36M for West Palm office building
CS Ventures scooped up Clearlake Plaza in West Palm Beach for $35.9 million, marking the investment firm's first wager on the city's office market. CS Ventures, a partnership between Spencer Schlager and Charles Rosenberg, bought the 10-story building at 500 South Australian Avenue from a pair of entities led by Herbert Kahlert, according to records. CS Venture…