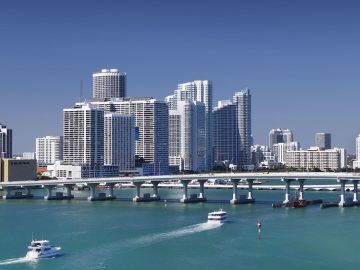 CitizenM, Miami Worldcenter Associates Break Ground on 351-Room Downtown Hotel
Netherlands-based hotel chain citizenM and developer Miami Worldcenter Associates have broken ground on a new citizenM hotel in downtown Miami. The hotel will be part of a $4 billion mixed-use development called Miami Worldcenter. Owner, operator and developer citizenM and master developer of the mixed-use campus Miami Worldcenter Associates will make the 700 NE 2nd Avenue property into…
'Aggressive' Turkish Billionaire's First U.S. Project, The Tallest Tower In Florida, To Break Ground Soon
Billionaire developer Bekir Okan doesn't speak English and has never built a project in the U.S. before — his universities and developments are primarily in Turkmenistan and Kazakhstan. Nevertheless, right out of the gate, he intends to spearhead the tallest building in Florida. The 70-story, 890-foot, $300M Okan Tower at 555 North Miami Avenue is expected to take four years to build. Last…
Video: National Apartment Association's Paula Munger Provides Multifamily Update, Discusses Rent Control Effects
Paula Munger, Assistant Vice President of Industry Research with the National Apartment Association, joins America's Commercial Real Estate Show to discuss some current trends in the multifamily property market. Also discussed are some of the more important legislative issues for apartment properties today, in particular rent control. Also discussed is data they have on their site that display metrics for…
During Art Basel, Attention Shifts From Wynwood To Allapattah
It's time for Art Basel, America's premier contemporary art fair, which means that collectors and celebrities will be flying in from everywhere and fanning out all over Miami for parties and gallery shows. Billionaire developer Jorge M. Pérez, the chairman and CEO of Related Group and a serious arts patron, is opening a new, 28K SF art museum this week — and it's not in Wynwood, which has been…
Stock of Sapir Corp – owner of several Miami commercial properties – drops in Tel Aviv
The NoMo SoHo hotel owned by the Sapir Corp. saw its net operating income fall in the third quarter, dragging down the company's overall performance in the third quarter. In the last week, Alex Sapir's real estate company, which trades on the Tel Aviv Stock Exchange, saw its stock price fall by about 18 percent from its pre-earnings price of 508 shekels on Nov. 28 to 414.9 shekels as of Wednesday.
Len Blavatnik teams with Vlad Doronin on Aman-branded towers in Faena District
Billionaires Len Blavatnik and Vlad Doronin are partnering to build the first Aman-branded development in the Miami area. Blavatnik's Access Industries and Doronin's OKO Group plan to build two towers on the site of the former Versailles Hotel at 3425 Collins Avenue in Miami Beach, according to a press release. The hotel and branded condos will be part of the Faena District. Doronin is also…
Suit aims to wrest control of historic Olympia Theater from Miami
With the historic Olympia Theater in the heart of downtown seemingly in limbo, the City of Miami is facing a lawsuit over its handling of the property. Last month, The Maurice Gusman Cultural Center for the Performing Arts Inc., a dissolved Florida not-for-profit corporation, sued the City of Miami for its ownership of the Olympia Theater at 174 E Flagler Street. The theater is managed by the not-for-profit…
Tri-Rail into downtown Miami awaits Brightline's action
Thousands of would-be downtown commuters wait anxiously to learn when Tri-Rail trains will roll into Miami Central station, and they aren't alone. The South Florida Regional Transportation Authority, Tri-Rail's parent, must wait for Florida East Coat Railway, which owns the Brightline commuter service, to have its Positive Train Control (PTC) system certified by the federal government before it can move…
31-story Courtyard by Marriott coming to hot Omni area
Courtyard by Marriott is still coming to the Omni neighborhood of Miami, with a revised plan for a new high-rise hotel with meeting spaces, ballrooms and more. One Miami Biscayne Bay and Art District Hotel LLC, affiliated with Mandala Holdings, proposes the new tower at 511 NE 15th Street. The property is about a half block from the Adrienne Arsht Center Metromover Station, and adjacent to the…
Miami River boat showroom OK'd, restaurant leaves bad taste
The Miami River Commission on Monday approved in concept the plans of Puntallana LLC to put a six-story commercial building and an ancillary restaurant on a riverfront parcel at 301 and 311 NW South River Drive in the Riverside section of Little Havana. The small lot has an irregular shape and is now underutilized, said a petition by Steven Wernick of Wernick & Co., attorney for Arturo Ortega, Puntallana…
Gil Dezer, Related complete Residences by Armani/Casa
Rendering of Residences by Armani/Casa, Jorge Pérez and Gil Dezer Residences by Armani/Casa in Sunny Isles Beach scored its temporary certificate of occupancy, and closings are expected to begin this week, The Real Deal has learned. Gil Dezer, CEO of Dezer Development, said the 308-unit luxury condominium tower at 18975 Collins Avenue received its TCO on Friday, and closings are scheduled to begin…
Miami River Commission approves yacht building and restaurant
Rendering of planned marine facility and restaurant The Miami River Commission on Monday backed a proposal to build a six-story marine facility and an adjacent 90-seat restaurant on properties once owned by a Cuban exile accused of plotting to assassinate Fidel Castro. But Carlos Salas, president of the Spring Garden Civic Association, said he intends to appeal the decision for the proposed…
Gulfstream Park bets on $20M renovation
Gulfstream Park and Stronach Group CEO Craig Fravel South Florida's thoroughbred horse racing venue is betting on $20 million in renovations. The Stronach Group plans to modernize Gulfstream Park in Hallandale Beach with a new open-air dining terrace overlooking the racetrack. The terrace will feature luxury boxes with private televisions. The renovations will also include a new infield scoreboard…
RedSky and partner to sell several properties amid "uncertainty" over valuations
The investment firm backing most of Williamsburg's prime retail real estate said it will look to sell several properties over the next two to three months. And the company has taken on a more active role managing the portfolio amid concerns that it could be difficult to cash out at projected values. JZ Capital Partners changed course on Wednesday and announced it would not take a significant…
Jorge Pérez on our urban evolution
For its fifth anniversary celebration, SFBW held a "CEO Connect" event with Jorge Pérez, the founder, chairman and CEO of the Related Group, who was on the cover of the first issue of the magazine in September 2014. For three decades, his commitment to building better cities and identifying emerging trends has made him one of the world's top names in real estate. In 2005, Time magazine named him…
Bal Harbour Shops owner explains why retailers want bigger flagship stores more than ever
You could call Matthew Whitman Lazenby a member of retail royalty. His late grandfather Stanley Whitman was a pioneer in South Florida real estate, buying swaths of land along Collins Avenue in Miami Beach and other coastal areas. Fifty-four years ago, Whitman opened Bal Harbour Shops, which Lazenby now oversees as owner and manager general of Whitman Family Development. The high-end shopping…
Miami Developers: Who will be the winners and losers of the next recession?
Miami's condo doomsday prognosticator, Peter Zalewski, has been waiting for this moment for almost a decade. The fast-talking former business journalist turned consultant with a penchant for electronic cigarettes and condo sales numbers has predicted the crash of Miami's high-end condo market for years. Zalewski projects that, driven by an oversupply of expensive condo buildings in Miami Beach…
Spec home builder Todd Glaser on doing home showings via yacht
Todd Glaser's passion for luxury homes took root early. As a teenage waiter at the Regency Hotel in Bal Harbour, where a new condo now stands, he would often work private dinners held at the homes of wealthy friends of the hotel's owner, Lou Brandt. "At 16, my friends and I got into all these gorgeous, unbelievable mansions," Glaser said. "When I walked into one of the elegant courtyards, it was mesmerizing.
A-Rod is coming for NYC and SoFla real estate
Alex Rodriguez has seen both his professional and personal life covered exhaustively in newspapers across the country for decades now. But since retiring as the Yankees' star third baseman in 2016 — and, according to Forbes, pocketing over $480 million during his 22-year, pro-baseball career — he's become even busier. He's now juggling regular media appearances with color commenting baseball games…
Luxury resort chain Aman Resorts just announced that it's coming to Miami, party city a departure from its current US presence
The global luxury resort chain known for its wellness offerings is opening a hotel with private branded residences in Miami Beach's Faena District sometime in 2023, the company announced Wednesday. Aman currently has only two US locations: Amangani in Jackson Hole, Wyoming, and Amangiri in Utah. Now, it's expanding to major cities, building a location in New York City that's expected to open in late…
The Amenity War Is Spreading To Industrial Space
Gyms, cafés and food trucks aren't just for office buildings and apartments anymore. They're beginning to show up in warehouses, too. "We see a lot more amenities in the buildings, much more like an office building," Ware Malcomb Executive Vice President Jay Todisco said at Bisnow's Southeast Logistics & Industrial Summit Tuesday at the Westin Buckhead Atlanta. "Those things all affect the yield of an…