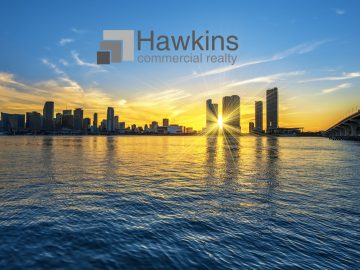 Square Mile Originates $185M Refi for Miami Asset
Bezel Miami. Image courtesy of Square Mile Capital Management Square Mile Capital Management has originated $185 million in refinancing for Bezel Miami, a 43-story, Class A multifamily community in Miami, within the $4 billion mixed-use development Miami Worldcenter. ZOM Living is the owner of the asset, which came online at the end of last year, with Stantec…
Moishe Mana Nabs $275M Credit Line for Wynwood Assemblage
Real estate investor Moishe Mana scored $275 million in financing for his Wynwood portfolio, property records show. The financing from Centennial Commercial Finance Group provided Mana a $275 million line of credit — of which he's drawn down an initial $58 million loan, according to mortgage documents. The portfolio spans 17 low-rise properties in the southwest section…
Miami Worldcenter Associates, CIM Deliver 80,000 SF Retail Building, Future Home of Bowlero and Sports & Social
Miami Worldcenter Associates and partner CIM Group have delivered Block F-East, an 80,000-square-foot "jewel box" retail building within the $4 billion Miami Worldcenter campus in downtown Miami. The standalone, glass-encased building marks one of the last retail components to be delivered as part of the 27-acre mixed-use development. The building, which will be…
Retail investors pay $57M for Doral shopping center
Miami-based retail investors Domenico Albano and Americo D'Agostini paid $57 million for Doral shopping center anchored by a Navarro Discount Pharmacy store. Sofi Retails, a real estate investment firm managed by Albano and D'Agostini, acquired Doral Shops, a two-story retail plaza at 11402 Northwest 41st Street, according to a press release. Albano and D'Agostino…
$57M Sale of Doral Shops Brokered
Built in 2002 on nearly six acres, the shopping center was 99 percent leased at the time of sale to Navarro Discount Pharmacy, as well as 12 restaurants and several service-oriented tenants on the ground floor. The second floor of Doral Shops, which spans roughly 40,000 square feet, houses service retailers and some offices. Scott Sandelin and Edward Romo of…
Fortis CEO launches own firm, Landau Properties, plans Bay Harbor project
Jonathan Landau has stepped down as CEO of the luxury property developer Fortis Property Group to start his own firm. The former chief executive is launching Landau Properties, a new real estate venture that will look to acquire and operate properties in New York, South Florida and Boston. Landau will be joined by daughter Yaeli and son-in-law DC Lowinger. "I've always…"
Billionaire Stephen Ross confirms split with Pérez as both firms expand in South Florida
Billionaire developer Stephen Ross was ahead of the curve when he first invested in South Florida real estate in 1979 with his partner, Jorge Pérez. But more recently, Ross, chairman of New York-based Related Companies, and Pérez, chairman of Miami-based Related Group, have gone their separate ways. Without naming the firm, Ross said at a ULI event in Miami…
Z Capital slapped with $16M verdict in Carillon Miami Beach lawsuit
Z Capital Group was hit with a $16.3 million verdict for overcharging assessments to condo owners at the Carillon Miami Wellness Resort. A jury on Tuesday determined that for the past seven years James Zenni Jr.'s Z Capital levied inflated dues to unit owners at the oceanfront Miami Beach condo-hotel for the spa, hotel and electricity, according to the verdict…
Moinian nabs $185M refi for Miami Worldcenter apartment tower
The Moinian Group refinanced its Miami Worldcenter multifamily skyscraper with a $185 million loan. New York-based Square Mile Capital Management provided the mortgage for Bezel Miami, a 43-story tower with 434 apartments at 650 Northeast Second Avenue in Miami, according to records. Drew Fletcher with Greystone and Robert Kaplan with Cushman…
Miami-Dade dev flurry: BH eyes Ojus rentals, Prologis bets on Beacon Lakes expansion
Developers in Miami-Dade County are betting on two asset classes that remain in high demand despite broad economic shifts: multifamily and industrial. The latest proposals filed to the county show that developers are planning apartments, including affordable units. Also, industrial giant Prologis wants to add more space at its already massive Beacon Lakes business…
Mortgage applications decline even as rates fall again
Mortgage applications continued their downward swing last week, but lower rates are sparking activity in the refinancing market. Applications declined 1.9 percent from a week earlier, the Mortgage Bankers Association revealed on Wednesday. The decline for the week ending Dec. 2 came even as mortgage rates continued to slip, down 73 basis points from a month…
Hidrock, Grupo Portland plan 400-unit rental tower in North Miami Beach
Hidrock Properties and Argentine developer Grupo Portland plan to develop a rental tower in North Miami Beach after finalizing their joint venture. The 50-50 partners began the entitlement process for the 20-story building at 1700 Northeast 164th Street and could break ground in 2024, said Hidrock's Chief Investment Officer Eddie Hidary. Hidrock, led by Eddie, Abraham…
The Access playbook: Inside billionaire Blavatnik's real estate ambitions in Miami and elsewhere
When Ziel Feldman's HFZ Capital Group paid $870 million for a site on Manhattan's High Line to build a luxury condo project, Jonah Sonnenborn was perplexed by the then-record price, which came out to more than $1,000 per square foot. "We bid roughly half of what HFZ acquired it for," said Sonnenborn, the head of real estate at Access Industries. "We couldn't…"
Mixed-use Allapattah project gets a city green light
A sprawling mixed-use residential building is proposed for the Allapattah neighborhood of Miami. Developer-owner Allapattah Investors LLC proposes the eight-story project for the southwest corner of Northwest 20th Street and 14th Avenue. Called Legacy 20th Street, the multi-family development will be home to 289 residential units, 3,750 square feet of retail, and 368 parking spaces…
Miami-Dade Courthouse opening target January 2024
Completion of the new Miami-Dade County Courthouse, in theory at least, is scheduled for Jan. 24, 2024, according to Alex A. Alfonso, acting assistant director of the Miami-Dade Internal Services Department. The exact project completion date continues to be negotiated, Mr. Alfonso said, "and has not been finalized." The anticipated price is holding steady at $262,767,000.
Hotels partner to upgrade Lincoln Road
A beautification project to improve unkempt areas on the east end of Lincoln Road between the commercial district and the beach walk is advancing with the help of the owners of the Ritz-Carlton and the Sagamore South Beach hotels, who are investing millions of dollars. The owners of the Ritz-Carlton, at 1 Lincoln Road, and the Sagamore South Beach, at 1671 Collins Avenue…
New Miami-Dade Commission Juan Carlos Bermudez: Targeting affordable housing, transit and economic growth
Juan Carlos Bermudez has just joined the Miami-Dade County Commission as District 12 representative. As founding mayor of Doral, his list of public service accomplishments is long, but just in his past term the city earned a triple Certification on Data for Smart, Sustainable and Resilient Cities from the World Council on City Data.  He also led efforts to win approval from voters…
Blue Vista JV to Redevelop Florida Site Into Self Storage
Blue Vista Capital Management and H&M Development have partnered for the first time to redevelop a 100,000-square-foot recreational facility into a 962-unit self storage facility in Hialeah Gardens, Fla. The joint venture acquired the property from Triangle Soccer LLC for an undisclosed price. Fried, Frank, Harris, Shriver & Jacobson LLP's Steven Rudgayzer advised H&M Development…
Jesta joins rental frenzy in new plans for North Bay Village Shuckers site
Jesta Group doesn't want to miss out on South Florida's booming multifamily market. Jesta revised its two-year-old development plan for the Shuckers Waterfront Grill site in North Bay Village, dropping significantly the number of planned hotel rooms in favor of apartments, according to filings with the city. Plans now call for a 30-story tower with 345 rentals and 245 hotel keys…
Bal Harbour Shops allegedly owes subcontractor roughly $1M: lawsuit
A subcontractor is suing Bal Harbour Shops over an unpaid construction bill totaling nearly $1 million. Medley-based Solution Construction sued the luxury shopping center three weeks ago in Miami-Dade Circuit Court, alleging Bal Harbour Shops owes $966,000 for an entryway and a garage ramp the subcontractor built. Solution's attorney and a spokesperson…
Lease roundup: Hollo's FECR moves, Sternlicht's building nabs tenants
Florida East Coast Realty I Brickell | Miami The Hollo family's Florida East Coast Realty moved its headquarters of 30 years in downtown Miami to nearby Brickell. The real estate firm, which Tibor Hollo founded more than 60 years ago, leased the entire 17th floor spanning 8,500 square feet at 1101 Brickell Avenue, according to a company news release. FECR's…
Hawkins Way Capital sells Clifton Hotel in South Beach
Real estate investment firm Hawkins Way Capital sold the Clifton Hotel in South Beach, adding to a slew of recent hospitality sales. Records show the Los Angeles-based company sold the 35-key, 10,400-square-foot hotel at 1343 Collins Avenue in Miami Beach. The buyer is Jerusalem Group LLC, a Florida entity managed by Omar Limon. Limon is a Miami resident with…
Chetrit nabs $83M construction loan for Collins Park project
Chetrit Group got a financial boost for its Collins Park Hotel project, nabbing a $82.5 million construction loan. Kawa, a Hallandale Beach-based international asset manager, provided the financing, according to a spokesperson for Henry Bodek of New York-based Galaxy Capital, which brokered the loan. The new mortgage replaces a $62.5 million construction loan provided…
UDB battle not over: Megaproject opponents take fight to state
Mayor Daniella Levine Cava along with a rendering of the planned megaproject outside Miami-Dade County's Urban Development Boundary: A controversial megaproject planned outside Miami-Dade County's Urban Development Boundary faces new opposition. In the latest move, a resident is asking the state to review commissioners' recent approval of the UDB expansion.
AN Editor Notes; Lessons from a crypto meltdown
Stuart Elliott It feels like a Madoff-meets-millennial moment.  The crypto party has come crashing down with the spectacular collapse of Sam Bankman-Fried's FTX, the world's second-largest cryptocurrency exchange. The fallout will be huge, with the company owing customers more than $8 billion.  How exposed will real estate be? Not very, it seems — even condo…
Joint Venture Acquires Last Parcel Within Miami Worldcenter Campus for $17.5M, Plans Residential Tower
A joint venture between Aria Development Group and Merrimac Ventures has purchased the last available parcel within the 27-acre Miami Worldcenter campus, a $4 billion mixed-use development by Miami Worldcenter Associates. The site, located one block from Brightline Miami Central at 33-55 N.W. 6th St., is known as The Miami Link. Jack Lowell, Cecillia Estevez and…
Native American tribe under contract to buy Magic City Casino
After holding on to Magic City Casino for 71 years, the Havenick family is ready to cash in its chips. The owners of the gambling facility at 450 Northwest 37th Avenue in Miami have entered into a deal to sell the former greyhound racing site to the Alabama-based Poarch Band of Creek Indians, The Miami Herald reported, citing an application recently submitted…
Brightline effect: Karsenti plans rentals next to Aventura stop
13th Floor Investments' Arnaud Karsenti along with a rendering of the planned 350-unit apartment building at 19680-19770 West Dixie Highway: Arnaud Karsenti's 13th Floor Investments wants a piece of the booming real estate market around the Brightline Aventura Station. The Coconut Grove-based firm is the prospective buyer of 2.4 acres of land just south of the soon-to-open…
Trump Group sues Suffolk again over delays at Sunny Isles project
The Trump Group reopened its lawsuit against its general contractor, Suffolk Construction, over delays at the $1.8 billion Estates at Acqualina project, months after the two companies entered into a settlement agreement. Affiliates of the Sunny Isles Beach developer, led by brothers Jules and Eddie Trump, filed an amended complaint against Suffolk last month seeking more…
Inside an Israeli billionaire's Miami gamble
Teddy Sagi sits back on his white couch, his high-rise apartment window framing Dubai's palm tree-lined Jumeirah Bay, and says he's not the guy to ask for the details. Even though the Israeli billionaire is backing major new developments in South Florida, he's worlds away. Inquire about those projects, and he can't tell you much. "There's no transaction in Miami …"
Z Capital allegedly owes $2M legal bill: lawsuit
Akerman says Z Capital Group needs to pay up. The law firm is allegeding that the New York-based merchant bank owes $2.2 million in legal fees for a pair of lawsuits involving a MIami Beach condo-hotel. Akerman is suing Z Capital and its entity that owns a majority of the Carillon Miami Wellness Resort at 6801 Collins Avenue, according to a Nov. 16 complaint filed in…
Doral Industrial Trades For $18.1 Million
Doral Industrial, a 93,046-square-foot industrial building in Miami, traded for $18.1 million. "Built in 1983, Doral Industrial sits on just over 4.5 acres and consists of 26 suites," said Michael Alaoui, senior associate in Marcus & Millichap's Miami office. "This well-maintained asset benefits from the neighboring demographics, which include a five-mile radius population of 428,000. […]…
Video: Macro Trend Advisors Founding Partner Mitch Roschelle Discusses Economic Outlook
Mitch Roschelle, Macro Trend Advisors Founding Partner, joins America's Commercial Real Estate Show to discuss the current economy and expectations for it in the future and its effect on commercial real estate. Topics discussed include rising interest rates, trends in cap rates, and potential opportunities in commercial real estate. He begins by discussing the Fed's efforts…
Cohen, Bouskila propose 261 apartments near Brightline's Aventura stop
Developers want to build an apartment project near the Brightline Aventura Station, marking the latest proposal near a South Florida passenger train stop. Yakov Cohen and Shimon Bouskila filed plans for a 15-story building with 261 units and some retail on the site of an Aventura industrial complex… The 2-acre site is at 2655-2660 Northeast 189th Street. A few blocks to the north…
Aria, Merrimac nab Miami Worldcenter site for $18M
Aria Development Group and Merrimac Ventures are planning a new Miami Worldcenter condominium project after acquiring a redevelopment site for $17.5 million. The joint venture acquired the International Longshoremen's Association's former Miami headquarters at 33-55 Northwest Sixth Street for $11 million from the labor union, records show. Aria…
South Florida Experts Weigh In With 2023 Regional Real Estate Forecasts
Office building owners have it tough nationwide, but in South Florida the migration of companies to the Sunshine State coupled with limited trophy office supply should send rents higher. Limited land for new beachfront projects in Miami-Dade County will propel developers north to Fort Lauderdale and vicinity. And the countries of origin acquiring South Florida real estate…
Weekend Interview: Turnberry Associates Chairman And CEO Jackie Soffer
Jackie Soffer is chairman and CEO of Turnberry Associates, a real estate development firm that has become synonymous with some of Miami's most iconic properties. Soffer, whose mantra is "Be the reason someone believes in good people," is passionate about community-building and feels that great retail is part of the thread that makes up each community's…
When the Fed's no longer a friend; Rising interest rates force lenders to the sidelines
Two years ago, the Federal Reserve was purchasing billions in mortgage-backed securities, reducing the rate it charged banks for loans and relaxing regulations on banks. The policies led to an era of nearly free money for real estate players, and spurred a dealmaking bonanza. Now, some see the Fed as the problem. It increased rates to 4 percent from near zero…
How commercial real estate players use interest rate swaps and caps
In the months after the Federal Reserve started hiking interest rates, Manhattan's largest office landlord went out and hedged more than $3 billion of debt to protect against what it sees as the biggest threat to its balance sheet: rising borrowing costs. "Needless to say, that's far and away the most we've ever done in a year," said Matthew DiLiberto, CFO at SL Green Realty.
Scamsters paradise: The most audacious real estate cons of the past decade; Many start in Miami, but they rarely stop there
An enterprising scammer looking for an industry in which to make a mark — or find one — could do a lot worse than real estate. In the past year alone, authorities have revealed high-profile cases of money laundering in a never-ending game of Whack-a-Mole. Real estate moguls make their bones with chutzpah, confidence and persuasion. Perhaps that's why a business that's minted…
Kodsi's Royal Palm scores $77M construction loan for Dania Beach project
A planned Dania Beach multifamily project got a construction boost after developer Royal Palm Companies secured a $76.5 million loan. 3650 REIT provided the financing for Royal Palm's Elevate Apartments, an eight-story rental building with 293 units under development at 600 East Dania Beach Boulevard, records show. The mortgage replaces a $64.7 million construction loan…
3650 REIT Originates $77M Construction Loan in Dania Beach
Royal Palm Cos. has secured a $76.5 million construction loan from 3650 REIT to finance the completion of Elevate Apartments, a 293-unit, eight-story multifamily property in Dania Beach, Fla. The building at 560 E. Dania Beach Blvd. broke ground in the fourth quarter of 2021 and is approximately 45 percent completed. It is scheduled for delivery in November 2023. Royal Palm…
TPG, Value Store It pay $19M for Weston self-storage facility
TPG Real Estate Partners teamed up with Value Store It to buy a self-storage facility in Weston for $18.5 million. The joint venture paid roughly $25,000 per unit for the three-story building at 2400 Glades Circle, according to Vizzda and records. The seller, a joint venture between Chicago-based Harrison Street Real Estate Capital and Northfield, Illinois…
Criminally charged ex-West Palm club owner's properties face forfeiture
A former owner of a West Palm Beach hangout who is accused of running an illegal gambling and prostitution ring could end up losing $1.6 million in real estate if he's convicted. Dion De Cesare, who previously owned Renegades restaurant and nightclub, has been slapped with multiple charges, prompting prosecutors to seek the forfeiture of nine of his properties. They include…
Affiliated aiming higher on West Palm rental project
Affiliated Development is raising the roof on its plans for a multifamily project in West Palm Beach, literally. The firm now wants to build an eight-story, 270-unit apartment building on the land at 2501 Spruce Avenue and adjacent parcels in the Northwood district, which is bigger than the previous plan for a six-story, 200-unit project, according to city records.