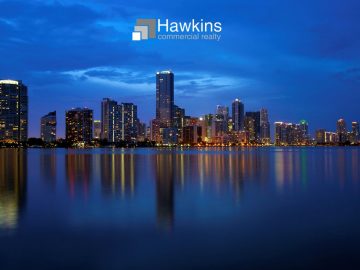 Edgewater project more than doubles units to 1,300 in 42-story towers
A major mixed-use residential project already in progress has expanded and will bring another 800-plus residential units to Miami's Edgewater neighborhood. Developer-owner 1900 Biscayne Property Owner LLC and 2000 Biscayne Fee Owner LLC recently presented their latest project to the city's Urban Development Review Board. It includes two 42-story towers…
FAA Approval Now In Process For 750-Foot Tower Crane At E11even
Contractors building the the 65-story E11even Hotel & Residences have applied for Federal Aviation Administration approval to install a tower crane at construction site. Separately, the FAA just issued approval for the permanent height of a second tower known as E11ven Residences Beyond. The construction crane at the first tower is planned to rise 750 feet above ground…
Zoning Waiver Decision Issued At Empire Brickell, Demolition Permit Pending
Empire Brickell continues to move closer to groundbreaking. According to Miami Planning Department records, a final decision on Miami 21 zoning waivers needed for the project was issued on January 30. Building Department records show that a permit for total demolition at the site was applied for in August 2022, and was actively being worked as of last month.
Tri-Rail To Downtown Miami Now Estimated For Fall 2023
The head of the agency that runs Tri-Rail has released a new start date for train service to downtown Miami, according to Miami Today. Tri-Rail train service to MiamiCentral is now expected to begin in Fall 2023. The prediction was made at a presentation to the board of the Citizens Independent Transportation Trust. The agency is now said to be in good communication…
Coral Rock plans mixed-income rental complex in Florida City
Coral Rock Development Group's Stephen Blumenthal, David Brown, Victor Brown and Michael Wohl with rendering of Card Sound Key Apartments (Coral Rock Development Group, Getty) Coral Rock Development Group plans a mixed-income apartment complex in Florida City, marking the firm's continued bet on south Miami-Dade County. The 342-unit Card Sound Key…
Miami Has Become The Coworking Capital Of The World
Miami has emerged as the top coworking and flexible office market in the country, soaking up waves of corporate transplants looking for a quick foothold in buzzy South Florida. "You have companies that are calling us that are saying, 'Hey, I'm not there now, but I know I want to expand in Miami, can I get an office?'" said Melissa Bessler, Industrious' regional director of the Southeast…
East End sues ex-Australian investors in Miami office tower for $2M
East End Capital's David Peretz and Jonathon Yormak with 100 Biscayne Boulevard (Google Maps, East End) East End Capital claims it's being stiffed of more than $1.8 million by its Australian investor in a downtown Miami office tower that they once jointly owned. It's the latest chapter in the acrimony between the former partners in the building. Litigation started…
Doral Industrial Property Sells For $1.9M
CBRE represented the buyer, HMR 8081, LLC, and the seller, 8083 LLC, in the the sale of a free-standing ±7,128-square-foot small bay warehouse located at 8081-8085 NW 66th Street in Miami, which closed January 17. HMR 8081, LLC purchased the asset for $1,900,000, equating to $267 per square foot. CBRE Executive Vice Presidents Larry Genet and Tom O'Loughlin…
Developer Of Citadel HQ Tower: 'We're Moving As Fast As We Can'
The developer working on the Brickell headquarters tower for Ken Griffin's Citadel has revealed new details about the project in an interview with Commercial Observer. Andy Gloor is the CEO of developer Sterling Bay, which is working with Citadel on the potential supertower. Gloor told the website that his company was moving "as fast as we can," on the project.
Demolition Permit Approved At Casa Bella Site To Make Way For 57-Story Tower
Miami's Building Department has just approved a permit to demolish a 3-story office building at 1400 Biscayne Boulevard. The approval was granted on January 30 (permit fees are still awaiting payment). At least some tenants have already moved out. According to the demolition permit filing, a total of 249,978 square feet will be demolished, at an estimated cost…
Huge Flight Of Talent & Capital To Miami Continues, Investor Says
Miami is continuing to attract a major amount of investment and capital, a prominent investor said. Jack Abraham, who is the CEO of Atomic Labs, made the comments in an interview yesterday with CNBC. According to Abraham, Miami is "somewhat insulated from the larger economy." Abraham said that real estate was still going up in Miami, while it is going down…
44-Story Lofty Brickell Becomes Fifth Major Miami Project To Break Ground This Month
A groundbreaking ceremony was held this morning for the 44-story Lofty Brickell, becoming one of five major projects that got underway in Miami this month. Lofty Brickell is planned as a $300M project with 362 condo units (it is said to be 88% sold by the developer). Other projects that have broken ground this month include: On January 9, a groundbreaking ceremony…
South Florida by the numbers: A look back at 2022
(Illustration by The Real Deal with Getty) "South Florida By The Numbers" is a web feature that catalogs the most notable, quirky and surprising real estate statistics. It's the most wonderful time of the year…for local real estate nerds who love to analyze how their market performed over the previous 12 months. It seems like every association, company, analyst, think tank…
Tri-Rail Downtown was due last fall, now targeted for this fall
A fall start is predicted for Tri-Rail trains to roll into Miami Central Station. David Dech, executive director of the South Florida Regional Transportation Authority (SFRTA), made the projection last week during a presentation to the Citizens' Independent Transportation Trust (CITT) board. The long-awaited $70 million tax-funded project, which was to be completed in 2017…
Miami-Dade real estate vacancies reach new low as South Florida rent rockets to record highs
Rents rose across all asset classes in South Florida in the fourth quarter of 2022 as vacancies sank further amid a development rush to fill demand. That bodes well for builders and Realtors and shouldn't too adversely impact the businesses and residents — prospective or already in the area — with enough cash to cover costs. For those struggling to get by, it may portend…
Banesco USA gets new headquarters in Doral, gears to hire 140
With a plan to hire 140 locals in a three-year period, Banesco USA grows its footprint in South Florida, opening a brand new headquarters in Doral. Independent Florida state-chartered bank Banesco USA, with $2.9 billion in assets as of December, has moved its headquarters to Doral to a fully renovated location at 3155 NW 77th Ave. The property, previously Kingsway…
Public-private deal to build workforce housing downtown
The Miami Parking Authority (MPA) has joined another public-private partnership (P3) designed to improve one of its downtown garages and bring much needed workforce housing units to the City of Miami. The MPA is announcing what it calls an innovative mixed-use redevelopment project set to transform the corner of NE Second Avenue and NE Third Street.
First military housing in 30 years due at SouthCom
A military housing complex project in Doral's U.S. Southern Command land will offer more than 50 acres of affordable housing to military members and their families who serve at the command's headquarters. Construction is set to begin in the fall. This project will be the first military housing compound constructed in South Florida after the closure of the military housing…
Aimco Maximizing Development Rights At 1001 Brickell Bay Drive
Aimco is working to maximize future development rights on property it owns in Brickell by limiting leases in an office building on the site, according to a quarterly report. The company is the sole owner of the 1001 Brickell Bay Drive office building and the adjacent Yacht Club Apartments, according to a November company presentation. The assemblage size is 4.25 acres, the…
Partial Demo Permit At Omni Is For Former JC Penney Space, Notes Say
Plans have now been filed and are in review for partial demolition at the former Omni, and notes on the permit provide small clarification on what is being demolished. The partial demolition permit was applied for on November 2, with a plan acceptance date of December 20. "This permit is for PARTIAL DEMOLITION – DEMOLITION OF THE JC PENNY IN THE OMNI…
Photos & Video Of Newly Opened CitizenM Miami Worldcenter
The 351-room CitizenM hotel at Miami Worldcenter is now open. A video by Ryan RC Rea shows the lobby of the newly opened hotel:   Made my first *ever* narrated IG reel to highlight the @citizenM at @MIAWorldcenter. Everytime I hear my own voice recorded… I'm like "Who is this person" 😂#Miami pic.twitter.com/Q6PJUvnU3M — Ryan RC Rea…
How real estate's rich live: Alex Sapir's wife seeks $175K/month in divorce
Photo Illustration of Alex Sapir and Yanina Sapir (Getty, Google Maps, Facebook) Ever wonder how the wealthy spend their money? In the case of developer Alex Sapir's wife, Yanina, she doled out $400,000 to attend Burning Man, and spends $6,000 a month on clothing, $5,000 on monthly boating expenses, and more than $15,000 each month for the house manager…
Carillon Miami Beach condo owners win suit over Z Capital's "dictatorship"
Z Capital's James Zenni Jr. with Carillon Miami Wellness Resort at 6801 Collins Avenue (LinkedIn, Google Maps, Eleventh Circuit Court) Z Capital Group is poised to lose significant power at the Carillon Miami Wellness Resort. Miami-Dade Circuit Judge Michael Hanzman on Monday ordered that the portion of the Carillon master declaration that vests authority in Z Capital…
Blackstone ramps up tenant evictions
A photo illustration of Blackstone's Jon Gray (Getty, Blackstone) One of the country's biggest landlords is ramping up evictions after a long period of pandemic-related forbearance. Blackstone filed eviction lawsuits against hundreds of tenants across the nation, the Financial Times reported. Court records focus on Georgia and Florida, but consultants from the company…
Big-box retail growth has Bed Bath & Beyond landlords thinking
(Photo Illustration by The Real Deal with Getty) Bed Bath & Beyond isn't gone yet, but news of its potential bankruptcy has landlords already looking beyond the retailer. The real estate rebound of big-box retailers like Burlington and Barnes & Noble are fueling the hopeful fire among landlords of spaces with the potential to be vacated by the home goods…
Lease roundup: Simon's Dadeland Mall reaps leasing bonanza
From left: Simon Property Group's David Simon and Cohen Brothers Realty's Charles Cohen with the Dadeland Mall and the Design Center of the Americas (Getty, Scott Francis, Simon) Dr. Martens, Abercrombie & Fitch I Dadeland Mall Simon Property Group is fresh off a leasing spree at Dadeland Mall in Kendall. Seven new tenants set up shop and six more are slated to…
Florida bill turns to developers to tackle affordable housing
Florida Senate President Kathleen Passidomo (R-Naples) introduced on Thursday an $800 million affordable-housing bill designed to tackle soaring rents by providing incentives to the private sector, the Orlando Sentinel reported. The sweeping, 93-page bill — called the Live Local Act of 2023 — would ease local regulatory laws by requiring municipalities and counties…
Crunch Fitness founder plans adaptive reuse project in Little Haiti
Crunch Fitness and Big Move Properties' Douglas Levine with aerial of 400 Northeast 67th Street (Big Move Properties, Google Maps, Getty) Crunch Fitness founder Douglas Levine is embarking on his latest adaptive reuse project in Miami. Levine wants to convert roughly 50,000 square feet of warehouses at 400 Northeast 67th Street, and an adjacent lot, into retail and…
Cooper City approves downsized mosque at growing Islamic prep school
A rendering of Nur-ul-Islam Academy An Islamic prep school in Cooper City won approval to develop a new building and a downsized mosque with a 50-foot minaret — half the height originally proposed. The Cooper City Commission approved an amended site plan for the project during a marathon meeting Tuesday, amid complaints from residents about the traffic the…
Another: 450-Unit The Crosby Breaks Ground At Miami Worldcenter, 100% Sold
Developers Related Group and Merrimac Ventures broke ground this morning on the 33-story Crosby Residences tower at Miami Worldcenter. The 450-unit project is 100% sold. Units will be delivered furnished and ready-to-rent, designed for easy listing on all homesharing platforms. There will also be over 22,000 square feet of amenity space, including saunas…
Demolition Permit Filed At 1428 Brickell Where 861-Foot Tower Planned
A demolition permit has just been applied for at 1428 Brickell. According to the January 20 demolition permit filing, total demolition of 100,762 square feet is planned, at an estimated cost of $550,000. In its place, a 71-story, 861-foot luxury residential tower is planned, with 189 condos. The building will have a "solar backbone," with photovoltaic panels integrated…
44-Story Lofty Brickell Groundbreaking Could Be Coming In Days
A groundbreaking ceremony for the 44-story Lofty Brickell tower could be just days away, according to a filing yesterday with the city. The Special Events permit was filed on January 25, records show. The permit lists Lofty Groundbreaking, with a date of January 31. Earlier this month, the developers told the Herald that construction would get underway in February.
Nearly $750m Sales Reservations In Under 6 Months At St. Regis Residences Sunny Isles
There appears to be huge demand for the new St. Regis Residences planned in Sunny Isles Beach. According to a representative of the developer, the building has taken in nearly $750 million in reservations in less than six months. Two towers are planned, with 175 residences in the south tower, which will be the first to be completed. Each of the 62-story towers…
L&L Holding JV Lands $215M for 1 MSF Miami Project
The Wynwood Plaza. Rendering courtesy of ImerzaThe Wynwood Plaza exterior. Rendering courtesy of ImerzaThe Wynwood Plaza pedestrian paseo. Rendering courtesy of GenslerThe Wynwood Plaza office tower. Rendering courtesy of Gensler A joint venture between L&L Holding Co. and Oak Row Equities has closed on a $215 million construction loan for the…
Ken Griffin kicks in $3M to Miami-Dade fund for housing, other initiatives
Miami-Dade County mayor Daniella Levine Cava and Citadel's Ken Griffin (Getty, Citadel, Miami-Dade County) Billionaire hedge fund manager Ken Griffin is kicking in $3 million to a new fund that will grant money to companies that can solve issues in housing and other sectors. Miami-Dade County Mayor Daniella Levine Cava announced the commitment at her State…
B'nai B'rith wins approval to expand rental complex for low-income seniors in Deerfield Beach
B'nai B'rith's Daniel Mariaschin with aerial of new development site (B'nai B'rith, City of Deerfeild Beach) Jewish service organization B'nai B'rith won approval to add a fourth apartment building to its rental complex for low-income senior citizens in Deerfield Beach. The Deerfield Beach City Commission on Tuesday approved a site development plan to add 62 apartments.
Landmark scores $33M in construction financing for Dania Beach project
Landmark President Robert Saland and rendering of The City Place Apartments in Dania Beach (Landmark Companies) Landmark Development Corporation nabbed $32.9 million in construction financing for an affordable housing project in Dania Beach. The Miami-based developer recently broke ground on The City Place Apartments, a 99-unit complex at…
Riviera Beach CRA approves deal for Marina Village apartment building
A photo illustration of BH Group's Isaac Toledano, Related Group's Jorge Perez, and Marina Village in Riviera Beach (Getty, BH Group, Related Group) Riviera Beach's community redevelopment agency is moving forward on a 99-year ground lease with a joint venture to build a 20-story multifamily project in Marina Village. The Riviera Beach City Commission, acting …