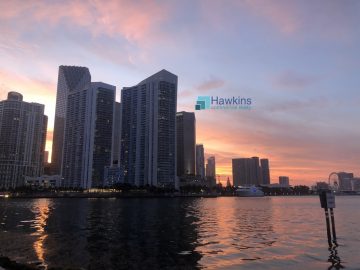 Sale of Monty's Coconut Grove Mixed-Use Marina in Miami Arranged
JLL Capital Markets has arranged the sale of Monty's Coconut Grove, a fully leased mixed-use marina in Miami's Coconut Grove neighborhood. Also known as Bayshore Landing, the property features retail, office and restaurant. Manny de Zárraga, Luis Castillo, Ted Taylor and Kim Flores of JLL marketed the property on behalf of the seller, Aligned Bayshore…
Doral Former PepsiCo Site Trades for $55 million
Terra and Terranova Corp. have just sold the 23.7-acre former PepsiCo regional headquarters and distribution center site in Doral, Fla., three years after having acquired the asset in a $40 million sale-leaseback transaction. The companies sold the property to a Santa Monica, Calif.-based entity… Carrying the address of 7777 NW 41st Street, the PepsiCo site…
Terra, Terranova sell 24-acre property in Doral for $55M
Terra and Terranova Corp. sold a nearly 24-acre development site in Doral to logistics real estate investment firm GLP Capital Partners for $55 million. The two firms planned to develop the property, home to PepsiCo's former regional headquarters and bottling plant, into an industrial and retail development. Terra and Terranova had purchased…
Terra sells piece of northwest Miami-Dade dev site to Butters and Greystar, moves forward with apartment project
David Martin with a rendering of Natura Gardens David Martin's Terra sold a big piece of its massive development site in northwest Miami-Dade County near the planned American Dream Miami mall, and is moving forward with plans for an apartment project. The Coconut Grove-based developer sold 45 acres to Butters Group and Greystar for $53.5 million…
Butters Construction, Greystar Buy Metro Miami Site for $53.5M, Planning Industrial and Multifamily Project
Butters Construction & Development has partnered with Greystar for the future development of Miami Midway Park, a 45.1-acre site at NW 97th Ave. and NW 170th St. in Hialeah Gardens. The joint venture partnership will develop a 500,000-square-foot, Class-A distribution industrial park and 360 garden-style multifamily apartments. The Butters-Greystar joint venture…
Office woes as Salesforce tells employees they can work from home forever
Salesforce has made a statement that is sure to worry office landlords. "The 9-to-5 workday is dead," wrote Brent Hyder, the massive company's president and chief people officer, in a blog post Tuesday. That accompanied an announcement that employees of the cloud-based software company will have the option to return to the office part-time or work…
Polish American Club shores up riverfront development
Since the pandemic interrupted the Polish American Club of Miami's plans to build… The club proposes to replace its outmoded headquarters, built in 1941 and recently demolished, with a massive modern structure spanning 681,102 square feet and rising 18 stories on land it owns at 1250 NW 22nd Avenue (Pulaski Avenue) on the South Fork of the Miami River.
Ghost structure from 2006 may yield new Miami Station
A plan to complete a skyscraper in the heart of downtown – begun 14 years ago – has evolved again, this time destined to bring more than 250,000 square feet of office space to the City of Miami. The latest proposal is called Miami Station and is planned for 530 NW First Court. The mixed-use project is to be considered Feb. 17 by the city's Urban Development Review…
Vast Wynwood mixed-use plan wins unanimous OK
One of the largest mixed-use projects planned for the Wynwood neighborhood earned positive comments from the city's Urban Development Review Board. AMLI Wynwood is designed to bring 316 residential units and 30,596 square feet of commercial-retail uses to 70 NW 25th Street. The review board unanimously recommended approval in…
Homestead salmon farm goes Publix – all 818 Florida stores
Publix shoppers in Florida may have spotted a new product among the store's seafood offerings this month: Bluehouse Salmon, grown and prepared in an indoor Homestead facility poised to possibly be the biggest of its type in the world. As of Feb. 1, all 818 Publix locations in Florida now carry GMO-, antibiotic- and hormone-free fish filets from Norway…
With cruises halted, PortMiami keeps it head above water
As the pandemic rages on, passenger ships remain harbored at PortMiami. Cruise companies have canceled sailing plans through at least the first third of 2021. But according to Managing Port Director Andy Hecker, internal savings, strong cargo traffic and favorable financing will allow PortMiami to continue operations and cover costs, including debt service on bonds…
Prosecutor pushes for more LLC transparency
A month after a federal law required more transparency on real estate transactions, Manhattan District Attorney Cyrus Vance wants it expanded. Vance is requesting the Treasury Department mandate more reporting from special purpose entities — notably limited liability companies — which are commonly used in commercial real estate deals. Vance also asked…
Aman Miami Beach developer secures approval from historic board
The developer of a planned Aman hotel and condo again secured approval from the Miami Beach Historic Preservation Board, after reducing the project's height and making other modifications. Billionaires Vlad Doronin and financial backer Len Blavatnik want to build the first Aman-branded development in South Florida at 3425 Collins Avenue, on a site that…
Rental payments improve in February after stimulus payments
In the first week of February, 79.2 percent of renters in 11.6 million market-rate units paid all or some rent. That's a slight uptick from last month, when 76.6 percent of renters made a payment by the first week of the month. It's also an improvement from December, when landlords reported the lowest rent collection levels since the start of the pandemic. But compared to…
South Florida Retail Real Estate Summary: Leases, Sales & Construction Projects
Market Snapshot for South Florida Retail Real Estate A summary of the highlights, trends, and current market activity for South Florida commercial real estate focusing on Miami-Dade County: Analysis derived and compiled from leasing data and transaction reports in order to better understand the overall health of the CRE market in Miami-Dade County.
Seagis Property Group Acquires Warehouse In Doral
Seagis Property Group announced that it has acquired a 54,400 square foot warehouse in Doral. Seagis acquired the property located at 2101 NW 82nd Avenue in the Miami International Commerce Center with a short-term lease in place and is actively marketing the property for lease. The acquisition increases the company's South Florida portfolio to 102…
Mall operator Simon Property Group suffers billion-dollar earnings hit
In April 2019, amid a war with e-commerce, mall magnate David Simon told investors, "I think most of the bad news is behind us. But I can't guarantee it." He sure couldn't. Simon Property Group had a rough year. The coronavirus pandemic accelerated store closures and devastated revenues for the mall landlord. "I do frankly want to turn the page on 2020…
Miami-Dade mayor launches $60M relief program for landlords
Some relief is coming to landlords in Miami-Dade County. Miami-Dade Mayor Daniella Levine Cava announced a $60 million relief program for residential landlords that have pending writs of possession with tenants facing eviction. The program will offer those landlords back rent of up to $3,000 per month dating back to March 2020, using federal funding…
Chart: Miami Commercial Real Estate Sales to List Price Ratio at 16 Month High ~ January 2021 MLS
The sales to list price ratio as reported by the Miami MLS for improved commercial real estate (MLS classification: commercial/industrial) within Miami-Dade county in Florida priced from $1 million to $10 million in January hit 95.1%, the highest level in 16 months. The last time this ratio was higher was September 2019 when the ratio hit 95.7%. This ratio…
Exciting Developments in Uncertain Times: What's in Store for Real Estate in South Florida
Observers of the South Florida real estate industry don't go very long without seeing headlines about Miami's hot commercial real estate market. COVID-19 perhaps has only added to the growth of the market. But even in South Florida where the pandemic hasn't blunted the market, it has indeed shifted trends and dynamics. On February 2nd, Nitin Motwani…
Chetrit's Tides hotel on Ocean Drive faces $45M foreclosure lawsuit
Affiliates of the Chetrit Group are facing foreclosure of their long-shuttered hotel, The Tides South Beach. SHEDDF3 VNB LLC, tied to Safe Harbor Equity, filed a foreclosure lawsuit against CG Tides and other companies linked to the New York-based Chetrit Group over the 11-story hotel at 1220 Ocean Drive, court records show. Joseph Chetrit, a founding partner of the…
Silicon Valley's Founders Fund inks Miami lease
Founders Fund, the major Silicon Valley venture capital firm with billions of dollars in capital under management, is planting a flag in Miami. Founders Fund inked a one-year lease at Brickell City Tower at 80 Southwest Eighth Street, taking 2,073 square feet at the Brickell office building, according to a press release from Blanca Commercial Real…
As Pandemic Drags Into 2021, Lenders And Investors Seek Safety, Yield In Florida
When the coronavirus pandemic hit the U.S., investors were expecting a wave of distressed assets. "In 2020, everyone was like, 'We're waiting, we're waiting for the shoe.' And the shoe never dropped," said Dan Kodsi, CEO of Miami-based Royal Palm Cos., a developer of luxury residential projects. Capital has been sitting on the sidelines, but in this environment…
Related to partner with Baccarat on major Brickell high-rise development
The Related Group is planning a Baccarat-branded three-tower development in Brickell with up to 1,400 residential units, The Real Deal has learned. The Miami-based developer would build the high-rise project on the property at 444 Brickell Avenue, where it previously planned to build One Brickell, according to marketing materials obtained by TRD.
Northeast Capital pays $15M for Miami office building
An affiliate of a private equity investment firm paid $14.5 million for a nine-story office building south of Miami International Airport. The Northeast Capital Group affiliate bought the building at 5040 Northwest Seventh Street in Miami, according to records. The seller is a company managed by Menachem Gurevitch of Netz Group and Mandy…
Amazon's real estate footprint ballooned in 2020
It's a new era for Amazon. Jeff Bezos is stepping down as CEO of the company and transitioning to executive chair of the Amazon board. Andy Jassy, chief executive of Amazon's cloud computing division, will become CEO during the third quarter of this year. But, as the saying goes, the more things change, the more they stay the same. The e-commerce giant…
SoftBank's Miami bet, the startup backed by Lizzo and A-Rod
Silicon Valley, who? SoftBank is following the deal train to Miami, where it plans to launch a $100 million fund to back tech companies in the Magic City. COO Marcelo Claure announced the initiative Jan. 28 on Miami Mayor Francis Suarez's Cafecito Talk series, streamed live on Twitter. Suarez has been courting entrepreneurs and investors, including Elon Musk, Keith…
Member Of Departed HUD Leadership Calls For 10% More Opportunity Zones
During the Trump administration, Alfonso Costa Jr. was deputy chief of staff at the Department of Housing and Urban Development under Secretary Ben Carson. He oversaw housing policy for the federal government, including opportunity zones. The 32-year-old last year moved to Florida to become executive vice president of the Falcone Group, which has heretofore…
Wilton Manors mixed-use multifamily complex sells for $11M
A private investor paid $11 million for a mixed-use multifamily complex in Wilton Manors. Records show Tamuz-Camelot 2625 LLC sold Camelot West Apartments at 2625-2674 North Andrews Avenue to Wilton Pointe Apartments LLC. The complex includes 66 multifamily units and seven commercial units. The price equates to $150,685 per unit. The buyer is…
Benderson buys Publix-anchored Delray Beach shopping center for $9M
A Publix-anchored shopping center in Delray Beach sold for $9.4 million. Records show North Delray (E&A) LLC, a South Carolina company, sold the two buildings at 555 and 455 Northeast 5th Avenue, called North Delray Commons, to 555 NDC LLC, a Florida corporation. The selling entity links to national retail real estate owner, operator and developer Edens, which…
Owner of Pompano industrial park to triple warehouse space to 100K sf
The former owner of the Festival Flea Market in Pompano Beach is tripling the size of a nearby warehouse development to more than 100,000 square feet, as part of a wave of investment in South Florida industrial properties. By March 1, RS Associates of Florida expects to complete construction of three speculative, one-story warehouses totaling 71,440 square feet…
U.S. Construction moves forward with boutique condo development in Delray Beach
U.S. Construction CEO John Farina and a rendering of 1625 South Ocean Boulevard U.S. Construction is moving forward with plans for a new oceanfront condo development in Delray Beach at the site of the former Delray South Shore Club, The Real Deal has learned. 1625 Ocean, at 1625 South Ocean Boulevard, will feature 14 condos, including four…