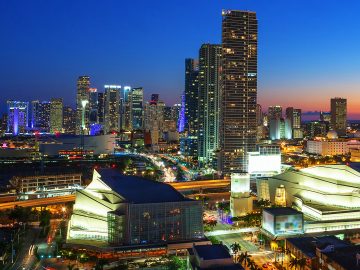 Fontainebleau Miami Beach reveals proposed addition
Jeffrey Soffer wants to build a new garage at Fontainebleau Miami Beach, with top-floor ballrooms. The proposed garage will be strictly for employees, which means hotel guests will continue to valet at the entrance of the storied resort. Miami Beach's land use committee on Thursday recommended the project after hearing details about the new structure…
Time Century Holdings Breaks Ground on $35M Renovation of Metro Mall in Miami
Time Century Holdings LLC has broken ground on its redevelopment of Metro Mall in Miami's Jewelry District. The $35 million project includes… adding a three-story atrium, security system, valet parking and creating a new façade. The developer expects to reopen Metro Mall in spring 2021. Metro Mall is situated at 1 NE First Street, three blocks from downtown…
Bar Invest Group buys office condos in Coral Gables, plans new HQ
Real estate investment firm Bar Invest Group is choosing to buy instead of rent. The Brickell-based company, led by Jacques and Herve Barbera, paid $3 million for three office condos at Ofizzina, a luxury office building in Coral Gables. Bar Invest plans to move its headquarters to the over 4,000-square-foot space at Ofizzina, at 1200 Ponce de Leon Boulevard…
Bed Bath & Beyond to invest $1B in store upgrades and buybacks
Bed Bath & Beyond will spend $1 billion on upgrading its stores and lease buybacks in an attempt to turn around the business after an underwhelming holiday season. The company announced Tuesday it will spend $400 million on store remodelling and supply chain upgrades, according to CNBC. It has allocated a further $600 million to for share repurchases and debt reduction. New CEO Mark Tritton, who joined the..
'A War' In Wynwood: Developers In Miami's Trendiest Neighborhood Battle Behind The Scenes
In Wynwood, the Miami neighborhood known for street art and trendy retailers, some developers have been clashing with businesses operating nightlife concepts and food trucks. Their tussle is emblematic of a bigger conflict over Wynwood's future: whether it should be a party-centric "playground" or a calmer, round-the-clock destination.
Special Report: How Rising Sea Levels Threaten East Coast Commercial Real Estate
The hot, wet state of Florida is often held up as the poster child for climate change and rising sea levels, yet its real estate market has boomed despite the related risks. Prices have risen and investment has poured in, even as the warning drumbeat about the potential downsides related to climate change and rising sea levels have grown steadily louder. So it is not hard…
Smart Plan's South Corridor ranks high for federal funds
The South Corridor of the Miami-Dade Smart Plan has received high marks from the federal investment arm for local public transit systems, bolstering confidence that the route will yield a maximum funding infusion. The county transportation department announced Feb. 11 that the South Corridor, the longest of six routes targeted for transit upgrades through…
Indoor salmon farming pioneer in Redlands seeks grant to add jobs
Still on schedule to finish by July the first of three stages for building its sprawling Redland facility, indoor fish farming company Atlantic Sapphire wants $5 million in public funds to start the next phase. Miami-Dade commissioners Wednesday (2/19) were to have considered the funding request. If approved, the county would disburse the money over 10…
Miami looks at what land can replace its Melreese golf course
A vote that could have torpedoed a lease to build a mega-project on Melreese Golf Course failed to gain enough Miami City Commission support, as debate provided a glimpse of ongoing negotiations with would-be developer Miami Freedom Park. Commissioner Manolo Reyes proposed amending Miami's comprehensive neighborhood plan to require that…
Miami Beach entranceway project given a city 'go'
Miami Beach and developers at 500-700 Alton Road have reached a settlement that allows several signature projects to proceed. The commission agreed last week to settle with Park on Fifth developers after the city Board of Adjustment sided with developers' interpretation of the city's decades-old calculation of floor area ratio that excludes covered…
Signature bridge foundation next in I-395/SR 836/I-95 remake
Foundation work for the I-395 "signature bridge" will begin soon, a key feature of the ongoing I-395/SR 836/I-95 Design-Build Project in the heart of Miami. That is the latest report from the Florida Department of Transportation (FDOT), which says the massive project is well underway throughout the area. "Large cranes, visible along SR 836 and I-395 from…
Moss floats plan for short-haul sky gondola transit
Miami-Dade travelers today cross the county in a variety of ways, from personal vehicles, buses and railcars to boats, rideshares and e-scooters. According to Commissioner Dennis Moss, another piece may fit into the county's growing mobility puzzle: sky gondolas. Mr. Moss raised the idea at a transportation committee meeting last week, noting that Super Bowl…
Pinnacle Housing Group affordable senior housing hailed
County officials joined developer Pinnacle Housing Group on Friday to hail the opening of new affordable transit-oriented housing for seniors in South Miami-Dade as they cut the ribbon at the 123-unit, seven-story Caribbean Village. The project – the first new affordable senior-citizen housing in the area in 25 years – is a public-private partnership among Pinnacle…
Biggest private corporation in US inks lease at Beacon Logistics Park
Cargill signed a lease for 70,000 square feet at a new industrial park in Hialeah. The international food conglomerate, ranked as the largest privately-held corporation in the U.S. by Forbes, inked a lease at Codina Partners and USAA Real Estate's Beacon Logistics Park, according to Armando Codina, executive chairman at Codina Partners. Cargill has…
How Blackstone became the world's biggest landlord
Until about a decade ago, Blackstone Group derived most of its profits from traditional private equity. But following a dramatic expansion into real estate driven by CEO-in-waiting Jonathan Gray, massive property deals are now the company's calling card. With an estimated real estate portfolio of $325 billion, Blackstone is now the world's largest real estate company…
Senior living project in Westchester moves forward
A senior living project planned for Miami's Westchester neighborhood is advancing to the next phase. AJP Ventures plans to break ground on MedSquare Place, a mixed-use development with a senior living facility and medical office space, in April. The developer secured approval from Miami-Dade County last month, according to Greenberg Traurig. Greenberg…
Can Coral Gables absorb all the new development underway?
At the corner of Malaga Avenue and Ponce de Leon Boulevard, work crews recently topped off a Class A office building and an apartment tower that make up the first phase of the Plaza Coral Gables, the largest commercial project in the city's history. Agave Holdings, a commercial real estate firm that includes the family behind the Jose Cuervo spirits brand, is making…
Will Moishe Mana's downtown dream ever become a reality?
Moishe Mana sits down at the head of a conference table in his Wynwood office and immediately slips off his Louis Vuitton shoes, leaving his bare feet to just brush the tile floor. "It is crazy, you know. Like I was in Colombia now, I was walking barefoot on the beach for three days," said Mana, who has a habit of smiling while he talks. "I need to take the shoes off…"
Pier 1 files for bankruptcy, seeks sale
Pier 1 Imports is officially bankrupt, more than a month after the retailer began closing hundreds of stores. The Texas-based home goods chain, which filed for Chapter 11 bankruptcy Monday in the Eastern District of Virginia, said it intends to use the move to sell the company. The announcement comes after Pier 1 in January began closing 450 stores…
Developers are banking on co-living, but will it catch on?
Grove Central When Pebb Capital principal James Jago attended Tulane University in the early 2000s, he lived in "a dumpy house" with three roommates. But now, college students increasingly have the option to live off-campus in luxury student housing loaded with amenities like resort-style pools with cabanas, coffee bars, game rooms, movie theaters…
Court stops foreclosing lender from getting rents collected by property owner
It's common for a commercial loan to include an "assignment of rents," by which the borrower assigns to its lender the rents it gets from the property securing the loan. In Florida, there's a statute that governs how an assignment of rents works. The assignment of rents can be a powerful tool in the lender's arsenal. The lender can even foreclose on its lien on the…
Cannabis legalization drives demand for warehousing and retail: study
Green makes green, apparently. Investors can't get enough warehouse, retail, and land in states that have legalized recreational cannabis use, according to a National Association of Realtors study first reported by Yahoo Finance. NAR surveyed 600 commercial brokers across the country last fall for the study. Generally, the study found that demand was higher…
What Greystar's belief in multifamily says about the health of the economy
Greystar CEO Bob Faith says he's "very bullish" on the multifamily sector and so are investors, whether or not the economic cycle is past its peak. When asked if the South Carolina-based firm was looking to increase exposure to the sector or raise more funds for multifamily investments, Faith told Bloomberg that "capital is hungry for yield" and…
Miami Beach, Crescent Heights, Terra agree to settle dispute over floor-to-area calculations
The city of Miami Beach has reached a truce with developers David Martin and Russell Galbut that allows the duo to move forward with their planned luxury condo project at 500 Alton Road. After a contentious back-and-forth with Galbut over the city's monetary demands, Miami Beach commissioners approved a settlement agreement that allows the developers to exclude…
Diamond in the rough? Downtown Miami Metro Mall to get $35M makeover
Developer Yair Levy is moving forward with plans to renovate a building in the heart of downtown Miami's jewelry district, as development begins to ramp up in the area. Levy, who acquired the Metro Mall Miami building about two years ago, broke ground on a $35 million renovation of the circa-1926 building. It's expected to be completed by the spring of next year…
Showfields to bring new retail concept to Lincoln Road
The popular New York City retailer Showfields is heading to Lincoln Road. Showfields will bring an indoor and outdoor food concept, a speakeasy bar, a theater for live performances, a tattoo parlor, piercing stations and space for art installations to a two-floor, 14,300-square-foot space at 530 Lincoln Road. The store is part of the new trend of experiential retail, and allows…
How the election may affect the commercial real estate industry
The presidential election has the country riveted and divided on several fronts. When it comes to the real estate front, the upcoming election is likely to affect the commercial real estate and residential real estate industry. The economy is still in one of the slowest recovery periods of the past five decades and this has economists scrambling to analyze the outlook for…
Done deal: Forever 21 sold to Simon, Brookfield venture for $81M
A bankruptcy court judge on Thursday officially gave the green light on the sale of Forever 21 to a trio of investors — two of which are the retailer's top landlords. Simon Property Group, Brookfield Property Partners and Authentic Brands Group will pay $81 million for the company. The deal means Forever 21's founding family, the Changs, have given up ownership…
Mixed-use projects from Swerdlow, Kushner, TSG Group proposed in Miami
A handful of big name developers will present their projects in Overtown, Allapattah, Wynwood, and on the Miami River next week at the Miami Urban Development Review Board. David Martin and Michael Swerdlow with a rendering of Block 55 Target-anchored mixed-use project in Miami's Overtown The Swerdlow Group and Terra are proposing…
Prologis buys 8 acres of land near Sweetwater
Prologis CEO Hamid Moghadam Prologis paid $9 million for 8 acres of vacant land near Sweetwater, where it will likely build an industrial warehouse. Prologis acquired the site at the intersection of the Dolphin Expressway and Northwest 127th Avenue from Jose and Alejandrina Reboredo, a husband and wife, and Lizette Reboredo. The sale equates…
Clarity for Banks Serving the Hemp Industry
Banks serving hemp producers no longer have to automatically fill out reports used to detect money laundering activities. This reduction in regulatory burden can be traced to the 2018 farm bill (officially titled the Agriculture Improvement Act of 2018), which legalized hemp by removing it as a Schedule 1 controlled substance. Properly licensed industrial hemp…
Video: Michael Shvo, Jerome Hollo, Lissette Calderon, and Laurent Moralli from Kushner Discuss Next Wave of South Florida Development
The cyclical nature of the condo market in Miami has many developers shifting to rentals – but not Shvo… making a push in Miami Beach, says that as long as you have the right site and project… joined by Laurent Morali of the Kushner Companies, Florida East Coast Realty's Jerome Hollo, and developer Lissette Calderon on the panel, "The next wave of South…"
Gloria and Emilio Estefan's Miami warehouse project ignites billboard battle
Miami commissioners will rule over a billboard battle linked to a property owned by Gloria and Emilio Estefan. A deal to make improvements to the Midtown Miami warehouse owned by the Estefans at 70 Northwest 37th Street hinges on the city revoking a billboard permit at a neighboring property, according to an attorney's letter. The correspondence is part…
9 Miami Architects You Have to Know
In the age of Starchitects, let's not forget that Miami has been at the forefront of leading architecture for decades, which explains why tourists and architecture lovers flock here yearly to enjoy, and even live in, the Magic City's eclectic subtropical architecture. So, who are Miami's most notable architects, past and present? Want to live in one of Miami's…