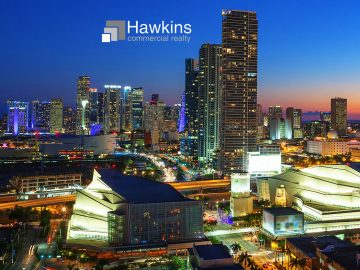 Target Signs 77,000 SF Lease with Terra for CentroCity Mixed-Use Development in Miami
Target has signed a 77,000-square-foot lease as part of Terra's CentroCity mixed-use redevelopment located at 3825 NW 7th Street in Miami. Construction is expected to start this summer. Arquitectonica and RSP Architects are designing CentroCity. As part of the CentroCity project, Terra is redeveloping what was previously known as Central Shopping Plaza…
Lender Takes Control Of Miami-Area Mall With $2,600 Foreclosure Auction Credit Bid
A Miami-area mall has been seized by its lender, which won a Feb. 10 foreclosure auction with a $2,600 credit bid, the South Florida Business Journal reported. Wells Fargo Bank, trustee for the CMBS trust that issued the loan for the 977K SF Southland Mall at 20505 S Dixie Highway in Cutler Bay, Florida, filed a foreclosure lawsuit in June and won a judgment…
Miami Billionaire Launching Downtown Innovation Hub
Miami billionaire Moishe Mana has broken ground on a downtown building that he intends to make the center of a burgeoning tech and startup community. The 13-story Nikola Tesla Innovation Center will have 136K SF of space, mostly for offices with 2% reserved for retail. It is expected to be completed at the end of this year, with occupancy to begin…
Powell sees new opportunity to reform low-income lending rule
In September, an effort to update a rule encouraging lending in low-income communities turned into a faceoff among three major banking regulators with oversight on the matter. The Federal Reserve's proposed overhaul of the Community Reinvestment Act called on banks to provide more loans to individuals in low- and moderate-income neighborhoods. That bumped…
Bills Facing Florida Legislature Could Impact Commercial Real Estate
Commercial real estate trade organizations and development watchdog groups are tracking various bills Florida's state legislature might consider in its new session, which begins March 2, that could affect land use, development and real estate-related COVID-19 litigation. One bill that's already generated buzz in the state is HB 7/SB 72, which would create…
Grocery wholesaler buys Hialeah warehouse for record $12M
3690 Northwest 62nd Street, Hialeah A wholesale grocery company bought a 122,000-square-foot industrial property in Hialeah for a record $11.6 million. Thirty Six Ninety LLC sold the property at 3690 Northwest 62nd Street to Alfoncito Investments. The buyer is tied to Rex Discount wholesale grocery, which will occupy the building, according to a press release.
Ladder Capital sells Witkoff's Miami Beach hotel for $44M
Ladder Capital sold the Washington Park Hotel at 1050 Washington Avenue in Miami Beach for $43.8 million, after foreclosing on the property when it was owned by the Witkoff Group. The foreclosure and subsequent sale of the hotel marks one of a few such deals in South Florida to close since the pandemic began a year ago. Many owners of leisure hotels are focused…
Judge slaps Don Peebles' Bath Club Entertainment with $1M in sanctions
Don Peebles' Bath Club Entertainment is on the hook for $1 million in court sanctions after a Miami-Dade judge ruled the developer failed to maintain first-class cabanas and outdoor food and beverage service at the historic private Miami Beach club. Judge Michael Hanzman on Tuesday granted a motion for contempt filed by the Residences at the Bath Club…
Brickell City Centre shops exude optimism
Like every other business in the hospitality and tourism industry, The Shops at Brickell City Centre felt the effects of the pandemic, but managed to power through and keep businesses intact.  Still being a relatively new lifestyle commercial center, Brickell City Centre at 701 S Miami Avenue continued to finalize the leasing of initial first-generation spaces when…
Plans for Metrorail to north forecast to be derailed
A Metrorail extension may be among the rapid transit upgrade proposals Miami-Dade receives for the 9.5-mile commuting route between the northernmost Metrorail station and the Broward County line, but it's not what will ultimately be built there, Commissioner Joe Martinez said. Miami-Dade expects in spring to receive responses to its request for proposals…
New Miami-Dade Courthouse falling father behind
Construction of Miami-Dade's new courthouse is further behind schedule and has grown costlier due to several unforeseen snags, though by how much is being debated by the county and the development group erecting the building. The new civil and probate courthouse, which is to rise on Flagler Street beside the 93-year-old building it's replacing, was…
Aman Miami Beach secures another approval tied to luxury hotel and condo project
The developer of the planned Aman-branded luxury hotel and condo secured another approval tied to the redevelopment of the Faena District site. Aman owner Vlad Doronin, who also heads OKO Group, is working with Access Industries billionaire Len Blavatnik on the Aman hotel and condo project planned for 3425 Collins Avenue. The Miami Beach…
Miami-Dade rezoning paves way for 321-unit multifamily project in Homestead
Miami-Dade County commissioners approved a rezoning change that paves the way for a mixed-use development in Homestead. The developer, South Miami-Dade Farmers LLC, plans to develop the property at 15960 Southwest 296th Street into a 321-unit multifamily project called Kavlar Gardens, according to a spokesperson. The developing entity is headed by…
New York Developer Yair Levy Secures $23.6M Construction Loan for Miami Project
New York developer Yair Levy, who is developing Time Century Jewelry Center in downtown Miami, has secured a $23.6 million construction loan from City National Bank of Florida. The funds will be used to complete Phase 1 of a $50 million renovation of the building formerly known as Metro Mall. Phase 1 consists of the wholesale retail space of the building…
Three of Petra Drauschak's 14 tenants have abandoned their leases during the pandemic. One had already stopped paying by February 2020, when Covid began sweeping across the U.S., but Drauschak's hands were tied by Pennsylvania's eviction ban. The tenant left in August without paying the remaining rent and arrears. Tipped off by a neighbor, Drauschak…
Why Distribution and Fulfillment Spaces Could Remain in High Demand
COVID has accelerated reliance on technology and increased online shopping, which could continue to make warehouse space a valuable investment in 2021 and beyond. COVID-19 has created a situation where consumers spend less time in brick and mortar retail shops. Not only does fear of getting sick accompany shopping in stores, but social distancing…
Brickell City Centre developer sues Arquitectonica, contractors over alleged defects
The developer of Brickell City Centre filed a lawsuit alleging a number of construction defects and damages at the $1.5 billion mixed-use development. Affiliates of Miami-based Swire Properties filed the lawsuit late last month in Miami-Dade Circuit Court against Arquitectonica, John Moriarty and Associates, IBA Consultants, Americaribe, Bouygues…
Out-of-state multifamily buyers eye South Florida
Parc Station When JLL's Maurice Habif brought a 336-unit Hollywood apartment complex to market just before Labor Day, he noticed more than the regular crop of institutional investors active in South Florida paying attention. Habif saw unfamiliar private investors, family offices from outside Florida, even a group financed by 1031 exchange deferred…
Lender takes control of struggling Southland Mall in Cutler Bay
A lender has taken control of Southland Mall in Cutler Bay after a foreclosure auction failed to yield any bids over $2,600. The lack of interest in the once bustling mall previously owned by private equity firm Investcorp could signal just how bad things have gotten for Class B suburban malls in South Florida and across the country. Wells Fargo…
GL Homes partnering with Bacardi on Calusa golf course in Kendall
Homebuilder GL Homes paid $32 million for a shuttered golf course in Kendall that it plans to redevelop with the seller. Entities tied to Facundo Bacardi, of the Bacardi rum family, sold the Calusa Country Club golf course at 9400 Southwest 130th Avenue to GL Homes affiliate Kendall Associates I LLLP, records show. The sellers, Fort Dallas Gold Club LTD and…
CBRE acquires 35% stake in flex-office provider Industrious
CBRE Group has acquired a 35 percent stake in Industrious ahead of the flex-office provider's possible 2021 IPO. "We are big believers in the flexible workspace arena and see a tremendous opportunity," CBRE CEO Bob Sulentic said in an interview with Bloomberg News. The investment makes CBRE the largest shareholder in Industrious, and it's not done yet…
US warehouse boom attracts foreign investors
It's not just massive firms like Blackstone Group and Prologis that are throwing billions of dollars at warehouses — foreign investors are also pouring money into the booming industrial sector. Investment firms from France, Germany and South Korea are among those that have recently inked big deals for industrial properties, according to the Wall Street…
WeWork slashes rents in some cities
WeWork has slashed its rents across the country as workers continue to avoid going into offices. The New York-based flex-office provider dropped the price of its rental fees in November and in January by an average of about 10 percent, according to data provided to Bloomberg News. In some places, rents fell by as much as 25 percent. The company reduced rents…
Kissaki restaurateur to open first Miami outpost in Wynwood
New York restaurant group Kissaki Sushi will open its first Miami outpost at Cube Wynwd, a mixed-use office building in Wynwood. Owner Garry Kanfer, who has Kissaki locations in the Bowery and on Madison Avenue in New York City, as well as in the Hamptons, Long Island City and Greenwich, Connecticut, inked a lease for a rooftop space at the eight-story building…
Big companies delay returning to offices — again
What's the point of setting a deadline you'll know you'll miss? That seems to be the prevailing attitude in some C-suites when it comes to getting employees back in offices. Some major companies, such as Alphabet and Grant Thornton LLP, have said employees will return to the office on Labor Day or at the end of the summer, but other firms have simply stopped…
Biscayne Boulevard development site in Edgewater lists for $50M
A nearly 3-acre development site in Miami's Edgewater neighborhood hit the market for about $50 million. The assemblage at 3333 Biscayne Boulevard was listed for sale with Marcus & Millichap broker Landy Toledo, asking $49.5 million. Property records show Miami Sunrise Properties LLC owns the 11 parcels on the east side of Biscayne Boulevard. They include…
Iconiq buys Related and Block Capital's Wynwood apartments for $77M
San Francisco investment firm Iconiq Capital paid $77 million for a mixed-use apartment building at 51 NW 26st Street in Miami's Wynwood neighborhood. Related Group and Block Capital Group sold The Bradley Wynwood, a 175-unit building that was previously leased to short-term rental operator Domio, to Iconiq. Domio, which shut down last year…
Shopping center in Oakland Park sells for $11M
An 11.5-acre shopping center in Oakland Park sold for $10.7 million. Records show Country Wide Mortgage Funding LLC sold two buildings at 2899-2901 West Oakland Park Boulevard that make up The Shoppes of Oakland Forest. The buyer is ACS 2901 LLC. Country Wide Mortgage Funding LLC is managed by Scott Daiagi of Scozak Realty Trust.
D.R. Horton advances 211-unit townhouse project in Pembroke Pines
D.R. Horton advanced plans to build a 211-unit townhouse development called Merrick Square on a portable-classroom site in Pembroke Pines. City commissioners voted 3-2 Wednesday to grant final approval to a land use plan amendment for the 27-acre development site just west of I-75 on the southeast corner of Pines Boulevard and Southwest 172nd Avenue.