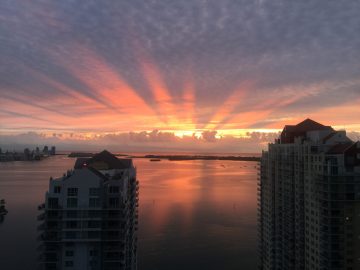 Moishe Mana Wants Wynwood BID Dismantled; Both Sides Call Emergency Meetings
This week, Moishe Mana, one of Miami's largest landholders, has been circulating an online petition imploring people to "Save Wynwood," warning that some stakeholders want to stop nightlife in the district at 11 p.m. At press time, it had over 22,000 signatures. He has called an "emergency meeting" next week to discuss the matter with city officials…
Miami-Dade Industrial Real Estate Sales Exceed $1 Billion In 2019
Institutional investors are gorging on industrial properties in Miami-Dade. In it's Q4 2019 market report, Avison Young noted industrial investment sales totaled nearly $1.4 billion last year, representing a 27.5% increase from 2018. Close of half of the buyers were institutional investors. However, industrial developers are running out of vacant land to build warehouses…
Truck Parking Could Be The Next Real Estate To Benefit From the E-Commerce Boom
According to the American Trucking Associations, there are 36 million commercial trucks on the road. And they all need somewhere to park. Demand has only been increasing with e-commerce booming, plus "hours of service" rules that force drivers to take breaks, enforced by technology that logs drivers' routes. The Florida Department of Transportation has…
MMG Equity Partners sells Homestead shopping center for $23 million
MMG Equity Partners sold a Homestead shopping center anchored by Presidente Supermarket for $22.7 million, reflecting growing demand for commercial properties in south Miami-Dade County. MMG Equity Partners sold the 85,714-square-foot Crystal Lakes Shopping Center at 3338 Northeast 7th Street for $265 per square foot. The buyer is VF4 Crystal Lake, LLC…
Video: Related Companies SVP Gopal Rajegowda Discusses the Power of Mixed-Use Developments
Gopal Rajegowda, Senior Vice President of Real Estate Development with Related Companies, a New York based privately owned real estate firm with offices and major developments in Miami and other major cities including Boston, Chicago, Los Angeles, Las Vegas, San Francisco, Abu Dhabi, London, São Paulo, and Shanghai. appears in this episode of America's Commercial…
MMG Sells Homestead Shopping Center for $22.7 million
MMG Equity Partners has sold Crystal Lakes Shopping Center, a 85,714 SF shopping center located at 3338 NE 7 St, Homestead, FL 33033 for $22.7M or $265 psf. Crystal Lakes Shopping Center is anchored by 24-Hour Fitness, Presidente Supermarket, and Goodwill. MMG developed the shopping…
Verzasca Group's Le Jardin Residences resolves bankruptcy
Verzasca Group's Le Jardin Residences, Darius Kasparaitis and Tim Lobanov Verzasca Group's Le Jardin Residences, a boutique condo project in Bay Harbor Islands, has avoided foreclosure and can now move forward with selling units. The condo project filed for Chapter 11 bankruptcy reorganization in the U.S. Bankruptcy Court in July. The bankruptcy…
Bull's-eye: Norway dart club lands on South Beach for first US location
A dart club entertainment concept from Norway targeted Miami Beach for its first location in the U.S. Oche, an Oslo-based hospitality concept, inked a 10-year lease to take over the former Cibo Wine Bar in South Beach, The Real Deal has learned. Oche is leasing the 12,000-square-foot space at 200 South Pointe Drive, near the Continuum towers, according to Brown…
Waterford at Blue Lagoon will have outdoor yoga and food trucks
One of Miami's most prominent corporate office complexes is rebranding with yoga sessions, food trucks and bike sharing to appeal to millennial workers. Waterford at Blue Lagoon, home to the offices of Airbus, FedEx and Burger King, will be renamed the Waterford Business District after a $10 million capital improvement program. Nuveen Real Estate and…
Co-living and senior housing can produce higher returns: ULI panelists
Ralph Winter's W5 Group and the Related Group are co-developing w28 in Wynwood Developers are counting on demand to be strong for co-living apartments in Wynwood, offering lower rents, shared common areas and amenities geared to promote face-to-face interactions among residents. "There is a real vibe in these buildings," said Swiss real estate developer…
New addiction center leases large slice of Omni Center
A center dealing with treatment and research of substance addictions has leased 43,895 square feet in Omni Center – the former Omni International Mall – where it plans to open this spring with 35 to 40 employees. The former mall was once… plans of its owners, Resorts World Omni LLC… Genting… at 1501 Biscayne Boulevard is Global Institutes on Addictions…
Austrian developer financed for Little Havana resi project
An Austrian development firm has gotten $34 million in financing to construct a 194-unit market-rate residential building in Little Havana. Premium Group Inc. is building the $165 million, 157,000-square-foot project called First – Little Havana, at 702 SW First St. The financing for the development was from Man GPM, which has offices in the US, the United…
New designs of park surrounding Miami Marine Stadium
Tony Goldman had the vision to see the vast promise in a rebuilt South Beach, in a reborn Wynwood, and in a restored Miami Marine Stadium. So says Don Worth, Miami Beach resident and longtime champion of efforts to rebuild and reopen the iconic waterfront stadium on Virginia Key. Mr. Worth spoke of his admiration for the late Mr. Goldman, a well-known…
Brickell City Centre to build fire station, weighs expansions
As Brickell City Centre's developer continues to reshape a growing and maturing City of Miami, it is prepared to deliver on its promise for a new fire station incorporated into the sweeping mixed-use development. "We expect construction to begin in the coming month," said Kieran Bowers, president of Swire Properties Inc., in an email to Miami Today. The global…
Tim Meerbott: Cutler Bay Mayor plans for a community gathering site
Tim Meerbott's first year as Cutler Bay mayor came at a pivotal time for the municipality. After more than a decade of operating in a space too big for its needs, the town's government was close to securing a $17 million land swap deal to relocate its town hall and build a surrounding congregation space for residents. The project – the deal for which closed last month – is one…
95% of commercial buildings violate of the ADA…and their owners don't even know it. But some lawyers make it their job to know. Here's how to avoid a costly ADA lawsuit. The Americans with Disabilities Act, or ADA, is a vital piece of legislation for ensuring that all Americans have equal access to the same resources. But it also means that property owners, builders…
E11even owner Marc Roberts returns to Miami Worldcenter with $27M purchase
Miami Worldcenter's master developers sold another site within their project, for $26.78 million, to a buyer that previously invested in the property. IRR Parkway Investments LLC closed on a 1-acre site between North Miami Avenue and Ninth and 10th streets in downtown Miami, according to a press release. The property is zoned for mixed-use…
South Florida Retail Summary Q4 2019: Leases, Sales & Construction Projects
Market Snapshot for South Florida Retail A summary of the highlights, trends, and current market activity of Q4 2019 for South Florida commercial real estate focusing on Miami-Dade County: Analysis derived and compiled from leasing data and transaction reports in order to better understand the overall health of the CRE market in Miami-Dade County.
Notable Retail Leases Signed in South Florida Q4 2019
South Florida Retail Leases 2019: We've compiled a comprehensive list of the top retail leases signed by square footage in South Florida during Q4 2019. This quarter was very busy overall and saw several big box leases signed and sealed. Despite the sentiment that the traditional retail market is suffering due to several factors, particularly…
Cargill Leases 70 thousand SF At Codina Partners' Beacon Logistics Park
Cargill, the largest privately-held corporation in the U.S. by revenue, has leased 70,000 square feet in Beacon Logistics Park– the new, Class A industrial park in Hialeah developed by Codina Partners and USAA Real Estate. "We designed Beacon Logistics Park with companies like Cargill in mind, and we are privileged to have them as our first tenant…
800-Key Miami Beach Convention Center Hotel to be a Grand Hyatt
The Miami Beach Convention Center Hotel will be a Grand Hyatt when construction is completed and the massive property opens in 2023. Designed by Arquitectonica, the 17-story, 800-room hotel will mark the first Grand Hyatt in South Florida, developers David Martin of Terra and Jackie Soffer of Turnberry announced Monday. In Florida, the brand also…
The Grand Hyatt Brand Selected as Flag for New Miami Beach Convention Center Hotel
The development team behind Miami Beach's new Convention Center hotel announced today that an 800-room property will be operated by Hyatt under the luxury Grand Hyatt brand, when it opens to guests in 2023. Grand Hyatt Miami Beach will create a new hospitality option for visitors attending events at the adjacent Miami Beach Convention Center, which…
Ritz-Carlton Residences, Sunny Isles Beach gets TCO, starts closings
Ritz-Carlton Residences, Sunny Isles Beach secured its temporary certificate of occupancy and can now start closings at the 52-story luxury oceanfront condo development. Developed by Fortune International Group and Château Group, the 212-unit tower at 15701 Collins Avenue is nearly sold out and has recorded more than $150 million in pre-construction sales…
Full of Surprises: Where New Offices, Leases, Rent Hikes Are in South Florida
The South Florida office market is full of surprises. Big downtown buildings have the square footage, but the suburbs are landing some of the biggest leases. Miami's Brickell Financial District leads on rents in Miami-Dade County. But offices near Miami International Airport enjoyed the biggest rent hikes. And across the region, developers are increasingly opting for…
South Florida by the numbers: Super Bowl LIV Impact
"South Florida by the numbers" is a web feature that catalogs the most notable, quirky and surprising real estate statistics. The Kansas City Chiefs may have scored the most points, but one could argue that Miami was the real winner of Super Bowl LIV earlier this month. A series of anecdotal and data-driven reports have confirmed the dramatic economic impact of…
Little Havana apartments project scores $34 million construction loan
The developer of a planned apartment project in Miami's Little Havana scored a $34 million loan to begin construction, as the area sees growing interest from investors. An affiliate of the Vienna, Austria-based Premium Group secured the construction loan from Man Global Private Markets for the 194-unit apartment project at 736-760 Southwest First Street…
A-Rod Unloads o Wins, Strikeouts in Commercial Real Estate
Miami hometown favorite Alex Rodriguez, founder and CEO of A-Rod Corp., made his first real estate move 20 years ago. The 14-time All Star infielder bought a duplex where he "put in some value add" in the form of blue awnings and cream-colored paint. Best known for his accomplishments on the baseball field, A-Rod shared his insights from business to his basebal…
Transit-Oriented Development Tips for Developers and Governments
As transit-oriented developments move from planning to construction in South Florida, residents and surrounding businesses can expect multiple benefits. Benefits also accrue to the local governmental authorities that sponsor and approve such communities—and the developers that build them—if they approach the projects with an eye toward maximizing…
Bob Zangrillo is out at Avra Jain's Miami River project
Developer Bob Zangrillo, who is embroiled in the college admissions scandal, is no longer an investor in a mixed-use project planned for the Miami River. Zangrillo, a Silicon Valley investor who's known in Miami for… deed recorded in 2017 revealed Jain and Zangrillo's partial ownership of the Hurricane Cove property, at 555 Northwest South River Drive.
Downtown Miami Owner Gets – Kaching – Windfall in Sale to Moishe Mana
A downtown Miami parking lot owner was rewarded with a windfall on an ultra-long-term, selling for $6.9 million to the acquisitive Moishe Mana. Kalback Holdings LLC, managed by Richard Kalback and Donald Martin, bought the lot for $80,000 in 1974, and sold it Feb. 5 with help from Weiss Serota Helfman Cole & Bierman partner Eduardo Soto and associate…
Sapir Corp. CEO jumps to Property & Building Corp.
Sapir Corp.'s CEO Baruch Itzhak is leaving the Israeli company. Itzhak will resign effective May 20, according to a document filed with the Tel Aviv Stock Exchange. He is joining the Property & Building Corp. as CFO, he confirmed. PBC is one of the top real estate companies in Israel, according to its website. Its U.S. subsidiary — run by Eli Elefant — owns the iconic…
Miami board approves five major mixed-use and multifamily projects
The Miami Urban Development Review Board approved a slate of mixed-use and multifamily projects that could add nearly 2,000 new apartments and more than 700,000 square feet of office and retail space between the Miami River in downtown Miami and North Miami Avenue in Wynwood. One development, Block 55, initially faced derailment, how…
Miami Beach Office Building Listed For $45 Million
Amid an upswing in Miami's office market, a Class A office building in Miami Beach's South of Fifth neighborhood recently hit the market for $45 million. The 43,140-square-foot property is located at 119 Washington Avenue, near Joe's Stone Crab and Prime 112. Amit Egan Datwani, founder & chief consultant of The Global Consulting Organization, is listing the…
Baptist Health sells Kendall apartment complex for $17 million
Baptist Health South Florida sold an apartment complex in Kendall for $16.9 million, a slight discount from its purchase price in 2007. Baptist Health sold the 100-unit complex at 10791 North Kendall Drive for $169,000 per unit, records show. CFH Group, led by Tom Cabrerizo, purchased the property. The apartments were built in 1968 and sit on 3.8 acres. The…
Miami's Love Of Big-Box Retail Stores Defies National Retail Trends
Retail in South Florida is defying the harsh reality facing the rest of the country. Even with delivery of approximately 178K SF of new retail product in Q4 2019, vacancy rates remained at 4.5% in Miami-Dade County, same as the prior quarter, according to Colliers International research. Net absorption for the year was over 671K SF. Dave Preston, Colliers executive…
Near 14 thousand square feet office lease negotiated in Grov's Mayfair
A broker recently negotiated a new 13,959-square-foot office lease with Tickmark Inc., doing business as Taxfyle, an on-demand tax filing app that connects users to specialized tax professionals within minutes. Located within Mayfair in the Grove, at 2911 Grand Avenue in Coconut Grove, the space marks Taxfyle's expansion and relocation from Coral Gables…
Group Negotiates Sale Of Industrial Property In Medley
A group negotiated the sale of an industrial warehouse totaling 28,950 square feet located at 7500 NW 74th Avenue in Medley. Buyer SFM Services, Inc. purchased the warehouse, which is situated on 3.29 acres, from Murton Realty LLC, for $3,800,000. The deal closed January 30. DiGiacomo, Marquez and Zuniga represented the seller in the transaction.
Edgewater: Miami's Best-Kept Secret Neighborhood
Tracing the Biscayne Bay shoreline just north of Miami's Arts and Entertainment District and the Venetian Causeway (NE 17th Terrace to I-95 and back along E. Coast Avenue) is the pocket-sized neighborhood of Edgewater. This water-facing community could be small in size but is definitely big on potential. Over the past decade, Edgewater has emerged…
Ready Capital Closes $5.4 Million Acquisition Loan for Office Building in Miami Gardens
Ready Capital has closed a $5.4 million acquisition loan for a 77,000-square-foot, Class B office building in Miami Gardens. The undisclosed borrower plans to upgrade the common areas and lease up vacant suites. The three-year, non-recourse loan features a floating interest rate and flexible prepayment options. Further details of the property were not disclosed.