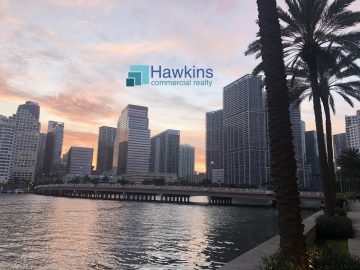 New York Real Estate Developers Flock to Miami as the Big Apple Struggles
New York families are not the only ones migrating to Florida in search of lower taxes, a better quality of life and year-round warm weather. Since the onset of the pandemic, a growing number of New York real estate developers have been redirecting their attention – and capital – to Miami. Some are also relocating to the Magic City. Despite COVID-driven…
TSG and Lineaire Group Partner with Bridge Investment Group to Develop Multifamily Opportunity Zone Project in Miami Submarket
TSG, a South Florida boutique, diversified real estate development and investment company, and Lineaire Group, a Miami-based real estate investment and development firm focused on urban infill projects – announced today a partnership with Bridge Investment Group to develop Wynwood Haus, a multifamily opportunity zone project in Miami's…
SoftBank to Invest $100 Million in Miami Area Companies
SoftBank Group Corp. committed $100 million in funding for companies in the Miami area, bolstering a beach-side metropolis that has been aggressively courting the technology industry in recent months. The money will go toward businesses based in Miami or ones that are relocating to the region, said Marcelo Claure, the Miami-based chief operating officer…
Join Us in Miami! Love, Masters of the Universe
America's business leaders, freed from the office, looked around the country, taking note of its coronavirus lockdowns, taxes and rabble rousers. And many said as if in unison: Miami! Blackstone Group: Miami! Elliott Management: Miami! Silicon Valley venture capitalists: Miami! And the charming mayor, Francis X. Suarez, a registered Republican, knowing…
South Florida by the numbers: Big Tech and Wall Street head to South Florida
"South Florida by the numbers" is a web feature that catalogs the most notable, quirky and surprising real estate statistics. The big story of 2020 Miami real estate was the extraordinary surge of new residents fleeing cities and states with high taxes, rising living costs, and burdensome Covid restrictions. In the opening weeks of 2021, it appears that several big…
Chart: Miami-Dade Commercial Real Estate Sales Volume Characteristically Sluggish for 1st Month of Year ~ January 2021 MLS
The chart herein shows the number of closed sales of Miami-Dade commercial properties, including improved commercial property and vacant commercial land, recorded in the Miami MLS, for the two years ending January 2021. One can see that this is the slowest month since the initial onslaught of COVID-19 in April and May of 2021. Looking further…
Prologis proposes multistory warehouse for big e-commerce operation
Prologis plans to build the first multistory dedicated warehouse in South Florida to serve a last-mile e-commerce provider. Plans for the facility, in the Palmer Lake area on the east side of Miami International Airport, show how rapidly demand for industrial space has boomed in the region. Multilevel warehouse construction with parking ramps is considerably…
Will Elon Musk's Boring Company Put Tunnels Under South Florida? Mayors Welcome The Idea
Florida politicians are eager to partner with Elon Musk's Boring Company to build underground tunnels in order to relieve traffic. Miami Mayor Francis Suarez tweeted with Musk about it on Jan. 18, and Suarez followed that up with a call with a Boring Company official. Last week, Fort Lauderdale Mayor Dean Trantalis announced that he, too, had spoken…
Miami Office Market Could See Rebound
Although Miami-Dade and Broward counties' office real estate markets have experienced a downturn over the past year, interest from financial firms could help the industry bounce back. While both areas experienced a negative net absorption due to tenants not renewing leases, there is a rejuvenated confidence in the market particularly from firms like…
South Beach Without The Partying? The Future Of Ocean Drive Is In Question
Joshua Wallack was in the midst of his years-long plan to develop a $500M Skyplex with the world's tallest roller coaster on 14 acres in Orlando. He was courting Lionsgate Entertainment to develop it into a major theme park. But then, "COVID got me, got my term sheet pulled from Wall Street," he said in a call with Bisnow. He turned his attention back to the…
Blink buys office condo on Miami Beach's Lincoln Road for new HQ
A publicly traded provider of electric vehicle charging equipment and services is trading one headquarters space on Miami Beach's Lincoln Road for another. Blink Charging Company bought an office condo at the seven-story 605 Lincoln Road and will move its corporate headquarters there, according to a press release. The company, led by Michael Farkas, has…
Blink Charging continues commitment to Miami as Mayor seeks to attract additional top tech firms from Silicon Valley
Blink Charging Co. (Nasdaq: BLNK, BLNKW) ("Blink" or the "Company"), a leading owner, operator, and provider of electric vehicle (EV) charging equipment and services, closed on a 10,000+ SF Miami Beach office condominium at 605 Lincoln Road. The new office space will house the Company's corporate headquarters. "We are excited to have a location…
Northeast Capital pays $15 million for Miami office building
An affiliate of a private equity investment firm paid $14.5 million for a nine-story office building south of Miami International Airport. The Northeast Capital Group affiliate bought the building at 5040 Northwest Seventh Street in Miami, according to records. The seller is a company managed by Menachem Gurevitch of Netz Group and Mandy Management…
Jungle Island hotel and theme park final votes near
Residents continue to have differing opinions of the proposed Jungle Island hotel and theme park, with some in favor of its employment opportunities and others leery of neighborhood disruptions. During the Miami City Commission meeting last week, nearby residents cautioned… Joia Beach Restaurant and Beach Club at 1111 Parrot Jungle Trail caters to yachts that…
CocoWalk revival helps drive Coconut Grove business
The revival of lifestyle center CocoWalk at 3015 Grand Avenue in Coconut Grove and committed support for restaurant and retail industries are to be the driving forces to bring life back into Miami's Coconut Grove neighborhood, local community business leaders say. At 90% leased, the open-air tourism destination CocoWalk's concept of carefully curating,,,
Mera Rubell Discusses Family's Allapatah Museum
Mera Rubell's days continue to be busy. She swims every morning, plays tennis a few times weekly and, when she isn't running the family real estate business with her husband, Don, and her son, Jason, her focus is on curating and adding to the family's famed contemporary art collection, much of which is on display at the Rubell Museum. The 100,000-square…
Amazon's real estate footprint grew leaps and bounds in 2020
It's a new era for Amazon. Jeff Bezos is stepping down as CEO of the company and transitioning to executive chair of the Amazon Board. Andy Jassy, chief executive of Amazon's cloud computing division, will become CEO during the third quarter of this year. But, as the saying goes, the more things change, the more they stay the same. The e-commerce giant…
Jeff Bezos, who turned real estate upside down, quits
Jeff Bezos, the e-commerce titan who drove one of the biggest office and industrial space expansions in history, and displayed an insatiable appetite for real estate in his personal life as well, is stepping down as CEO of Amazon, the firm he founded. The company said Tuesday that Bezos, 57, would transition to executive chairman, and Andy…
Related wins Miami Beach board approval for office project on Terminal Island
The Miami Beach Design Review Board on Tuesday approved the Related Group's plans for its One Island Park mixed-use office project on Terminal Island. Designed by Arquitectonica, One Island Park will consist of two, five-story, 75-foot-tall Class A office buildings as well as a four-story parking garage, a ground level café, a rooftop restaurant on the west building…
Mapping the Metronomic Properties Being Auctioned
As has been reported extensively in the press, a number of Metronomic properties are being auctioned. The properties being auctioned are available for purchase individually or in any combination, or one can bid on the entire package of properties. As can be seen, these are generally located in Little Havana and Coconut Grove, two of the more desirable…
Malls and Offices Owner Brookfield Property Partners reports $2 billion in losses in 2020
Closing the book on a devastating year, Brookfield Property Partners recorded about $2 billion in losses in 2020, with its office and retail holdings getting slammed by the pandemic. The real estate arm of Brookfield Asset Management reported a net loss of $38 million in the fourth quarter, veering sharply from its net income of $1.55 billion over the same pe…
Little Havana multifamily project scores construction loan
A 43-unit multifamily project in Miami's Little Havana neighborhood scored a $6.2 million construction loan from Ocean Bank. The project is at 2052 Southwest First Street, according to records. A notice of commencement describes one six-story apartment building with a two-story parking structure on less than an acre of land. The owner is a company managed…
Gauging the recovery in retail sales at bars and restaurants
The FRED Blog has discussed how, during the onset of the COVID-19 pandemic, households cut back on eating out and increased food purchases to prepare meals at home. With data from the U.S. Census Bureau, we created a FRED graph with two lines to compare sales at restaurants and bars with sales at grocery stores.* Today, we use the same Census dataset…
Check out what some tenants pay in rent in the Miami Design District
Over the past decade, Craig Robins' Dacra and his well-heeled partners have spearheaded the transformation of the once-gritty Miami Design District into a luxury shopping destination and cultural hub. Last February, the ownership group achieved a major milestone when it secured a 10-year, $500 million refinancing from Bank…
Flex-office provider Knotel files for bankruptcy, set to be bought by Newmark
Knotel has filed for Chapter 11 bankruptcy and is in the process of being bought by Newmark Group. In recent months, the flex-office provider has faced mounting lawsuits filed by landlords who claimed that the startup stopped paying rent when the pandemic emptied out offices. The bankruptcy filing aims to aid the sale of business to an affiliate of…
Empty Office Properties: AmEx to its office workers: Don't leave home…until Labor Day
It'll be another winter, spring and summer at the home office for American Express employees in the U.S. The financial services giant — whose longtime slogan was, "Don't leave home without it" — told workers they can continue operating from home through Labor Day, according to Bloomberg. CEO Stephen Squeri said the New York-based company would also help…
But the commute is still great: US office occupancy at just 22%
Office buildings across the U.S. are still pretty empty. In 10 major metropolitan cities, the average number of office workers who returned to their desks fell to 21.7 percent on Jan. 20, according to a new report by Kastle Systems International. Many companies are still taking a wait-and-see approach as coronavirus vaccinations continue their slow pace.
Ocean Bank sells Miami dev site for $14 million, buyer plans mixed-use project
Ocean Bank sold about 3 acres of land in Miami as a development site for $14 million, and the buyer plans a mixed-use project. The Miami-based bank — known as the largest independent state-chartered commercial bank headquartered in Florida — sold the land at 4238 to 4242 Northwest Seventh Street, near its headquarters and Miami International Airport.
Retail bloodbath will continue with 10,000 closures this year: report
Don't expect brick-and-mortar retail to escape from the discount rack this year, a new report warns. An analysis released this week predicted that as many as 10,000 retail stores could close nationwide in 2021, Business Insider reported. The study, by Coresight Research, found that 8,741 retail stores shut their doors last year, led by 3,151 apparel store closures.
Unanswered Questions on the Corporate Transparency Act
The National Defense Authorization Act for 2021 enacted on January 1, 2021 contains Title LXI, the Corporate Transparency Act ("Act"). It institutes new reporting requirements for legal entities with few employees and limited purposes. The Act requires reporting to the Financial Crimes Enforcement Network of the Department of the Treasury ("FinCEN") by so-called…
Need for logistics space remains high, says Prologis
On its fourth-quarter earnings call Tuesday, management from logistics real estate giant Prologis Inc. (NYSE: PLD) said strong demand from the second half of 2020 has continued into the new year. "We entered 2021 with optimism and confidence," commented CFO Tom Olinger. The positivity stems from broad demand from the bulk of its customer base, with only…
How the election may affect the commercial real estate industry
The presidential election has the country riveted and divided on several fronts. When it comes to the real estate front, the upcoming election is likely to affect the commercial real estate and residential real estate industry. The economy is still in one of the slowest recovery periods of the past five decades and this has economists scrambling to analyze the outlook…
Milam's Markets planning to open store at Link at Douglas in 2022
Milam's Markets, a family owned and operated grocer serving Miami-Dade County since 1984, will open its sixth location in 2022. The new 25,000-square-foot market will be located at S. Dixie Highway (US1) and Douglas Road (SW 37th Avenue) at the Link at Douglas mixed use development. Link at Douglas is being developed by a joint venture between Miami-based…
30-year-old BurgerFi president thinks the chain can be the Shake Shack of the South
Business had dimmed for the Burger King in Lauderdale-by-the-Sea, Fla., and the location closed up in 2011. It's a small seaside town and the BK just couldn't sustain its base volume. But in moved another burger joint nobody had ever heard of called BurgerFi. The fast-casual's menu of fresh burgers, hand-cut fries, chicken, hot dogs, and custard scored a hit with local…
Ivy Realty pays $18 million for Miami Lakes industrial building
A New Jersey-based commercial real estate investor paid $17.5 million for a Miami Lakes industrial building. An affiliate of Ivy Realty bought the 150,000-square-foot warehouse at 13900 Northwest 57th Court in Miami Lakes, according to records. The seller is USpharma, which develops and distributes pharmaceutical…
Casa Hotels buys boutique South Beach hotel for $8 million
Chilean investment firm Casa Hotels Group closed on a boutique hotel in South Beach for $8.1 million. Casa Hotels, led by CEO Jose Aguera, bought the Eva Hotel, a four-story, 30-key building at 1506 Collins Avenue. The group also owns the Odyssey South Beach and Casa Boutique Hotel on Washington Avenue. Opera Real Estate Investment, led by CEO and…
Casa Hotels Group Purchases Eva Hotel in Miami Beach for $8.1 million
An affiliate of Casa Hotels Group has purchased a 30-room hotel in Miami Beach known as the Eva Hotel. CBRE facilitated the $8.1 million sale of the property, which features a fast-casual restaurant and covered parking. Natalie Castillo and Joshua Beene of CBRE represented the seller, Lender West LLC, in the transaction. The Eva Hotel is located at 1506 Collins…
The value of T4's and T5's in Miami's Opportunity Zones
The latest Opportunity Zone news has single family home parcels seeing a 25% increase in pricing, potential affordable housing opportunities, and different types of large-scale multifamily plays. After assessing the Opportunity Zones on a per-parcel basis during the past few weeks, let's dive deeper and see how the restrictions of the zoning code allow…
Walmart's plan to ship packages quicker: robot-staffed mini-warehouses
With online sales surging, Walmart is planning to set up mini warehouses in dozens of its stores. The retailer said this week that it plans to build a large number of fulfilment centers, measuring 20,000 to 30,000 square feet, inside its stores or in spaces next to them, according to CNN. The centers will be manned by robots who can pack orders in "a few minutes…"
Biden to address racial gap, environmental justice in housing
President Joe Biden's housing plan is coming into focus. The newly inaugurated Biden's executive order Tuesday reinstating a Fair Housing rule was just the first step in a broader agenda for racial and environmental justice in housing. "Housing is a right in America, and home ownership is an essential tool to wealth creation and to be passed down…
WeWork in talks to go public via SPAC
Now We've seen everything. WeWork is in talks to combine with a special-purpose acquisition company to go public, according to the Wall Street Journal. The co-working giant attempted an initial public offering in late 2019 but had a spectacular flameout during the IPO process, after scrutiny of its financials and governance. WeWork CEO Sandeep Mathrani and…
Objecting to a real estate project in Florida carries a risk of liability
By refusing to hear an appeal of a decision by a Florida appellate court, the US Supreme Court effectively sided with a developer who won a multi-million judgment against someone who tried to undermine the developer's project. The case concerned an environmental activist challenging a development project in Martin County, where she had previously served…
Location Ventures lands financing on Ft. Lauderdale condo project
Location Ventures landed $14.4 million in equity financing for a 65-unit condo project in Fort Lauderdale's Central Beach neighborhood. The project, at 551 Bayshore Drive along the Intracoastal Waterway, will feature residences that average more than 2,000 square feet, according to a press release. Several marina slips are also in the approval process.
Vision Properties pays $44M for Cypress Creek offices
The Fort Lauderdale home of Marcus & Millichap has a new landlord after a failed purchase last year. An affiliate of Tampa-based Vision Properties paid $44.2 million for the offices at 5900 North Andrews Avenue, called the "Cypress Financial Center," according to records. Vision is led by Fred Arena. The seller is an affiliate of Steelbridge Capital, an Evanston…
Alliance, Carlyle affiliate buys West Palm Beach dev site from church, lands $43M construction loan for multifamily project
An affiliate of Alliance Residential Co. and The Carlyle Group paid $11.5 million for a development site in West Palm Beach and scored a $42.9 million loan for construction of a 280-unit multifamily project. The companies bought 30 acres of land next to a church at 3590 Village Boulevard, according to records. Santander Bank…