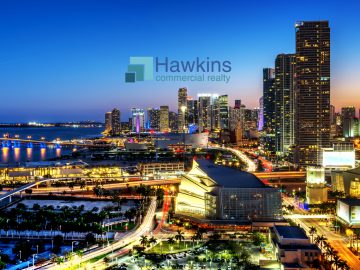 John Buck JV Acquires Miami Site for TOD Project
Miami Station. Image courtesy of Berkadia The John Buck Co., in a joint venture with Florida Value Partners, BH Group and PEBB Enterprises, has acquired a 1-acre site in downtown Miami for $39.5 million. The Chicago-based developer intends to build a mixed-use tower, dubbed Miami Station. Berkadia represented the seller, a partnership between BH Group and…
Brookfield Resort In South Florida Changes Hands In Record-Breaking Joint Venture Deal
A South Florida resort is expected to be sold to a pair of investors for $835M, marking one of the largest hotel acquisitions in the U.S. since August 2021. Real estate funds managed by Credit Suisse Asset Management and Trinity Fund Advisors have formed a joint venture to buy The Diplomat Beach Resort in Hollywood, Florida, from Brookfield Asset Management, according…
FAA Approves Height Of Mixed-Use Project At 3333 Biscayne
The FAA has just issued approval for the height of a project proposed at 3333 Biscayne. The approval letter was sent to Miami Edgewater JV LLC with a Denver Colorado address on February 6. A structure height of 481 feet above ground was approved, with a total height above sea level of 491 feet. The 3-tower mixed-use project had a hearing before Miami's Urban…
Remains Of 7,000-Year-Old Civilization Found At Related Group Site Along Miami River
A groundbreaking archaeological discovery at a massive project site on the Miami River from one of Miami's most prominent developers has kicked off a debate about how to properly preserve the city's history amid a historic economic boom. Archaeologists have uncovered remains of a civilization that dates back 7,000 years on the south bank of the Miami River and west…
Site Work Underway At 308-Unit Wynhouse After Permit Issued
Construction activity has now begun at the site of yet another major Wynwood project. The Wynhouse is planned to include 308 residential units, 24,114 square feet of ground floor commercial space, and 107 parking spaces, along with a public paseo. Photos from the site last week by Ryan RC Rea shows site work activity now underway. Records show that a site work…
Bentley Residences To Begin Construction In Spring: New Renderings
Bentley Residences is now just months away from starting construction, according to CNN. Groundbreaking on the 63-story tower will take place in spring of this year, the report said. Completion is expected in 2026. Bentley Residences will become the tallest tallest US oceanfront building at 749 feet tall, CNN said, citing a spokesperson (at least one other tower is planned…
Berkadia Arranges $39.5M Land Sale in Miami, Buyer Plans Mixed-Use Tower
Berkadia has arranged the $39.5 million sale of a one-acre, opportunity zone-designated site at 533 N.W. 2nd Ave in Miami, across from the Miami Central Brightline station. The buyer, Chicago-based The John Buck Co., is making its entry into the South Florida market with this land acquisition. The company is leading a joint venture partnership with Florida Value Partners…
John Buck JV Buys Site for Miami Tower
Miami Station. Rendering courtesy of Berkadia The John Buck Co., Florida Value Partners, BH Group and PEBB Enterprises have jointly acquired the 1-acre development site of Miami Station, a mixed-use project to rise in downtown Miami. Berkadia arranged the $39.5 million transaction on behalf of the previous owner, a joint venture… investor Rainer Viete…
Archeologists at Related's Baccarat project site uncover artifacts dating back thousands of years
Archaeologists discovered thousands of tools, artifacts, and human and animal remains dating back 7,000 years at the Related Group's Miami River construction site, where the development firm plans a three-tower project. The 16-month excavation and preservation of the items could be the most archaeologically significant findings near the mouth of the river in the past 25 years…
2 More Business Service Firms Expanding To Miami
The number of companies looking to participate in the Miami business boom is growing again, as two more service firms announced new offices in the Magic City this week. Omni Bridgeway, an Australian litigation financing firm, said on Tuesday that it is expanding into the Miami market, hiring Lauren Alexander from Weil Gotshal & Manges LLP as an investment manager…
Philippe Chow returns to South Beach after decade-long hiatus
Philippe by Philippe Chow is making a South Beach comeback after agreeing to rent a commercial unit at One Ocean condominium. The celebrity restaurant brand's owner, Merchants Hospitality, led by Abraham Merchant and Richard Cohn, signed a 15-year lease for the ground-floor space in the boutique condo building at 1 Collins Avenue, according to a press release.
Venetian Causeway replacements of 11 bridges advance
Replacement of 11 of the 12 historic Venetian Causeway bridges linking Miami and Miami Beach has won federal and state go-ahead for the next phase of plans to be finished well after the causeway turns 100 years old. A Florida Department of Transportation memo last week said the state and the Federal Highway Administration had accepted the location and design concept…
Edgewater's 60-Story Hamilton House Quickly Moves To Permitting Phase
In Edgewater, the 60-story Hamilton House is now rapidly advancing, with multiple construction and demolition permits recently filed. The main construction permit for the tower was applied for on December 22, with the full plans submitted on January 23 and now in active review. The permit states the apartment building will rise 60 stories or 649 feet, with 241 residential…
Developers Buy Miami Station Site 'Shovel Ready' With Approvals For 42-Story Tower
The Miami Station development site has just been purchased by a partnership of developers. Chicago-based developer The John Buck Company – Florida Value Partners, and BH Group with PEBB Enterprises paid $39.5 million for the 1.03-acre site, or $800 per square foot, according to a press release. This is the first Miami property for The John Buck Company, which has…
USPS Data Shows Miami Was #1 For Growth From 2019 To 2022
There is yet another new data point showing Miami's rapid growth since the pandemic, this time from the United States Postal Service. The National Association of Realtors analyzed USPS 2022 change-of-address data last month for the study. According to the analysis, the Miami-Fort Lauderdale-Pompano Beach, FL MSA has seen a 56.2% increase in inbound moves from 2019 to 2022.
Demolition Underway At Brickell's Starlite Motel, Where Chicago Company Plans 300 Apartments
Demolition began this morning at Brickell's Starlite Motel, new photos by Phillip Pessar show. In November 2022, Chicago-based Focus paid $28 million for the property. A demolition permit was issued the same month. Focus is planning 300 apartments on the property. It isn't clear if plans have been filed yet with planners. The Starlite Motel had 60 units, according to…
MCR Acquires Hilton Miami Airport Blue Lagoon Hotel for $118M
New York-based hotel owner-operator MCR has acquired the Hilton Miami Airport Blue Lagoon, a 508-room hotel in Miami. The seller and sales price were not disclosed, but the South Florida Business Journal reports that Park Hotels & Resorts sold the 14-story hotel to MCR for $118 million. Set within the Blue Lagoon business park, the waterfront hotel is located south…
This Week's South Florida Deal Sheet
It was a big week for hotel deals in South Florida as nearly $1B changed hands in hospitality trades. Hospitality giant MCR has acquired the Hilton Miami Airport Blue Lagoon from Virginia-based hotel REIT Park Hotels & Resorts, it announced last week. MCR spent $118.3M for the 508-room property at 5101 Blue Lagoon Drive, which works out to roughly $233K per key…
South Florida Retail Real Estate Summary: Leases, Sales & Construction Projects
Market Snapshot for South Florida Retail Real Estate Here's our quarterly summary South Florida commercial real estate focusing on Miami retail real estate. The report includes statistical highlights (cap rates, vacancy rates, absorption, etc), the latest retail transactions, signed leases, retail trends, and current market activity. The retail real estate report…
Rilea plans more Mohawk at Wynwood loft apartments after expanding site
Rilea Group plans more loft apartments at its Mohawk at Wynwood mixed-use project after expanding its site, The Real Deal has learned The Miami-based developer paid $5.7 million for two warehouses at 31 and 37 Northeast 28th Street, said Rilea President Diego Ojeda. Both lots span 12,750 square feet, enlarging the overall development site at 56 Northeast 29th Street from…
'Improved' Tri-Rail gains 30% in ridership
Tri-Rail ridership in January increased 30% over January 2022, the South Florida Regional Transportation Authority (SFRTA) reported last week. Miami-Dade Tri-Rail trains averaged over 12,000 weekday riders last month, close to 3,000 (30%) more riders than January 2022. Weekend ridership also rose 30%, averaging more than 6,000 riders. "Between passengers that…"
Jungle Island hotel, garage plans march ahead
Plans for a hotel and new parking garage at Jungle Island are moving ahead, reports the developer, despite a city review board's denial in December. In an email response to Miami Today, ESJ Capital Partners' chief of staff Micha Dubernard said Tuesday that ESJ has submitted plans for the garage to the city, and the team is working on the design of what is to be a 300-room hotel.
Affordable housing advances for Miami Beach school's grounds
An affordable housing development by Jewish Community Services on the grounds of a middle school in Miami Beach's Washington Avenue has gained support from the City of Miami Beach and needs to continue negotiating with the Miami-Dade County Public Schools system to have the land conveyed to the county for a lease. Jewish Community Service, a social services…
County puts Baylink on track for 2029 Miami Beach runs
A 30-year, $1 billion Baylink plan to connect downtown Miami to Miami Beach by extending Metromover has replaced a $1.3 billion monorail. Now county officials are seeking Miami Beach support to move forward in a funding vote. The plan would extend Metromover to the Beach with "a seamless connection with a one-seat ride" from Government Center station…
Construction cost elevator reaches top, starts downward
Construction cost in South Florida is starting to stabilize, according to local construction developing experts. In mid-2020 construction material costs skyrocketed to a 25% increase but in the past 12 months it has decreased to around 8%, said Peter Dyga, president and CEO of Associated Builders and Contractors Florida East Coast Chapter. Those materials included…
Dedicated pickleball complex eyed – without axes or arrows
With some good-natured chatter and at least two "but-what-abouts," Miami-Dade commissioners Tuesday unanimously approved Commissioner Danielle Cohen Higgins' resolution that the county mayor "examine the feasibility of creating a dedicate pickleball court complex." Pickleball is the country's fastest-growing sport. More than 36.5 million people played…
Plans Submitted To FAA For 587-Foot Downtown 6th
Plans have just been filed with the Federal Aviation Administration for a new tower called Downtown 6th. The filing was received by the FAA on January 26. Downtown 6th is planned to rise 574 feet above ground, or 587 feet above sea level, the filing states. The work schedule for the building is estimated to run from July 1, 2023 through December 30, 2024. Last June…
78-Story Tower At Burger King Property Across From Brickell City Centre Resubmitted To FAA
Plans for a tower to replace the Burger King-anchored strip mall across from Brickell City Centre have just been filed with the Federal Aviation Administration, again. The Federal Aviation Administration already granted approval for a tower on the property in both 2016 and 2019, but those approvals expired. According to the new filing, a tower height of 95…
22-Story 72nd & Park Around Halfway Up In North Beach
In North Beach, the shell of the under-construction 72nd & Park tower is now nearly half complete. 72nd & Park is planned to include 270 residential units, of which 121 will be micro-units, according to a school concurrency agreement recorded in September 2022. Around 12,000 square feet of retail is also planned, along with a 326-space parking garage, according…
New Filing: Edgewater 'Condo-Style' Luxury Multifamily Building Will Have 324 Units
An Arquitectonica-designed luxury apartment building in Edgewater is now moving through the pre-development phases, with platting documents just filed with the county. The new plat will be known as "Oak Row 2900," according to the February 2 filing with Miami-Dade planners. Oak Row 2900 will be developed with 324 residential apartment units and 18,814 square…
Coral Rock to Build Miami Community
Card Sound Key Apartments. All renderings courtesy of Coral Rock Development Group Card Sound Key Apartments clubhouseCard Sound Key Apartments playgroundCard Sound Key Apartments workout stationCard Sound Key Apartments parkCard Sound Key Apartments dog park Coral Rock Development Group has unveiled plans for Card Sound Key Apartments…
Coral Rock to Develop 342-Unit Card Sound Key Apartments in Metro Miami
Coral Rock Development Group has unveiled plans for Card Sound Key Apartments, a 342-unit multifamily community to be developed at 35800 S. Dixie Highway in Florida City, roughly 35 miles southwest of Miami. Upon completion, the development will comprise six four-story buildings, with units in one-, two- and three-bedroom layouts. Twenty percent of the units will be…
John Buck JV buys downtown Miami dev site for $40M
Chicago developer The John Buck Company is leading a joint venture that acquired a downtown Miami development site for $39.5 million, with plans for a mixed-use project, The Real Deal has learned. The deal marks John Buck's official entry into the South Florida market, where a slew of out-of-state developers including New York-based firms like Naftali Group and Kushne…
MCR drops $118M for Hilton Miami Airport Blue Lagoon
MCR's Tyler Morse, Park Hotels & Resorts' Thomas Baltimore and the Hilton Miami Airport Blue Lagoon at 5101 Blue Lagoon Drive (MCR, Park Hotels, Hilton) MCR dropped $118.3 million for a Hilton-branded hotel near Miami International Airport, marking the firm's continued appetite for South Florida hospitality properties. MCR bought the Hilton Miami Airport…
Lease roundup: CP, Allen Morris, Agave score tenants
Related Fund Management, RRE Ventures, more I Two Town Center I Boca Raton CP Group signed five new tenants for spec office suites at Two Town Center in Boca Raton. Related Fund Management, a third-party investment management affiliate of Stephen Ross' Related Companies; New York-based venture capital firm RRE Ventures; Chicago-based BMO Harris Bank…
Movers & Shakers: South Florida Real estate law practices bulk up
The past month has been busy for South Florida real estate hiring, with no slowdown in sight. Among the latest moves, two real estate legal practices in Miami added partners to their ranks, Forman Capital relaunched and Brown Harris Stevens brought in more agents. Boutique real estate legal firm Bercow Radell Fernandez Larkin & Tapanes promoted Maritza Haro Salgado….
Saltbox Opens 31,000 SF Co-Warehousing Facility in Metro Miami
Saltbox Inc., a co-warehousing and small business logistics company, has opened a new location at 1701 84th Ave. in Doral, roughly 15 miles northwest of downtown Miami. Comprising 31,000 square feet, the space features 68 flexible warehouse suites, conference rooms, flex storage, access to loading docks and a photo studio. The Doral facility is the first Saltbox in metro Miami…
Saltbox Opens Miami Co-Warehousing Facility
Saltbox Doral. Image courtesy of Saltbox Saltbox has expanded its footprint with a new co-warehousing facility in Doral, Fla. The 31,000-square-foot space marks the company's 11th location and its entrance in the Miami market, providing flexibility for small businesses in the community. The Saltbox facility is within a 423,022-square-foot building, constructed in 1992…
Florida board proposes changes to condo reform legislation
Aerial view of South Florida along with the new report by the Florida Building Commission (Getty, Florida Building Commission) A Florida commission is proposing changes to the state law that legislators passed last year in response to the deadly Surfside condo collapse. The Florida Building Commission was asked to review inspection requirements and make recommendations…
Hialeah Gardens industrial site trades at $1M/acre, as market softens
A Hialeah Gardens industrial outdoor storage site fetched $1.2 million per acre, marking a price drop from similar properties a year ago — and a harbinger that the market is softening. Triarch Capital Group bought the property at 12601 West Okeechobee Road from Princeton, New Jersey-based Essential Properties Realty Trust, according to broker Jose Sasson. Triarch paid…
Clear vision: Ophthalmologist buys Pompano Beach office building
An eye doctor purchased a Broward County medical office building for $8.9 million. An entity managed by Dr. Shailesh Gupta, a Coral Springs-based ophthalmologist, acquired Sample Executive Center at 2001 West Sample Road in Pompano Beach, according to records and Vizzda. Gupta's entity obtained a $6.2 million mortgage from First Citizens Bank and Trust.
Strong Demand For Apartments At Newly Opened 58-Story Downtown Miami Tower
There is strong demand for apartments at a new 58-story tower that just opened called Downtown 1st. The building has 560 new rental apartments, and opened in January at 70% pre-leased, according to a January 25 press release. By January 31, Downtown 1st was said to be 85% leased, according to Ryan RC Rea, who made a site visit. One-bedroom apartments started…
Vertical Construction Underway At 36-Story Modera Riverside
In downtown Miami, the 36-story Modera Riverside is now going vertical, according to photos by Ryan RC Rea. The project was formerly known as Nexus Riverside. It will include 428 rental apartments, 4,266 square feet of ground floor retail, and an eight story parking garage. First move-ins are planned in August 2024, according to the developer's website. The Modera Riverside…
Signs Of Activity At One Bayfront Plaza Planned Supertall Site
There is new activity possibly related to demolition at One Bayfront Plaza, where a supertall tower is planned. On February 1, a process number was created with Miami's Building Department for demolition work, records show. However, the application intake was still showing as incomplete as of this morning, so the exact scope of what is planned could not be ascertained.
Developer In Contract At Midtown Miami
A Miami developer appears to have a contract to purchase a piece of Midtown Miami. Midtown One Investments LLC has entered into an Agreement of Purchase and Sale as the buyer, according to a memo recorded in Miami-Dade County records on January 4. The Purchase and Sale and sale agreement was entered into on May 19, 2021, the memo says. The buying LLC…
Kroger Opens 60,000 SF Last-Mile Distribution Facility in Opa-Locka
The Kroger Co. has opened a 60,000-square-foot industrial facility in the South Florida city of Opa-Locka. Ocado Group, an e-commerce grocery delivery firm based in the United Kingdom, operates the automated facility. Situated on the north side of Miami-Dade County, the facility serves as a last-mile "spoke" facility that works in conjunction with Kroger's 375,000-square-foot…
Xebec nabs $44M construction loan for industrial development near Miami Gardens
Xebec scored a $44 million construction loan for an industrial development near Miami Gardens. The Dallas-based firm secured financing tied to 15.7 acres of land on the northeast corner of Northwest 67th Avenue and Northwest 167th Street in unincorporated Miami-Dade County, according to records. Fifth Third Bank is the lender. The land, east of New Testament Baptist…
Here are South Florida's top construction loans of the past year
Despite construction financing becoming tougher and more expensive to secure in major markets nationwide, South Florida developers are managing to close monster deals. The top 10 construction loans issued between January 2022 and January of this year in South Florida totaled $2 billion, according to The Real Deal's analysis of such financing…
Trinity and Credit Suisse to buy Hollywood's Diplomat for $850M
Trinity Investments is teaming up with Credit Suisse to acquire Hollywood's Diplomat Beach Resort and adjacent properties for $850 million, The Real Deal has learned. The joint venture also tapped Miami-based Related Group and Aventura-based BH Group to co-develop two towers on the development sites. The deal, which would be among …
Ambrose scores $27M construction loan for warehouse project in Jupiter
Ambrose Property Group nabbed a $27 million construction loan to build a spec warehouse in Jupiter. Cincinnati-based Fifth Third National Bank provided the financing for the planned 246,000-square-foot distribution facility at 158110 Walgreens Drive, records show. Ambrose, an Indianapolis-based industrial developer led by CEO Aasif Bade, acquired the 17-acre development…