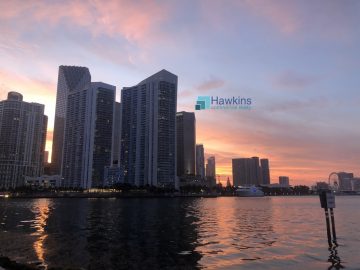 Aby Rosen's RFR buys 100 Biscayne office tower in downtown Miami for about $90M: sources
Aby Rosen's New York City-based firm RFR Holding paid about $90 million for an office building in downtown Miami that had been tied up in litigation, sources told The Real Deal, as out-of-state investors continue to bet on the region's growing office market. A partnership led by East End Capital sold the 30-story, 310,000-square-foot 100 Biscayne building…
RFR Acquires Downtown Miami Office Tower
RFR Realty has purchased 100 Biscayne Blvd. from a partnership led by East End Capital, the company announced. The 310,596-square-foot office building is in downtown Miami directly across from Bayfront Park. RFR declined to disclose the sale price. The 30-story office building was constructed in 1963 and offers 11,175-square-foot floor plates, according…
Dallas firm picks up Aldi-anchored retail property in Doral for $22M
Spectrum Properties paid $22.1 million for the retail building that is part of the Landmark South development in Doral. The Dallas-based, family owned company bought the property at 5875 Northwest 105th Court and an adjacent 92,108-square-foot parking lot from an affiliate of Congress Group, records show. Spectrum scored a $14.4 million loan to finance the…
Chicago developer pays $20M for Wynwood dev site with plans for mid-rise apartments
A Chicago developer is the latest to swoop into Miami's booming Wynwood neighborhood, paying $19.5 million for a site, with plans to build apartments steps away from a potential passenger train stop. Fifield Companies bought 1.4 acres on the northwest corner of Northeast 27th Street and the Florida East Coast Railway tracks from an entity owned…
David Beckham's MLS Team Faces Crucial Vote Over Miami Stadium Deal
After negotiating for more than two years, the city of Miami and Inter Miami CF, the Major League Soccer team owned by David Beckham and partners, have agreed on terms for a 99-year lease, helping to pave the way for the team to build a $1B stadium and complex on what is now a public park. The deal now needs to pass the city commission to proceed.
Plans For Adam Neumann's Miami Apartments Sound A 'We' Bit Familiar
On Tuesday, The Wall Street Journal reported that WeWork co-founder Adam Neumann has been quietly scooping up $1B worth of multifamily properties, including several apartment projects in South Florida. A Florida property manager has been tapped to handle operations at two of Neumann's Miami buildings, where a key focus will be developing…
Wharton Realty buys Homestead shopping center for $82M
Homestead Pavilion shopping center at 2400 Northeast 10th Court in Homestead with CREC Capital's co-founders Alan Esquenazi and Warren Weiser and Wharton Realty Group's owner Isaac Massry: Wharton Realty Group bought the fully leased Homestead Pavilion shopping center for $82 million, or nearly 32 percent more than the property's purchase…
South Florida's industrial squeeze has brokers sounding alarms
After receiving unsolicited offers to buy its 8.6-acre industrial site in Medley last year, KDD Properties decided to list it and see how many institutional investors would line up with competitive bids.  "There were no less than 25 offers from various public and private pension funds and institutional investors," Sky Groden of JLL, which marketed the property, told…
Minnesota firm pays $46M for student housing near Florida International University
Tailwind Group bought student housing near Florida International University for $46 million, reflecting the hot market for rentals near colleges. Greystar, through an affiliate, sold the 15-story building, called 109 Tower, at 737 Southwest 109th Avenue to Tailwind, according to a deed. The buyer scored a $34.5 million loan from an entity tied to…
PMG sells its last Johnson & Wales University property in $11M flip
Property Markets Group sold the last property it owned at the Johnson & Wales University campus, less than a year after it bought portions of the shuttered school in North Miami. PMG flipped the building at 1600 Northeast 126th Street for $10.7 million, or more than double the $4.5 million it had paid in July, records show. Buyer Tate Capital leased…
Deal to double Miami International Airport cargo capacity stalls
A Miami-Dade committee Tuesday deferred Mayor Daniella Levine Cava's call to reject an unsolicited proposal and instead directly negotiate with the joint venture to build and run a vertical air cargo hub at Miami International Airport (MIA), where cargo demand is rising. Members of the Airports and Economic Development Committee argued for more…
Delayed by COVID, Riverside Wharf seeks new city deadline
The Covid-19 pandemic has led to a delay in the construction of a major mixed-use project, Riverside Wharf, from a public-private partnership involving the City of Miami. That delay has triggered the need to extend the deadline to the private development company, a move expected to be considered today (1/13) by the city commission. The meeting…
Chart: Miami-Dade Commercial Real Estate Sales December 2021
The chart in this post displays the number of closed commercial property sales within Miami-Dade County in the two year period from January 2020 to December 2021., This includes both improved commercial properties and vacant commercial land that were recorded in the Miami Commercial MLS. December's volume appears in line with prior months, continuing…
Peachtree buys AC Hotel by Marriott in Aventura for $50M
Peachtree Hotel Group scooped up an AC hotel next to Aventura ParkSquare for $49.5 million. The Atlanta-based hospitality investment manager bought the nine-story hotel at 20805 Biscayne Boulevard from an affiliate of Norwich Partners, according to records. Peachtree took out a $46.6 million mortgage on the property from MetLife Real Estate Lending. The deal…
Fed's Beige Book: Early Signs Show Omicron Not Hurting Southeast Economy
Widespread outbreaks of the omicron variant of COVID-19 did not appear to inflict serious economic damage in the Southeast through December, according to the January Beige Book report from the Atlanta Fed. The report on economic conditions generally found trends of the past few months continued from mid-November through the end of 2021: labor demand…
Chart: Miami Commercial Real Estate Sales to List Price Ratio December 2021
In December the sales price to listing price ratio for commercial property dropped off a touch to a solid middle-of-the-pack 92.3%, with "the pack" being this number in the decade prior. This is for property sales as reported in the Miami Commercial MLS for improved commercial real estate (MLS classification: commercial/industrial) that lies within the county of…
Appeals court upholds $8M judgment against former Z Ocean condo-hotel partners
Z Ocean Hotel in Miami Beach The co-developers of Z Ocean, a South Beach condo-hotel, will remain on the hook for an $8.2 million judgment after their appeal was denied. In an opinion issued last week, the Third District Court of Appeals upheld Miami-Dade Circuit Court Judge William Thomas' 2020 ruling in favor of Louis Taic and his company So. Beach Hotel…
Motwanis, Related to develop 450-unit condo tower at Miami Worldcenter
A rendering of The Crosby, Related's Nick Pérez and Merrimac's Nitin Motwani Related Group is partnering with Merrimac Ventures to co-develop a short-term rental-friendly condo tower within the master-planned, mixed-use Miami Worldcenter, The Real Deal has learned. Nick Pérez, a senior vice president at Related, said it took about two years…
Little Havana apartment building targeted in $15M mortgage foreclosure suit
The developer of the Columbus on Fifth apartment building in Miami's Little Havana neighborhood was slapped with a $14.7 million foreclosure suit…. Columbus Apartments, tied to Miami-based Suncoast Construction Group, is accused of defaulting on a loan it took out to build the 72-unit Columbus on Fifth apartments at 514 Southwest 22nd Avenue. COF…
Terra nabs $141M construction loan for Bay Harbor Islands mixed-use project
Terra is making headway on its Bay Harbor Islands mixed-use project with a $141 million construction loan. The Coconut Grove-based firm scored the financing for its development at 1177 Kane Concourse, according to a statement from the Terra affiliate that owns the site. Mack Real Estate Credit Strategies is the lender. The project will consist of residential…
New York developers score $147M construction loan for student housing near FIU
Two New York-based developers are embarking on a student housing project near Florida International University with a $147 million construction loan. Adam America Real Estate and JW Capital Management plan to build the 22-story, U-shaped building at 10726 Southwest Seventh Street in Sweetwater, according to the developers' news release.
Retail investor picks up former Señor Frog's in South Beach
Miami Beach investor Yossi Lipkin acquired the Art Deco property in South Beach previously home to Jerry's Famous Deli and Señor Frog's. A trust led by nightclub owner Zori Hayon sold the three-story, 12,868-square-feet building at 1450 Collins Avenue to Yossi's EDY for $10 million, property records show. Lavinia Otero of London Foster Realty brokered the deal.
Partner in South Beach's Hotel Greystone hit with $19M judgment
South Beach hotel partner James Vosotas got slapped with an $18.9 million judgment in New York Supreme Court. Vosotas and Muhl had teamed up to renovate and reopen Hotel Greystone, an Art Deco property at 1920 Collins Avenue in Miami Beach. The partnership came apart shortly after the hotel's grand opening was short-circuited by business lockdowns…
Miami Among Top 5 Markets for Self Storage Transactions in 2021
Despite slowing rent growth, the self storage sector continued to experience strong movement in 2021, with demand both from customers and investors. Nationally, nearly 95 million square feet of storage space traded throughout 2021, for a combined $9.9 billion, according to Yardi Matrix. This marks a 137-percent uptick compared to 2020 when the total transaction…
Fort Lauderdale approves master plan for its $90M-plus version of Miami's Underline
Fort Lauderdale is moving forward with plans for its version of Miami's Underline linear park and trail that could extend throughout the city, where development has boomed in recent years. Fort Lauderdale commissioners Steven Glassman, Ben Sorensen, Vice Mayor Heather Moraitis and Mayor Dean Trantalis voted to approve a resolution accepting the…
Argentine brothers buy Pompano Beach office complex for $8M
A pair of Argentine brothers expanded their Broward County real estate portfolio with an $8.4 million purchase of a Pompano Beach office complex. Entities managed by Claudio and Gonzalo Maggi bought the Atlantic Business Center at 2201-2283 Southwest Second Street in Pompano Beach, according to records. The sibling investors financed their purchase…
Bang Energy's warehouse in Pembroke Pines trades — with a $58M bang
As the South Florida industrial market continues to fizz, the rush to buy property led a Colorado-based investment firm to buy Bang Energy's Pembroke Pines warehouse with a bang: for $18 million more than its purchase price a year ago. An entity managed by John Owoc, Vital Pharmaceuticals CEO, and CEO and founder of Bang Energy, sold…
MMG Assembles 10.4 Acres in Plantation, FL with $3.5M Purchase
MMG Equity Partners has acquired 8190 W Sunrise Blvd, a 4.83-acre site on W Sunrise Boulevard, just West of N University Drive in Plantation, FL. The property consists of a 19,178 sf office building built in 1974, occupied by Bank of America. The property is adjacent to Plantation Square, a 65,796 SF strip center on 5.6 acres, which MMG purchased May 2021.
GID buys newly built Plantation apartments for $73M
Real estate firm GID scooped up the newly built Windsor 335 apartment complex in Plantation for $72.7 million, as the robust multifamily market continues to attract investors. New York-based CP Capital and Dallas-based Trammell Crow Residential, through an affiliate, sold the 248-unit community at 335 North State Road 7, records show. The deal breaks…