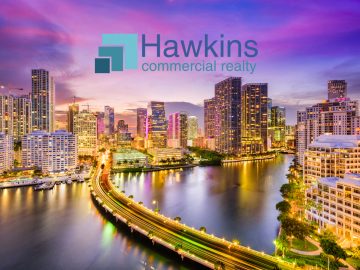 CenterPoint pays $184M for warehouses at Hialeah business park
CenterPoint Properties Trust continued its buying spree at a Hialeah business park. The Oakbrook, Illinois-based industrial real estate developer and manager paid $184.4 million for two warehouses and land at and near 4040 West 108th Street, inside Countyline Corporate Park, according to records. The seller is an affiliate of Florida East Coast Industries…
CenterPoint Pays $184M for Home Depot Facilities in Metro Miami
CenterPoint Properties has acquired two facilities at Countyline Corporate Park, a business park in Hialeah, Fla. The assets, totaling more than 1 million square feet, are leased to Home Depot. The buyer acquired the properties from Flagler Global Logistics. According to South Florida Business Journal, the buildings sold for $184 million. The assets feature,,,
Alphabet soup: AEW pays AHS $57M for Homestead apartments
A Boston-based global real estate investment manager paid $57 million for a 281-unit apartment complex near Homestead. AEW Capital Management bought the complex at 13700 Southwest 256th Street, called "Deering Groves," according to records. The three-story complex of about 256,000 square feet was built in 2019. The deal equates to about $203,000 a unit.
Related scores $88M construction loan for Dorsey project in Wynwood
Rendering of the Dorsey with Alex Karakhanian, Jon Paul Perez and Tricera's Scott Sherman and Ben Mandel (iStock) The Related Group and its partners secured an $87.5 million construction loan for the Dorsey project in Wynwood. Bank OZK provided the financing for the 12-story mixed-use development planned for Northwest Third Avenue between 28th and…
Ardent buys South Miami medical office building for $37M
An Atlanta-based real estate investment firm paid $36.7 million for an eight-story South Miami medical office building. An affiliate of the Ardent Companies bought the building, known as Sunset Medical, at 6262 Sunset Drive, according to records. Ardent is led by Matt Shulman. The seller is an affiliate of USAA Real Estate Company. The San Antonio-based…
Hilco Real Estate Announces The Court-Ordered Bankruptcy Sale Of 25 Development Properties In Florida And Illinois
Hilco Real Estate, LLC announces the court-ordered bankruptcy sale of 25 development properties well located throughout Miami, Fla. and Crystal Lake, Ill. in high-demand areas. The development sites featured in this offering, more commonly known as the Metronomic Holdings, LLC portfolio, vary in construction status and property types such as…
Shake Shack to add 60 new locations this year
Shake Shack has plans to shake things up. The burger chain plans to open 60 restaurants across the country this year, more than twice as many as it opened last year, according to Crain's. "We believe there is pent-up demand for food and experiences," CEO Randy Garutti said at an investor conference. "Adversity is a terrible thing to waste." The burger chain has…
U.S. Population Growth Slowed Further in 2020
The Census Bureau recently reported in a preliminary estimate that the U.S. population grew 0.35% in the year through July 1, 2020. This marks the fifth consecutive year of slowing growth, as seen in the figure below. Population growth in 2020 also was notably lower than the previous year's revised growth of 0.46%; 2020 growth will likely be the slowest annual population…
Jackson Health to build emergency medical hub in Coral Gables
Work will begin in six months on a new emergency medical facility in Coral Gables that will serve Jackson Health System patients inside the city and within five miles of it. Miami-Dade commissioners voted unanimously for the project at their final full meeting of 2020, advancing the latest expansion for the nonprofit public healthcare system that since 1918…
Chart: Miami-Dade Commercial Real Estate Sales Volume Ends Year on a Solid Note ~ December 2020 MLS
The chart above displays the trailing two years ending December 2020 of closed sales of Miami-Dade commercial properties, including improved commercial property and vacant commercial land, recorded in the Miami MLS. After a bit of a pullback in November, sales rebounded to closed out the year fairly strong, registering the sixth strongest month of the prior…
Axonic pays $37M for bulk purchase of Doral condos
The real estate wing of New York investment firm Axonic Capital paid $37.3 million in a bulk purchase of 170 units of a 310-unit fractured Doral condo complex. Axonic Properties, founded by Clayton DeGiacinto, bought the units at Valencia at Doral, at 10000 Northwest 45th Terrace, according to records. The seller is an affiliate of Transcendent Investment Management…
Microsoft, Citadel and Elliott Management among firms expanding in South Florida
Microsoft, Citadel and Elliott Management are all in talks to lease office space in South Florida, adding fuel to the trend of major tech and finance firms expanding in the region. Seattle-based Microsoft is reportedly in talks to lease 30,000 square feet at 830 Brickell, a 57-story office tower being developed by Vlad Doronin and his joint venture partner Cain…
Prologis pays $12M for Sweetwater office building
Real estate investment trust Prologis paid $12.4 million for a one-story office building near Sweetwater. The San Francisco-based company bought the 102,000-square-foot building on about 8 acres at 12496 Northwest 25th Street, according to records. The building is within the Beacon Lakes master-planned, 436-acre business park. An online listing for the…
Flooding caused by climate change leads to mounting real estate costs
As intense rainfall and flooding has increased because of climate change, so too has the financial fallout from the ensuing property damage, according to a new study. The analysis, by Stanford University, found that flooding caused by climate change — which researchers determined by looking at historical precipitation data and intensifying rainfall in recent decades…
Millennials flock to short-term rentals during pandemic
With many millennials choosing to lease apartments on a short-term basis, some property startups are looking to fill a growing demand for furnished housing. One is Landing, which leases furnished apartments throughout the country, the Wall Street Journal reports. The company originally planned to operate in about 30 cities last year, but instead grew to 75 thanks to the…
Aventura Multifamily Lands $51M Freddie Mac Refi
A joint venture between LCOR and Madison International Realty has secured a $50.5 million refinancing package for Lincoln Pointe Apartments, a 285-unit waterfront community in Aventura, Fla. JLL provided the variable interest rate Freddie Mac loan, which will be serviced by JLL Real Estate Capital, LLC… Located on 9 acres at 17900 NE 31st Court., the…
MLB Legend Turned Real Estate Investor Alex Rodriguez Accused of Racketeering, Embezzlement by Ex-Brother-in-Law
Former MLB star Alex Rodriguez has been accused of racketeering and embezzlement in a lawsuit filed by his former brother-in-law, Constantine Scurtis, according to the New York Post's Joe Tacopino. Katherine Eskovitz, an attorney for Scurtis, wrote in the suit Rodriguez "and his co-conspirators engaged in a pattern of racketeering and embezzlement" as part of a real…
Developer family pays $5M for Pinecrest townhouse dev site
A developer paid $5.2 million for a 2-acre site in Pinecrest to develop 18 townhomes. Scarofa Properties, managed by a Miami family with ties to Haiti, led by Stephane, Catherine and Aurelie Rosarion, bought the property at 7520 Southwest 100th Street, according to records. The seller is a company connected to FSE Investments, led by James Dorsy, records…
Lennar pays $8M for South Miami-Dade housing community site
Lennar Homes paid $7.7 million for about 31 acres of land south of Zoo Miami. The Miami-based homebuilder bought the land at and around 13400 Eureka Drive in South Miami-Dade, according to records. The seller is a company and trust associated with the Caple family. The late patriarch George Caple founded agricultural nursery Caple Farms and expanded…
Investors building single-family rentals to meet demand
High demand and low supply has driven house prices up (iStock) Instead of buying houses in foreclosure and converting them to rentals, as many investors did in the last recession, investors are building their own rental communities. They are seeking to profit from a trend: Many Americans are seeking more spacious homes, where they can more comfortably work…
Leisure and hospitality lost 500K jobs in December
The coronavirus continued to have disparate effects on real estate in December, with some sectors continuing to shrink while others regain ground. A rise in Covid cases and government closures of indoor dining contributed to a loss of nearly 500,000 leisure and hospitality jobs. Restaurants and bars accounted for 372,000 layoffs. Nearly half of all…
Senate flip: 5 real estate takeaways
When Joe Biden won the 2020 election, there was a significant hurdle between the president-elect and some real estate reforms he wanted: a Republican Senate. That changed Wednesday when two Democrats won Senate seats in Georgia. Biden's proposals have a better chance of making it to the floor with Democrats holding half of Senate seats, Kamala Harris…
Silvia Coltrane sells Manolo building near Ocean Terrace project in North Beach
Silvia Coltrane sold a commercial building in North Beach leased to the Argentine restaurant Manolo to a company tied to Haim Yehezkel's Elysee Investments. Records show Coltrane, a developer and broker, sold the property at 7300 Collins Avenue to 7300 Collins Investment LLC for $8 million. The buyer financed the deal with a $5 million loan from Valley…
When It Comes To Retail Real Estate, Tenants Have a Distinct Upper Hand
Recent reports about retail real estate in Manhattan, and beyond, suggest that the outlook may be gloomier than once thought. Aside from cities such as Austin, which is attracting California residents, and Miami, where denizens of the Northeast have moved to wait out the Covid-19 pandemic in the sunshine, many urban areas with a significant retail presence are…
Full disclosure: New law requires shell companies reveal true ownership
A new law that targets wealthy buyers who scoop up high-priced homes and commercial properties through anonymous shell companies could help stop the flow of illicit cash into real estate. But some money laundering experts say the measure has loopholes that could be easily exploited. The Corporate Transparency Act require…
The National Retail Federation: 2020 Retail Imports May Break Record Despite Pandemic
Imports seen during 2020 appear to be headed toward a new record despite the coronavirus pandemic, and remain at high levels as 2021 begins, according to the monthly Global Port Tracker report released today by the National Retail Federation and Hackett Associates. "Nobody would have thought last spring that 2020 would be a record year for imports, but it…
Miami Heat minority owner continues Best Buy shopping spree with $12M Plantation deal
Raanan Katz's real estate company RK Centers paid $11.5 million for a Best Buy-leased building in Plantation. RK bought the 58,000-square-foot building at 12301 West Sunrise Boulevard, according to records. The building was built in 1995. The price equates to $198 per square foot. Roberto Susi of Axiom Capital Advisors told The Real Deal that he…
Kushner buying sites near Delray Beach, Lake Worth for industrial and mixed-use projects
Kushner Companies is expanding in South Florida, acquiring two development sites in Palm Beach County, The Real Deal has learned. The New York-based firm is buying two properties near Delray Beach and near Lake Worth Beach, according to a source close to the deal. An industrial project is planned for the Delray-area property and a mixed-use…
Cortland pays $92M for Hollywood apartment complex
An Atlanta-based real estate investment firm paid $91.7 million for a 336-unit Hollywood apartment complex. Cortland Partners bought the 377,000-square-foot complex, called "Parc Station," at 1900 to 2300 North 29th Avenue, according to records. The deal equates to about $273,000 a unit. The seller is a company tied to New York-based JPMorgan's asset…
Menin Development wins initial approval for redevelopment of Delray Beach shopping center
Rendering of The Linton and Craig Menin Menin Development won initial approval to redevelop part of a Delray Beach shopping center into a mixed-income apartment complex. Delray Beach-based Menin plans to develop The Linton, a five-story, 277-unit apartment building, on the site of a 78,399-square-foot retail building. It has one vacant bay and two others occupied…