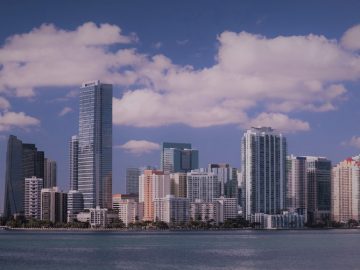 David Edelstein sells Wynwood site to AMLI for $35 Million
David Edelstein and a rendering of the Wynwood site Developer David Edelstein sold an assemblage in Wynwood to multifamily giant AMLI Residential, The Real Deal has learned. Edelstein of New York-based TriStar Capital sold the "45 Winwood" development site to AMLI for $35 million. Together, the properties are zoned for 669,600 sf and 321 residential units. The assemblage, at 45 Northwest 24th Street…
Latigo Group scores $50M loan for Miami Gardens apartments
The Center at Miami Gardens apartments (Credit: iStock) The Latigo Group scored a $50 million construction loan for its apartment project that will be part of a major mixed-use development in Miami Gardens. The Los Angeles-based real estate firm scored the loan from 3650 REIT to construct its 259-unit project at 19279 Northwest 27th Avenue in Miami Gardens. Called the Center at Miami Gardens, the…
3650 REIT Provides $50M Construction Loan for Multifamily Community in Miami Gardens
3650 REIT has provided a $50 million construction loan for the development of the Center at Miami Gardens, a 259-unit multifamily property to be located at 19279 NW 27th Ave. in Miami Gardens. Located 18 miles northwest of Miami and less than three miles from Interstate 95, the Center at Miami Gardens will feature three residential buildings and a clubhouse. Los Angeles-based multifamily…
3650 REIT Provides $50M Construction Loan for Miami Multifamily Property
Los Angeles-based real estate investor and developer The Latigo Group (TLG) has nabbed $50 million from real estate investment trust 3650 REIT, to help fund the construction of the Center at Miami Gardens, a four-building multifamily property in Miami Gardens, Commercial Observer can first report. The loan funds the construction of the 10-acre residential development, which is part of a broader…
Harbor Group's 13K-unit apartment purchase is one of largest ever
Two years ago, Harbor Group International acquired a 9,600-unit apartment portfolio, paying $1.8 billion for properties across the East Coast and in Chicago. Now, the Virginia-based real estate investment firm has gone even bigger. Harbor has closed on one of the largest apartment portfolio deals ever, paying $1.85 billion for 13,243 units, most of them across the South and Southwest. The portfolio…
Comras looks to sell Five Guys property on Washington Ave
Michael Comras and 1500 Washington Avenue (Credit: Google Maps) Michael Comras is looking to sell a retail property on Miami Beach's Washington Avenue. The Comras Company is listing a 7,116-square-foot building at 1500 Washington Avenue that is anchored by the popular fast casual restaurant Five Guys. The property is hitting the market for $9.9 million or $1,391 per square foot, according to a…
Miami Office Building Trades Hands for $30M
JB Waterford, an affiliate of Coral Gables-based Patton Real Estate Group, has acquired Waterford Centre at Blue Lagoon, a 91,431-square-foot office building in Miami's Waterford Business District Park. The sales price was $30.4 million. Located at 6205 Blue Lagoon Drive, Waterford Centre at Blue Lagoon is a six-story, institutional-grade office building developed in 1999 on a four-acre site in Miami's…
Miami Office Report – Fall 2019
Miami's maturing market dynamics and solid office sector are underpinned by a diversifying economy, a steady wave of company expansions and relocations, and a robust development pipeline. Lured by Florida's favorable business environment, finance firms and hedge funds from high-tax markets are moving to Miami—Wall Street giant Icahn Enterprises, relocating from New York, is just one…
AT&T Looking To Sell Miami Beach Building as Part of a 13-Building Office Portfolio In Huge Sale-Leaseback Deal
AT&T is looking to monetize a substantial chunk of its office assets. The telecommunications giant is in talks with multiple potential buyers for a 13-property portfolio of office buildings it owns and occupies across nine cities, CoStar reports. The properties, collectively dubbed by AT&T as the Central Office Portfolio… 6800 Harding Avenue in Miami Beach, 68K SF…  AT&T has been selling off properties or…
MMG buys two strip malls in southwest Miami-Dade
MMG Equity Partners paid $12.7 million for two shopping centers in southwest Miami-Dade County. MMG closed on Naranja Plaza at 27000 to 27100 South Dixie Highway for $7.1 million, or $139 per square foot. It also purchased Westlake Plaza, at 10969 Southwest 40th Street, for $5.6 million, or $128 per square foot, according to a press release. The real estate investment company financed the deals…
Metrorail leg to north could depend on state, federal funds
Whether Metrorail rolls northward could depend on state and federal fund pledges, Miami-Dade Mayor Carlos Giménez says. His office last year drafted a request for proposals (RFP) for 9.5 miles through Miami Gardens known as the North Corridor in the county Smart Plan, he said in a Jan. 7 memo. But the RFP for the "design, construction, financing, operation and maintenance" of a transit mode for the…
Miami needs to patch up its commission mess on live TV
When Miamians elected five commissioners, we presumed they aimed to do their best for the city. We still believe that. But they're making it mighty hard for us to see that motivation.  At their meeting last week they bickered like five kids in a ballgame. When they didn't get their ways about who got to bat first, they took their bat, ball and gloves and went home without playing.  They accomplished not one…
New EB-5 rules targeting abuse may be eased
EB-5, the federal visa program that helped fund development projects like the massive Hudson Yards in New York, has been fading recently and on the ropes, a result of fraud and its own popularity. But it still has supporters, and they are now looking to U.S. Sen. Lindsey Graham, Chuck Schumer and other powerful elected officials to help ease newly-passed rules, according to the Wall Street Journal.
The CRE Issues To Watch As Florida's Legislature Convenes
Florida's state legislature convened for its 2020 session Tuesday, charged with passing laws and an estimated $91.4B state budget over the course of the next 60 days. In his annual State of the State speech to kick off the legislative session, Gov. Ron DeSantis touched on everything from raising teacher pay to reducing barriers for occupational licensing. DeSantis said he would like to see people who…
1,700-ton concrete pour set for Missoni Baia condo tower
Rendering of Missoni Baia with a concrete truck and Vlad Doronin (Credit: Getty Images and iStock) Two months after scoring a construction loan, the developers of Missoni Baia will begin a 12-hour, 1,700-ton concrete pour for the condo tower's base. The concrete pour starts at 7 a.m. on Wednesday and will end at 7 p.m. Nearly 300 trucks working in groups of 30 or 40 will deliver and pour roughly…
Sapir claims employee stole trade secrets
The Sapir Organization's Alex Sapir (Credit: Getty Images and iStock) The Sapir Organization has a leak problem – and not the kind you find in shoddy condo buildings. A legal assistant employed by one of Sapir's subsidiaries has allegedly been hoarding trade secrets that competitors could use to undercut Alex Sapir's real estate empire, a new lawsuit claims. Patricia Lemanski, who's worked for Sapir's…
Here's why open-air strip centers are outperforming enclosed malls
Town & Country Crossing in Town & Country, MO; The Crossroads in Royal Palm Beach, FL; and Mission Bay Plaze in Boca Raton, FL While mall landlords have struggled to stay ahead of a challenging retail environment, owners of a less glamorous type of American shopping center have maintained modest growth. And now, even foreign investors are interested. Real estate investment trusts that own open-air…
Telefonica sold its Doral data center for $44M
Telefonica sold its data center in Doral for $44 million, amid booming demand for such real estate. Telefonica sold the 153,000-square-foot property at 11300 Northwest 25th Street for $288 per square foot, records show. Daytona US Partnership LP, which lists its address in Madrid, Spain, bought the property. Telefonica is a Spanish multinational telecommunications company, also headquartered…
Brightline launches leasing of apartment towers at MiamiCentral
Brightline's apartment towers have arrived at Virgin MiamiCentral. Park-Line Miami, at 100 Northwest Sixth Street in Overtown, is part of the mixed-use development that is home to MiamiCentral. The project adds two 30-story towers with a combined 816 luxury apartments to the project, and the Greater Downtown Miami multifamily market overall. Leasing begins this month with rents starting at $1,900 a…
Ambitious Rival Florida Airport Targets A Prime Slice Of Miami's Freighter Traffic
Freighter operators moving cargo on intra-Americas routes have a new option as Airglades International Airport (AIA) targets their traffic. The airport has announced plans for a "state-of-the-art logistics complex in southern Florida to dramatically reshape the efficient flow of perishable goods from Latin American producers to North American consumer markets". The US Federal Aviation Administration (FAA)…
Lionheart and Jeffrey Dagowitz sell Seagull Hotel Miami Beach for $120M
In the biggest hotel sale in Miami Beach so far this year, partners Lionheart Capital and Actium Development Co. sold the Seagull Hotel Miami Beach for $120 million, The Real Deal has learned. JHG Holdings Miami Owner LLC, a joint venture between Lionheart, led by Ophir Sternberg, and hotelier Jeffrey Dagowitz's Actium, sold the waterfront hotel at 100 21st Street to BHI Miami Limited, according to sources.
South Beach hotels hit the market for $24M
Susan Gale and the South Beach hotels A Miami Beach investor is looking to sell two boutique hotels he owns in South Beach. Scott Weinberg of Azco Realty owns Hotel La Flora at 1238 Collins Avenue and Hotel Impala at 1228 Collins Avenue, property records show. Both are now on the market with Susan Gale of One Sotheby's International Realty for a combined $23.5 million, or $490,000 per room…
Greystar sells The Mile apartments for $40M
Greystar Real Estate Partners sold the luxury apartment development The Mile near Coral Gables for $40 million. Charleston, South Carolina-based Greystar sold the 120-unit building at 3622 Southwest 22nd Street in Miami for $333,333 per unit, records show. Miami-based Acumen Real Estate purchased the property. Cushman & Wakefield's Robert Given, Troy Ballard, Zachary Sackley, Calum Weaver…
The obscure reason banks will finally embrace Opportunity Zones
A rendering of the Tampa Bay Rays' plans for a new ballpark in Tampa's historic Ybor City (Credit: iStock, WJCT) Banks may soon have the incentive they need to sink huge amounts of money into Opportunity Zones, the controversial Trump administration tax abatement program that has seen tepid investment levels to date. The federal government plans to give commercial banks credit for issuing loans…
Can Coral Gables absorb all the new development underway?
At the corner of Malaga Avenue and Ponce de Leon Boulevard, work crews recently topped off a Class A office building and an apartment tower that make up the first phase of the Plaza Coral Gables, the largest commercial project in the city's history. Agave Holdings, a commercial real estate firm that includes the family behind the Jose Cuervo spirits brand, is making a $600 million gamble that Coral…
South Florida developers venture statewide for opportunity
High prices and the scarcity of raw land are prompting some prominent South Florida developers to do projects elsewhere in the state. One example is Noah Breakstone's BTI Partners, a Fort Lauderdale-based company that is one of Florida's leading real estate developers and land investors. Since 2011, BTI Partners and institutional partners were able to assemble a portfolio of nearly 8,000 acres of land…
Unholy real estate strategy: Catholic churches shuffle properties to shield billions from sex abuse victims, report says
Catholic church dioceses across the country are moving around their real estate portfolios and using Chapter 11 bankruptcy to protect assets in sex abuse lawsuits. Over the last decade and a half, the U.S. Catholic Church has shielded more than $2 billion worth of assets from people who were abused by clergy, according to a Bloomberg Businessweek report. In some cases, that has significantly reduced…
Ivy Realty sells Blue Lagoon office building for $30M
Ivy Realty sold an office building in the Blue Lagoon office park near Miami International Airport for $30.2 million, almost doubling its last sales price. Montvale, New Jersey-based Ivy Realty sold the 129,444-square-foot office building at 6205 Blue Lagoon Drive for $233 per square foot, records show. JB Waterford LLC, which is tied to William Holly of Coral Gables, purchased the property. The building, known…
Presidente Supermarkets owner lists Little Havana assemblage for $22M
The owners of Presidente Supermarkets are looking to sell a 2.5-acre assemblage of land in booming East Little Havana, The Real Deal has learned. Property records show Eight & First LLC owns the site at 702 West Flagler Street, which hit the market for $22 million. The company is controlled by Ana V. and Pedro O. Rodriguez, who own the grocery store chain. The development site is on the market with…
TM Real Estate parts with Miami Gardens office building
TM Real Estate sold an office building in Miami Gardens that houses the Youth and Family center nonprofit. The Coral Gables-based investment group sold the 72,407-square-foot office building at 111 Northwest 183rd Street for $6.1 million, or $84 per square foot, records show. Washington Square GP Management, which is managed by Zachary Preminger of Palmetto, Florida, bought the property.
Airbnb hosts score 34K bookings for Super Bowl LIV — more than for Art Basel
Airbnb hosts gear up for Super Bowl LIV Airbnb is gearing up to host more visitors in South Florida during Super Bowl weekend than during Art Basel. Airbnb hosts have already picked up more than 34,000 bookings for the weekend of Super Bowl LIV, Jan. 30 to Feb. 2. That tops Art Basel weekend of Dec. 5-8, when the short-term rental company racked up 26,000 bookings, according to Airbnb…
Title fraud is on the rise. Here's why it won't stop anytime soon.
When family members of Lycienne Prince Barber were about to sell their dead relative's two duplexes in Biscayne Park, they made a startling discovery. During the prerequisite title and lien searches on the properties, they found that a 55-year-old man named Hencile Dorsey, whom Prince Barber's relatives never met, had filed two warranty deeds transferring ownership of the properties to his own…
Apeiron at The Jockey Club partners fight over failed $20M deal: lawsuit
The partnership behind the Apeiron at the Jockey Club project is in tatters, amid allegations of double-crosses, a loan-to-own scheme and the sabotage of a $20 million deal, according to a recently filed lawsuit in Miami-Dade Circuit Court. Apeiron Holdings Miami and Apeiron Miami, two shell corporations controlled by developers Muyad "Mo" Abbas and Michael Bedner, are suing partners Asaf Horesh…
These will be the best multifamily markets in 2020
Multifamily vacancy nationwide is expected to rise slightly as developers keep up the rapid pace of building set over the last few years. Vacancy is expected to rise 20 basis points to 4.5 percent, according to a CBRE's 2020 market outlook report. Rent growth is expected to slow to 2.4 percent for the year, below the 2.6 percent long-term average. Developers are expected to deliver an estimated 280,000…
Eight Predictions For The Industrial Sector In 2020
New project deliveries, continued cannabis legalization, a decline in manufacturing, faster e-commerce deliveries and the upcoming presidential election will all have an impact on the U.S. industrial sector in 2020, experts say. Here are eight predictions for the industrial sector in the new year: The rush to cannabis production will likely accelerate in 2020, as more states…