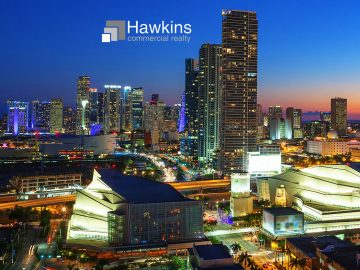 Mast Capital JV reels in $71M loan for Miami River multifamily development
A Mast Capital-led joint venture reeled in a $70.5 million loan to begin construction of a 342-unit apartment building on the Miami River. An affiliate of the Coconut Grove-based developer and its Boston-based partner, AEW Capital Management, secured construction financing for the project from Wells Fargo, according to records. The building will be…
Mast Capital, AEW Break Ground on Second Phase of Waterline Miami River Multifamily Project
Coconut Grove, Fla.-based Mast Capital and AEW Capital Management have partnered to break ground this month on the second phase of Waterline Miami River. In late 2020, the joint venture built the first phase, which comprised a 346-unit multifamily community spanning 280,000 square feet. The second phase will add an additional 342 units on a 2.7-acre…
Related Group Proposes Large Affordable-Housing Development in Downtown Miami
Miami's largest condominium developer, Related Group, is planning a large affordable-housing complex in one of the city's most coveted neighborhoods. The developer, along with its partner ROVR Development, is seeking approval to build a mixed-use development with 1,200 residential units across three towers in Downtown Miami, according to…
Witkoff Planning Downtown Miami's Biggest Residential Project Ever
Developer Witkoff Group is planning downtown Miami's biggest ever residential project by unit count, according to documents filed with planners yesterday. The project will also include a very large office component, along with retail space. It will be built on the former Miami Arena site at Miami Worldcenter. Witkoff Group and Monroe…
Here are the key drivers of the industrial real estate boom
We've become a nation of one-click wonders. And that has led to a historic boom in what was once considered the sleepiest asset class: Industrial real estate. In this episode of "Paydirt," The Real Deal's Hiten Samtani breaks down the shifts in shopping patterns that led to a transformation of the supply chain, explores pricing and demand in the sector, and takes…
Miami-Dade office vacancies plateaued in 2021, while asking rents kept rising
Office landlords in Miami-Dade County continued to push up rents in 2021, even as the market experienced double-digit vacancies, according to a recently released report. In the fourth quarter, the overall vacancy rate hit 16 percent, the same as the previous year's fourth quarter, the report by Cushman & Wakefield shows. The rate represents a slight decrease…
Blackstone goes all-in on South Florida affordable housing with over $300M portfolio deal
Laguna Pointe Apartments at 903 Southwest 15th Street in Pompano Beach, 25370 Southwest 137th Avenue in Homestead and Sanctuary Cove Apartments at 5301 West McNab Road in North Lauderdale: Blackstone Real Estate Income Trust went all-in on South Florida affordable housing, scooping up more than a dozen apartment communities for more than…
Nitin Motwani And Related Group's Nick Perez Team Up For Condo Project At Miami Worldcenter
Two of the biggest names in South Florida commercial real estate are joining forces for the first time to develop a condo tower in the heart of downtown Miami. The development will be part of the massive, $4B Miami Worldcenter project that's currently rising on 27 acres. Merrimac Ventures, run by the family of Worldcenter co-developer Nitin Motwani, is…
Fill'er up on retail: Gas station investor buys Kendall shopping plaza for $26M
A gas station investor is now fueling up on retail by acquiring a two-building shopping plaza in Kendall for $26 million. Hollywood-based Westar Holdings bought Shoppes At Hidden Lake at 12700 Southwest 128th Street in Miami-Dade County, according to Margot Chamot, the broker who handled the sale. Adrian Builders, a Kendall-based commercial real…
Aircraft Service And Maintenance Company Renews 38,900 Lease In Medley
Transwestern Real Estate Services' South Florida industrial team negotiated a five-year, 38,900-square-foot lease renewal for TMC Engine Center at 8545 NW 79th Avenue in Medley. Transwestern's Carlos Gaviria, Walter Byrd, Ben Eisenberg and Thomas Kresse represented the tenant in the transaction. "When we facilitated TMC Engine Center's relocation…
Kushner, partner buy missing piece of Edgewater multifamily dev site
Kushner Companies and PTM Partners closed on the missing piece of their development site for apartment towers in an Opportunity Zone in Miami's Edgewater, The Real Deal has learned. New York-based Kushner, led by Charles Kushner, his daughter Nicole Kushner Meyer, and Laurent Morali, announced plans for 2000 and 1900 Biscayne Boulevard in Miami…
New York broker pays $8M for Bay Harbor Islands apartments
New York broker Moshe Majeski scooped up a 26-unit Bay Harbor Islands multifamily portfolio for $8.2 million, marking his first commercial real estate investment in South Florida. Majeski, through an affiliate, bought the three adjacent buildings at 1029, 1035 and 1043 94th Street from Pro-Nan Investments IV, managed by Mary Shaked, records show. Majeski's…
Trump planning retail, luxury homes in Doral resort expansion
In addition to appearing poised for his next ventures in politics and media, Donald Trump has announced a sizable project in the industry that first made him a celebrity. Trump is planning to apply to build 2,300 luxury homes as part of an expansion of his Trump National Doral resort in Florida. The former president said in a statement he recently…
Trump Announces Plan To Build 2,300 Luxury Units At Miami Golf Resort
Donald Trump said Monday he intends to build a massive commercial real estate project including luxury housing and retail components at his Miami-area golf course."I have just spent millions of dollars on the Blue Monster golf course at Trump National Doral in the heart of Miami," he said in a statement, adding he "will be applying for 2,300 units of luxury…"
Developers of One Thousand Museum look-alike close on portion of Edgewater site
The developers of a One Thousand Museum doppelganger tower closed on land for the project in Miami's Edgewater. Longtime Edgewater investors Joel and Michelle Rodriguez sold three properties on Northeast 29th Street to the developers of 729 Edge, Joel Rodriguez said. The developers are a partnership led by Michael Konig, Alex Posth, Kevin Venger and…
Unprecedented landlord incentives powering U.S. office market recovery
The U.S. office market has shown some promising signs of recovery in the wake of the pandemic, but landlords are taking larger hits than ever before to complete the big-ticket deals. Cash incentives and months of free rent are helping to prop up the national office market, The Wall Street Journal reported. These incentives range from cash payments to tenant…
$81 million Metromover express put into transportation plan
Transportation planners want to spend $81.3 million to create Metromover express service between the current Government Center station and a future Herald Plaza area station. The money would fund a feasibility evaluation, simulations, design criteria and design-built services to modify the Metromover guideway to bring express runs to the planned…
Wary eyes on higher Fed interest rate
The Federal Reserve is looking to raise interest rates in hopes of tamping down inflation rates that have not been this high since the early 1980s. "We haven't had inflation like this happen in a while. We thought it'd be transitory but it's turning out to be more," said Mark Del Pezzo, CFA and professor of finance at Florida International University. "Seven percent…"
Royal Caribbean lease could net county half-billion dollars
The county commission was to vote this week on an amendment to the Royal Caribbean Cruises lease that is expected to add $53 million to PortMiami revenue and grant $4.9 million in covid recovery relief to Miami Cruise Terminal A LLC, a Royal Caribbean affiliate. A commission committee OK'd the change last week. The project would add a…
Experts Round-Up: Top Retail Trends to Expect in 2022
In our annual tradition, we reached out to a number of retail real estate experts across the country to provide their perspective and insights on what they expect for the retail real estate market and with upcoming retail trends heading in 2022. The overall sentiment provided by the various retail professionals is positive. In spite…
Little Havana developer completes assemblage for 200-unit apartment building
Cam Group's Pedro Camejo and a rendering of Calle Ocho A Little Havana developer plans to build an apartment project… The 12-story… one of the biggest new multifamily projects on the highly trafficked street, following… the 492-unit InTown apartment complex at 1900 Southwest Eighth Street and Altis Little Havana at 2100 Southwest Eighth Street. Altis is expected…
Consulate General of Barbados, NY investment firm moving to Ofizzina in Coral Gables & other leasing news
The Consulate General of Barbados and New York-based investment firm Empirex Capital leased space at the Ofizzina office tower in Coral Gables. The consulate inked a 9,511-square-foot lease for the entire 13th floor at the 16-story tower, and Empirex took out a 2,219-square-foot space, according to a news release from the building's owners. Both tenants are…
Surfside bidder gets extension for due diligence, pushing auction to April
A delay with invasive testing and disagreements over cost-splitting led to an extension for the Dubai developer's due diligence in its bid for the Surfside collapse site, likely pushing the auction to April. Court-ordered mediation in ongoing litigation will also occur sooner than expected, the judge decided at a hearing on Friday. Damac Properties entered its 60-day due diligence…
Aloft Miami-Brickell exits bankruptcy, staves off foreclosure
Aloft Miami-Brickell's owner exited bankruptcy after resolving a payment dispute with a New York-based lender over a $17 million loan. U.S. Bankruptcy Judge Robert Mark confirmed a Chapter 11 reorganization… for Mary Brickell Village Hotel LLC… headed by Miami developer Pedro Villar that owns the 160-key property at 1001 Southwest Second Avenue. The…
Starwood, A-Rod and partner buy South Florida single-family rentals to add to portfolio
A partnership that includes Starwood Capital Group, Tiber Capital Group and retired baseball player-turned real estate investor Alex Rodriguez paid $22.8 million for a single-family rental portfolio in Palm Beach County. The single-family rental business has boomed, as home prices have reached record highs and buyers are being priced out of home ownership…
Ram Realty, Pinnacle pay $15M for multifamily dev site near Aventura
Ram Realty Advisors and Pinnacle paid $15.4 million for a multifamily development site steps from the future Brightline station near Aventura Mall, marking a rush to build near major transit stops. The duo scooped up 2.2 acres of land at 19640 West Dixie Highway in the Ojus neighborhood in unincorporated Miami-Dade County…
$73M Lined up to Refinance South Florida Industrial Portfolio
The 13-building portfolio includes Class A and B industrial properties at 8305 NW 27th Street in Doral, 8150 NW 76th Street and 2101 NW 82nd Street in Medley, and 3000 NW 125th Street in Miami, as well as the nine-building small-bay Cooper Commerce Center at 2229-12260 S.W. 53rd and 12323 S.W. 55th streets in Cooper City (Broward County).
Denny's sells Edgewater restaurant dev site in Miami for $24M
Developer Aria Mehrabi bought an Edgewater Denny's restaurant and parking lot for $24 million, likely for redevelopment. An entity managed by Mehrabi, who is co-founder and CEO of Santa Monica, California-based real estate firm Pacific Star Capital, bought the eatery at 3600 Biscayne Boulevard and the lot at 221 Northeast 36th Street from Denny's…
Eastdil Secured to open first Florida office in Miami's Brickell
Eastdil Secured is opening its first Florida office in Miami's Brickell Financial District, marking continued expansion by out-of-state companies to the area. The New York-based real estate investment bank is opening at the Brickell Bay tower at 1001 Brickell Bay Drive, according to an Eastdil news release. The floor and square footage of the…
The Fed's Beige Book: Early Signs Show Omicron Not Hurting Southeast Economy
Widespread outbreaks of the omicron variant of COVID-19 did not appear to inflict serious economic damage in the Southeast through December, according to the January Beige Book report from the Atlanta Fed. The report on economic conditions generally found trends of the past few months continued from mid-November through the end of 2021: labor demand…
Developer Dubs Hialeah "The Brooklyn of Miami"
Miami is not New York City, and its neighborhoods are not comparable to New York's boroughs. And yet it seems developers are trying to lure gullible Big Apple transplants to, of all places, Hialeah — which boasts the highest percentage of Cuban and Cuban-American residents in the country — by touting it as "the Brooklyn of Miami." Billionaire developer Masoud…
Miami Developer Carlos Rosso On Starting His Own Firm And Pioneering Standard-Branded Residences
Carlos Rosso led the condo division for Miami's most prominent developer, Related Group, for nearly two decades until he felt it was time to start his own firm. Now, a little over a year later, Rosso has launched the first-ever Standard-branded condo project in the U.S., seeking to build on the trendy reputation of The Standard hotel brand.
$20M Sale of Staples-Occupied Property in Miami Brokered
The retail property is fully occupied by Staples, which has 1.5 years remaining on its lease. Built in 2008 and situated on just under one acre of land, the 20,288-square-foot property can be redeveloped with zoning that allows for up to 500,000 square feet. Located at 2121 Biscayne Boulevard, the property is situated less than 4.5 miles west of South Beach. The…
Blackstone Grows Tenant Roster at Pompano Beach Logistics Center
Link Logistics, Blackstone's U.S. industrial real estate platform, has signed two leases totaling 153,495 square feet at its newly constructed Cypress Pointe Distribution Center in Pompano Beach, Fla. The deals bring the warehouse and distribution facility to full occupancy. JFC International Inc.—a subsidiary of Asian food distributor Kikkoman Corp.—committed…
Multifamily giants Kushner and Aimco acquire site of Fort Lauderdale mega project
Apartment giants Kushner Companies and Aimco closed on the site of their mega project in Fort Lauderdale, where Kushner obtained approvals for a 3 million-square-foot multi-tower development. New York-based Kushner, led by Charles Kushner, his daughter Nicole Kushner Meyer, and Laurent Morali, entered into contract for the 4.2-acre…
Swire Properties sells Fort Lauderdale site to a venture between Kushner family and New York-listed Reit Aimco
Hong Kong developer Swire Properties has sold a property site in Florida to a US venture partly owned by the family of Jared Kushner, the son-in-law of former president Donald Trump, for a tidy profit. The developer agreed this month to sell the site comprising three land parcels in downtown Fort Lauderdale for US$49 million to Aimco and Kushner Companies…
Blackstone picks up North Lauderdale apartment complex for $14M
Blackstone is dipping into North Lauderdale with a $14 million acquisition of the Cross Keys Apartments. An entity managed by top executives of New York-based Blackstone acquired the garden-style multifamily project at 1850-2100 Southwest 81st Avenue. The Cornerstone Group, a Hollywood-based affordable housing developer, sold the 322-unit complex. The deal…
Baptist Health beats out rival bid for Sunrise site of its first hospital in Broward
Baptist Health South Florida is set to buy city-owned land in Sunrise for its first hospital in Broward County, beating out a rival bid for the 25-acre site. The Sunrise City Commission voted 4-1 Tuesday to sell the hospital development site at 12401 West Oakland Park Boulevard to Coral Gables-based nonprofit Baptist Health for $14.3…
Related Group, Dezer win approval for 10-story oceanfront condo project in Hillsboro Beach
Related Group and Dezer Development won a zoning variance for a downsized oceanfront condo development in Hillsboro Beach after reducing its height from 15 stories to 10. The variance allows Related and Dezer to develop a 10-story building that is 130 feet tall, on a site where zoning limits building height to three stories and 35 feet. Miami-based…
Woodmont plans eight warehouses at Palm Beach Park of Commerce
Woodmont Industrial Partners plans to build a warehouse complex at the Palm Beach Park of Commerce, as the developer continues to make a hefty play on the robust industrial market. Woodmont paid $40.4 million for 116.6 acres at the industrial park along Bee Line Highway west of Jupiter, with plans for eight Class A buildings, according to a comp…
Midtown Capital Partners nabs West Palm business park for $37M
Midtown Capital Partners dropped $37 million for a six-building office and industrial park in West Palm Beach. The Miami-based real estate investment firm bought the Vista Business Park at 2253, 2255, and 2257 Vista Parkway, and 6903, 6917, and 6931 Vista Parkway North, according to records. Midtown Capital, led by CEO Alejandro Velez, financed…