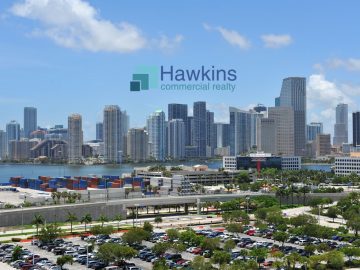 Make-A-Wish pays $8M for Overtown dev site
The South Florida branch of nonprofit Make-A-Wish paid about $8 million for 1.6 acres of land in Miami's Overtown neighborhood. Make-A-Wish bought the land at 350 Northwest Sixth Street, according to a press release. The nonprofit plans to build the 30,000-square-foot Finker-Frenkel House for administrative offices, donor events and volunteer work associated…
Downtown Miami Office Building Renovated By WeWork Faces Foreclosure Over $37M Debt
Denver-based private investment firm Platform Capital has filed a $37M foreclosure lawsuit against the owner of a historic downtown Miami building that houses a WeWork office. The 16-story Security Building at 117 Northeast First Avenue, built in 1927, is on the National Register of Historic Places and has been protected as a historic landmark by the city of Miami…
Lender sues owners of downtown Miami WeWork building over allegedly unpaid loan
The owners of a historic downtown Miami office building that is fully leased to WeWork are facing a foreclosure lawsuit. Platform Capital Funding sued the owners of the Security Building, tied to an outstanding loan. The lender is seeking more than $46 million, including principal, interest, late fees and a deposit from a failed sale of the building…
How Miami Is Recruiting Finance And Tech Firms — And Maybe Elon Musk
South Florida has always had abundant sunshine and no state income tax, but in the past couple of years — and especially with the coronavirus pandemic boosting remote work — the state is on a run, drawing high-profile billionaires, hedge funds, financial firms and tech companies. And if social media rumblings are to be believed, Miami could soon lure one of…
Miami's Mayor Is Trying to Seize Its Tech Moment
Hi, it's Sarah McBride. In the past couple of weeks, Miami Mayor Francis Suarez says, he has hobnobbed with a large cast of venture capital luminaries who have come to town. That list includes former Google chief Eric Schmidt, Andreessen Horowitz general partner Chris Dixon, Craft Ventures' David Sacks and Palantir Chairman Peter Thiel—who recently…
Paradise found: Can Francis Suarez make Miami the next Big Tech mecca?
You could call it the tweet heard around the world. In early December, Delian Asparouhov, a principal at venture-capital firm Founders Fund, threw out a proposal moving Silicon Valley to Miami. Francis Suarez, a real estate attorney who stepped into the mayor's chair in 2017, quote-tweeted the investor. He asked, "How can I help?" Suarez's response went viral…
Walker & Dunlop Arranges $43M Financing for Mixed-Use Development in Miami's Brickell District
Walker & Dunlop has arranged $43 million in construction and acquisition financing for 1 Southside Park, a mixed-use development spanning a full city block in Miami's Brickell district. The borrower is JDS Development Group, a development firm based in New York City. Aaron Appel, Keith Kurland, Jonathan Schwartz, Michael Diaz, Michael Ianno, Sean Bastian…
64-Story Mixed-Use Development in Miami Receives $43 Million in Financing via Walker & Dunlop
Walker & Dunlop, Inc. announced today that it structured $43,000,000 in acquisition and construction financing for JDS Development Group's 1 Southside Park, a rare, full city-block development in Miami, Florida's highly desired Brickell neighborhood. Designed by celebrated firm SHoP Architects, the project, which features protected views to the South…
40,850 sf Doral Lease Executed for Scents Company
Agora Real Estate Group President and Commercial Advisor Elias G. Patsalos, CCIM, recently represented the tenant in a long-term, 40,850-square-foot lease at 6750 NW 79th Avenue in Miami. Patsalos and Bibr represented Mar Company Distributors in the deal. Matt Maciag, Audley Bosch and Brian Smith with JLL represented the landlord, Oria's…
Biden exec order lays foundation for restoring fair-housing rule
President Joe Biden (Getty) President Joe Biden has taken the first step toward reinstating a fair housing rule that was scrapped by the Trump Administration last year. In an executive order signed Tuesday, Biden called on the secretary of the U.S. Department of Housing and Urban Development to study the effects of repealing the Affirmatively Furthering Fair Housing…
Voters reject easing height restrictions for Bal Harbour Shops
Bal Harbour Shops lost big at the ballot box, as voters on Tuesday overwhelmingly rejected a proposed village charter amendment that would have allowed the luxury shopping center's owners to apply for a height increase above five stories. The landslide loss means Whitman Family Development won't be able to submit any proposals to add a mid-rise…
Boston Properties gives dim outlook on co-working
Boston Properties just made one of the most damning statements a major landlord has given on the co-working industry: It took a big write-off in recognition that flex tenants will struggle to pay rents. "This industry is just simply facing revenue challenges," Boston Properties president Doug Linde said on the company's first-quarter earnings call Wednesday. "We just…"
Values of Class A malls down 45% from 2016 levels
The value of America's luxury malls is roughly half what it was in 2016, a worrying sign for an industry that has long considered such malls to be safer than lower-tier alternatives. A-rated malls, which generate an average of $750 in sales per square foot, made a strong comeback after the last financial crisis, according to CNBC. But a new report from Green Street…
County drafts downtown Miami transit-oriented revamp
After several delays, a report meant to guide the first phase of a planned redevelopment of 32 acres in the downtown Government Center area should be done by summer, according to Miami-Dade commissioner leading the push to revamp the area. Progress on the report, which officials initially expected would be finished more than a year ago, stalled once Covid-19 hit.
New Wynwood residences in assemblage of cubes win OK
An assemblage of cubes and dark colors will become home to 326 new residential units in the heart of Wynwood. PMG-Greybrook Wynwood Trustee LLC is the owner-developer for a project called Society Wynwood, to rise at 2431 NW Second Avenue. The mixed-use residential project was reviewed Jan. 20 by the city's Urban Development Review Board and…
City looks at settling suit on Miami Marlins sale $1 billion profit
Miami commissioners will consider settling a lawsuit with the Miami Marlins over a dispute concerning, among other things, the increase in the baseball team's value when it was sold. The proposed $562,800 settlement purports to represent the city's share of building the team's stadium in Little Havana. The April 2009 agreement, according to legislation the…
Bridge Investment joins Wynwood Haus multifamily development group
TSG and Lineaire Group have brought on another partner for a proposed 224-unit, 20-story multifamily property in a Wynwood Opportunity Zone. The developers have added Bridge Investment Group to the project, called Wynwood Haus, at 1765 North Miami Avenue in Miami, according to a press release. The project is expected to break ground at the end of the…
Multifamily landlords feel pain as tenants miss rent payments
Multifamily property owners fared better in the past year than those in other real estate sectors, but as the pandemic drags on, they're increasingly facing issues with their loan payments. The share of the riskiest apartment debt held by banks rose to 17 percent from 5 percent during the pandemic, the Wall Street Journal reported, citing data from Trepp that looked at the …
Rieber lands $15M loan for Aventura mixed-use project
BridgeInvest's Alex Horn and Rieber Developments' Bernardo Rieber with a rendering of the project Rieber Developments landed a $15 million pre-development loan for its mixed-use project under construction in Aventura. Miami-based BridgeInvest provided the loan for the 1212 Aventura project at 32390 Biscayne Boulevard, according to a press release. The project…
What last year's biggest real estate lawsuits mean for 2021
Getty Images Partnerships crumbled, billion-dollar condo plans collapsed and commercial bankruptcies climbed. While there's never a shortage of conflicts in a business built on big money and bigger egos, the pandemic made 2020 exceptionally catastrophic when it came to real estate litigation. Of course, even in a good year, the industry is renowned for dramatic…
Hospitality startups pick at carnage of failed rivals
Almost everything has remained the same at 70 Pine Street — the oak floors, modern furnishings and colorful art — except for the short-term rental startup operating its 132 rooms. After six years in business, Lyric succumbed to shaky finances and a travel shutdown in July 2020. Now, the 66-story Lower Manhattan building is the New York City flagship for…
Bromnin Automotive pays $7M for former Pinecrest Mitsubishi dealership
A company affiliated with Bomnin Automotive Group paid $7.3 million for a former Mitsubishi dealership in Pinecrest. Bomnin bought the two-story, 8,000 square-foot building at 8525 South Dixie Highway, formerly called South Miami Mitsubishi, according to records. The building was constructed in 1999 and is down the street from Bomnin Chevrolet Dadeland. The…
Stream this: Cinema chain AMC secures $900M in financing
While most of AMC's movie theaters are now open nationwide, the cinema chain last month warned that it needed $750 million to avert bankruptcy. The struggling AMC Entertainment Holdings got that lifeline, securing a total of $917 million in financing, according to the Wall Street Journal. The company hopes the infusion will give it a cushion to weather it through…
National Multifamily Housing Council chair David Schwartz on rent control fights, multifamily's mission
David Schwartz Homes aren't just homes anymore. During Covid, they've become offices, schools, gyms, places of worship and date spots, combining shelter, work and social fulfillment in a way that hasn't been seen in decades. So if owning hundreds of apartments was an emotional and political minefield prior to the pandemic, you can imagine what David…
Active South Florida Lender Bank OZK's Q4 was "strong end to challenging year"
One of the nation's most active construction lenders ended 2020 on a high note following an overall miserable year for the real estate industry. Bank OZK reported net income of $120.5 million in the fourth quarter, a 19.5 percent increase from the $100.8 million a year ago, marking its second highest quarterly profit in company history. The Arkansas-based bank…
Special election could pave way for height increase at Bal Harbour Shops
Matthew Whitman Lazenby and Bal Harbour Shops A looming special election tied to easing height restrictions for the Bal Harbour Shops would give the luxury shopping center's owners the flexibility to possibly add a mid-to-high rise building in the future. But some prominent residents fear Whitman Family Development wants to bypass the village's voters in…
Commercial Property Borrowing Cost Quarterly 2020 Q3: 5-Year Treasury Rates Remain Hovering Over Zilch
U.S. Treasury 5 Year Nominal Rates for the Five Year Period Ending December 31, 2020 Yields on 5-year U.S. Treasury Notes continue to remain at lows reached as COVID slowed economic activity, driving rates lower. As can be seen in the chart above, these rates, most closely tracked for commercial real estate financing cost, remained near zero percent…
PMG, E11even Partners plan 65-story condo-hotel tower in downtown Miami
The popular nightclub E11even Miami is getting into branded condo and hotel development. Property Markets Group and E11even Partners, led by Michael Simkins, are partnering on E11even Hotel & Residences, a planned 65-story, 400-unit tower in Park West, a neighborhood northwest of downtown Miami, The Real Deal has learned. PMG and E11even…
Thor Equities sued over alleged unpaid loan on Stefano Ricci Miami Design District store
A mortgage trustee is suing affiliates of Thor Equities and fashion house Stefano Ricci, as well as Thor Chairman Joe Sitt, over an alleged unpaid loan on a Miami Design District property, with the plaintiff seeking foreclosure or receivership. At issue is $17 million in an unpaid loan by the Thor affiliate, according to documents filed in Miami-Dade Circuit Court…
Trump's people claim Geoff Palmer and Tom Barrack backed Miami developer Zangrillo pardon
Donald Trump's White House claimed developer Geoff Palmer lobbied the former president to pardon Miami developer Robert Zangrillo, whom federal prosecutors had charged in the college admissions scandal. The Trump administration said the pardon was also supported by Colony Capital chairman Tom Barrack, but Barrack denied that, according to…
Norman Braman and Jorge Perez score court victory against Edgewater Jai Alai fronton
A campaign led by auto… Tuesday, Miami-Dade Circuit Court Judge Michael Hanzman ruled the City of Miami unlawfully approved a settlement with West Flagler Associates, owners of Magic City Casino and other gambling sites in the city, to let the company build the fronton and card room on a property at 3030 Biscayne Boulevard owned by Crescent Heights…
Corporate Transparency Act: New Federal Reporting Requirements Affecting Legal Entities Frequently Used in the Business Community
The National Defense Authorization Act for 2021 was enacted on January 1, 2021. While this Bill appears to apply only to the Defense Department, Division F deals with money laundering and contains Title LXI, the Corporate Transparency Act. This legislation will have a broad reach affecting the creation of legal entities used in a variety of business…
Four South Florida gas stations sell for $15M
Miami-based Westar… ultimate buyer of the gas stations is Ernest M. Cherry Jr. and his wife, Carole, of Hampton Falls, New Hampshire, according to records. The deal includes the gas station at 715 Opa-Locka Boulevard near Golden Glades, one at 2195 Northwest 103rd Street in Miami and two Hialeah gas stations, at 790 East 25th Street and 1901 West 4th Avenue.
Converting empty malls to warehouses isn't easy
As demand for e-commerce grew and large tenants like Sears closed up shop, some mall owners sought to redevelop their struggling properties into warehouses, residential buildings or office properties. But the task has proven more challenging than expected, according to the Wall Street Journal. Mall owners are required to spend hundreds of millions of…
Amazon boosts South Florida's industrial market in Q4 and 2020
South Florida's industrial market performed well in the fourth quarter and in 2020, as Amazon leased about 3 million square feet throughout the year, according to a recently released report. The region's average asking rent rose slightly to $8.88 in the year's final quarter, up 1.6 percent year-over-year, according to the report from Newmark. The fourth quarter…
Workforce housing project approved for South Beach's Collins Park
A seven-story workforce housing project with dorm space for Miami City Ballet dancers will be built on a city-owned lot in South Beach. The Miami Beach City Commission on Wednesday approved three ordinances that will enable Servitas, a Texas-company specializing in building student housing, to construct a 48,500-square-foot facility on a half-acre lot near Collins…
Sterling Equities pays $92M for Fort Lauderdale apartments
An affiliate of Sterling Equities paid $92.4 million for a 286-unit apartment complex in Fort Lauderdale. The Great Neck, New York-based real estate operator bought the complex at 408 Northeast Sixth Street, called Solmar on Sixth, according to records. The complex is inside the city's Flagler Village neighborhood. The deal equates to about $323,000 a unit. The seller is…
Midtown Miami developer launches waterfront Fort Lauderdale condo project
Developer Ron Krongold launched sales of his latest project, a boutique waterfront condo development in Fort Lauderdale, The Real Deal has learned. The Midtown Miami developer unveiled plans for 160 Marina Bay, a five-story, 16-unit building at 160 Isle of Venice Drive. Prices will begin in the low $2 millions, with four penthouses asking about $2.5 million…
Class A Office Portfolio In Fort Lauderdale Hits The Market
Avison Young's Florida Capital Markets Group has been exclusively tapped on behalf of a fund managed by DRA Advisors LLC to sell Pinnacle Corporate Park, a two-building, class A office portfolio at 500 and 550 W. Cypress Creek Road in Fort Lauderdale. The asset totals 259,458 square feet on 14.31 acres in Broward County's Cypress Creek submarket. Avison…