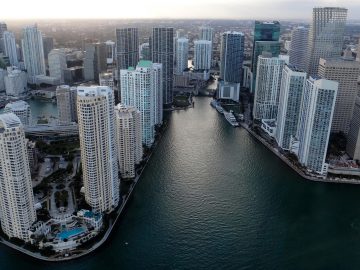 South Florida office rents rise in Q4
South Florida businesses looking to catch a break on their rent may have to wait another year. Office rental leasing rates rose in the tri-county area in the fourth quarter, year-over-year, according to a newly released report. Miami's office rents rose for the eighth quarter in a row, increasing to $43.40 from $39.10 in the fourth quarter of 2018, according to JLL's…
Moss Construction Completes 19-Story Multifamily Property in Downtown Miami's Brickell District
Moss Construction has completed Maizon at Brickell, a 19-story, 262-unit multifamily property in downtown Miami. The property offers apartments ranging from 490 square feet to 1,234 square feet. Maizon at Brickell also features an attached parking garage, 15,000 square feet of retail space and 3,400 square feet of amenity and leasing space. RD Jones designed the…
Fast-Growing Hotel Disrupter – Nearing 5 Hotels in Miami – Raises $30M As Its Business Model Gets Put To The Test
A lean, tech-oriented hotel operator, Life House, has raised $30M in a Series B funding round, it announced this week, which comes as its business model is being put to the test. Courtesy of Life House A Life House suite in Miami Beach's South of Fifth neighborhood. Life House's model is to be hired by independent hotels, do a cosmetic refresh and use proprietary…
The Big-Money Development Push Is On In Wynwood, Allapattah
After a frenzied few years of flipping, landowners in Miami's Wynwood and Allapattah neighborhoods have fully shifted to build mode. Jon Paul Perez is learning how to run Related Group. At 33, he already oversees multiple condo projects. Related Group recently completed two projects in Wynwood and has more in the works, Vice President Jon Paul Perez told Bisnow this…
American Fine Food Relocates South Florida Operations to Doral
American Fine Food Corp. has signed a 147,581-square-foot lease at International Corporate Park in Doral, Fla. Boeing Distribution Services subleased the facility where the food distributor will relocate its South Florida operations. Easton & Associates, the brokerage arm of The Easton Group, represented the tenant in the lease, while CBRE assisted the…
AC Hotel Opens In Miami's Edgewater Neighborhood, Marking A Turning Point For The Area
A stretch of Biscayne Boulevard in Miami's Edgewater neighborhood—once known as a seedy red-light district—is now attracting brand hotels. On January 25, the AC Hotel Miami Midtown opened its doors for business next to a Hampton Inn & Suites that's been in operation since 2017. Miami architect Kobi Karp, who designed both hotels, said AC Hotel's arrival…
Between Two Super Bowls, Downtown Miami Real Estate Development Boomed To Record Levels
When South Florida hosted its last Super Bowl in 2010, downtown Miami was still reeling from the great recession and the real estate market crash. Ten years later, as downtown Miami takes center stage for Super Bowl LIV, the city's urban core has rebounded with an unprecedented building boom that has added more than a dozen new skyscrapers, including the Zaha…
Video: Economist Hugh Kelly, Ph.D. on Riding the Cycle
The economic cycle remains expansive, not yet having turned as we continue to ride out what has become the longest economic expansion in United States history. Given this, what's next for commercial real estate? Join Michael Bukl and his guest Hugh Kelly, Ph.D., of Hugh Kelly Real Estate Economics, as they talk about where we are in the economic cycle, how…
Sunny Isles Property manager stole HOA money, then gambled it away: police
A property manager in Sunny Isles Beach was arrested and booked into jail on Monday after police say she stole hundreds of thousands of dollars and gambled it all away. It's the second time the property manager, Georgina Pineda, has been charged in connection with her role of managing a Sunny Isles Beach condo building. Pineda is out on bond on a felony charge of…
Miami Beach seeks interest in running one of oldest buildings
It's one of Miami Beach's oldest buildings. Now, city commissioners want to drum up ideas for use of the Carl Fisher Clubhouse. Mayor Dan Gelber and the city commission discussed the clubhouse's potential Jan. 15 and agreed the city will seek letters of interest to attract potential ideas for the site.  However, a letter from City Manager Jimmy Morales to the mayor and…
Miami Beach kaleidoscopic bridge inches toward reality
For Miami Beach, a development that'll lead to a kaleidoscopic bridge to welcome those coming in and out of the city, a 3-acre park with residency features and a 519-foot tower of 330 residential units is inching toward reality. The Miami Beach commission unanimously approved on first reading the second amendment to its agreement with the developers…
Miami land swap for city administration building may collapse
The Miami City Commission deferred a rezoning for the city's riverside offices site linked with its lease to a developer in exchange for a new municipal administration building nearby, with discussion portending a possible collapse of the complex deal.  Commissioners last week indefinitely deferred the rezoning and land use change, following a request from…
Miami International Boat Show, Marine Stadium on collision course?
There remain serious concerns among those supporting restoration of Miami Marine Stadium that the millions of dollars going into rebuilding it may be wasted if the Miami International Boat Show continues to control the city-owned property in the peak tourist season. The boat show is held in mid-February on Virginia Key, under a license agreement between the…
Downtown pays for look at closing some Biscayne Boulevard lanes
Directors of Miami's Downtown Development Authority voted unanimously Friday to back Biscayne Green Weekend – three days of activations to evaluate the outcome of closing part of Biscayne Boulevard to traffic and opening it to programming – and fund the event at $65,000. The event would take place sometime this spring, but further details haven't…
Magellan launches leasing of Midtown Miami apartment tower
Magellan Development Group launched preleasing for its latest Midtown Miami apartment building, adding nearly 450 rentals to the market, The Real Deal has learned. Chicago-based Magellan, investor Alex Vadia and J.P. Morgan Asset Management are completing construction of Gio Midtown, previously known as Midtown 6, at 3101 Northeast First Avenue in Miami.
$1K a night, easy: South Florida hotels score high rates for Super Bowl LIV
AC Hotel Miami Midtown is ready for some football. The 153-key hotel opened its doors less than a week ago, and with mere days until the Big Game, it is fully booked from Jan. 30 to Feb. 2, the four days that encompass Super Bowl LIV weekend. Pre-booking at the hotel, at 3400 Biscayne Boulevard, started in the $300 range before the AFC and NFC…
South Florida industrial market continues to rally in Q4
Bridge Point Powerline Road industrial property The industrial party in South Florida seems poised to roll on in 2020. As e-commerce giants increasingly seek out large warehouse spaces and interest from investors like Blackrock and Prologis grows, industrial prices in South Florida have skyrocketed over the past few years. Miami-Dade and Broward counties…
Condos at Mr. C Residences in Coconut Grove will start in the $600Ks
Developer David Martin is launching sales of Mr. C Residences, months after revealing plans for the luxury condo project in Coconut Grove. The 20-story, 118-unit development will have condos ranging from 650 square feet to 3,645 square feet. Pricing will range from the low $600,000s to more than $5 million. Martin's Terra and Ignazio and Maggio Cipriani's Mr. C will…
Lung Yai partners ink lease for former Gigi space; other restaurant news
The partners behind Lung Yai Tapas, Bonding and Ahi Sushi restaurants in Miami will open a new Asian-fusion concept at 3470 North Miami Avenue, The Real Deal has learned. The 2,317-square-foot space is the former site of Gigi and more recently, Mason. Marc Sirkin of Engel & Volkers Delray Beach and Asi Cymbal of Cymbal Realty brokered the deal. Sirkin…
Bang: Energy drink company drops $40M on warehouse
The maker of Bang energy drinks paid $40.37 million for a warehouse in Pembroke Pines, adding to its assemblage. Weston-based Vital Pharmaceuticals purchased the 249,005-square-foot warehouse known as the South Florida Distribution Center at 20351 Sheridan Street for $165 per square foot. South Florida Distribution Center Building B, LLC, which…
Miami to debate FIU affordable housing plan
Miami is among the least affordable cities in the U.S., and needs to build or rehab 32,000 residential units over the next 10 years to help alleviate its affordability crisis, according to a new report from Florida International University. City of Miami commissioners will convene a meeting to focus on recommendations from FIU's Affordable Housing Master Plan, as well…
Shoma plans two-tower rental project near Coral Gables
Shoma Group is betting on Miami's multifamily market. Developer Masoud Shojaee is planning to build a two-tower, 359-unit rental development on Bird Road near Coral Gables. Shoma is under contract to buy the property at 3650 Bird Road, which is home to Deel Volvo, he said. Closing on the site is contingent on the developer securing approval for the project, to be…
Multifamily still delivers as investors avoid rent control
Investors are still paying top dollar for multifamily assets — if they are outside of the reach of rent control. Across the country, investors paid more on average per apartment in the third quarter of 2019 than they did in 2018 — $158,296 per door, up from $151,766 in 2018 and $106,074 in 2012, according to an analysis by Marcus & Millichap, the Wall Street Journal…
How South Florida CRE Is Addressing Climate Change
A new way to invest in a weather-weary world Not a day goes by when there isn't some sort of mention of climate change and sea-level rise. Pundits may debate the validity of the science behind the issue, but Miamians and other South Floridians are becoming increasingly adept at wading and driving through flooded streets and sidewalks. Businesses…
Commercial Real Estate Trends For 2020
5 key areas that will shape the new year and beyond A television commentator recently claimed that 2020 isn't a year. He did say, tongue-in-cheek, that it's the name of a news show on a competing network. He also said it's a word that defines hindsight and perfect vision—but not a year. In commercial real estate (CRE), though, hindsight and vision are essential to determine the trends and cycles that will define the industry in 2020…
What Investors and Developers Need To Know About EB-5 Investment
The impact of changes to the EB-5 program on commercial real estate investment in South Florida and beyond For developers, one of the keys to seeing a proposed project completed is sufficient capital. At the same time, investors are looking for the right projects with the best potential returns on their investments—wherever those investors are from. Enter the…