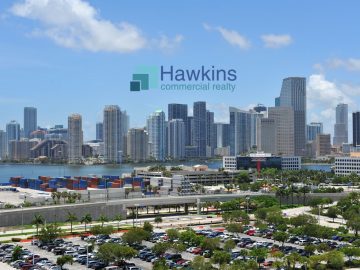 B Group bids $102M for 20 acres in Miami's Upper Eastside
B Group Capital Management submitted a $102 million stalking horse bid for nearly 20 acres in Miami's Upper Eastside and El Portal that are tied to a lawsuit alleging EB-5 fraud. The Miami-based… seeks to acquire the former U.S. immigration building site spanning 3.5 acres at 7880 Biscayne Boulevard, and a 15.9-acre former trailer park at 8500 Biscayne Boulevard, court…
Here's how South Florida real estate bigwigs rang in the new year
South Florida real estate's biggest players rang in the new year in fabulous style. Brokers and developers went far and wide to celebrate the holiday, hitting the slopes in Aspen, partying in Uruguay, Dubai and Greece, lounging in St. Barts and Thailand, and hobnobbing at high-society soirees in Palm Beach…
Related scores $164M construction loan for Brickell apartment tower
The Related Group secured a $164 million construction loan for a waterfront apartment tower on the site of its planned Baccarat Residences development near downtown Miami. Truist Bank provided the financing to an affiliate of Coconut Grove-based Related. The loan can be increased to up to $340 million, records show. The financing is for 444 Brickell Tower II…
Last Sears In Miami Eyed For 800-Unit Residential Redevelopment
Miami real estate magnate Raanan Katz is looking to tear down the last Sears in Miami city limits and replace it with housing and a park. Katz, who leads retail real estate firm RK Centers and co-owns the Miami Heat, is having discussions with local community groups about a plan to replace the 68-year-old property at 3655 Southwest 22nd St. with two 400-unit apartment buildings…
Miami's Last Sears Store Eyed for Dense Residential Development
Wary residents of the historic Coral Gate community are in talks with a large-scale developer who wants to tear down a nearby 68-year-old Sears and build a modern residential and retail complex in its place. Raanan Katz of RK Centers, which holds more than ten million square feet of commercial real estate across the country, has owned the Sears property since 1987.
Coral Gables investor Maria Menzel adds another dev site to Edgewater portfolio
Maria Menzel continued her land banking spree in Miami's Edgewater by acquiring another development site, three months after her last assemblage purchase. A Delaware entity with the same address as a Coral Gables condominium owned by Menzel paid $12.5 million for six vacant parcels at 410, 420 and 432 Northeast 27th Street and 415, 425 and 435 Northeast 26th Terrace…
Check out South Florida's biggest office leases of 2022
7850 Southwest Sixth Court in Plantation with Jazwares' Judd Zebersky and RMR Group's Adam Portnoy, Rendering of the 830 Brickell office tower with OKO Group's Vlad Doronin and Cain International's Jonathan Goldstein: In most U.S. markets, 2022 was far from a boon for offices. Subleases piled up in California, as tech companies looked to downsize. Facebook parent Meta is…
Forbes Neighborhood To Watch: Miami's Little River
Long an economically distressed neighborhood with shuttered buildings, Little River, Miami has been methodically taking shape as a champion of local talent, culture and small business, with the city's top creators and innovators clamoring to set up shop in the area. In effect, the area is undergoing a transformation similar…
Limestone, Orion Purchase Colonial Palms Plaza Shopping Center in Pinecrest for $70.5M
Limestone Asset Management and Orion Real Estate Group have purchased Colonial Palms Plaza, a 188,389-square-foot retail center located in Pinecrest, roughly 20 miles southwest of Miami. The joint venture, doing business as Orion Colonial Plaza LLC, acquired the property for $70.5 million. The property comprises seven buildings and 29 tenants, including Marshalls…
NY firm ARC PE sells Miami Beach mixed-use building at 40% loss
Distressed real estate investor ARC PE scooped up a mixed-use building on the previously popular retail strip of Collins Avenue in Miami Beach, paying 41 percent less than the property's purchase price a decade ago. Shire Realty sold the three-story building at 826 Collins Avenue for $5 million, according to a news release from the buyer's broker.
Stephanie Shojaee talks marriage to Masoud, rejection and sexism
Scroll through Stephanie Shojaee's Instagram and you'll come across photos and videos of her and her husband Masoud around the world, in Qatar, France, Greece and Miami. She frequently documents her lavish lifestyle with her spouse, co-founder of Shoma Group, and their dog, Pebbles. But she's shared little about the backlash they faced from Masoud's adult daughters…
Harbor pays $113M for Miami Gardens rental complex
Harbor Group International paid $113 million for a Miami Gardens apartment complex. Resia sold Oak Enclave Miami at 2301 Northwest 167th Street before year-end, after completing the 420-unit community in June, according to a Harbor Group news release. Robert Given and Troy Ballard of Cushman & Wakefield…
Easton, LBA score $61M construction loan for Hialeah warehouses
Easton Group and LBA Logistics are ready to break ground on their Hialeah industrial project after securing a $61 million construction loan. Principal Life Insurance provided the financing for the joint venture's two-warehouse development at 4220 West Place, records show. Easton Group and LBA paid $29.4 million for the 26-acre vacant property, currently a truck yard…
Miami board votes to deny hotel plans for Jungle Island
A redesigned 300-room themed hotel and parking garage for Jungle Island met with opposition from the City of Miami's Urban Development Review Board (UDRB). The board voted 3 to 0 to deny the project as presented. The board makes recommendations to the city's planning director. Board members expressed several concerns with the new designs, in particular…
City reviews application to raze Coconut Grove Playhouse
The saga surrounding the restoration of the Coconut Grove Playhouse is entering its next act as the county has applied for a special exception to demolish the building. Miami-Dade County filed an application with the City of Miami on Oct. 26 requesting a waiver to permit minor deviations from the Miami 21 Code to allow for demolition within the neighborhood…
Health District plan switches from offices to residences
The developer of a planned high-rise along highway 836 in Miami's Health District has decided to change the use from office space to residential. The city's Urban Development Review Board recommended approval of the modified project, with two conditions: hire a dock master for the loading area, and study adding glass into the building's southeast corner. The applicant is…
Coconut Grove offices nearly full, demand strong
With very limited office space available in Coconut Grove, one of the most desired areas in Miami-Dade County, occupancy is at one of the highest levels there. With a total inventory of 1,245,600 square feet of offices and a vacancy of 8.4%, Coconut Grove currently has no office space under construction, according to CBRE's Miami Office third quarter report.
Improvement district to celebrate Coconut Grove aviation heritage
Entering the new year, the Coconut Grove Business Improvement District is shifting gears to celebrating the neighborhood's 150th anniversary, with an ongoing series of events. Themed "Grove Heritage," the Coconut Grove BID is set to produce monthly events to add magic and memories to all residents and visitors of the Grove, said Cynthia Seymour, the BID's executive…
Chart – Inflation Watch New Year's Day 2023: TIPS Spread Indicating 2.33% Expected Inflation for Next 5 Years
The chart above is of the 5-Year breakeven inflation rate, commonly referred to as the TIPS spread, for the five year period ending on December 30, 2022, the last trading day of 2022. This illustrates the difference in the yields, i.e. the spread, between United States Treasury bonds and Treasury Inflation-Protected Securities (TIPS) of the same maturity. This is a useful and oft-quoted…
CRE Experts Round-Up: Top Retail Trends to Expect in 2023
Continuing our annual tradition, we contacted several commercial real estate experts specializing in retail across the country to provide their expertise and predictions regarding what they expect for the retail market with upcoming retail trends moving towards 2023. The overall insights provided by the selected retail professionals are upbeat. Interestingly enough more…
Harbor Group International Acquires Miami Community
Oak Enclave. Image courtesy of Resia Harbor Group International LLC has made its eighth acquisition in the Miami-Dade area with the purchase of Oak Enclave Miami. The Virginia-based company acquired the 420-unit community from Resia for an undisclosed sales price. Cushman & Wakefield's Robert Given and Troy Ballard brokered the sale, representing both the buyer…
LBA pays $198M for Sweetwater industrial business park
LBA Realty is closing out the year with a mega-priced industrial purchase in Sweetwater. The Irvine, California-based commercial real estate firm paid $198 million for Dolphin Commerce Center at 11200 Northwest 21st Street, 11250 Northwest 25 Street and 11350 Northwest 25 Street, records show. LBA assumed a $50 million mortgage from Northwestern Mutual Life…
Check out the biggest retail leases in South Florida of 2022
O'Reilly Auto Parts took the biggest lease this year at 43,000 square feet. The auto parts retailer inked the 10-year deal at 500 West 49th Street within the Palm Springs Mile mall in Hialeah. The shopping center is part of Great Neck, New York.-based Philips International's portfolio. O'Reilly Auto Parts, based in Springfield, Missouri, is a publicly traded retailer founded in 1957…
How was the South Florida commercial real estate market in 2022, and what is coming in 2023?
South Florida's commercial real estate market – in sectors such as retail, multi-family and industrial – is ending the year strongly. Thanks to the influx of companies moving to the area, especially Brickell, office rentals have been very strong. Tenants include hedge fund giant Citadel, Microsoft, WeWork and Blackstone, among others. Confidence in the office sector is most evident…
Miami Airport reaches high for cargo capacity
Miami International Airport (MIA) is adopting a vertical approach to meeting air cargo capacity demand as it contends with limited space. The airport's "Vertically Integrated Cargo Community" project envisions a five-story storage warehouse which is expected to more than double its current cargo capacity. Expected to break ground next year, the estimated five-year project…
$10M Refinancing Arranged for Carolina Springs Plaza Shopping Center in Margate
MMCC has arranged a $10 million loan for the refinancing of Carolina Springs Plaza, a grocery-anchored, 125,500-square-foot shopping center located at 7804-8092 W. Sample Road in Margate. El Bodegon Supermarket has anchored the 13.4-acre property since 2011. Robert Bhat of MMCC's Miami office arranged the 10-year, fixed-rate loan, which features a 25-year…
Related nabs $56M loan to build FATVillage affordable rentals
Related Group scored a $55.7 million construction loan for an affordable housing project in Fort Lauderdale's FATVillage district. The Pérez family's development firm wants to build a 16-story building with 263 units on land at 600 North Andrews Avenue that's owned by Broward County, according to records. Plans also call for commercial space. The financing marks progress…
IDI Logistics sells Pompano Beach warehouse for $26M
Warehouse developer IDI Logistics cashed out of a newly built Pompano Beach distribution center for $25.5 million. The Atlanta-based real estate investment trust sold the 134,000-square-foot building at 3001 West Copans Road to an affiliate of Morgan Stanley's real estate investing arm, according to records and deal data provider Vizzda.
Integra plans townhouse rental community near FAU in Boca Raton
Integra Investments wants to build a luxury townhouse community near Florida Atlantic University, the firm's second real estate play in the Boca Raton market. Integra principal Nelson Stabile said the firm envisions 100 to 120 rental townhouses on 8 acres at 2600 Northwest Fifth Avenue. The Miami-based developer bought the…
Banyan Cay Resort & Golf Club is headed toward foreclosure sale
A lender seeking to recoup $6.3 million in mortgage debt has initiated a UCC foreclosure sale for the distressed Banyan Cay Resort & Golf Club. Banyan Cay Resort Fund has set a Feb. 17 auction for the West Palm Beach hotel and adjacent development sites, according to a notice of sale. Brock Cannon with Newmark is the broker. Moecker Auctions in conjunction with Mannion…