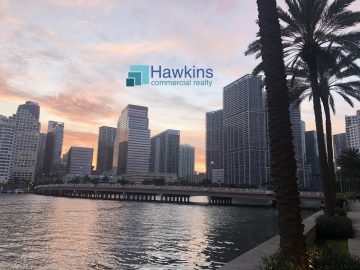 In $7M deal, Terranova adds another Miracle Mile building to Coral Gables portfolio
In a $6.8 million deal, Terranova added another Miracle Mile retail building to its Coral Gables portfolio. The Miami Beach-based commercial real estate firm headed by Chairman Stephen Bittel bought the one-story site at 93 Miracle Mile, making it the 15th property Terranova owns on the street, according to a press release. The holdings span 120,000 square…
Miami Building, Site of Murder Scene in 'Scarface,' Sells for $31M
Once the scene of an iconic cinematic murder, a South Beach building that now houses a CVS Pharmacy has traded hands for $30.9 million, property records show. The two-story building sits in a prime Miami Beach spot at 728 Ocean Drive, a popular pedestrian street, facing the beach. It served as a set in the gangster film 'Scarface,' starring Al Pacino. A bloody scene…
Realterm Logistics pays $15M for Miami warehouse
Realterm Logistics picked up a fully leased industrial facility near Miami International Airport for $14.7 million. An entity managed by executives of the Annapolis, Maryland-based firm bought the 4.4 acre site at 7480 Northwest 48th Street, according to records. Realterm, headed by CEO Robert Fordi, paid $287 a square foot for the 51,392-square…
Order up: Shorty's inks $15M sale lease-back of original restaurant near Dadeland Mall
Shorty's BBQ has been approached "tons of times" over the years by developers seeking to buy the restaurant's original location in Miami. The response was typically quick: No, said CEO Mark Vasturo. But the barbecue eatery finally said yes, after roughly a year of negotiations with buyers Atlantic Pacific Companies and Florida Value Partners. The developers…
Industrial vacancy rate hits record low: report
The squeeze is intensifying in the industrial real estate market, which is seeing record low vacancies and enormous net absorption, pushing up rents and following one record quarter with another. Cushman & Wakefield's industrial market report Wednesday found vacancy across the United States at 3.7 percent for the fourth quarter. It was the first time…
Miami Market Update: Office Vacancy Slips 120 bp
As of November, Miami's office vacancy rate dropped to 12.5 percent, clocking in 120 basis points lower than at the same point last year and 50 basis points below November 2019 levels, according to CommercialEdge. The gap between the metro's vacancy and the national average (15.2 percent) further widened. Miami's recovery has been on a definite…
Surfside collapse trial delayed to March 2023
The Surfside condo collapse trial was delayed by about six months to March 2023, despite an ongoing court push to bring justice to the victims as quickly as possible. Attorneys for the defendants – including the development team of neighboring condo tower Eighty Seven Park – argued that they need more time for their experts to complete their investigations into the…
The Closing: Todd Michael Glaser
Development is brain damage, at any budget. So if you're signing up for it, says Todd Michael Glaser, you might as well aim for the stratosphere. "The problem is, to build a three-bedroom, two bath, $400,000 house and build a $200 million house, every part, every moving part, is the same — it's just more money," Glaser said. "So why would I choose to build a $400,000…
Miami Market Update: Lowest Price Among Gateway Markets
In November, more than 372,000 square feet of office space traded in Miami, according to CommercialEdge data, representing a multi-building portfolio sale in Doral, Fla. Year-to-date through November, the market has seen office transactions amounting to a total of $1.7 billion, at an average of $300 per square foot. Transaction volume in the first 11 months of…
$14.75 Million Industrial Property Sale In Miami Airport Submarket Arranged
Cushman & Wakefield has arranged the sale of a 51,392-square-foot industrial facility on ±4.4 acres at 7480 NW 48th St. in Miami. The final sale price was $14.75 million. Cushman & Wakefield's Wayne Ramoski and Miguel Alcivar represented the seller, DFJ Properties West, LLC, in the transaction. The property was acquired by RLIF East 5…
Developers pick up historic church, dev site in Miami's Edgewater for $20M
Fifteen Group sold a historic church on Biscayne Boulevard in Miami's Edgewater for $20 million to a trio of developers that plan a mixed-use project on the site… Skylight Real Estate Partners and Panther Capital Management… to buy the nearly 1-acre property at 1836 Biscayne Boulevard and 256 Northeast 19th Street, near the Art…
Barry Sternlicht's Starwood Capital sells Westland Mall in Hialeah by reassigning $149M loan
Barry Sternlicht's Starwood Capital Group sold Westland Mall in Hialeah to a Dallas-based retail real estate firm. Centennial scooped up the mall at 1675 West 49th Street by assuming Starwood's $149.4 million mortgage on the property, records show. Starwood originally took out a $160 million loan on the mall in 2017. The current outstanding balance is…
AMAC scoops up Miami Beach retail building for $33M
AMAC paid $32.5 million for a Class A retail building in Miami Beach, near the Sunset Harbour neighborhood. AMAC partnered with Miami Beach developer Daniel Neary to buy 1800 Alton, a five-story urban retail center at 1800-1824 Alton Road, according to a press release. With 31,840-square-feet of retail space on two floors, 1800 Alton also…
CBRE to buy $4.9B global industrial portfolio
It may be a new year, but one of the largest-ever industrial purchases indicates the sector's hot streak isn't fading just yet. CBRE Investment Management recently agreed to buy a portfolio of logistics properties from Ross Perot Jr.'s Hillwood Investment Properties, according to the Wall Street Journal. The properties involved in the deal are valued at $4.9 billion.
Surfside collapse defendants deflect responsibility in new court docs
The Champlain Towers South condo association sued Morabito Consultants, Becker & Poliakoff and the Eighty Seven Park development team: The defendants in the lawsuit filed by survivors and families who lost loved ones in the deadly Surfside condo collapse deflected responsibility for the tragedy that killed nearly 100 people, newly filed court documents…
Entities tied to Adam Neumann picked up $1B in apartment buildings
Two years after a spectacular rise and fall, WeWork co-founder Adam Neumann's latest venture is reportedly beginning to take shape. Entities tied to Neumann have purchased majority stakes in more than 4,000 apartments across the United States, The Wall Street Journal reported, citing records and people familiar with the transaction. The holdings, largely…
Video: Could technologists become tomorrow's real estate moguls?
The summit of real estate used to be the domain of the "cowboys" — the Harry Helmsleys, Bill Zeckendorfs and Harry Macklowes, buccaneers who mastered the art of relationship-building and taking outsized risks. The industry then came to be dominated by the "suits," structured-finance whizzes such as Jon Gray and Marc Holliday who brought a Wall Street…
Jamestown sells Sunny Isles Beach apartment complex for $111M
In a $110.5 million deal, Jamestown sold a 308-unit landlocked apartment complex in Sunny Isles Beach. An entity managed by Chaim Freeman, who heads Los Angeles-based commercial real estate firm Buff Management, paid $357,142 per apartment for Beach Place at 17101 North Bay Road, according to records. That's more than triple the…
City-county battle stalls Coconut Grove Playhouse
After 15 years of delay, the Coconut Grove Playhouse is awaiting a court resolution to a dispute between the City of Miami and Miami-Dade County, which proponents say is the only barrier to the project moving forward. The playhouse, which closed in 2006, already has $23.6 million allocated by the county and a design team led by Arquitectonica and historic…
Ocean Drive to restore cars, add pedestrian plaza
After a chaotic and uncontrolled avalanche of party crowds during the spring break of 2020 that ended in arrests, ongoing curfews and the ultimate closure to vehicle traffic to the street, a southbound lane is opening again in South Beach's Ocean Drive along with a temporary pedestrian plaza, following months of discussions and holiday delays, the city has…
Vizcaya prepares to restore farm village
Restoration of Vizcaya Village in Vizcaya Museum and Gardens is planned and ready to go when the project's construction documents, submitted at the end of 2020, are permitted by the City of Miami, though restoration is still not fully funded. Vizcaya Museum and Gardens, previously known as Villa Vizcaya, is the former villa and estate of businessman James…
Coconut Grove business area stresses natural environment
The Coconut Grove Business Improvement District has set forth initiatives to get the community back out and once again enjoy one of the best attractions the neighborhood has to offer – its enriched natural environment. The Coconut Grove BID has been hosting micro-events intended to site moments throughout the neighborhood, said…
The Crosby Miami World Center is coming to Downtown Miami
Great news for those who were waiting for to invest in a new luxury tower with Airbnb capacity. A condominium building with contemporary architectural design is coming to Downtown Miami: The Crosby Miami World Center, developed by Related Group. The prestigious firm is behind many luxury buildings in South Florida, including Icon Brickell…
Developers buy former Rubell site in Wynwood, plan major mixed-use project
L&L Holding's David Levinson and Robert Lapidus, Carpe Real Estate Partners' Erik Rutter and David Weitz with a rendering of the project: Two New York developers bought a 3-acre assemblage in Miami's Wynwood where they plan to build a mixed-use office, retail and residential development on a site that includes the former Rubell Museum.
Major NY Developers Close On 3 Prime Acres In Wynwood For 1M SF Project
Two real estate firms with roots in New York are betting big on Miami's trendy Wynwood neighborhood. L&L Holding Co. and Carpe Real Estate Partners have closed on a 3-acre assemblage to build The Wynwood Plaza, a planned 1M SF project with office, residential and retail space, plus a 25K SF public plaza. The acquisition comes about a year and a half after…
Family of Real Housewife's ex-husband buys South Beach retail building for $7M
The Gebbia family, owners of Siebert Financial and once linked to the "Real Housewives of Beverly Hills," bought a retail building in South Beach for $6.8 million. The property at 653 Collins Avenue in Miami Beach will serve as the Florida headquarters for Siebert Financial and Rise Financial, according to Katrina Campins of the Campins Company, who…
Artemis Real Estate buys southwest Miami-Dade apartments for $71M
The Olivia apartment complex north of Homestead traded for $70.5 million, marking a continuation of a flurry of deals fueled by a robust multifamily market. Artemis Real Estate Partners bought the southwest Miami-Dade County community at 14981 Southwest 283rd Street from Alcazar Development Group, according to property records. Artemis…
Kolter buys 41-acre site in Homestead for $17M from Lewis Swezy
Kolter Group nabbed a development site in Homestead for $17.2 million. An affiliate of the Delray Beach-based developer acquired the 41-acre site at 202 Northeast 18th Avenue, according to records. Seller South Wind Apartments, led by Miami Lakes-based developer Lewis Swezy, had planned to build 400 townhomes and apartments on the former…
South Florida real estate's biggest stories of 2021
All eyes were on South Florida real estate for various reasons in 2021, from rising rents that propelled record investment trades to huge multimillion-dollar home sales, to the expansion of financial giants such as Blackstone, and the many preconstruction condo sales launches. But the deadly collapse of the Champlain Towers South that…
Student housing developer buys assemblage near University of Miami for $23M
Landmark Properties bought a student housing complex and adjacent development site west of the University of Miami. Athens, Georgia-based Landmark bought The Cloisters Miami, a two-building rental community at 5830 Southwest 57th Avenue, and the 2 acres of vacant land next door for $23.3 million, records show. Landmark also closed on a $41.8 million…
Pembroke Park approves 6-acre retail development with a Wawa
A developer won site plan approval for Seneca Town Center, a 6.2-acre commercial project with a Wawa convenience store and gas station in Pembroke Park. Ferber Company plans to build the four-building development at 3195 West Hallandale Beach Boulevard. The project, with nearly 130,000 square feet of space, will also include a self-storage…
Bridge Industrial buys Pompano Beach Commerce Park for $46M
Bridge Industrial scooped up the Pompano Beach Commerce Park industrial complex for $46.3 million, amid strong investor appetite for South Florida's robust logistics real estate market. The Chicago-based industrial real estate investor and operator scooped up the three-building property on the southwest corner of North Powerline Road and Northwest 16th Street…
Shahab Karmely nabs $128M condo inventory loan for new Hallandale project
Developer Shahab Karmely closed on a $128 million condo inventory loan for an oceanfront development in Hallandale Beach, replacing the project's $103 million construction loan, The Real Deal has learned. Karmely's KAR Properties secured the loan from Madison Realty Capital. It pays off debt that Apollo Commercial Real Estate issued in 2018.  The 38-story, 64-unit…
Kobi and Nancy Karp buy Walgreens-leased property in Delray Beach
Architect Kobi Karp and his wife Nancy paid $5.7 million for a Walgreens-leased property in Delray Beach that sold a year ago for $2 million less. The Karps' 10 Congress WG LLC bought the property at 10 South Congress Avenue from Congress Avenue Realty, an LLC managed by George A. Morgan III, records show. The 13,778…
Banking on Boynton Beach: Nuveen drops $126M for apartment complex
Nuveen Real Estate dropped $125.9 million to acquire The District Boynton, a 350-unit apartment complex, notching the latest in an ongoing string of big ticket multifamily deals in South Florida. An entity managed by executives of the New York-based real estate investment firm bought the three-building project at 1000 Audace Avenue…
Royal Castle Companies buys offices at Boca's Park at Broken Sound
Elliot Stone's Royal Castle Companies scooped up two office buildings in Boca Raton's Park at Broken Sound for $8.9 million. Royal Castle, through an affiliate, bought the properties at 6501 and 6531 Park of Commerce Boulevard from MTI Properties Florida, according to a news release from the buyer's broker. Reese Stigliano of Stigliano Commercial Real…
AHS Residential sells a pair of Lake Worth Beach apartment complexes for $82M
AHS Residential sold a pair of Lake Worth Beach apartment complexes for a combined $81.5 million, reflecting ongoing investor appetite for South Florida's well-performing multifamily market. Social Housing bought the Village at Lake Osborne at 2430 Lake Worth Road and the Village at Lake Worth at 2220 Lake Worth…
Starwood snaps up Palm Beach County apartment complexes for $176M
Affiliates of Starwood Capital Group paid $176.4 million for a group of affordable housing complexes in Palm Beach County. Companies led by David Page of Southport Financial Services sold the properties at 8215 Belvedere Road in West Palm Beach, 301 and 303 North Congress Avenue in West Palm Beach, as well as 101 Pine Circuit in Greenacres, records…