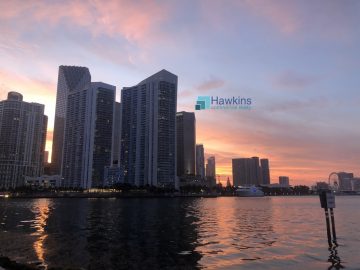 Bridge Development, PGIM to Develop 312,103 SF Cold Storage Facility Near Miami
Bridge Development Partners and PGIM Real Estate will develop Bridge Point Cold Logistics Center, a 312,103-square-foot cold storage facility in Hialeah. The joint venture expects to deliver the speculative property in fourth-quarter 2021. The 20.1-acre site is situated at the intersection of NW 162nd Street and NW 102nd Avenue, 18 miles northwest of Miami…
Bridge and PGIM buy Hialeah property to build spec cold storage facility
Bridge Development Partners and PGIM Real Estate bought a 20-acre site in Hialeah, with plans to build a spec cold storage facility. The joint venture bought the property between Northwest 162nd Street and Northwest 102nd Avenue for $11 million, according to sources. Section 17 LLC, led by Lloyd Moriber of Bal Harbour, sold the…
Atlanta Fed: Beige Book Reflects Ongoing Pandemic-Related Difficulty
Economic conditions remained generally challenging across the Southeast, though some Atlanta Fed contacts reported gradually rehiring laid-off workers and retailers noted rising sales as businesses reopened, according to the Beige Book summary of regional economic activity from mid-May through June. Although some retailers said uncertainty still clouds their…
Simon Property Group sics the lawyers on deadbeat tenants
Simon Property Group has kept its promise to sue mall tenants who aren't paying their rent. On Tuesday, the country's biggest retail real estate investment trust filed a lawsuit against Eddie Bauer, seeking to recover $6.2 million in missed rent payments. The outdoor clothing store chain has not paid rent since April, according to records filed in federal court. Last…
Video: The Top Ten Issues Affecting Commercial Real Estate 2020-2021
In these videos CRE Counselors Global Chair Michel Couillard discusses his firm's report on the Top Ten Issues Affecting Real Estate with the host of America's Commercial Real Estate Show. As you might guess, (1) COVID-19 is at the top of this year's list. Other top issues discussed that affect commercial real estate are (2) economic renewal, (3) capital markets…
Armageddon on hold: 88% of tenants paying rent
Survey finds 87.6 percent of tenants paid some rent this month With enhanced unemployment benefits set to expire this month, 87.6 percent of tenants paid some rent through July 13, according to a national survey of market-rate units. The number of renters paying at least some of the month's rent was only slightly lower than the 90.1 percent during the…
Hialeah CVS sells for $11 million
Eastern Industrial Development Corp. snagged a Hialeah CVS building for $10.5 million, as drugstore properties continue to sell during the coronavirus pandemic. The Bronx, New York-based real estate investment group, led by Scott and Mandy Milchman, bought the 12,735-square-foot building at 101 Hialeah Drive, according to sources. It sold for $824 per…
Blackstone says goodbye to CMBS fund
Blackstone Group is throwing in the towel on a mortgage-backed securities fund. The company is winding down the Blackstone Real Estate Income Master Fund, which realized a 24 percent decline when the coronavirus struck in March, according to Bloomberg. In a filing, Blackstone said closing the fund would provide its shareholders with cash and the "best path…"
Miami Beach shuts down short-term rentals due to coronavirus
The city of Miami Beach ordered all short-term rentals to stop operating effective Wednesday at 12:01 a.m. due to the record number of coronavirus cases. Miami Beach updated its emergency order to close and prohibit short-term rentals, a week after Miami-Dade County Mayor Carlos Gimenez issued restrictions on restaurants, gyms, fitness centers and short-term…
Office supply rising across South Florida, rents not dropping
Even with an onslaught of new office supply and the economic impacts of coronavirus, landlords did not give tenants a rent break during the second quarter, according to a new report from JLL. Miami-Dade County's office market was hit hard by the pandemic, due partly to its exposure to the hospitality industry. Interval International, a vacation and timeshare…
South Dade bus rapid transit finally hits the runway
The money is in. A developer is on deck. Two years after decision-makers voted to upgrade Miami-Dade's longest commuting route with "Gold Standard" bus rapid transit (BRT), it's close to rolling ahead. Commissioners Sept. 1 are to finally green light a $300 million overhaul of the 20-mile, two-lane busway linking Kendall and Florida City. It's the first of six high…
Former Wynwood tow yard ticketed for new tower
A developer has won positive reviews from City of Miami officials for a large mixed-use residential project in Wynwood. The development would result in the reuse of the former site of the Downtown Tow Yard, which ceased operations several years ago. EEFC 2400 NMA Owner LLC intends to construct a 12-story building and enclosed garage on the site, bringing…
Long-awaited Underline sets opening date this fall
The Underline was always an ambitious concept, a $120 million 10-mile linear park that will weave through several municipalities, invigorating the space beneath the Metrorail. Now the Underline is preparing for another bold move: opening during a pandemic. Meg Daly, president and CEO of Friends of the Underline, shared at a recent Downtown Development…
Judge Rules Against Affordable Housing Investor In LIHTC Dispute With Big Ramifications
A Massachusetts-based real estate firm invested about $400K into a Miami-area affordable housing project in 2014 and was gunning for a multimillion-dollar payout on the exit last year, but its nonprofit partner foiled the plan. An affiliate of HallKeen Management had lined up a deal to sell the project, called Aswan Village, for $21M, and split profits with its…
Local Court Win Is a Victory for Affordable Housing Communities Nationwide
On July 7, the Circuit Court of the 11th Judicial Circuit in Miami-Dade County ruled to preserve the housing needs of low- to moderate- income families in one of South Florida's most historic yet distressed cities, Opa-locka. In Case No. 2019-CA-016913, the plaintiff, Opa-Locka Community Development Corporation (OLCDC), asked the court to recognize its non…
Two-nation team powers ahead to build Florida-Mexico sea trade
With the US-Mexico-Canada agreement taking effect this month, the newly formed Florida/Mexico Working Group is looking at ways to expand maritime trade between the two economies. The group, which formed as a result of a letter of intent signed in November by the Florida Ports Council and Mexican Coordinadora de Puertos, consists of six members from…
Scaled down PortMiami cruise terminal deal adds Disney
MSC Cruises and Miami-Dade are close to redrawing an agreement that would give the company more time to finance its planned "mega terminal" that now, under the new terms, would also homeport Disney Cruise Line vessels. The amendment to MSC's existing 62-year berthing deal, expected to generate $2.03 billion for the county, was one of two changes to long…
Life-sciences sector proves safe haven for landlords
The search for a cure for Covid-19 is lining the pockets of some landlords. While the pandemic wreaks financial havoc on hotels and retailers, landlords who cater to biotech and pharmaceutical tenants are seeing increased demand as companies research treatments for the coronavirus, according to the Wall Street Journal. The work of those tenants, too, is…
Dezer Development's plan to remake Intracoastal Mall moves forward
Rendering of the proposed redevelopment of the Intracoastal Mall and Gil Dezer Dezer Development can move ahead with its plans to transform Intracoastal Mall in North Miami Beach into a high-rise, mixed-use community. Despite opposition from several nearby homeowners, the North Miami Beach Planning & Zoning Board approved Dezer…
New York & Company parent files for bankruptcy
New York & Company's parent company is the latest chain to file for bankruptcy as the coronavirus has piled additional pressure on an already challenging retail landscape. RTW Retailwinds, whose other brands include Fashion to Figure and Happy x Nature, filed for Chapter 11 protection Monday, and has already kicked off liquidation sales, CNBC reported.
Morgan Stanley Signs New 44K sf Tenant at Medley Warehouse
Morgan Stanley has signed a 44,259-square-foot lease with engineering firm AmePower at Flagler Station II, a 171,944-square-foot industrial facility in Miami-Dade County. The tenant is scheduled to occupy the property in the town of Medley in December. The lease includes 36,759 square feet of warehouse space along with 7,500 square feet of office space and 14 dock…
Colony Capital may lose control of 2 largest CMBS hotel portfolios
When Colony Capital revealed in May that it was in discussions with lenders after having defaulted on $3.2 billion in hotel loans, the Tom Barrack-led firm cautioned "there can be no assurances that the company will be successful in such negotiations." In fact, at the time the Los Angeles-based investment firm had already defaulted on a forbearance agreement…
Party's over: Clevelander South Beach closes after employee tests positive for Covid
Clevelander South Beach The Clevelander South Beach closed over the weekend after an employee tested positive for Covid-19, a month after reopening. The closure comes as the commercial mortgage-backed securities loan backing the hotel is in special servicing. A spokesperson for the 60-key hotel at 1020 Ocean Drive in Miami Beach confirmed that…
Industrious taps banker Osei Van Horne to round out its board
Jamie Hodari Flex-office startup Industrious is beefing up its board, the company's latest step toward a potential public offering. The New York-based startup said it added Osei Van Horne, a managing director at Wells Fargo, as its first Black board member. Van Horne, an alum of Goldman Sachs, co-founded Wells Fargo's Strategic Capital Technology Division…
Yes in God's Backyard: How building affordable housing could be a lifeline for churches
Churches, whose already declining attendance plummeted during the pandemic, are now looking to development for extra cash. Places of worship are offering up their excess land to developers, Bloomberg reported. The prospect is a particular draw for institutions looking to combat homelessness. Before the coronavirus hit, more than 550,000…
WeWork on track for profitability by end of 2021, says chairman
WeWork's business model may have been called into question by the coronavirus pandemic, but its executive chairman says the company is now near profitability. The flexible-office startup, founded in 2010, is now on track for positive cash flows by the end of 2021, Marcelo Claure told the Financial Times. In fact, Claure said the pandemic has sent the firm's…
South Florida's Largest Off-Market Freezer Warehouse Sells For $13.25 Million
CBRE Senior Vice Presidents Larry Genet, Tom O'Loughlin and Senior Associate Jake Zebede negotiated the purchase of an ±80,000-square-foot freezer facility located at 650 NE 185th Street in Miami. Genet led the team in representing the buyer, Ivy Realty, which paid $13,250,000 in the off-market deal. Stuart T. Kapp of Kapp Morrison LLP represent Ivy Realty…
An 80,000 sq ft freezer warehouse sold for $13,250,000 or about $165 psf. The property is located at 650 NE 185th Street in Miami, Florida. The seller, Best Freezer Holding, was represented by Edward Redlich, SIOR, CCIM along with the ComReal Miami Industrial Team and Michael Weihl with Sirius Business Advisors. The buyer, Ivy Realty, was represented by Larry…
Spain's richest man owns $17B in real estate, includes Miami tallest office tower
Amancio Ortega, the richest man in Spain, owns more than $17.2 billion in real estate across the world. The founder of fast fashion label Zara brought in 621 million euros through his real estate assets last year, according to Bloomberg. Ortega's company, Pontegadea, revealed its holdings for the first time this week. Ortega spent nearly $2.4 billion on property last year…
Miami-Dade approves $10M emergency rent relief program
Miami-Dade County approved a $10 million rent relief fund for families impacted by the pandemic. The county commission voted to pass the Emergency Rental Assistance Program, which will provide a one-time payment to eligible renters. Families can apply beginning on Tuesday and ending Friday, July 17, according to a press release. To qualify, a renter's…
US hotel occupancy falls for first time in 11 weeks. Blame Covid again
Coronavirus spikes and subsequent closures snapped 11-week streak of rising hotel occupancy rates The 11-week climb in U.S. hotel occupancy rates ended ahead of the July 4 holiday, in part because of the spike in coronavirus cases led states to roll back their reopenings and close beaches. New hotel rooms that came online also tamped down overall demand…
Amazon wins approval to build massive facility in south Miami-Dade
Amazon secured approval to build what could be its largest distribution facility in South Florida. Miami-Dade County commissioners voted unanimously on Wednesday to sell a vacant lot at 13200 Southwest 272nd Street in south Miami-Dade to Amazon, according to the Miami Herald. Amazon will pay the county $22.1 million for the site, which will allow…
Bidders line up to buy Brooks Brothers out of bankruptcy
Two suitors are competing to take over suiting stalwart Brooks Brothers after it filed for Chapter 11 bankruptcy this week. An entity tied to Authentic Brands Group and mall owner Simon Property Group are considering a bid to buy the retailer out of bankruptcy, the Wall Street Journal reported. WHP Global, which is backed by Oaktree Capital and…
Can a Rational Case be Made for Irrational Exuberance?
In my commercial real estate brokerage business, I've noticed a trend of some buyers expecting lower prices on properties, sometimes even clearly taking offense at a seller not budging on price. There seems to be, with them a sense that they know better to such a degree that they are disgusted by the gall and ignorance of some seller that can't see what they know…
The impact of social distancing on leisure and hospitality : State-level data from the BLS
The FRED Blog has discussed the impact of the COVID-19 pandemic on national retail sales and employment. And Leibovici, Santacreu, and Famiglietti index the contact-intensity of a range of occupations and estimate the economic impact of their reduced activity. Their work ranks several leisure and hospitality occupations in the high-contact category.
Restaurateurs to protest restrictions in Miami-Dade. In Broward, it's a different story
It's a tale of two counties, as restaurateurs and gym owners in Miami-Dade and Broward face new restrictions due to rising Covid-19 cases. The cutbacks have led to outrage among many local businesses, with a march planned Friday in downtown Miami. In Miami-Dade, Mayor Carlos Gimenez on Monday initiated…
Knotel's Q2 revenue plunged 20%
Flex-office startup Knotel said its revenue plunged 20 percent during the second quarter, offering a glimpse of the economic toll the pandemic is having on the office market. CEO Amol Sarva said the preliminary numbers reflect a "really hard" quarter that forced Knotel to cut jobs and slash expenses. "What we saw in Q2 was really difficult," he said during a…
CRE Broker CEO predicts "exodus" from cities to last two years
New York City is reopening, but Marcus & Millichap's CEO is not predicting a return to form anytime soon. Hessam Nadji told CNBC in an interview this week that demand was surging in suburban areas as people fled cities, a trend he predicted would continue for up to two years. "I think the next 18 to 24 months are going to show a lot of exodus out of central business…"
JV Buys Broward County's Largest Office Tower
Along with co-general partner Somerset Properties, Ten Capital Management has acquired Bayview Corporate Tower, a 413,833-square-foot Class A office building at 6451 N. Federal Highway in Fort Lauderdale, Fla. The 12-story property reportedly is Broward County's largest office building. The acquisition's price was not disclosed, but local media…
Bridge Investment sells Fort Lauderdale office building for $83M
Bridge Investment Group sold the Bayview Corporate Tower in Fort Lauderdale for $82.5 million, marking one of the largest commercial real estate deals in South Florida during the pandemic, The Real Deal has learned. Somerset Properties bought the 12-story, 413,833-square-foot office building at 6451 North Federal Highway, according to sources. The price…
Bed Bath & Beyond to close 200 stores
Bed Bath & Beyond may have to rethink the 'beyond' part. The retailer said Wednesday that it will close 200 stores over the next two years. Although online sales more than doubled during April and May, the company's total sales fell by nearly half during its latest quarter. As a result, Bed Bath & Beyond will begin to permanently close a portion of its locations…
How Climate Change Could Affect CRE Valuations
MSCI, the financial services company formerly known as Morgan Stanley Capital Investment, used its own model to assess that risk.
"Many assets investors own can only figuratively be underwater when a company becomes insolvent or a stock loses all its value. But for real estate, with long-life fixed assets, there is — literally — a real possibility a…
The Landmark South Holds Topping Out Ceremony in Doral
The Landmark South held a topping out ceremony in Doral, Miami on Friday to recognize the final phase of its apartment development construction. Targeting a Summer 2021 opening, this second and final phase will add 213 residential units to the existing 418 units which were constructed in 2017 and are currently leasing. The eight-story…
Outdoor Meeting Spaces And Better Tech: Design Changes Post-Pandemic
Steve Jobs was famous for conducting meetings while strolling around Palo Alto. Jeff Bezos would walk in Central Park to discuss his idea for an online store. Fresh air, pumping blood and strolling shoulder to shoulder can eliminate the stress that might otherwise come from staring down a person across a table in a boardroom. When architect Andrew Burnett, now…