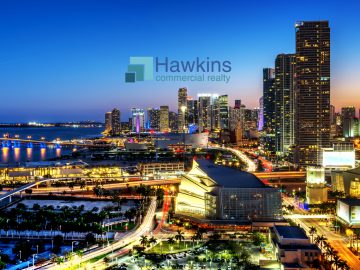 Steve Ross' plan to redevelop oceanfront Deauville into Frank Gehry-designed project heads to Miami Beach voters
After securing the blessing of the majority of the Miami Beach City Commission, billionaire developer Stephen Ross' proposal to build a two-tower residential and hotel complex on the site of the historic Deauville Beach Resort is heading to voters Nov. 8. Miami Beach Commissioner Kristen Rosen Gonzalez was the sole 'no' vote on the three resolutions…
Helm Equities Announces Plans for $300M Office Building in Miami's Design District
Helm Equities has announced plans for Parterre 42, a $300 million office building that will occupy a full city block between NE 42nd and 43rd streets in Miami's Design District. The 500,000-square-foot development will offer 80,000 square feet of functional outdoor space dispersed across each floor of the building with communal work tables, outdoor power and…
Helm Equities Launches $300M Miami Office Tower
Helm Equities, a division of NYC-based JEMB Realty Corporation, has unveiled plans for Parterre 42, a 500,000-square-foot mixed-use office and retail development in Miami. COOKFOX Architects will design the $300 million tower, marking the firm's first high-rise project in the South Florida market. CBRE will oversee the leasing of the property. The project aims…
500K SF Office, Retail Project Coming To Miami Design District
Helm Equities unveiled a proposal to develop Parterre 42, a 500K SF high-rise with office and retail space in the epicenter of the Miami Design District. The $300M project is being designed by Cookfox Architects, a design firm known for its biophilic aesthetic and for creating indoor-and-outdoor working spaces, according to Bloomberg. Helm, an affiliate…
Miami's CBD Is Getting Mind-Boggling Office Rent Increases – 42% Year-Over-Year. Thank Tech
For the first time in history, the average asking rent for office space in Miami skyrocketed to more than $50 per SF in Q2. Brickell is dominating the market — its 42% year-over-year rent increase surpassed Manhattan and Los Angeles, according to a JLL report. Migration of America's top talent to Miami is the main factor driving high rents and making…
Ari Pearl, partners plan 700 apartments in North Miami Beach
Ari Pearl's PPG Development wants to build an apartment complex on the Nova Southeastern University campus in North Miami Beach, The Real Deal has learned. The plan is for a roughly 700-unit, market-rate complex with indoor and outdoor amenities on the 8.8-acre site at 1750 and 1775 Northeast 167th Street, Pearl told TRD. Matt Press of EquiShares and…
Lions, Fortis Design propose 57-story apartment tower in downtown Miami
Lions Group NYC and its development partner propose a 57-story apartment tower on the site of a public parking garage along an I-95 ramp in downtown Miami. The Long Island-based firm and Miami-based Fortis Design + Build, want to build the 675-unit M Tower on an acre at 56 and 70 Southwest First Street, as well as at 65 Southwest Second Street…
Citadel's Move to Miami Emblematic of Local Real Estate's Transformation
It was recently announced in the news media that billionaire Ken Griffin is moving his $50 billion, 1,000-person hedge fund and trading firm – Citadel Securities – from Chicago to Downtown Miami. Citadel Securities is a giant in the financial services industry. Formed in 2002, Citadel Securities is the largest market maker on the New York Stock Exchange, providing…
Massive auto club plan promising 2,609 jobs reworked as Project iTECH
Miami-Dade is expecting the redevelopment of 160 acres at the Landmark property into a new mixed-use economic development project to include housing, light industrial manufacturing, education, recreation, and a new government center in the northwestern part of the county. Project iTECH is to be completed by developer 13 Pista LLC… at 20000 NW 47th Avenue…
Beacon Council cites 108 active relocation or expansion projects
No companies have sought tax incentives to relocate here under the Miami-Dade Relocation and Expansion Incentives Program created by the county commission last year and led by the Beacon Council, but the county still has been able to attract new businesses and foster expansions. Recent announcements of relocations and expansions include A-Cap, Azamara…
County sets industry day for 20-acre downtown Miami project
Miami-Dade staff is still crafting a bid solicitation to be out in late July to redevelop over 20 acres of county-owned properties downtown, a spokesperson for the county's District 5 confirmed to Miami Today. The county is to hold an industry day Aug. 9 to meet with companies interested in bidding on the project. Government agencies usually hold this type…
Freedom Tower heads to $25 million renovation
Miami Dade College's $25 million state-funded renovation of its historic Freedom Tower will focus on urgent structural repair and is in design development with engineers and architects, said President Madeline Pumariega. The focus is on repairing pipes, improving water and sewer infrastructure and outside restoration. The building at 600 Biscayne…
Bridge Industrial Plans Miami Logistics Facility Near Opa-Locka Airport
Bridge Industrial has acquired 26 acres of land adjacent to the Miami Opa Locka Executive Airport in Miami, where it plans to build a 409,189-square-foot logistics facility called Bridge Point Gratigny. Completion is slated for early 2024. The developer purchased the site at NW 135th and NW 47th streets from AA Acquisitions. The site requires some environmental…
Resia scores $60M construction loan for workforce housing complex near Cutler Bay
Rendering of the Resia Old Cutler workforce apartment complex in south Miami-Dade County with Resia's CEO and President Ernesto Lopes: Resia, a multifamily developer formerly called AHS Residential, scored a $60 million construction loan for a workforce housing complex in south Miami-Dade County. PNC Bank provided the loan for the Resia Old Cutler rental….
Habitat Group sells Little Havana apartments to LA investors for $15M
Habitat Group sold a recently completed Little Havana apartment project for $15 million shortly after offloading a Brickell redevelopment site for $23.5 million. Four entities managed by Richard Gerber, Brett Talla and David Talla bought East River Living, an eight-story building with 34 apartments at 39 Northwest Seventh Avenue in Little Havana, property…
Recession Threatens To Slow South Florida's Booming Office Market
Office deals in South Florida appear to have slowed as companies reassess their growth strategies, a Colliers broker told the Business Journal. Mark Rubin, executive managing director of Colliers' Boca Raton office, said some companies are rethinking their expansions due to inflation and a looming recession. "New office requests have been tempered a little bit," Rubin…
Video: PwC Real Estate Deals Leader Tim Bodner Discusses Firm's Midyear 2022 Outlook for Real Estate
2022 Midyear Outlook for Real Estate. The discussion includes forecasts for all the major commercial real estate sectors, future opportunities within the various sectors, and overall commercial property deal activity. The conversation digs into some of the changes due to and implications of disruptions in commerce in general over the past few quarters.
Video: Office Market Forecast with Moody's Analytics' Thomas LaSalvia, PhD
Thomas LaSalvia, PhD with Moody's Analytics CRE joins America's Commercial Real Estate Show to discuss predictions for office properties, central business district and suburban office property performance, and opportunities ahead for office investors.The post Video: Office Market Forecast with Moody's Analytics' Thomas LaSalvia, PhD appeared…
Bridge Industrial pays $16M for logistics facility dev site near Miami-Opa locka airport
Bridge Industrial's Steve Poulos and an aerial of the development site, south of the airport in unincorporated Miami-Dade County: Less than a month after scooping up a Dania Beach logistics facility development site, Bridge Industrial is embarking on another project farther south near Miami-Opa locka Executive Airport. The Chicago-based company plans to build…
Feds slap Bal Harbour-based developer Eric Sheppard with PPP fraud indictment
A Bal Harbour-based developer who was close pals with an infamous Ponzi schemer allegedly stole nearly $900,000 from the U.S. government's Paycheck Protection Program, also known as PPP, according to a recent federal indictment. Eric Sheppard, owner of WSG Development, is facing one felony count of wire fraud for allegedly submitting "false and…"
Rockpoint's Brickell bonanza: Firm reaps riches in booming neighborhood
Rockpoint's Bill Walton and Keith Gelb with the Shops at Mary Brickell Village, 1221 Brickell, and 911 Southwest First Avenue: Getting to the Brickell party early paid off big time for Rockpoint. The bustling mixed-use downtown neighborhood has become one of the key beneficiaries of the "we're moving to Miami" craze. It's attracting blue-chip real estate…
Caroline Weiss locked in legal conflict with daughter over $21M loan tied to massive Blue Lagoon development
Developer Caroline Weiss is locked in a mother-daughter feud that could unravel her plans for a massive mixed-use project in Miami's Blue Lagoon. A vacant 7-acre waterfront assemblage on Northwest 7th Street and Northwest 48th Avenue is at the center of the family conflict. The site, which consists of three separate properties, has been owned by the…
"Forced and contrived": Fisher Brothers' Wynwood rental project strikes out with Miami board
Fisher Brothers' proposal for an eight-story apartment building on a former Miami Rescue Mission site in Wynwood struck out with a Miami design review board. The New York City-based family owned development firm opted to defer its proposal and rework aspects of The Wynhouse project after members of the Wynwood Design Review Committee on…
Helm Equities, Gindi family want to plant 500K sf office/retail project in Miami Design District
As demand from new-to-market firms heats up in South Florida, Helm Equities is beefing up its plan for a giant office and retail project in the Miami Design District, six years after acquiring the development site. The New York-based real estate firm and its partner, the Gindi family, are proposing a $300 million mixed-use complex spanning 500,000 square…
MCSS Rebrands As Basis Industrial, Closes Major Acquisition In Medley
The former MCSS Self-Storage Development & Investment has rebranded as Basis Industrial and broadened its investment focus to include traditional industrial properties in high-value markets across the nation. In a one-week span, the vertically integrated real estate owner and developer completed a significant acquisition in Miami through its subsidiary BaySpace.
Fed's Beige Book: Activity Grows, but More Slowly
Economic activity in the Southeast continued to grow but at a slightly slower pace in early summer, according to the Federal Reserve Bank of Atlanta's new Beige Book compilation of anecdotes from business contacts. From mid-May through June, retailers reported healthy sales, and travel and tourism contacts said leisure travel remained strong and…
Northlink Capital buys Hallandale Beach Opportunity Zone site for $26M, plans mixed-use project
Fresh off winning approval for a Miami Beach condo project, Northlink Capital bought a Hallandale Beach development site for $26 million. An entity with the same corporate address as the New York-based real estate development and investment firm acquired the 1.5 acre-property at 900 South Federal Highway, records show. The buyer took out a $15.6…
Lauderhill fattens tax break for Le Parc, Vivian Dimond's planned 330-unit multifamily development
Developer and broker Vivian Dimond won a bigger tax break to offset the increased cost of building Le Parc at Lauderhill, a planned 330-unit apartment development. The Lauderhill City Commission this week increased the maximum amount of property tax abatement over 10 years on the 9.9-acre Le Parc development to $9.1 million from $6.3 million.
Freshwater expands South Florida commercial portfolio with $16M Coconut Creek purchase
Looking to diversify its South Florida portfolio, Freshwater Group bought a Broward County mixed-use property for $15.7 million. In recent months, commercial investors like Freshwater have boosted their interest in acquiring retail sites in the tri-county region's suburban submarkets, as both sectors have rebounded significantly since the height of the…
Triangle Services pays $17.5M for Fort Lauderdale industrial building
As South Florida's robust industrial market continues to catch the interest of investors, an aviation services company paid $17.5 million for a Fort Lauderdale warehouse. Valley Stream, New York-based Triangle Services, through an affiliate, bought the 93,193-square-foot, fully leased building at 1600 Northeast 12th Terrace from an entity tied to Gregg Wallick's…
FCP, Mill Creek pay $25M for multifamily dev site next to NSU in Davie
Mill Creek's William MacDonald with FCP's Alex Marshall, Esko Korhonen and Lacy Rice in front of rendering of the Modera Academical Village project: A joint venture between FCP and Mill Creek Residential bought a multifamily development site next to Nova Southeastern University's campus in Davie. Chevy Chase, Maryland-based FCP and Boca Raton…
Ritz-Carlton to brand Catalfumo's Palm Beach Gardens luxury condo project
Developer Dan Catalfumo's waterfront luxury condo development in Palm Beach Gardens will be branded Ritz-Carlton. The Catalfumo Companies project, formerly known as the Landing at PGA Waterway, will now be the Ritz-Carlton Residences, Palm Beach Gardens, the Palm Beach Post reported. It will consist of three six-story buildings with 98 units.
Double scoop: Extra Space Storage drops $29M for two West Palm Beach complexes
Extra Space Storage hit a double play with a $29.2 million acquisition of two self-storage complexes in West Palm Beach. Affiliates of the Salt Lake City-based self-storage real estate firm, led by CEO Joseph Margolis, bought a 56,307-square-foot self-storage facility at 401 North Military Trail for $12.4 million, records show. Extra Space Storage also paid $16.8 million for…
Developers pay $41.5M for bayfront condo towers dev site in West Palm Beach
Hines and Frisbie Group paid $41.5 million for the waterfront West Palm Beach development site for their planned South Flagler House luxury condo towers. Flagler Towers Project Dev bought the 3-acre property on the northeast corner of South Flagler Drive and Diana Place from Palm Beach Atlantic University, according to records. The buying entity took out a…
Lease roundup: Stephen Ross' downtown West Palm project scores financial firm tenants
A rendering of One Flagler in downtown West Palm Beach and River Landing Shops & Residences in Miami with Related Companies Stephen Ross and Andy Hellinger and Coralee Penabad of Urban-X Group, developer of River Landing: GTCR, Diameter Capital Partners I One Flagler I Downtown West Palm Beach Stephen Ross' One Flagler office tower…
Kolter pays $37M for golf course dev site proposed for 707 homes near West Palm Beach
Kolter Group paid $36.9 million for a former golf course near West Palm Beach that is proposed for redevelopment as a townhouse community. An affiliate of Kolter Land, Kolter's residential land development arm, bought the 57.3-acre site on the northeast corner of Okeechobee Boulevard and North Haverhill Road from…
Ken Griffin's South Florida state of mind: Citadel to open Palm Beach office
Ken Griffin continues storming into South Florida, with Citadel poised to take over the former Neiman Marcus building in Palm Beach. The Chicago-based hedge fund is setting up an office in the former 48,578-square-foot department store at 151 Worth Avenue, according to Bloomberg. In May, an affiliate of Jeffrey Camp paid $78 million for the three-story building…