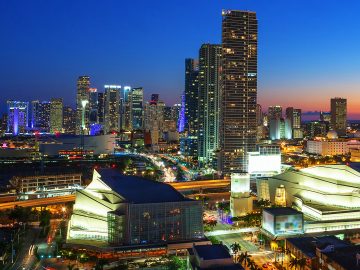 Baywood buys site in Blue Lagoon to build 225-room hotel
1101 Northwest 57 Avenue Miami (Credit: Google Maps) Baywood Hotels paid $10.5 million for part of a lot in the Waterford at Blue Lagoon office park where it has approval to build a 225-room hotel. Baywood bought the 1.4-acre property at 1101 Northwest 57 Avenue in Miami for $166 per square foot, records show. The seller is Blue Lagoon Development LLC, which is tied to Miguel Mouriz of New…
Miami commissioners approve Adler's mixed-use project on city property
Michael Adler and a rendering of Miami Riverside Center A deal by the Adler Group to redevelop the city of Miami-owned Miami Riverside Center won narrow approval by commissioners, despite criticism tied to the developer building a new city administrative building. The Miami City Commission voted 3-2 on Thursday to approve the 99-year lease agreement with Lancelot Miami River LLC…
Miami River Commission asks city to sink development plan
The Miami River Commission voted unanimously Monday to recommend that the City of Miami not approve 555 River, a proposed 12-story hotel and office complex at 517–663 NW South River Drive. Board members listened as a parade of residents from the historic Spring Garden neighborhood complained that the project is out of scale for the area, is not in keeping with the area's marine character…
The Long-Coming Largest American Mall – American Dream Miami – Another Step Closer
Rome wasn't built in a day, and the next property to take the title of largest mall in the United States won't be either. The American Dream Miami was proposed about three years ago and might not be complete until after the mid-2020s. But the property is now closer to realization, with work set to begin on a critical piece of infrastructure necessary for the project. Bids are due this month on the…
Sec. Carson Cuts Ribbon On Redevelopment Of Liberty Square Public Housing Project From 'Moonlight'
An apartment for $147 per month? In Miami? Sharon Gregory couldn't believe it either — and she was moving in. Gregory is one of the people awarded a one-bedroom unit at Liberty Square, a housing project built in the 1930s that is undergoing a $300M renovation. Phase 1 opened this week at Northwest 15th Avenue and 67th Street. The housing project, known locally as "Pork N Beans" and referenced…
Miami OKs land swap for new administration building
The Miami City Commission has wrapped up a complicated real estate deal that will result in a new government administration building, freeing up a valuable riverfront site for three towers from a private developer. The major move did not come without contention and opposition, and ultimately a vote of 3 to 2. Voting to approve three resolutions on the deal June 27 were Chairman Ken Russell and…
Miami Beach Convention Center Hotel wins approval
Convention Center Hotel renderings with David Martin and Jackie Soffer All that's left now: the aesthetic minutiae and the permits. Arquitectonica's design for the 185-foot-tall, 800-room, $362 million Miami Beach Convention Center Hotel was unanimously approved by the Miami Beach Design Review Board on Tuesday. The hotel development team, led by developers David Martin of Terra and Jackie Soffer of Turnberry Associates, will still need to return to the city's planning department to hash o…
Natiivo Miami is the new luxury building with the AirBnb brand
Natiivo Miami is the latest residential and hotel development in Downtown Miami, a luxury resort that is boosted in this case by the famous AirBnB system, the giant of private apartment reservations that competes with the largest hotel chains worldwide. Natiivo will be a condominium where you can spend your holidays or any other time of the year in Miami, but at the same time you will have the…
Video: Counselors of Real Estate Chair Julie Melander Top Ten Issues Affecting Real Estate
In this video, Julie Melander, the current chair of the Counselors of Real Estate, an international organization of commercial property professionals from leading real estate, financial, law, valuation and business advisory firms, as well as real property experts in academia and government, discusses what her organization has identified as the current and emerging issues expected to have the most…
Casa Hotels adds to South Florida portfolio with boutique Miami Beach hotel
1420 Collins Avenue Casa Hotels Group, a Chilean investment firm, paid $7.3 million for a boutique hotel in South Beach. The Odyssey of South Beach LLC, led by Ronnie Menashe, sold the 27-key Odyssey Hotel at 1420 Collins Avenue in Miami Beach to Casa Hotels Group, property records show. The Art Deco property traded hands for about $270,000 per key. The 9,600-square-foot hotel marks the fifth…
Video: Miami's biggest concrete pour for Aston Martin Residences
Construction crews poured the last of 14,000 cubic yards of concrete at about noon on Sunday, marking the end of the foundation spread for the Aston Martin Residences condo tower in downtown Miami. The marathon concrete pour began at 9 p.m. on Friday at 300 Biscayne Boulevard. G&G Business Developments, led by the Coto family of Argentina, is developing the 66-story, 818-foot, 391-unit luxury tower…
Developer sells hotel site in Wynwood, plans retail project nearby
A rendering of the retail project planned for 300 Northwest 29th Street (Credit: Shulman + Associates) Red Group sold a development site in Wynwood — where it had planned to build a modular hotel — to a former Related Group project manager. With the profits from the land sale, Red Group plans to build a 10,000-square-foot retail and restaurant project nearby in Wynwood, according to the company's…
Demand for apartments reaches 5-year high across US
Chicago and Houston skylines (Credit: Unsplash) Across the nation demand for apartments is now at a five-year high, a consequence of slow home sales and economic uncertainty. The number of move-ins during the second quarter shot up 11 percent compared to last year, according to the Wall Street Journal, citing data from RealPage. That surge caused the national occupancy rate to hit 95.8 percent…
Blackstone bets on Broward County with hotels purchase
Blackstone CEO, 14500 Hotel Road and 14700 Hotel Road, 130 North University Drive Blackstone scooped up three Broward County hotels for $43.2 million, signaling the private equity company's growing footprint in South Florida. The New York-based company bought two hotels in Miramar — a 125-room Courtyard by Marriott and a 130-room Residence Inn — along with a 138-room Residence Inn in…
BH3 plans retail project in Miami Design District Opportunity Zone
BH3 Co-Founders Greg Freedman Daniel Lebensohn BH3 is planning a nine-story retail development in Miami Design District's Opportunity Zone, The Real Deal has learned. The $55 million, 86,000-square-foot project at 3801 North Miami Avenue will have retail and showroom space, with 25-foot high ceilings on the ground-floor and 14-foot high ceilings on levels two through nine, according to…
Miller Construction Launches Three New Industrial Buildings In Hialeah
Miller Construction is underway with the simultaneous build of three warehouse/distribution buildings totaling 415,460 square feet at Miami Axis Park, for developer Lincoln Property Company. "With the vacancy rate for Miami-Dade's tight industrial market at around four percent, delivering next-generation warehouse/distribution space quickly and cost-efficiently is vital," said Miller Construction President…
Hialeah leads list of top 10 US cities to own a home: ranking
(Credit: iStock) If you are looking for a home, you might not have much luck in the Northeast. Nine of the 10 best cities to buy or own a home are either west of the Mississippi River or in Florida, according to a study by GoBankingRates. With a median home value of $483,900 and a state income tax rate of 5.53 percent, Jersey City was the only metro area in the Northeast to make the cut, clocking in…
Office rents in U.S. are going up — barely
(Credit: iStock) Office rents across the U.S. are ticking up. The average asking rent in May for office buildings over 50,000 square feet in size rose 0.4 percent compared to the previous three-month period, coming in at $36.33, according to data firm Yardi Matrix's recent national report, covered by Connect Commercial Real Estate. The growth stems from solid demand thanks to a healthy job market.
JP Morgan buys North Beach branch on Collins Avenue
Chase branch at 6916 Collins Avenue with Jose Sasson and Roberto Susi of Axiom Capital Advisors If you can't beat 'em, join 'em? Amid a surge of redevelopment in North Beach, J.P. Morgan bought its Chase bank branch to ensure its ongoing presence, The Real Deal has learned. J.P. Morgan paid $8.45 million in an off-market deal for the branch building at 6916 Collins Avenue, said Roberto Susi, principal…
Forever 21 is in trouble. So some executives asked its landlords to pitch in, report says
From left: Simon Property Group David Simon, Forever 21 CEO Do Won Chang, and Brookfield CEO Bruce Flatt (Credit: Getty Images) Forever 21 is another major retailer attempting to fend off the woes of the retail industry. But its executives remain split on how to chart a path forward. While billionaire co-founder Do Won Chang wants to keep the company's ownership intact, some breakaway executives…
Here are South Florida's top five multifamily sales in June
Clockwise from top left: Doral View and Town Fontainebleau Lakes, Alister Boca Raton, Luma West Palm, Glen Apartments, Avana Cypress Creek Apartments Doral View and Town Fontainebleau Lakes – Blackstone Group | $209M Blackstone Group paid $208.75 million for a pair of neighboring apartment complexes in Doral, marking the largest multifamily deal in South Florida so far this year. The Related Group…
What Could Slow The Industrial Market in South Florida? 'There's Always A Black Swan Event'
The market for industrial property has been booming nationwide, but especially in South Florida, where developable land exists only in a 20-mile-wide strip between the Everglades and the Atlantic Ocean. Experts speaking on a Bisnow panel last week marveled at the growth of the sector, but also warned of "black swans" — unpredictable events with major consequences. Locally, the industrial sector has…
$1B Magic City Innovation District clears final hurdle
From left: Rendering of Magic City Innovation District with Guy Laliberte, Neil Fairman and Tony Cho It took five public hearings in front of the Miami City Commission, each lasting several hours and featuring vociferous opposition, but the developers of the Magic City Innovation District finally got approval for their $1 billion mixed-use project in Little Haiti. At about 1 a.m. on Friday morning, the…
Miami's Regatta Harbour: Old Meets New
Considered the oldest neighborhood in Miami, Coconut Grove has always been a tourist magnet. Defined by its deeply rooted history, popular shopping and entertainment venues and the lively feel of the area, Coconut Grove is in the midst of a comprehensive rejuvenation process. One of the projects that is dramatically transforming the historic Dinner Key shoreline in Coconut Grove is Regatta…
Miami approves $7M in bond money for affordable housing
Mayor Francis Suarez The Miami City Commission approved the use of bond money to fund five affordable and workforce housing projects in the city. The commission gave the green light on Thursday to use $7.15 million of the initial $58.7 million portion of the Miami Forever Bond. Voters approved the $400 million bond in November 2017 to fund sea level rise and flood prevention, public roadway…
Miami-Dade County Zoning Law: Mandatory Minimum Electric Vehicle Parking Ordinance Passed
The Miami-Dade County Board of County Commissioners recently adopted an ordinance establishing off-street parking requirements for electric vehicles (EVs) which mandates minimum EV parking spaces in all new uses with limited exceptions provided below. The ordinance defines the terms pertaining to EV infrastructure, such as EV Supply Equipment (EVSE), EVSE Space, and EVSE-Ready Space and…
Miami doctor buys retail center near Kendall
13353 Southwest 42nd (Credit: Realtor) Coconut Grove real estate investor Ricardo Carozzi just sold Bird Road Plaza, a retail center near Kendall, for $5.1 million. A company managed by the Carozzi family sold the 17,488-square-foot property at 13353 Southwest 42nd Street for $291 per square foot, records show. The buyer is KBD 95 LLC, which is managed by Dr. Keila Hoover, a family physician in Miami.
Presidential debate 2020 Night 2: Here's where these Democratic candidates stand on housing
From left: Michael Bennet, Joe Biden, Pete Buttigieg, Kirsten Gillibrand and Kamala Harris (Credit: Getty Images) Some of the 10 Democratic candidates for president taking the stage at Thursday's debate in Miami have wrapped their housing policies in larger proposals like the environment. Former Vice President Joe Biden is among them. Biden wants to increase the energy efficiency of…
Convene, Industrious partner with Hines to operate new locations across US
From left: Ryan Simonetti, Jamie Hodari and Gerald Hines with 717 Texas in Houston (left) and The Kearns Building in Salt Lake City (right) Gerald Hines is getting into the co-working game. The Texas billionaire, whose eponymous real estate investment firm oversees $121 billion in assets, has announced a partnership with flexible-office startups Industrious and Convene, to open co-working locations…
Aventura Mixed-Use Project Receives $36M Construction Loan
Shalev Development Group has received $36 million in construction financing from BridgeInvest for Ivory 214, a mixed-use project in Aventura, Fla. The 10-story medical and office development will include a 100-key Tapestry Collection by Hilton hotel. The general contractor—a company related to Coastal Construction—broke ground in March of last year and expects to complete construction in…
Luxury Condo Project Moving Forward on McArthur Causeway's Terminal Island
Terminal Island is a small, triangular island off the MacArthur Causeway that up until now has not been developed for residential use. The island has been used primarily to house the fleet maintenance of vehicles such as police cars, and sanitation buildings for the City of Miami Beach, as well as a gas station for city vehicles, an electric plant, and the Fisher Island ferry terminal. There's also an active Coast…
Higher density ahead: North Beach land deal gets green light
Sandor Scher, Alex Blavaknik and the project plans Miami Beach gave the green light to a land deal that will allow developers Alex Blavatnik and Sandor Scher to build 110 hotel rooms on Ocean Terrace in exchange for a $15 million park near the oceanfront. The plan was unanimously approved by the Miami Beach City Commission on Wednesday evening. But it's not a done deal yet. The commission,,,
Is Wynwood's bougie retail scene cratering?
The owner of this prime corner in Wynwood is asking for $150 to $170 a square foot after Shinola moved out. As Wynwood blossomed into one of Miami's hottest spots to visit in recent years, the neighborhood seemed immune to the calamity afflicting the retail sector across the country. Rents soared as trendy boutiques, head shops, casual dining spots and bars — all largely catering to a tourist…
Coral Gables Zoning Law: Modified Open Space Zoning Code Creates New Design Challenges
The City of Coral Gables' zoning code landscape and open space requirements were recently amended as of May 14, 2019. The Coral Gables' zoning code now requires landscape open space to be provided at the ground level and to be "open to the sky." This update will have a significant impact on real estate development proposals in areas such as the Coral Gables Central Business District (CBD)…