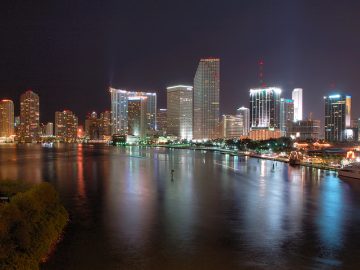 Miami Tops The Nation For Retail Rent Growth
Miami-area retail rents increased almost 2% from Q1 to Q2 this year, a pace of rent growth that leads the nation, according to Colliers International's most recent market reports for South Florida, released last week. Miami's retail rents now average just under $37 per SF. Roughly 460K SF of retail space was leased last quarter in Miami-Dade County. The largest lease, 30K SF, was to Pinstripes, a bowling…
Resident sues to stop Magic City Innovation District project
Rendering of Magic City Innovation District A resident of the city of Miami filed an appeal against the city tied to the approval of the Magic City Innovation District project in Little Haiti. William Perry, a renter affiliated with the Family Action Network Movement (FANM), is suing the city, alleging that the Miami City Commission denied his client intervenor status "based upon his status as a renter in…"
Little Haiti Activist Sues to Stop Massive, Controversial Magic City Development
Miami officials seem hellbent on paving over one of the city's last vibrant immigrant communities. Activists in Little Haiti for years have been pushing back against plans to build the Magic City Innovation District — a 17-acre luxury living and shopping complex that is unlike anything else in the working-class neighborhood of Little Haiti. But despite residents' consistent complaints about the project, the City…
PortMiami To Receive $8 Million Federal Grant For Infrastructure Improvements
Millions of dollars to improve PortMiami is on its way from Washington. The PortMiami project will rebuild aging bays and create new capacity for loading and unloading cargo containers. The port is getting an $8 million federal grant to rebuild aging bulkheads at the Seaboard Marine terminal. Secretary of Transportation Elaine Chao made the announcement Thursday in Washington as part of a plan…
Thomas Neary buys Brownsville Opportunity Zone apartment complex
Jacob Serure and St. George Apartments An investment group led by Thomas Neary paid $7.56 million for an apartment complex in a Brownsville Opportunity Zone. The group paid about $90,000 per unit for the 84-unit St. George Apartments at 5200 Northwest 26th Avenue, according to broker Jacob Serure. Serure's SRE Commercial Group at Investment Brokers Realty brokered the deal. Property…
Michael Dell's firm lends $300M to Brickell office tower project
Vlad Doronin, a rendering of 830 Brickell, and Michael Dell UPDATED, July 31, 4 p.m.: Russian developer Vlad Doronin closed on the largest office construction loan in South Florida this year for a new tower in Brickell. MSD Partners, the private investment firm of Dell Technologies billionaire Michael Dell, is the lender for the $300 million loan, according to a spokesperson for Doronin's OKO Group.
Kushner and Block Capital pay $32M for Wynwood sites of mixed-use projects
Rendering of the Wynwood development, Charlie Kushner and Laurent Morali Kushner Companies and its local partner Block Capital Group paid $32 million for an assemblage in Wynwood, marking Kushner's second acquisition in Miami… Kushner and Block Capital are planning to build two mixed-use developments on 1.5 acres at 127 Northwest 27th Street and 129 Northwest 26th Street, according to…
Video: Real Capital Analytics SVP Jim Costello Discusses Investing in Office 2019
Jim Costello, Senior Vice President at Real Capital Analytics, appears on this commercial property related show to discuss the office property sector, including performance, capitalization rates, and suburban markets. He notes that there are mixed signls in the office market. Activity grew in May as it fell for other sectors, including sectors considered more "hot" in this market. At the same time, there…
Lawsuit accuses Aventura condo board of election violations
Turnberry Village North Tower For Harry Catton and two unit owners at the Turnberry Village North condominium in Aventura, their two-year effort to force new elections for the building's board of directors has been a futile exercise – even with the assistance of state regulators, according to a recently filed petition in Miami-Dade Circuit Court. The trio are seeking a court-appointed receiver to take…
South Florida investors are still wary of investing in Opportunity Zones: report
Miami Innovation District Months after the Treasury and the Internal Revenue Service released the latest round of regulations for Opportunity Zones, South Florida investors and developers are still wary enough about the rules to prevent them from investing. A report by Bilzin Sumberg and the Urban Land Institute found that only 28 percent of respondents surveyed said that they intend to invest…
Notable Retail Leases Signed in South Florida Q2 2019
South Florida Retail Leases 2019 We've compiled a comprehensive list of the top retail leases signed by square footage in South Florida during Q2 2019. This quarter was very busy overall and saw several big box leases signed and sealed. Despite the sentiment that the traditional retail market is suffering due to several factors, particularly…
Mayor Giménez seeks sweeping county facilities upgrade
Miami-Dade Mayor Carlos Giménez hopes to leave behind one more legacy when he exits after his final term next year: the Countywide Infrastructure Investment Program (CIIP), a 20-year, $1.8 billion modernization of county facilities. "When I began my tenure as mayor, I set out to make sure that Miami-Dade County would be better off by the end of my term than it had been when I started," he wrote in…
Robust Population Growth Drives Apartment Construction in Downtown Miami
The apartment construction boom continues in Miami as rapid demographic and employment growth foster rental demand. Employers expanded staffs by 25,900 personnel year over year in February, roughly 6,900 more than in the preceding annual period, which has kept the unemployment rate below 4 percent for 12 consecutive months. Hiring during this period was led by the professional and business…
Hard Rock Stadium getting pedestrian bridges, tunnels
Construction to link pedestrians to Hard Rock Stadium is 70% complete and is expected to conclude in two months. By the end of September, a pedestrian bridge over the Florida Turnpike exit ramp for Hard Rock Stadium, another bridge over Northwest 199th Street (Dan Marino Boulevard) and two tunnels under Don Shula Drive, the stadium perimeter road, are to be ready for public use. The…
$7.7M Sale of Miami Office Building Negotiated
Cushman & Wakefield has negotiated the $7.7 million sale of Bank of America Center, a six-story, 68,174-square-foot office building in Miami. Bank of America Center is situated at 1313 NW 36th Street, within an Opportunity Zone. The property was 88.8 percent leased at the time of sale to tenants including Bank of America and the Miami-Dade State Attorney's office. Miguel Alcivar, Dominic Montazemi…
Sliver of Brickell that held Babylon can have 24-story tower
Miami commissioners have allowed owners of a Brickell area property that was previously limited to eight stories to build up to 24, despite Chairman Ken Russell and nearly all of about 30 nearby residents, who pleaded to bar what they saw as a more-than-generous rezoning. However, the rest of the commission voted last week for… whose property is at 240 SE 14th Street. where the Babylon building…
Upcoming Coconut Grove Office Building Gets New Tenant
Boyne Capital Partners has signed an 11,597-square-foot lease at One CocoWalk, the Class A, 85,762-square-foot office building underway in Miami's Coconut Grove neighborhood. The private equity firm will relocate from 2601 S. Bayshore Drive to the fourth floor of the property, which is up for completion in 2020. A joint venture between Federal Realty Investment Trust, Grass River Property and…
Developer closes on land assemblage for big resi complex near Miami's Overtown
A local developer closed on a land assemblage in the Spring Garden neighborhood, where he plans to build a large residential complex… Marlon Gomez paid $17 million for the land near the Miami Health District and Overtown… An LLC… acquired the roughly 68,000-square-foot assemblage at 1150 and 1180 Northwest Eighth Street Road; 1000, 1008, 1010, 1040, 1050, 1060, 1070 and 1080 Spring Garden Road.
Hedge funder bets on Allapattah with Opportunity Zone site purchase
New York hedge funder Spencer Waxman paid $7.7 million for the Bank of America Center in Miami's Allapattah neighborhood. Records show a company managed by Waxman and his wife bought the 68,174-square-foot office building at 1313 Northwest 36th Street for $112 per square foot. An affiliate of Miami-based Golden Sands, led by Peter Fedele and Mary Maguire, sold the property. The project sits in…
Galbut family sells Ocean Drive hotel for $28M
Kirk Olson, Shadi Shomar, Drew Kristol and the Bentley Hotel Companies tied to Russell Galbut's Crescent Heights sold the Bentley Hotel on Ocean Drive for $28 million. Ocean & 5th Commercial LLC, led by Shadi Shomar, acquired roughly the majority of the condo-hotel units and the ground-floor retail at 510 Ocean Drive. Shomar's Sunnyside Hotels & Resorts is now managing the property, according…
Pep pill needed: As many as 700 more GNC vitamin stores will disappear later this year
GNC plans to close as many as 700 more of its vitamin stores in the second half of the year. The struggling Pittsburgh-based retailer – which already closed 200 stores in the first half of the year – confirmed Monday that its store closures in 2019 will total as many as 900, Bisnow reported. "The negative trends in traffic that we've seen in mall stores over the past several years accelerated during the past…
Amazon's got cash to burn, and real estate is its tinder
Amazon's officially on a spending spree. After a big week of movement in the world of real estate that included shopping for 1 million square feet of warehouse space in Brooklyn, scoping out the We Company's historic Lord & Taylor building for office workers , and launching a new partnership with Realogy, the e-Commerce giant's second quarter earnings report confirmed that the company has…
Funding in hand, downtown Miami Flagler Street project moves forward
The long-delayed downtown Flagler Street project can finally move forward after the city approved $22.5 million in funding on Thursday. The approval was the last step needed before the project, which is expected to take three years, can break ground. The new design was proposed by real estate developer Moishe Mana, who owns many of the buildings on and near Flagler Street, and Zyscovich Architects.
2019 South Florida Opportunity Zone Report Issued by Bilzin Sumberg
Bilzin Sumberg is pleased to share the results of the 2019 South Florida Opportunity Zone Survey and subsequent Forum that we co-hosted with Urban Land Institute Southeast Florida/Caribbean (ULI SE FL/Caribbean)  on June 5, 2019. The Report captures the perspectives of developers, investors, and other professionals who specialize in real estate and finance in Florida, to delve into how…
Leasing Billboard Space On Your Commercial Property
Why looking up is looking good for CRE As soon as people had something to sell, they knew they had to advertise in order to draw in customers—and a business was born. From the outside walls of barns painted with images of fresh corn to LED digital displays turning night to day in Times Square, billboards have evolved and always managed to find a place in the American landscape. Outdoor off…
Family behind La Carreta and Versailles sells Doral shopping center
The owners of the popular Cuban restaurants La Caretta and Versailles sold a shopping center in Doral for $14 million. A company tied to the Valls family sold the 36,160-square-foot property at 9000 Northwest 25 Street for $388 per square foot to Pacheco Group of Doral, records show The buyer secured a $9 million mortgage from the seller, according to the records. Tenants include Synovus Bank…
Stephen Bittel's Terranova wants in on the hotel game on Miracle Mile
Terranova Corp. is planning to build a mixed-use hotel on the newly revamped Miracle Mile in Coral Gables. Gables Miracle Mile LLC, an affiliate of Stephen Bittel's Miami Beach firm, submitted a proposal for the Mile Hotel and Shops, a 120-key development at 220 Miracle Mile. The Arquitectonica-designed property would be seven stories and 70 feet, with more than 28,000 square feet…
This MiMo landmark in Miami Beach could be designated historic – but not before owner locks in zoning changes
After more than two years of negotiations, the owner of International Inn in Miami Beach won't contest a historic designation for the waterfront lodge so long as she can use the property as a full fledged hotel and have the option to build an eight-story addition. On Wednesday, the Miami Beach land use… seeking the height increase for…  at 2301 Normandy Drive in Normandy Isles, according…
César Pelli, the genius behind Armani Residences in Miami died at 92
César Pelli, the prolific and brilliant Argentine architect, died at 92 on July 19, 2019. Among his most famous works are the famous Twin Towers of Kuala Lumpur, the expansion of MoMA, various skyscrapers in New York and around the world and even two architectural jewels in Miami, the Adrienne Arsht Center and Armani Residences, which made it worthy of dozens of professional and academic awards.
Video: PwC Workforce Strategy Lead Bhushan Sethi Discusses the Impact of the Sharing Economy on CRE
Bhushan Sethi, Workforce Strategy Lead with PwC, joins America's Commercial Real Estate Show to discuss how the flexible talent economy, – the gig economy – is affecting the commercial real estate industry. He begins by talking about the balance, essentially, between community ambiance and its talent ppol, versus cost. They go on to discuss the radical differences in co-working…
Commissioner Eileen Higgins brings groups together to reimagine a new, interconnected vision for Downtown Miami's Government Center campus and urban core
Miami-Dade County Commissioner Eileen Higgins, together with the Miami-Dade County Regulatory and Resources Department (RER), hosted a visioning public workshop on "The Future of Downtown" at the Main Library Auditorium in Downtown Miami on Saturday, July 27, 2019. The workshop allowed residents, organizations, and public officials to share their ideas and provide input on how to…
'This Will Impact Florida Healthcare For Years To Come': Don Steigman At Bisnow South Florida Healthcare
As of July 1, Florida healthcare facilities are no longer required to obtain a Certificate of Need from the state before beginning construction, and Jackson Health System Chief Operating Officer and Executive Vice President Don Steigman says he has already seen the impact on construction. "There has already been a plethora of planned expansion in the ambulatory arena," Steigman said. "Hospitals…"
How Do You Build A Guitar-Shaped Hotel? Ask Jessica Chen
Jessica Chen remembers the first time she heard that the Seminole Tribe was going to commission a $1.5B, 35-story hotel in the shape of a guitar, and that she would be in charge of building it. "We were actually building a helicopter pad for the Seminole Hard Rock Hollywood when I first saw any renderings of this project," Chen told Bisnow. "I saw different versions in renderings only, and I could…"