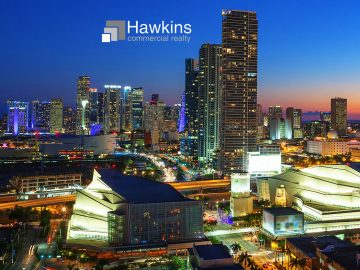 Jimmy Resnick joins South Florida shopping center buying spree with $32M Kendall purchase
A Miami Beach investor is the latest retail player to catch South Florida's shopping center wave with a $32 million purchase in Kendall. An entity with ties to Jimmy Resnick bought Kendall Marketplace at 11531-11631 Southwest 88th Street, records show. The buyer obtained an $18 million loan from Professional Bank. The seller, El Tablon Investments, led…
SHVO to Develop 250,000 SF Office Building in Miami Beach
SHVO, a New York City-based development and investment firm, plans to develop a 250,000-square-foot office building in Miami Beach. The firm, along with finance partner Deutsche Finance America, recently acquired an assemblage at 1656-1680 Alton Road and 1677 West Ave. near Lincoln Road for $39.3 million. Designed by Foster + Partners, the new office building…
Change of plans: Developer switches to condos from rentals at downtown Miami tower
A new downtown Miami rental tower will be sold as condos due to continued demand from buyers, The Real Deal has learned. Property Markets Group, led by Ryan Shear, Kevin Maloney and Dan Kaplan, and its partner Greybrook, plan to launch sales soon of The Elser Hotel & Residences at 398 Northeast Fifth Street, Shear said.
Omega scores $100M construction loan for North Miami apartments
Omega Real Estate Management scored a $100 million construction loan for the multifamily portion of its planned mixed-use The Gardens District project in North Miami. The nine-story apartment building, called The Gardens Residence, will have 358 units and 1,100 square feet of ground-floor retail at 1155 Northeast 126th Street, according to a…
Miami self-storage firm buys Medley industrial site for $38M
Looking to capitalize on demand from small warehouse tenants, a Miami-based firm specializing in self-storage facilities is expanding into industrial buildings with its recent $37.5 million purchase in Medley. An affiliate of Basis Industrial, formerly… Miami City Self-Storage, bought… 180,000-square-foot mixed-use site at 8600 Northwest South River Drive, Basis…
Northlink scores approval for condo project on Denny's site in North Beach
New York real estate firm Northlink Capital plans to build a condo project with co-living on a Denny's-anchored property in Miami Beach, where the previous developer had planned a mixed-use hotel. Northlink, led by Robert Rosenthal, secured approval from the Miami Beach Design Review Board on Tuesday for the proposed project at 7140 Collins Avenue in North Beach.
Avanti pays $181M for apartment building near Brightline's MiamiCentral
The Estate Companies sold the Soleste Grand Central apartment building it developed near Brightline's downtown Miami station for $181 million. Avanti Residential, a Denver-based investor and owner-operator of multifamily real estate, bought the 18-story, 360-unit building at 218 Northwest Eighth Street, according to the buyer…
Avanti Residential Buys Miami Apartments for $181M
Investor and lifestyle multifamily owner-operator Avanti Residential has acquired Downtown Miami's Soleste Grand Central from seller The Estate Cos. The newly-built, luxury apartment community commanded a purchase price of $181 million. The acquisition marks Avanti's fourth South Florida investment in the last 12 months, following its acquisitions in…
Avanti Residential Acquires Soleste Grand Central Apartment Complex in Miami for $181M
Avanti Residential has acquired Soleste Grand Central, a 360-unit luxury apartment complex in downtown Miami, for $181 million. The seller was The Estate Cos., which developed the property in 2021. Located at 218 NW 8th St., Soleste Grand Central is walkable to various retail and dining options and features immediate access to I-95. Floor plans range from…
Lloyd Jones drops $92M for Little Havana apartments
Lloyd Jones expanded its South Florida multifamily portfolio with a $92 million acquisition in Miami's Little Havana. Miami-based Premium Development sold First Apartments, a 194-unit building at 701 Southwest First Street, to Lloyd Jones, a multifamily and senior living-focused real estate firm also based in Miami, according to a press release…
Movers & Shakers: Self-storage giant SROA names new COO
From left: SROA Capital's Kenneth Speegle, PropertyForce's Charles Grau, and Katz & Associates' Allan Carlisle: SROA Capital, a West Palm Beach-based private equity firm that invests in self-storage facilities under the brand Storage Rentals of America, appointed Kenneth Speegle as its new chief operating officer. Speegle joins the firm from Extra Space…
Location Ventures completes Villa Valencia condo project in Coral Gables
Developer Rishi Kapoor's Location Ventures completed Villa Valencia, a luxury Coral Gables condo project that's been four years in the making. Villa Valencia, a 13-story, 39-unit building at 501 to 525 Valencia Avenue is 95 percent sold with $100 million in closings so far. Three units are left, including a $14.9 million penthouse and two units averaging about…
City board tells Freedom Park to break up vast 4,900-car garage
Miami Freedom Park, which will rise next door to Miami International Airport and be home to the Inter Miami CF soccer team, has earned its first of many needed City of Miami approvals from the Urban Development Review Board. The board was presented the first site plans and new renderings for Miami Freedom Park, which when completed is to…
Industrial Real-Estate Developers Are Hot On Cold-Storage Warehouses
Industrial real-estate developers have been stepping up building cold-storage warehouses in the U.S. without tenants lined up for the space, betting that pandemic-driven changes in the way consumers buy groceries and meals are here to stay. Nearly 3.3 million square feet of refrigerated warehouse space was under construction through the second quarter…
CP Group, DRA Advisors buy Miami Tower for $164M
CP Group and DRA Advisors teamed up to buy Miami Tower, a landmark downtown office skyscraper at 100 SE 2nd Street known for its color-changing LED exterior, for $60 million less than its owner paid six years ago in a bet that the recent rush of major employers to South Florida will continue. A source close to the deal said the joint venture paid $163 mil…
CP Group, DRA Advisors Acquire 47-Story Office Tower in Downtown Miami
A joint venture between CP Group and DRA Advisors has purchased Miami Tower, a 47-story office tower located at 100 SE Second St. in downtown Miami. The seller is USPO Miami LLC, an entity established by Sumitomo Corp. of America, which purchased Miami Tower in 2016. The sales price was not disclosed, but South Florida Business Journal reports the tower…
CP Group, DRA Advisors Buy Miami Tower
CP Group has partnered with DRA Advisors to acquire one of the most recognizable office buildings in downtown Miami. The joint venture purchased the 636,000-square-foot Miami Tower from Sumitomo Corp. for $163.5 million, according to CommercialEdge information. Cushman & Wakefield's Dominic Montazemi represented the seller.
Oak Row Equities plans 400-unit apartment, office tower in Edgewater
Oak Row Equities, the developer and private equity firm that until recently was known as Carpe Real Estate Partners, is planning a roughly 40-story apartment and office tower in Miami's booming Edgewater neighborhood. The newly renamed firm, led by founders Erik Rutter and David Weitz, purchased the 2-acre site between Northeast Second Avenue and…
Mortgage rates falling back toward 5%
Suddenly, a 5.3 percent mortgage seems low. That was the average rate on a 30-year, fixed-rate mortgage this week, the Wall Street Journal reported. The average rate was a significant drop from last week, when Freddie Mac had the average rate at 5.7 percent, and mid June, when it surpassed 6 percent. Still, it is much higher than at the beginning of the year…
Sunrise investors buy South Miami retail building for $19M
A trio of Sunrise-based investors paid $18.5 million for a South Miami retail property, three months after selling a downtown Miami office building to Aby Rosen's RFR Realty. An entity managed by Robert Balogh, Cara Balogh and Orli Teitelbaum bought The Crossroads, a 34,901-square foot building at 5700 Sunset Drive that was completed in 1955, records show. The deal…
Miami Development – The Gardens Residence – Lands $100M in Financing
Omega Real Estate Management has secured $100 million in financing for the development of The Gardens Residence, a 358-unit community in Miami. Churchill Real Estate provided the construction loan and North Miami CRA provided $15 million in subsidies. Berkadia arranged the financing. The project is set to break ground this month. Ten percent…
Miami Office Development on the Right Track
As of May, Miami's office development pipeline reached 5.6 million square feet, according to CommercialEdge data. Month-over-month, the pipeline expanded by roughly 200,000 square feet. The Magic City's office market has seen been expanding during the last 12 month. In May 2021, the metro's pipeline reached merely 2.6 million square feet, representing 3.8 percent…
Miami's Office Vacancy Drops 2.8% Year-Over-Year
As of May, Miami's office vacancy hit 13.1 percent, down 280 basis point year-over-year, according to CommercialEdge data. The national average vacancy rate clocked in at 15.4 percent that month, virtually unchanged year-over-year. The Florida metro registered one of the largest drops in vacancy on a year-over-year basis across all markets and the largest…
Doronin's OKO, Cain score $97M construction loan for downtown Fort Lauderdale rental tower
OKO Group's Vlad Doronin and Cain International's Jonathan Goldstein along with the development site at 629 Southeast Fifth Avenue in Fort Lauderdale, Vladislav Doronin's OKO Group and partner Cain International scored a $97.2 million construction loan for an apartment tower planned south of the New River in quickly redeveloping downtown Fort Lauderdale.
SobelCo wins approval for 67-unit townhouse project in Dania Beach
Dania Preserve SobelCo won rezoning and site plan approval for Dania Preserve, a 67-unit townhouse development in Dania Beach on a 12-acre site just west of I-95. The Dania Beach City Commission voted Tuesday to rezone the development site, which currently has one house, at Southwest 31st Avenue and Griffin Road, from "estate residential" (E-1) to…
Newgard Lands $170M for Miami Condo Project
Newgard Development Group has secured $170 million in financing for Lofty Brickell, a luxury condominium community in Miami. 3650 REIT provided the construction loan and also originated one for the land acquisition last year. Eighty percent of the property's inventory is under contract and construction is set to break ground in the fourth quarter…
Festival Flea Market Mall in Pompano Beach to be replaced with warehouses
A developer and warehouse operator won approval from the Pompano Beach City Commission to replace the Festival Flea Market Mall with about 470,000 square feet of warehouse space. North Miami-based IMC Equity, led by owner and CEO Yorham Izhak, is working with Atlanta-based IDI Logistics to demolish the Festival Flea Market Mall on the southeast…
River Oaks picks up Delray Beach shopping center for $26M
Count River Oaks Properties among the retail real estate investors feasting on grocery store-anchored shopping centers in South Florida. The El Paso-based firm, led by founder and Chairman Gerald Rubin, paid $25.5 million for Shop Delray at 8918 Atlantic Avenue in Delray Beach, according to a press release. Anchored by Joseph's Classic Market, the 33,000-square…
Kaufman Lynn sells Delray Beach HQ for $10M, but firm won't relocate
Kaufman Lynn Construction sold its Palm Beach County headquarters for $10.3 million, but is staying put. An entity managed by Kaufman President and CEO Michael Kaufman sold the 22,000-square-foot, single-tenant office building at 3185 South Congress Avenue in Delray Beach, records show. The buyer, J.J.D. Associates of Palm Beach, an entity tied to Westmount…
Pebb JV buys Boca Raton office complex for $30M
Pebb Enterprises tripled its office holdings in a Boca Raton business park with a $29.8 million joint venture acquisition. The Boca Raton-based private equity real estate firm, led by CEO Ian Weiner, and Greenwich, Connecticut-based Contrarian Capital Management acquired Meridian Office Center at 6551 and 6601 Park of Commerce Boulevard, according to…
Tortoise Properties nabs $89M construction loan for downtown West Palm apartments
Tortoise Properties scored an $88.5 million construction loan for a multifamily project in downtown West Palm Beach. The real estate investment firm plans a pair of eight-story buildings with 264 units at 740 and 840 North Dixie Highway, according to Tortoise's news release. Larkspur, California-based Acore Capital is…
Arnaud Karsenti's 13th Floor, Wexford propose 25-story apartment tower in downtown West Palm
13th Floor's Arnaud Karsenti and Wexford's Joseph Jacobs and Philip Braunstein with rendering of The Residences of Palm Beach West: Arnaud Karsenti's 13th Floor Investments and Wexford Real Estate Investors want to build a 25-story apartment building with a grocery store in downtown West Palm Beach. The 372-unit Residences of Palm Beach West project…
Forest Development, Royal Palm nab $269M condo construction loan
A joint venture between Forest Development and Dan Kodsi's Royal Palm Companies scored a $269 million construction loan for a waterfront condo project in Palm Beach County's Lake Park. Boca Raton-based Forest Development recently partnered with Miami-based Royal Palm on the two 24-story…