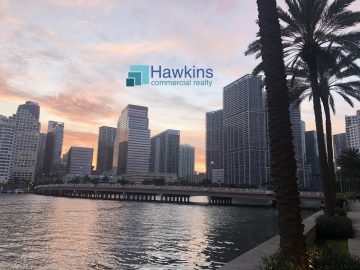 Ivy Realty snags industrial freezer in Miami for $13M
Ivy Realty snagged an 80,000-square-foot industrial freezer facility in north Miami-Dade County for $13.25 million. Montvale, New Jersey-based Ivy Realty bought the property at 650 Northeast 185th Street in Miami for $165 per square foot, according to a press release. The seller, Best Freezer Holdings LLC, is tied to Clement Zanzuri of Miami. The property is 100…
East End Capital to Build 12-Story Multifamily Project in Miami's Wynwood District
East End Capital has received civic approval to build Foyer Wynwood, a 12-story multifamily project planned for Miami's Wynwood neighborhood. The project marks the debut of the developer's co-living brand Foyer, which will operate the co-living segment of the 375,000-square-foot development. The property will feature 236 multifamily residences in both micro-unit and…
Brooks Brothers files for bankruptcy
Brooks Brothers, which has 500 stores across the globe, filed for Chapter 11 bankruptcy protection Wednesday. The move had been expected as the 200-year-old clothing chain struggled first with a shift from a formal dress code in the workplace to a more casual one, and then ultimately the coronavirus. Brooks Brothers will use the bankruptcy process to find a buyer for the…
AMC nears deal to avoid bankruptcy
AMC is trying to stave off the final curtain. The movie theater chain is close to hammering out a restructuring deal that would save it from bankruptcy, according to the Wall Street Journal. The deal involves bondholders providing a $200 million senior loan and exchanging their unsecured claims for second-lien debt at an undisclosed discount. Meanwhile, Silver…
Will The Pandemic Kill Demand For Micro-Units?
For the past five-plus years, micro-units have been an intriguing subplot in the grand saga of commercial real estate. As demand for housing has boomed, especially in rent-burdened cities like New York and San Francisco, developers gambled that tenants would tolerate tiny units — some as small as 220 SF — for the chance to access cool neighborhoods…
Florida Commercial Real Estate News Roundup 2020 H1
While 2019 was a fruitful year in Florida's CRE market, particularly in South Florida commercial real estate, we now focus on the challenges presented in early 2020. Despite the current pandemic, new, major developments took place and many property refinances were sealed in several locations. Meanwhile, domestic and international investors contributed to the….
Zara founder unveils $17.2 billion global real estate empire – including Miami's tallest office tower
After making a fortune in clothing, Amancio Ortega turned his attention to real estate. The Spanish billionaire's property holdings have soared to $17.2 billion, his firm revealed Tuesday for the first time, giving him the largest real estate portfolio among Europe's super-rich. Ortega, 84, the founder and owner of fashion label Zara, invested 2.1 billion euros in real estate last…
Retailers paying more of their rent but Covid surge prompts caution
The amount of rent Burger King paid in June compared to May was a whopper. The fast-food chain forked over 100 percent of what it owed landlords last month, compared to 63 percent the month before. The same went for Dave & Buster's, where the new motto could be "Eat, Drink, Play…"
Mall owners team up with "dead-celebrity dealmaker" but can they rescue moribund retailers?
Deep into a marathon set of high-pressure meetings to save bankrupt retailer Aeropostale from being chopped up and sold for parts, Jamie Salter thought some comic relief was in order. The Authentic Brands Group founder and CEO pulled out his phone and called Shaquille O'Neal — his company's second-largest individual investor…
$7 Mil Miami-Area Retail Asset Refi Closed
CBRE has arranged the $7 million refinancing of a 78,486-square-foot retail center at 19905-19925 Biscayne Boulevard in Aventura, Fla. Senior Vice President Paul Ahmed and Financial Analyst Mackenzie Fry represented the owner, Triarch Capital Group, and Correspondent Life Insurance Co. provided the 10-year loan. The property came online in 1994 and later…
Bayside Marketplace sues to evict Bubba Gump, Hard Rock Cafe and three other tenants
Bayside Marketplace's owner wants to evict five tenants, including Hard Rock Cafe and Bubba Gump Shrimp Co., alleging unpaid rent amid the pandemic. The downtown Miami outdoor mall's New York-based landlord sued the two restaurants and three retailers recently in Miami-Dade Circuit Court to initiate the eviction process, alleging the tenants owe a total…
Gym owners flex their muscles: Miami-Dade reverses decision to close facilities
Miami-Dade County Mayor Carlos Gimenez will allow gyms and fitness centers to stay open after announcing Monday that they would be closed, beginning on Wednesday. After meeting with a wellness group, the county decided that gyms and fitness facilities can remain open with the current restrictions in place, according to a spokesperson for the mayor's office.
TRD Insights: Hotel CMBS delinquencies jumped in June
Lodging delinquencies among commercial-mortgage-backed-security (CMBS) loans rated by Kroll Bond Ratings Agency reached 21.6 percent last month, up from 13.6 percent in May. Hotels' occupancy rates have been rising, but their loan troubles are through the roof. Hotel delinquencies among commercial mortgage-backed security (CMBS) loans rated by…
ZOM buys land in Coral Gables, West Palm for senior living projects
ZOM Senior Living and Watermark Retirement Communities closed on land for two senior living projects in Coral Gables and West Palm Beach. Property records show LG Ponce III LLC, led by Lion Gables Realty Limited Trust, sold four parcels at 300 Greco Avenue, near the Shops at Merrick Park in Coral Gables, to SHP VI Greco Coral Gables Owner for $20 million.
Restaurants, gyms to close again in Miami-Dade
Miami-Dade County Mayor Carlos Gimenez is ordering restaurants to close their dining rooms effective Wednesday, marking a major blow to the struggling industry. Gyms, fitness centers and short-term rentals will also shut down. State and local officials have started rolling back openings due to the record number of positive Covid-19 cases. As of Monday, more…
TRD Insights: Little evidence that Opportunity Zone program helps poor communities
The Opportunity Zone program has been a huge success for well-capitalized real estate developers, but not for the disadvantaged people it's ostensibly designed to help. A new study from the Urban Institute (UI) suggests that Opportunity Zones have largely failed to promote investment in local small businesses, create new jobs or boost the development of affordable…
Retail-to-residential conversions are in cards at America's doomed malls
Malls are hemorrhaging retailers left and right. What will happen with all that space? Some could be converted into apartments and condominiums. (iStock) Mall vacancies are surging, so what to do with all that empty space? Apartment and condominium conversions could proliferate. Some developers were converting properties before the coronavirus… …
WeDone: South Beach landlord seeks to evict WeWork for unpaid rent
The landlord of a WeWork location in South Beach is looking to evict the embattled co-working giant for what it says is more than $650,000 in unpaid rent. A photo obtained by The Real Deal shows the three-day notice tacked onto the door of the 43,500-square-foot building at 429 Lenox Avenue, which is fully occupied by WeWork. WeWork notice WeWork…
More tech firms eye Miami as Covid carries on
As resi brokers in South Florida report an uptick in sales and rentals largely fueled by homeowners fleeing dense markets like New York, office brokers say they're starting to see a similar trend play out among tech firms. In late February — before Covid-19 became a pandemic — Spotify inked a lease for 20,000 square feet to house its South Florida headquarters in Miami's…
Inside South Florida's mall, retail and restaurant reopenings
Masks, one-way signs, spread-out open-air dining. Malls, stores and restaurants are reopening in South Florida, and changes are evident amid the pandemic. The Real Deal's South Florida Managing Editor Ina Cordle toured the Miami Design District with Craig Robins, Bal Harbour Shops with Carolyn Travis and Aventura Mall with Jackie Soffer on Saturday, May 23.
Submerged in securities: Many CMBS hospitality loans may be underwater soon
Hotel operators trek into special servicing and it may take years before they get out (iStock) Carlos Rodriguez Sr. set off from Costa Rica nearly 25 years ago for what seemed like a surefire bet: developing and operating hotels in Florida, where both tourism and business travel were in perpetual demand due to the area's warm weather, white sand beaches and proximity to…
The breakdown: Inside Virgin Hotels' $330M vision for South Beach and how it vanished
Virgin Hotels had been looking for the right redevelopment opportunity in South Beach for years, and appeared to have found it a few months ago in HFZ Capital Group's Shore Club. An offshoot of Richard Branson's Virgin Group, Virgin Hotels created a proposal to purchase the 309-key beachfront hotel…
Trump tweets that he "may END" Obama-era fair housing regulation
President Trump's latest announcement regarding his plans for fair housing regulations came in the form of a Tuesday night tweet, Business Insider reported. The president took aim at the Obama-era Affirmatively Furthering Fair Housing (AFFH) mandate, which his administration had suspended in early 2018 until this year. "At the request of many great…
New Florida Law Cracks Down On Emotional Support Animals
A new law signed by Gov. Ron DeSantis last week, which took effect immediately, amended Florida's Fair Housing Act to address the problem. With the internet making it easy for dishonest tenants to get around pet restrictions by mail-ordering certificates saying that Fang and Rambo are emotional support animals, property managers often acquiesced, lest…
Miami-Dade Restaurant Owners Organize to Oppose Dining-Room Closure
On Monday, July 6, Miami-Dade Mayor Carlos A. Gimenez announced his intention to issue an emergency order re-closing indoor restaurant dining rooms owing to a surge in the spread of COVID-19. Within hours, a cadre of restaurateurs gathered in Coral Gables to decide how to deal with a collective case of government-induced whiplash. To business owners…
Miami Settlement With Duplex Developer Draws Opposition Over Setback Violations
Miami's Coconut Grove takes pride in its eclectic look and character, so it's no surprise that community opposition blossomed after a duplex developer was accused of breaking setback rules… 3384 Day Avenue Investments Inc. was in the midst of building a duplex with interior work remaining when the city issued a hold on the building permit a year ago, citing setback…