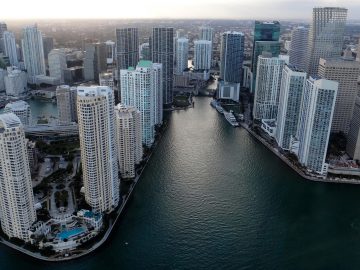 CREC Capital Purchases Retail Center in Homestead for $62.3 Million
CREC Capital has purchased Homestead Pavilion, a 302,346-square-foot retail center at 2400 NE 10th Court in Homestead, for $62.3 million. The property is situated on 42.1 acres and includes a six-acre site for future development. CREC Capital plans to hold the undeveloped portion of the property for the long-term and develop the site in the future. The center is located near the Florida Turnpike…
WeWork to Occupy Four Floors in Southeast Financial Center – Miami's Tallest Office Building
WeWork has signed a four-floor lease within the 55-story Southeast Financial Center, Miami's tallest office building. WeWork will move into the space in phases, with two floors expected to open by the end of 2019 and the other two floors expected to be ready in summer 2020. Southeast Financial Center is located at 200 S Biscayne Boulevard in downtown Miami. Southeast Financial Center is attached…
Miami should ensure a happy ending for Olympia Theater
One of Miami's best dramas is a play for control now hidden behind the curtain of the Olympia Theater at the Gusman Center for the Performing Arts in downtown Miami. The best conclusion of this play would be to bring a cultural and civic landmark to renewed glory. Regular readers of this newspaper might stop me right there to point out that I've been saying something like that in this column…
Engineers blamed for ignoring warning signs before fatal FIU bridge collapse
The Occupational Safety and Health Administration found a slew of errors in the design and construction of the Florida International University pedestrian bridge that collapsed in 2018, killing six people. Among them, Eighth Street should have been shut down, OSHA stated in the report. Figg Bridge Engineers' "deficient" design led to structural failure of the bridge, and Figg's attempt to close the cracks,
Lennar closes $1.3 billion fund to invest in multifamily projects across US
Lennar Corp.'s multifamily arm closed a $1.3 billion fund that will invest in apartment projects in large U.S. cities. LMC, a subsidiary of Miami-based Lennar Corp. announced the closing of the equity fund on Tuesday. It said eight institutional investors, including foreign pensions, sovereign wealth funds, banks and insurance companies invested in the fund. Lennar also contributed $381 million to the fund.
Trump official to pressure Congress to privatize Freddie and Fannie
A decade after Fannie Mae and Freddie Mac were put under government control, a Trump administration-appointed regulator is stepping in to try again to hand the mortgage finance companies back to the private sector. "If I do nothing and don't push, then I'm fairly certain Congress will do nothing," Mark Calabria, the Trump-appointed head of the Federal Housing Finance Agency, said, according to the Wall…
Blue Road scores $18 million loan to renovate South Beach hotels
UPDATED June 12, 12:45 p.m.: Blue Road scored an $18 million loan to renovate two hotels in South Beach, as the company pursues its strategy of buying and rehabbing older hotels. The Bay Harbor Islands-based firm secured the loan from City National Bank of Florida for Hotel 18 at 1775 James Avenue and the Redbury South Beach at 1776 Collins Avenue, property records show. Blue Road bought Hotel…
Florida Keys developer sentenced for illegally filling wetlands following Hurricane Irma
A developer in the Florida Keys was sentenced for illegally filling and clearing federally regulated wetlands without a permit in the wake of Hurricane Irma. Bonefish Holdings LLC pleaded guilty and was sentenced to three years of probation, and ordered to pay a $50,000 criminal fine and to fully restore the impacted 3.7 acres of wetlands. Bonefish, led by Coral Springs developer Albert Vorstman, estimated…
Magic City lands first tenants in Little Haiti
Magic City Innovation District in Little Haiti secured its first commercial tenants. Five businesses, including an art gallery, a tech company and a marketing firm signed long-term leases totaling 18,650 square feet of commercial space in existing warehouses at the planned $1 billion mixed-use project, according to a release. The developers spent $12 million to renovate the buildings, according to a…
Triple Five Worldwide gets American Dream Mall on road
The retail component of MiamiWorldcenter, arranged around an open-air plaza designed to be a gathering place, will probably be shaped by the mega-development's location, observers say. It's within walking distance of AmericanAirlines Arena, Pérez Art Museum Miami, the Frost Science Museum, and MiamiCentral, the Adrienne Arsht Performing Arts Center, and the downtown Brightline station. PortMiami…
Polish American Club plans major mixed-use development
The Polish American Club of Miami is proposing a major mixed-use development on its property on Northwest 22nd Avenue, near the Dolphin Expressway, that would include apartments, offices, retail, a restaurant and more. The site is at 1250 NW 22nd Avenue (Pulaski Avenue), on a tributary of the Miami River called South Fork, near Fern Isle Park and north of the expressway. The property is…
Miami River office space swap could cost City of Miami $150 million
The City of Miami is preparing to devote $150 million toward its new government office complex near the Miami River, as part of a complicated deal to turn over city land to a private developer who plans a large mixed-use residential project on the riverfront site. This involves the fate of the city's current Miami Riverside Center (MRC) at 444 SW Second Avenue on the north bank of the river and just…
Coconut Grove Playhouse patch: post office parking lot?
As officials with the Miami Parking Authority ponder another potentially long delay in the plan to redevelop the Coconut Grove Playhouse property and build a companion municipal garage, they are turning to higher powers when searching for parking solutions for the Grove. The city's parking agency is controlled by the Off-Street Parking Board. At the board's June 5 meeting, Authority CEO Art…
Related Group's plan for Terminal Island tower sails ahead
Miami Beach commissioners have asked their Land Use and Development Committee to consider altering land use and zoning on Terminal Island for residential use. Related Group is behind the request – it deems property on the island ideal for a 90-unit condominium. Related aims to win land use and zoning OKs to build One Island Park. The 90-unit residential tower would exceed 400…
Wynwood 3.0: The Apartment Boom In Miami's Post-Industrial Chic Neighborhood
When the Wynwood 25 apartment building opens this month, 289 units will come online in the neighborhood, nearly doubling its inventory in an instant. According to the most recent annual market report commissioned by the Wynwood Business Improvement District, Wynwood's apartment inventory currently consists of 413 units spread across 15 properties. With another 175 expected to…
Public-private development could transform Palmetto Bay
Palmetto Bay will wait until next month to decide whether to proceed with a public-private project that, if approved, promises to transform the village's downtown area into a modern city center. Village officials and residents June 3 discussed the estimated $72 million development, which would redevelop about 4.6 acres off US 1. But after roughly 90 minutes of talks, the village council voted 3-1 to…
Celebrity chef Marcus Samuelsson brings Red Rooster to Miami
Signage is up and permits have been pulled in preparation for the construction of celebrity chef Marcus Samuelsson's Red Rooster restaurant in Overtown, which will occupy the former Clyde Killens Pool Hall at 920 NW Second Avenue. Mr. Samuelsson helms the well-regarded and successful Red Rooster franchise, which began in New York's Harlem and now has outposts in London, Bermuda and…
Karyn Cunningham Palmetto Bay mayor seeks creation of vibrant downtown
Palmetto Bay Mayor Karyn Cunningham believes that everyone has tipping points in life, occasions when enough factors are in play to spur positive change. For her, that moment came after 18 years teaching, when a change in leadership in the United Teachers of Dade prompted her to seek a job with the county education union. That, she said, was where her interest in politics took root. The Miami-Dade…
Little Havana could be redeveloped like Wynwood
Taking cues from zoning changes that have ignited redevelopment of old industrial buildings in Wynwood, a master plan for revitalizing Little Havana calls for more small-scale buildings that fit the character of the historic neighborhood, the slashing of parking requirements for projects, and developer bonuses for affordable housing, streetscape improvements and historic rehabilitation jobs. For more than…
Magic City Innovation District Announces Tenants
Plans to build out the $1B Magic City Innovation District in Miami's Little Haiti neighborhood don't yet have the final go-ahead, but tenants are lining up to fill already-existing renovated space on the property. MCID yesterday announced that it had signed long-term leases with an e-commerce company called OnPoint Global, Diana Lowenstein Gallery, boutique creative services agency COOL Creative…
Design Center of the Americas' appraised value cut by more than 50%
It's been a rough year for Cohen Brothers Realty Corp.'s Design Center of the Americas in Dania Beach. Following loan delinquencies, a new appraisal has cut the value of the property by more than half. DCOTA, at 1855 Griffin Road, was previously valued at $250.35 million, but is now worth $115 million based on June's remittance data, according to Trepp, a New York-based financial data provider…
Video: WePartner Vice President of Business Development Michael Godin Discusses Retail Property Strategies for 2020
Michael Godin, Vice President of Business Development with WePartner appears on this commercial real estate related video cast to discuss adaptive reuse for retail and strategies to make these properties profitable, a hot topic in today's market. Mr. Godin speaks very openly about their acquisition and investment strategies. WePartner Management, which is based in Atlanta, is a fully integrated real…
City rezoned their neighboring property, and now Miami River homeowners are getting the same treatment
Residents of Miami's Oak Park neighborhood weren't happy when real estate developer Antonio Pardo sought a zoning change that would enable him to build a four-story apartment building on lots along the Miami River previously zoned for single-family homes. But now that the zoning change is a done deal, 16 single-family lot owners on or near Northwest South River Drive have demanded similar…
Navigating through the complexities of business litigation
Companies in Florida provide many different products and many different services. These companies are very knowledgeable about the products and services they provide. However, there are many aspects to running a company other than knowing the product or services. There are employment decisions that need to be made, contracts that need to be drafted and executed, trade secrets that need to be…
Hunt Real Estate Capital Closes Two HUD 221 (d)(4) New Construction Loans for Multifamily Properties in South Florida
Hunt Real Estate Capital, a leader in financing commercial real estate throughout the United States, announced today it provided two HUD 221 (d)(4) New Construction Loans to finance the development of two multifamily properties in South Florida. The total funding equals $67 million. "Both loans were structured under the U.S. Housing and Urban Development's (HUD) 221 (d)(4) loan program. This is a…"
Bringing the band back together: Eddie Lampert to buy Sears Hometown and Outlet Stores
Seven years after Sears spun off its outlet stores into a separate company, controversial former CEO Eddie Lampert wants to bring them back under his wing. The parent company of the retail giant, in which Lampert has a majority share, announced this week that it would pay $2.25 per share to acquire Sears Hometown, according to the Associated Press. The acquisition would allow Sears Hometown to sell…
With sights set on Miami, Sapir looks to sell NYC dev site
As Alex Sapir shifts his focus to Miami, his firm is looking to sell a Madison Avenue site. Sapir Corp. is seeking $23 million for 218 Madison Avenue, according to sources familiar with the deal. A four-story mixed-use building occupies on the property, which is on the corner of East 38th Street. Alex Sapir and his former partner Rotem Rosen bought it for $18.5 million in 2015 with plans to build a luxury…
How can Miami cope with two extra feet of water by 2060? ULI experts weigh in
To cope with rising seas, Miami may have to update zoning and building codes, increase seawall heights, re-write the city's master plan for downtown with resilience in mind and maybe even transform the FEC slip into a living shoreline pilot project. Those were some of the recommendations from a panel of 10 experts from the Urban Land Institute, presented to a packed house at the city of Miami's…
Public Storage picks up industrial portfolio in Miami-Dade for $63M
Public Storage bought four large storage facilities in Miami-Dade County for $63 million. Banner Real Estate sold the properties at 91 Southwest Third Street, 180 West Sixth Street, 2190 Southwest Eighth Street and 5609 Northeast Second Avenue in Miami to Glendale, California-based Public Storage, according to property records. The buildings total 411,438 square feet, which equates to a purchase…
All the Miami Worldcenter Projects Happening Right Now
One of the biggest urban development projects currently under construction in the U.S. is the Miami Worldcenter, a huge, mixed-use facility that is about to change the face of Downtown Miami forever. The Miami Worldcenter project site encompasses almost 30 acres, stretching across 10 blocks in the West Park neighborhood of Downtown Miami, one block from Biscayne Boulevard, and adjacent to…
Video: Co-working 2.0: What will the next phase of flex space look like?
If an expected economic slowdown comes, the flexible-space industry will be well-poised to capitalize, top players in the space and brokerage executives said at The Real Deal's 12th annual showcase. Bruce Mosler, Chairman of Global Brokerage at Cushman & Wakefield, said that the demand for flexible space "is going to grow because it's what corporates have wanted for a long time". Brad Hargeaves…
Industrial Real Estate Demand Growth Is Decelerating
Industrial real estate―defined as warehouses, distribution centers, flex spaces and other industrial buildings with storage facilities―is one of the few traditional property sectors that has sustained demand in the past five years, earning it golden child status. But that may be about to change, according to newly published research from Deloitte, that predicts that industrial […]…
Crescent Heights scores $41 million construction loan for CitizenM hotel
Crescent Heights is forging ahead with plans to build a mixed-use hotel on the corner of Alton and Lincoln Roads in Miami Beach. Affiliates of the Miami-based developer scored a $40.5 million construction loan from SunTrust Bank for 1212 Lincoln Road. The firm, led by Russell Galbut, will build a five-story, mixed-use CitizenM hotel designed by Perkins + Will on the property, which stretches…
Mortgage rates plummet to lowest levels in nearly 2 years
Mortgage rates fell for the sixth straight week, hitting their lowest point since September 2017. The 30-year fixed-rate average slid to 3.82 percent and the 15-year rate hit 3.28 percent this week, according to new data from Freddie Mac reported in the Washington Post. Rates have been on a steady decline since November, when they topped out near 5 percent and pushed mortgage applications to a four-year…
Coconut Grove's Critical Need for Parking
There is a story in Miami Today about Coconut Grove's parking situation. It says that at a recent meeting, of the Miami Parking Authority, CEO Art Noriega, spoke about the need for critical parking, he said he has spoken with US Rep. Donna Shalala about building a garage near or on the Post Office property. There was talk of this at a few meetings in 2007. It's an excellent location. But it begs the question…
Lennar buys 58 acres near Cutler Bay amid land buying spree
Lennar Corp. paid $19.5 million for a 58-acre lot near Cutler Bay, as the homebuilder continues to buy property in south Miami-Dade County. The Miami-based homebuilder bought the property tucked behind Southwest 104th Avenue for $336,206 per acre. The seller was H.R. Realty and Investments of Coral Gables, records show. The property does not have an exact address, and its primary…
Fitch to include natural disasters risks to RMBS ratings
Fitch Ratings will include natural disaster risks into its ratings of residential mortgage-backed securities, a sign that the industry is beginning to acknowledge the financial risks of climate change. Fitch is the first of the three major U.S. credit ratings agencies to consider environmental risk for RMBS, which are securities backed by the interest paid on residential mortgages. The change adds a new…
County's Coconut Grove Playhouse plan is 'Mostly commercial real estate space with an attached subservient theater'
The Miami Herald posted a letter to the editor by Miami Mayor Francis Suarez regarding his recent Playhouse veto. He says, "Unfortunately, the county, in its proposal, has misled our residents and created a false narrative. To clarify the record in this polemical arena and for residents to make informed decisions, I am compelled to debunk these falsehoods." He says, "historic preservation in our…