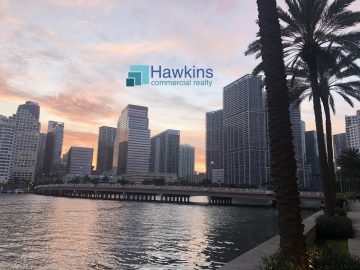 Trion enters Miami-Dade with $87M multifamily purchase
Trion Properties made its Miami-Dade County debut with the $87.3 million purchase of a rental complex in the Fontainebleau neighborhood, marking unwavering investment appetite in the multifamily market. Trion, based in Miami and West Hollywood, California, bought the 294-unit Art 88 at 8855 Fontainebleau Boulevard, according to a Trion news release. The…
The Top 5 Office Projects Under Construction in Miami
Miami's business-friendly environment, rapid population growth and attractive climate act as a catalyst for office investment and development in the metro. According to CommercialEdge data, the active pipeline included some 2.4 million square feet of office space across 18 properties as of June. Construction activity was concentrated in Miami's Brickell…
Mortgage rates flirt with 6%, but silver linings exist
After reaching record-breaking lows during the pandemic, mortgage rates have been climbing at a similarly historic pace this year, worrying brokers and especially buyers. This week, rates reached another milestone. The average 30-year fixed mortgage rate throughout the U.S. exceeded 6 percent Monday, just two months after breaching the 5 percent barrier. Also on…
Doubling up: Ares pays $62M for two Hialeah industrial buildings under construction
Ares Management made a $62 million double play in South Florida's industrial market, picking up a pair of Hialeah warehouses under construction. An affiliate of the Los Angeles-based global alternative investment manager paid $37 million for a 9.6-acre site at 410 West 104th Street, and $25 million for an adjacent 10.2-acre parcel, according to…
TM Real Estate parts with Miami Gardens office building Washington Square
TM Real Estate sold an office building in Miami Gardens that houses the Youth and Family center nonprofit. The Coral Gables-based investment group sold the 72,407-square-foot office building at 111 Northwest 183rd Street for $6.1 million, or $84 per square foot, records show. Washington Square GP Management, which is managed by Zachary Preminger…
Office Construction Activity on the Rise in Miami
In April, Miami had the third largest relative office construction pipeline in the nation, according to CommercialEdge data. By the end of the month, the Florida metro had 5.4 million square feet under construction, more than double its pipeline in April 2021, when the total stood at 2.4 million square feet. Miami's office development activity has seen a noticeable uptick…
Boymelgreens score construction loan for condo project in Mid-Miami Beach
The Boymelgreens scored a $35.5 million construction loan for their planned boutique condo development in Mid-Miami Beach, The Real Deal has learned. JP Roosevelt, an entity led by Sarah, Menachem and Levi Boymelgreen, secured the financing from BridgeCity Capital. The developer plans to break ground this month on the eight-story, 50-unit project…
Michael Stern's JDS lands $86M loan for planned mixed-use Brickell high-rise
New York and Miami developer Michael Stern secured an $86 million loan for his planned mixed-use Brickell tower called 1 Southside Park. New York-based Maxim Capital Group provided the acquisition and construction financing to Stern's JDS Development Group, according to a press release. The 64-story tower, between Southwest 11th and 12th streets and…
Block Capital sells two Wynwood buildings for $19M
Block Capital Group sold a pair of warehouses converted to offices in Miami's Wynwood for $18.7 million. An affiliate of WellMeaning Investments, a Miami-based family office led by CEO Eduardo Pelaez, bought the two buildings at 100 Northeast 28th Street and 85 Northeast 27th Street, according to records. The properties have a total of 23,247 square…
Miami OKs Miami Freedom Park site for its office tower
The Miami City Commission took a major step toward a new city government office building to replace the Miami Riverside Center downtown over strong objections of Commissioner Manolo Reyes. On a 4-1 vote June 9, the commission selected city-owned property at 1550 NW 37th Avenue for the new building, right next door to the new Miami Freedom…
Tower by tower, Edgewater skyline soars higher
Transformative high-rise towers are changing the Edgewater neighborhood, with more to come as demand for luxury residences continues to grow. Residential real estate developer Melo Group, which built Edgewater projects like 22 Biscayne, 22 Skyview, Bayhouse, 25 Biscayne, Second Plaza, 25 Mirage and Urban 22 – all luxury condos…
Revealed: One Brickell City Centre Supertower Redesigned, Construction In 2023
Related Companies and Swire Properties have unveiled plans for their joint development of the One Brickell City Centre supertall. One Brickell City Centre will be an "approximately 1,000 foot supertower" that will become the tallest commercial tower in Florida, according to a statement by the developers. The new tower will be nearly all office space. Tenants will…
Start delayed on Coral Gables Mobility Hub
Groundbreaking plans for the Coral Gables Mobility Hub have temporarily been placed on hold, according to city officials. The city is carefully moving forward with the mobility hub, a project that will position Coral Gables at the forefront when it comes to technology and transportation, City Manager Peter J. Iglesias said. "However, due to the current increases in the cost…"
County looks to lakes filled with floating solar power plants
Miami-Dade is seeking to add floating solar power plants to its electrical operations while it looks to the private sector to speed the use of the floating plants elsewhere, a report from Mayor Daniella Levine Cava says. "The county is reviewing some of its facilities with water bodies close enough to 'tie-in' floating solar power plants to their on-site electricity…"
Miami International Airport near cargo ceiling, expansion plans take off
As Miami International Airport became the leading airport in the US for international cargo in 2021, at least five of the 42 cargo airlines have ambitious plans for expansion that would increase cargo capacity in the next five years. The airport currently has 2.8 million square feet of cargo warehouse and storage. Staff is working with major international…
Well-known challenges could impede Miami's tech growth
Two new studies substantiating Miami's tech hype also reveal how much we must do to make that growth path pivotal to our economy. The jury is out about whether we can meet that challenge. Venture capitalists poured $5.6 billion into this area in 2021, according to "Miami's Tech Entrepreneurship Ecosystem 2012 to 2022," funded by the John…
Cymbal DLT nabs $102.5M loan for site purchase, construction of Miami Gardens apartments
Cymbal DLT scored a $102.5 million loan for the site purchase and construction of a Miami Gardens apartment complex. The Miami-based joint venture plans to build a 341-unit community at 20775 Northwest 17th Avenue, paying $15.5 million for the 14-acre former horse stable site, according to a Cymbal DLT news release. The company is a partnership…
$26B Prologis-Duke deal ends cold war
Everything has a price. For Duke Realty, the industrial powerhouse that had fended off a takeover by Prologis for months, it was $26 billion. San Francisco's Prologis will acquire Indianapolis-based Duke, which controls some 153 million square feet in 19 markets, in an all-stock deal expected to close in the fourth quarter, according to a Monday announcement.
Lease roundup: Nuveen nabs fintech tenant in Miami, Brookfield scores 20 leases at Boca's Mizner Park
Finsight Group I Waterford Business District I Miami-Dade County New York City-based Finsight Group leased an office at the TIAA-owned portion of the Waterford Business District near Miami International Airport, marking continued influx of Northeastern fintech firms to South Florida. Finsight signed for 3,122 square feet at…
YotelPad Miami owners discover they can't rent their units out daily as promised
Buyers at YotelPad Miami, who were promised the ability to rent their units out without restrictions, are unable to do so due to a change in the city's code, The Real Deal has learned. And they may be losing rental income as a result, while the developer tries to resolve the issue. An affiliate of David Arditi's Aria Development Group completed the downtown Miami…
Moishe Mana unloads North Miami Beach office building for $20M
Moishe Mana abandoned plans to convert a North Miami Beach office building into apartments, selling the property for $20 million as he focuses on other redevelopment projects. An entity managed by New York-based real estate investor Yoel Weiss purchased the 12-story building at 633 and 699 Northeast 167th Street, according to a press release. The deal…
Goldman Properties, JV of Scott Robins and Philip Levine propose Wynwood projects
More office and multifamily projects may be coming to Wynwood, as developers propose new projects for the once-gritty warehouse district. Pioneer Wynwood developer Goldman Properties wants to build an office building, and a joint venture between Scott Robins and Philip Levine tweaked a previous plan for a hotel with apartments – and now…
Builders have high hopes for 3D-printed housing
Community First Village, Austin (ICON) America's first fully permitted 3D-printed home took twice as long to print and cost more than double what its backers expected. Yet it was far from a failure. The 350-square-foot house was set to be printed in a total of 24 hours over the course of several days at the South by Southwest Interactive Conference 2018 in Austin.
Amazon Slowdown Sends Shivers Through Red-Hot Warehouse Sector
Amazon. com Inc.'s decision to throttle back on its e-commerce operations threatens to slow the growth of the industrial-space sector, one of the hottest areas of commercial property. For now, demand from other retailers is expected to pick up the slack, supporting warehouse occupancies and rent levels, analysts say. Rents, occupancy levels…
Walker & Dunlop Structures $61 Million in Financing for Miami Opportunity Zone Development
Walker & Dunlop, Inc. announced today that it structured $61,046,600 in financing for UNI Tower, Miami, Florida's first 100% income- and rent-restricted residential skyrise. Located in the heart of Miami's urban core, the property will deliver 252 much-needed affordable and workforce housing units to one of the country's most costly housing markets.
Charles "Chip" Abele sells Hollywood mixed-use project for $66M tied to $84M refi
Charles "Chip" Abele sold a Hollywood mixed-use project for $65.6 million to a related entity, linked to an $84 million refinancing. An entity managed by the Hollywood-based developer bought 1818 Park at 1818 Hollywood Boulevard from another Abele-related affiliate, records show. The new ownership entity obtained an $84 million mortgage from Deutsche Bank…
Movie studio complex may rise on former incinerator site in Fort Lauderdale
Fort Lauderdale will negotiate with a company to build and operate a full-service movie studio complex on a former garbage incinerator site that the city owns. City commissioners voted 4-0 Tuesday night to approve a resolution directing city staff to negotiate an interim or comprehensive agreement with Fort Lauderdale Studio Initiative LLC for the…
Integra scores approval for Ocean Park hotel and condo project in Fort Lauderdale
Integra Solutions won site plan approval for Ocean Park Hotel and Residences, a planned condominium and all-suites hotel development in Fort Lauderdale near the Intracoastal Waterway. The Fort Lauderdale City Commission on Tuesday approved a site plan development permit for the mixed-use project on 1.26 acres just southwest of the intersection…
Jorge Pérez's Related, Henry Pino pay $15.5M for Fort Lauderdale dev site
409 Southeast Eighth Street in Fort Lauderdale with Related Group CEO Jorge Pérez and President Jon Paul Pérez and Henry Pino, principal at Alta Development. A joint venture of Jorge Pérez's Related Group and Henry Pino of Alta Development bought a vacant site in Fort Lauderdale for $15.5 million. The developers purchased an acre, or the majority of the 1.3…
Fort Lauderdale to pay Elon Musk's company to study tunnel plan for the city
Billionaire entrepreneur Elon Musk is a step closer to achieving his tunnel vision for Fort Lauderdale. The city will pay his tunnel business, The Boring Company, to study the cost and feasibility of an underground loop for vehicles shuttling passengers between downtown Fort Lauderdale and the city's beach. It is known as the Las Olas Loop project, aimed at…
Elion Partners buys Pompano Beach industrial building for $15M
Elion Partners is continuing its industrial real estate shopping spree, paying $15.3 million for a Pompano Beach warehouse. North Miami Beach-based Elion bought the property at 1121 Northwest 31st Avenue from an entity led by Richard Applegate of Pompano Beach-based United Sheet Metal, according to public records. The buyer took out an $8.8 million loan…
NJ pediatrician pays $14M for Park at Broken Sound offices in Boca Raton
Malcolm Butters, president of Butters Construction and Development, sold an office building at Boca Raton's Park at Broken Sound for $13.8 million. Blair Rolnick bought the two-story building at 851 Northwest Broken Sound Parkway, according to the broker's news release. Rolnick is a pediatrician in New Jersey and is trained in emergency room pediatrics…
Mark Bellissimo sells International Polo Club Palm Beach for $95M
Wellington developer Mark Bellissimo sold the International Polo Club Palm Beach in Wellington for $95 million. Lake Worth Beach-based United States Polo Association bought the 161-acre property on the southwest corner of 120th Avenue and 35th Street from an entity managed by Bellissimo, according to a deed. The properties are at 12560, 12580…
GL Homes pays $28M for homesites at Arden near Wellington
GL Homes bought 209 homesites at Arden near Wellington for $28.1 million. Boston-based Freehold Communities sold the land to Sunrise-based GL Homes in two deals for $11.9 million and $16.2 million, according to deeds. The purchase breaks down to about $134,665 per lot. A GL Homes' map of its portion of home development sites at Arden…
JV led by Plantation-based investors buys Lake Worth shopping plaza for $15M
A family partnership of Plantation-based real estate investors paid $14.7 million for a Palm Beach County retail complex adjacent to a Super Target. Daryl and Carol Stair Revocable Trust, Steven Stair, Carley Stair, Rebecca Stair Frisoli and Krantz Family LLP acquired Shoppes at Mission Lakes at 5500, 5516 and 5940 South State Road 7 in Lake Worth, according to…