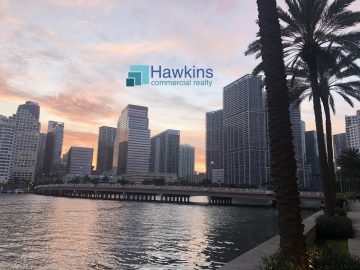 Triple Five "inching closer" to construction on American Dream Miami
Triple Five Group is still planning to move forward with its American Dream mega mall in Miami-Dade, even as the Canadian development group is staring down billions of dollars of debt payments for its other malls. Triple Five, led by the Ghermezian family, completed a land swap with the Graham Companies for 40 acres near the site of the American Dream Mall…
Wells Fargo says mismanagement by Southland Mall owner contributed to downfall
As it moves ahead with its foreclosure lawsuit against the owner of Southland Mall, Wells Fargo is now alleging the company had for years been mismanaging the struggling retail center in Cutler Bay. In a recent filing related to the foreclosure suit, the bank says the owner owes over $160,000 in code violations and citations to Cutler Bay and Miami-Dade…
Miami Herald To Move Out Of Doral Location
The Miami Herald has decided to move out of their Doral offices in August. In a letter to their readers, they state that the current pandemic has accelerated the organization's ability to work remotely. The paper went on to say that they are investing in people over place to ensure their coverage remains the same. Employees will remain working from home through…
Baywood scores $31M loan to build hotel near Miami International Airport
Baywood Hotels scored a $31.3 million construction loan for the site of a building shell that has sat empty near Miami International Airport for years. Two companies tied to Columbia, Maryland-based Baywood secured the loan from Banesco USA to build a 218-room hotel at 1101 Northwest 57th Avenue, records show. Baywood secured a notice of commencement…
Pandemic transportation changes could become permanent
Miami-Dade's transportation picture has been in flux since the onset of the coronavirus pandemic, and many changes – including new safety strictures, increased telecommuting and a rise in non-motorized mobility – could prove permanent, experts say. "This is a lifetime event that's really going to change a lot of things, including transportation, how people work and…
Swire Properties to Welcome Five Retailers to Brickell City Centre in Miami
Hong Kong-based Swire Properties, along with co-developers Whitman Family Development and Simon Property Group, has announced that five retailers are joining the tenant lineup at Brickell City Centre in Miami. Marabu, which recently opened its doors, is a Cuban-inspired restaurant headed by Cuban-American chef Alberto Cabrera. Opening in July are…
PortMiami, cruise lines huddle as new sailings near
All eyes at the "Cruise Capital of the World" are on July 24, when cruise lines could again begin operations following a 100-day no-sail order from the Centers for Disease Control and Prevention (CDC). In the meantime, PortMiami Director Juan Kuryla said Tuesday, the port is continuing talks with its industry partners to ensure that once that date – or any new one…
As freight demand grows, truck parking shortage serious
Around this time last year, when Amazon outpaced Walmart as the world's largest retailer on Forbes' annual Global 2000 list, it marked a sea change in commerce. For the first time in human history, a retail company that – aside from its Whole Foods supermarket chains – only sells its products online topped every brick-and-mortar seller on the planet. Now in the wake of…
Inside the "legacy" hotel assets Colony Capital is pivoting away from
Thomas Barrack and (from top) Sheraton San Jose Hotel in Milpitas, CA; The Westin Governor Morris in Morristown, NJ; Four Points by Sheraton Destin in Fort Walton Beach, FL (Barrack by Jared Siskin/Patrick McMullan via Getty, Google Maps, Westin, Marriott) Tom Barrack's Colony Capital has spent the last several years pivoting away from "legacy" real estate assets…
Berkadia Arranges $97M Construction Loan for Apartment Complex in Sunny Isles Beach
Berkadia has arranged a $97 million construction loan for Las Marinas Apartments, a planned two-building, 256-unit complex in Sunny Isles Beach. An undisclosed life insurance company provided the 15-year, fixed-rate loan with five years of interest-only payments. Each building will stand 17 stories and offer 128 units. The borrower and developer, The Brunetti…
New York Life Provides $97M Construction Loan on Miami Resi Towers
New York Life has provided $97 million in construction financing to The Brunetti Organization to help facilitate the firm's development of a planned, two-building multifamily project outside of Miami called Las Marinas Apartments, according to information from real estate firm Berkadia, which arranged the financing. The 15-year, permanent construction loan…
Developer Lissette Calderon Makes Moves In Allapattah
Just two weeks ago, Miami developer Lissette Calderon was topping off a building in Allapattah. This week, she's announcing a new one. On the heels of topping off a 192-unit project called No. 17 Residences, and being in the permitting process for a 323-unit project called Allapattah 16, Calderon has acquired a development site at 1470 Northwest 36th Street, where she…
The Fed on the Impact of its Response to COVID-19 So Far
As part of the measures undertaken to alleviate the economic impact of the COVID-19 pandemic, the Federal Reserve lowered its policy rate back to zero and opened a series of credit facilities designed to support the functioning of financial markets.1 In addition, the Fed announced actions aimed at relieving cash-flow stress for small and medium-sized businesses…
Quest for an airport convention hotel should go on standby
Miami-Dade commissioners who rushed to quickly cut a deal for a new Miami International Airport convention center hotel should have listened to Mayor Carlos Giménez, who assessed today's world and counseled a go-slow approach. After seven commissioners had urged a highly expedited selection of a hotel developer on airport land, the mayor said this isn't…
Alternative Lenders On Bank Slowdown: 'This Is Our Super Bowl'
Bank lending to commercial real estate is still moving at a snail's pace, so, it will fall to private lenders to come up with creative financing solutions as the coronavirus continues to wreak havoc on the economy. "Banks are not known to innovate, that's not what they do," Dan Palmier, the founder and CEO of Boston-based alternative lender UC Funds, said on a Bisnow…
Buyer's Remorse or Force Majeure? Contract Amended Mid-Pandemic Leads to Lawsuit in Miami-Dade
Can a party to a contract invoke force majeure forgiveness if the COVID-19 outbreak had already started when they signed on the dotted line? A Miami-Dade lawsuit seeks to find out. David B. Rosemberg of Rosemberg Law in Aventura represents real estate holdings company Trumpeter International LLC, which sued after its deal with Spanish citizen Anastasio…
Beckham soccer stadium complex developers propose major rezoning
The developers of Miami Freedom Park, a proposed $1 billion mixed-use project anchored by a soccer complex, submitted a Special Area Plan for the Melreese site. Miami Freedom Park, a group that's led by managing owner Jorge Mas and includes soccer superstar David Beckham, submitted the SAP along with the city of Miami, which owns the Melreese Country Club…
How One South Florida Real Estate Company Has Been Helping Tenants Through the Shutdown
Philip Leitman, General Manager of Suchman Retail Group (SRG), realized at the beginning of March that COVID-19 was a significant risk to health, the community, and business. Meeting with staff, he said, "This is coming, we need to be prepared. We need to be proactive to help our tenants and all staff need to be safe. Personal health comes first." Suchman Group began…
Brunetti scores $97M loan for apartment towers in Sunny Isles
Las Marinas Apartments A company tied to the Brunetti Organization scored a $97 million construction-to-permanent loan for two new apartment towers in Sunny Isles Beach. Brunetti Organization, led by John Brunetti Jr., secured the loan from the New York Life Insurance Company to build Las Marinas Apartments, two 17-story, 128-unit towers, according…
Knotel lost $223M before the pandemic struck
Flexible-office provider Knotel lost $223 million last year — even before coronavirus flipped the office market on its head. Company financials, obtained by Business Insider, reveal the startup lost $49 million during the first quarter, ending the period with $36 million in cash on hand. At the time, it reported total assets of $110 million, less than half its total…
The pandemic has brought a silver lining for Lennar
Stuart Miller Lennar Corp., seen as a bellwether for the U.S. housing market, is actually seeing some benefits from the pandemic. The Miami-based homebuilder's executive chairman Stuart Miller said on its earnings call on Tuesday some buyers from the urban core are seeking out Lennar's suburban homes. During a conversation with Lennar's Southeast Florida…
U.S. retail sales follow largest drop on record with largest increase
A month after recording the worst single-month drop on record in April, retail sales in the U.S. rose by a record 17.7 percent in May. (iStock) A month after recording the worst single-month drop on record in April, retail sales in the U.S. rose by a record 17.7 percent in May, according to statistics released Tuesday by the Department of Commerce. The total value of…
The pandemic killed the sale of Rail 71. It's back on the market for $32M
Rail 71, Tony Arellano and Devlin Marinoff After a deal to sell the Rail 71 property in Miami's Little River fell through due to the pandemic, owner Morgan Reed Group is looking for a new buyer. Brokers Tony Arellano and Devlin Marinoff of Dwntwn Realty Advisors are relisting the office and retail development at 7205 Northeast Fourth Avenue for $32 million…
Simon, Brookfield and Authentic Brands in talks to buy J.C. Penney
Authentic Brands Group CEO Jamie Salter, Simon Property Group CEO David Simon, J.C. Penney CEO Jill Soltau and Brookfield Property Partners CEO Brian Kingston (Getty) J.C. Penney could be the next bankrupt retailer to get scooped up by Authentic Brands Group and the country's largest mall owners. The brand management company, along with Simon Property…
Does COVID-19 Provide an Excuse for Non-Performance of a Contract?
The question of almost every party to a contract that remains to be fully performed is whether Covid-19 is an act of God that will excuse performance by the party who has yet to complete performance. The starting point in any such inquiry is the written agreement between the parties—assuming there is a written agreement. If there is no written…
Legal Marijuana Poses Policy Questions for States
In recent years, more states have legalized marijuana for medical or recreational use. This raises economic questions for policymakers as they decide how to regulate cannabis, according to a recent article in the Regional Economist. Regional Economist Charles S. Gascon examined how states treat legal marijuana differently and whether states' policies are…
Another one bites the dust: 24 Hour Fitness files for bankruptcy
The national gym chain 24 Hour Fitness has become the latest company to file for bankruptcy in the wake of the coronavirus pandemic. The firm said in its filing that it has landed $250 million to help reopen some of its locations and expects most to be open by the end of June, according to CNN. However, it will reopen as a smaller chain after permanently closing 100…
Miami Beach parking lot mogul Mirmelli sells retail center in Lauderhill for $13M
Miami Beach parking lot owner Andrew Mirmelli sold a retail center in Lauderhill for $12.75 million, a year after buying it. Mirmelli and Miami Beach attorney Mark Alhadeff sold the 143,430-square-foot Promenade at Inverrary at 4402-4678 North University Drive for $88 per square foot, records show. A company tied to Hollywood, Florida-based Current…
Hotels are reopening. Will anyone come?
Hotels across the country are starting to reopen for business, but guests who show up will face a very different environment. General managers need to persuade guests that they will be safe staying at their hotels thanks to measures like social-distancing guidelines, checking employees' temperatures and more intense cleanings, according to the Wall Street…
Books & Books closes its chapter on Lincoln Road
Books & Books, Miami's most well-known independent bookstore, closed its Lincoln Road store for good after more than 30 years on the iconic Miami Beach street. Books & Books owner Mitchell Kaplan confirmed to The Real Deal that the store at 927 Lincoln Road is not reopening. "It's been really a wonderful 30 years of being there, having this kind of front row seat there…
Coral Gables apartment building sells for $11 million
A Coral Gables apartment building that is still under construction sold for $11.1 million. Adar Galiano 1091 LLC, tied to Jonatan Sredni of Aventura, bought the property at 1091 Galiano Street for $11.1 million, according to a press release. 1091 Galiano Investments LLC, led by Daniela Carozzi, sold it. The property totals 18,710 square feet…
Is Brooks Brothers the next retail bankruptcy?
Brooks Brothers might be the next major retailer to go through bankruptcy. Authentic Brands Group and Simon Property Group are in talks to buy the chain if it files for Chapter 11, according to Bloomberg. Simon, the biggest mall landlord in the country, has a strong interest in keeping its major tenants alive, while Authentic has a history of buying established brands…
Apeiron at the Jockey Club developer wins key ruling from appeals court
The Apeiron at the Jockey Club developer appears to have snuffed out a long-running fight with two property owners' associations that sought to stop the 120-unit tower in North Miami-Dade from being built. The Third District Court of Appeals earlier this month dismissed a petition by the Jockey Club I and Jockey Club II associations, which represents unit…
The Prospects For CRE In a COVID-19 World
How will recovery look, and when will it happen? It's interesting to look back at the early predictions on how COVID-19 would impact the CRE industry. Many analysts, either hopeful or looking at something unprecedented, only offered confident short-term calculations. The post The Prospects For CRE In a COVID-19 World appeared first on…
Starbucks puts the lid on 400 stores
Starbucks will shutter 400 stores across the country as it transitions to to-go orders while adjusting to the coronavirus pandemic. The closures were disclosed in a Securities and Exchange Commission filing. It was not clear which of the java giant's locations will close, but Commercial Observer reported that some New York City locations are being considered. In April…
Lender files to foreclose on new South Beach Variety hotel
A lender filed a foreclosure lawsuit on a hotel in South Beach, in a possible sign of things to come. A company tied to BridgeInvest sued the owner of the 70-key Variety Hotel, which is yet to open at 1700 Alton Road in Miami Beach. The suit alleges the hotel owner failed to make payments on a $25 million loan since April. BridgeInvest alleges the loan is in default and is…
Diesel USA and Original Penguin Lincoln Road stores skipped April and May rent payments: lawsuit
Miami Beach real estate investor Sam Herzberg wants to kick out two national retailers from the Sterling Building on Lincoln Road. The historic property's owner recently filed eviction lawsuits in Miami-Dade Circuit Court against Diesel USA and Perry Ellis for failing to pay rent in April and May. Herzberg joins developer Jeff Berkowitz as the latest South Florida…
Bank OZK still making condo construction loans despite pandemic
Bank OZK CEO George Gleason had some things to get off his chest. First, one of the most active condo construction lenders in Miami, New York and Los Angeles is still writing loans despite the pandemic, he said. Second, Gleason maintains the bank only originates low leverage loans to the best sponsors, and to borrowers whose projects are in growing markets.
ICSC's layoffs paint dark picture for retailers it represents
Retailers were already suffering in the hands of the coronavirus pandemic. Now, even their trade association is struggling. The International Council of Shopping Centers is laying off 65 employees today, according to a filing with the New York Department of Labor. The group checked the "unforeseeable business circumstances prompted by Covid-19" box that so many…
Czech billionaire cashes Macy's shares after less than a month
Daniel Kretinsky was in it for a good time not a long time. After the Czech billionaire's firm purchased a 5 percent stake in Macy's last month, the company said this week that its stake was down to 0.7 percent. The exit was lucrative, according to Bloomberg, which reports that Kretinsky made some $36 million. Vesa Equity Investment's bet on Macy's aligned with a 65…
Simon and Taubman gear up for legal throwdown
Nearly two decades ago, the Taubman family ferociously fended off a hostile takeover of their mall company from Simon Property Group. Now the roles are reversed: The Taubmans are gearing up to force Simon to complete the $3.6 billion acquisition it abandoned. Hours after Simon announced it had scuttled the deal Wednesday, Michigan-based Taubman…
These 25,000 retail dinosaurs will meet the meteor this year
As many as 25,000 retail stores may close this year due to the coronavirus pandemic, with a majority closing in shopping malls, further hastening the industry's decline. That number would dwarf the prior record of 9,800 retail closures set in 2019, according to a new report from the retail data firm Coresight Research. First issued in March, the report estimated that…