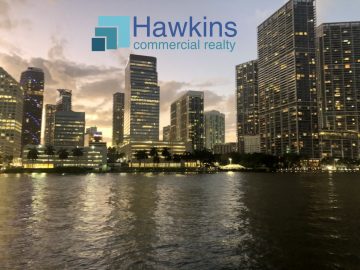 Berkadia Arranges $31M Sale of Mixed-Use Bay Harbor Islands Development Site
Berkadia has arranged the $31 million sale of a 1.8-acre development site in Miami's Bay Harbor Islands known as 1177 Kane Concourse. Located just west of Bal Harbour Shops, the site includes 300 feet of frontage on Kane Concourse and is permitted for a mixed-use residential, retail and office development. Jaret Turkell, Roberto Pesant, Scott Wadler, Omar Morales…
Billionaire Teaming Up With Sidewalk Labs On Miami Development
Billionaire developer Moishe Mana, through his company Mana Common, has engaged Alphabet's Sidewalk Labs to plan sustainable infrastructure for a swath of property he owns in Miami's trendy Wynwood neighborhood. Sidewalk Labs, dubbed an urban innovation company, will design energy, waste and parking systems across 24 acres. It is one of the first projects…
Forget Silicon Valley: Commissioner Wants to Attract Big Pharma to Miami-Dade
When it comes to the future of Miami, the buzz for the past six months has pretty much focused on Mayor Francis Suarez's push to make the city a hub for tech companies and startups. That's been the narrative ever since December, when the mayor responded to a throwaway suggestion on Twitter ("ok guys hear me out, what if we move silicon valley to…")
Miami Market Update: Office Transaction Activity Picks Up Pace
In April, six properties totaling 575,367 square feet changed hands in Miami, at a combined price of $265 million and an average of $461.1 per square foot, according to CommercialEdge data. The office market has picked up momentum in the first quarter of the year, and the growing interest in the Southern Florida market doesn't seem to be slowing…
Kleber Discusses Miami's Office Boom
Miami is having a moment. Name a premier financial or tech company and chances are it's scoping out Miami offices. These include industry giants Citadel, Millennium Management, Apollo Global Management, Apple, Bitcoin.com, and the list goes on. The Magic City is an appealing alternative to New York and San Francisco. Why not settle some place where the…
Related, Dezer report nearly $1 billion sellout at Residences by Armani/Casa
A new benchmark for post-pandemic condo sales in South Florida was set with the nearly $1 billion sellout of the Related Group and Dezer Development's Residences by Armani/Casa. The developers are among the latest to report a sellout or near sellout in recent months as demand remains high for luxury condos in South Florida. E11even Hotel…
Rilea Group plans multifamily project on Wynwood site purchased for $22 million
Miami's Wynwood continues to grow as an apartment rental market, with a developer planning a multifamily project on a site it purchased for $22 million. Rilea Group bought the property at 56 Northeast 29th Street from 29th Street Warehouse LLC, managed by Lombardi Properties, in an off-market deal, according to a news release. Alfred…
Hamilton on the Bay's owner Aimco adds more land to its Edgewater war chest
Multifamily real estate investment trust Aimco, owner of the waterfront Hamilton on the Bay apartment tower, is expanding its land assemblage in Miami's Edgewater neighborhood. Aimco has closed on or is in contract to buy nearly the entire block of 34th Street, across from the Hamilton, sources told The Real Deal. The Denver-based REIT was rumored to…
Office investors Tishman Speyer, Brookfield put money where mouth is
Since early in the pandemic, office landlords have maintained that work-from-home would not cripple their big-city portfolios. But talk is cheap. Who backed up their bluster with billions of dollars in office investments? Tishman Speyer and Brookfield did, their executives said Wednesday at a forum in Qatar. Rob Speyer said that since March, his firm had…
Estate Companies sells Soleste Alameda apartments in West Miami for $83M
The Estate Companies sold its fifth West Miami multifamily project for $82.9 million. Estate, based in South Miami, sold the 306-unit Soleste Alameda at 6320 and 6290 Southwest Eighth Street to Dallas-based Westdale Real Estate Investment and Management, according to Neyda Bravo, a broker on the deal. The sale breaks down to $270,971 per unit. Bravo work…
Mall landlords turn to pop-up stores to boost revenue
Retailers aren't the only ones working their way back from the ravages of the pandemic. Mall landlords have been decimated, and many are now courting temporary tenants, pushing the pop-up stores to boost revenue and fill space. Mall operators on Long Island and across the nation are trying to entice retailers with cheaper rents — sometimes a few months…
Global Horizons buys Buena Vista and Little Haiti portfolio for $13M
Global Horizons Group bought a 35-property portfolio of single-family homes and apartment buildings in Miami's Buena Vista and Little Haiti neighborhoods for $12.85 million. The North Miami Beach-based investor bought the properties from Miami-based Bowery Properties, led by Thomas Neary, according to Global Horizons' co-founder and co-managing…
County cuts $4 billion West Dade development deal with developer Terra
Miami-Dade and developer Terra have agreed to early terms of a project near Dolphin Station that is expected to yield the county more than $4 billion over a century. Commissioners June 15 approved a 97-year contract with the Miami firm for construction of Upland Park, a mixed development to span 33 county acres where the Dolphin Expressway and Florida…
Major Mexico investment firm to open in Miami
Banorte Securities International (BSI), an investment management and brokerage service company based in Houston, announced it will open offices in the Brickell financial district to attend to its clients from Mexico and the Latin American region in South Florida. The company is a subsidiary of Mexican financial institution Grupo Financiero Banorte…
Economists agree inflation may hit 5.5% this year
Inflation is here already. Prices of goods are increasing and consumers are starting to notice it. The federal response due to the coronavirus health crisis caused an extra liquidity in the system and the monetary base is expanding at record levels. As a consequence, economists agree that inflation may rise up to 5.5% at the end of 2021 but are still uncertain…
The pandemic's boost to online sales: A one-time event or a new normal?
The FRED graph above shows online retail sales. It's no surprise these sales have been steadily increasing, even if there are a few rough patches during recessions. And it's also completely expected that the pandemic provided a large boost to e-commerce over on-site retail. The question is whether this is a temporary boost that will subside once the world returns to…
PMG buying shuttered Johnson and Wales North Miami campus, planning redevelopment
The Johnson and Wales campus and PMG principals Kevin Maloney and Ryan Shear (PMG) Property Markets Group is making a big play in North Miami. The New York-based luxury condo and apartment developer is buying the shuttered, 25-acre Johnson and Wales campus, with plans for partial redevelopment, according to city documents and a commercial…
Neighbor sues to short-circuit Jimmy Tate and Sergio Rok's no-bid North Miami project
An aerial of the proposed development site and warehouse with Sergio Rok and Jimmy Tate The city of North Miami's plan allowing developers Jimmy Tate and Sergio Rok to build a mixed-use project on two city-owned parking lots has hit a legal snag. The owner of a warehouse next door to the proposed development and its tenant are suing North Miami and TR…
AMS Hospitality, Black Salmon buy Circa 39 hotel in Miami Beach
A joint venture between The Allen Morris Company and Stormont Hospitality partnered with Black Salmon to buy a boutique hotel in Miami Beach, the second in a series of planned purchases together. AMS Hospitality Group and Black Salmon paid $25.5 million for Circa 39, a 97-key hotel at 3900 Collins Avenue, according to a press release. The Art…
Terra paid $32M for Bay Harbor Islands development site
Terra closed on a mixed-use development site along Bay Harbor Islands' Kane Concourse for $31.5 million. David Martin's Coconut Grove-based Terra had been under contract to purchase the property at 1177 Kane Concourse and closed on Wednesday, according to a news release from one of the sellers. The purchase comes on the heels of the Bay Harbor…
Investment firm makes $130M offer for 60-year-old Edgewater condo complex
Edgewater, a bayfront Miami neighborhood north of downtown, continues to attract big spenders. The latest, Beach Hill Capital Partners — a Miami-based investment firm led by Daniel Rotenberg — is offering $130 million for an older waterfront condo complex called Bay Park, The Real Deal has learned. The company submitted a letter of intent in mid-May for the…
Ex-WeWork CEO Adam Neumann inks $44M deal for Bal Harbour properties
So long, Bay Area: Adam Neumann is headed to South Florida. The WeWork co-founder and ex-CEO inked an off-market deal for two properties on the Bal Harbour Marina, just north of Miami Beach, for $44 million, the Wall Street Journal reported. The purchase comes roughly two months after Neumann sold his northern California estate for $22.4 million. Local…
The grand reopening: As restrictions lift, CRE markets race toward recovery
It wasn't the pan-roasted halibut that drew a small crowd to Blu Mar on a recent Thursday afternoon. One after another, guests on the splashy Southampton seafood spot's outdoor patio removed the face coverings they had been wearing for the better part of a year and tossed them into a fire pit, which was then doused with fuel and set ablaze to the tune…
Chart: Miami-Dade Commercial Real Estate Sales May 2021
The above chart shows the number of closed sales of Miami-Dade commercial properties, including both improved commercial property and vacant commercial land, that were booked in the Miami MLS for the two years ending May 2021. Last month, May 2021, was the second highest month over the prior two years, though still off somewhat from the…
Software firm Chetu buys Sunrise office property for $25M
Software provider Chetu paid $25 million for its new headquarters in Sunrise in Broward County. Chetu, now based in Plantation, bought the office property at 1500 Concord Terrace at the Sawgrass International Corporate Park, according to a news release. Chetu will move its headquarters there in the fall. The seller, 1500 Concord Terrace LLC…
Des Moines investment firm pays $26M for T-Mobile data center in Sunrise
A group tied to Principal Real Estate Investors picked up a T-Mobile data center in Sunrise for $26 million. Property records show an affiliate of Des Moines, Iowa-based Principal Real Estate Investors bought the property at 4850 Northwest 103rd Avenue from LPCH Florida Equities, tied to Dallas-based Lincoln Property Company. Lincoln Property's data center division…
Harbor Group Sells Pembroke Pines Apartment Community for $223M
Harbor Group International LLC has sold a 700-unit apartment community in the Miami-Fort Lauderdale suburb of Pembroke Pines, Fla., for nearly $222.7 million, marking the metro's largest recorded multifamily sale this year. The Class A property, City Center on 7th, spans 40 buildings near the intersection of Pines Boulevard and Palm Avenue. Harbor Group….
Pebblebrook Buying Florida Margaritaville Resort For $270M
Bethesda, Maryland-based Pebblebrook Hotel Trust, a publicly traded REIT that owns 51 hotels in the U.S., announced Wednesday that it will acquire the 18-story, 369-room Margaritaville Hollywood Beach Resort in Hollywood, Florida, for $270M. The sale price amounts to more than $731K per room. The seller, Denver-based KSL Capital Partners, bought the…
Pebblebrook buying Margaritaville Hollywood Beach for $270M
Pebblebrook Hotel Trust is buying Margaritaville Hollywood Beach Resort for $270 million, which would be the biggest South Florida hotel sale this year. The real estate investment trust is in contract to acquire the 369-key Jimmy Buffett-inspired resort at 1111 North Ocean Drive in Hollywood, according to the company. Pebblebrook, one of the country's largest…
Aimco spinoff buys Harbor Group's Pembroke Pines apartments for $223M, marking largest South Florida multifamily sale this year
Harbor Group International sold a 700-unit apartment complex in Pembroke Pines for nearly $223 million, marking the largest multifamily deal in South Florida this year. Norfolk, Virginia-based Harbor Group sold City Center on 7th to Air Communities, an entity linked to the real estate investment trust Aimco, The Real Deal has learned. AIR Communities…
Furniture wholesaler pays $9 million for Hollywood distribution facility
A California home furniture wholesaler bought a Hollywood industrial building to serve as a distribution facility for $9.1 million. Records show Los Angeles-based VIG Furniture bought the property at 3600 North 29th Avenue from TMS Hollywood Properties, which is tied to RS Trading Company. The 75,988-square-foot building was constructed in 1969…