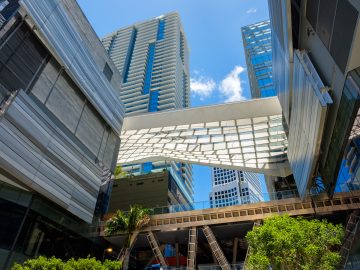 Rieber Developments to Build Seniors Housing, Mixed-Use Tower in Aventura
Rieber Developments has unveiled plans for 12|12 Aventura, a mixed-use project with offices for medical professionals, a luxury senior living component and retail. The project is planned for a plot in Aventura, a northern suburb of Miami. Designed by Arquitectonica, 12|12 Aventura will be a 12-story complex consisting of 30,000 square feet of commercial retail space, 30,000 square feet of offices, a 150-unit…
Trump admin wants to spur affordable housing by easing local building restrictions
U.S. Department of Housing and Urban Development secretary Ben Carson and President Donald Trump (Credit: Getty Images and iStock) President Donald Trump wants to give a boost to affordable housing development by easing or nixing restrictive construction rules at the local government level. The president on Tuesday signed an executive order creating the White House Council on Eliminating Barriers…
Co-working space operator picks up low-rise office building in Edgewater for $20.6M
2125 Biscayne Boulevard (Credit: Artstreetecture | Google) A Chicago-based company bought a Miami office building and plans to convert the 54-year-old commercial property to co-working space. Novel Coworking said it paid $20.62 million for the 63,240-square-foot building at 2125 Biscayne Boulevard. The seller, Toy 13 Inc., managed by Francisco Martinez-Celeiro, got $326 per square foot for the…
Mazel Tov! Kosher restaurateur buys South Beach commercial property
Thor Equities sold a South Beach commercial property to a Kosher restaurateur for $5 million. Kerma Capital bought the 7,604-square-foot building with 15 hotel rooms and ground-floor retail space at 852 Collins Avenue, records show. 852 Collins Acquisitions, which is tied to the New York-based real estate firm Thor Equities, is the seller. The price equates to $658 per square foot. Kerma Capital is managed by…
Metro Miami Office Building Sells for $54M
CGI Merchant Group has acquired 550 Biltmore, a 162,293-square-foot, Class A office building in Coral Gables, Fla. The Miami-based company purchased the asset for $54.4 million, or $336 per square foot. Cushman & Wakefield assisted seller PGIM Real Estate in the transaction. According to Yardi Matrix data, PGIM payed $50.2 million for the property in 2014. 550 Biltmore is the second property…
CGI Merchant Group Acquires Coral Gables Office Building for $54M
Miami-based CGI Merchant Group acquired 550 Biltmore, a 162,293-square-foot office building in Coral Gables for $54.4 million. The 16-story, pyramid-shaped office property features Art Deco architecture and is located two blocks from Coral Gables' 'Miracle Mile' shopping district. Built in 1986 and renovated in 2013, the property has been institutionally owned and maintained throughout its history. On-site…
The doctor will see you soon: developer scores $36M loan for medical office condos
Rieber Developments closed on a $36 million construction loan for a mixed-use medical office condo and hotel project next to Aventura Hospital. The Aventura-based firm, led by Bernardo Rieber, secured the financing for Ivory 214 from Miami-based BridgeInvest… The project at 2820 Northeast 214th Street is under construction and is expected to be delivered in the first quarter…
Dockless Transportation Might Be Your CRE Property's Next Great Thing
It's convenient, cheap, and riders love it For the consumer, it's beautifully simple—rent a bike or scooter for as little as a dollar using a free app on your phone, pick it up at one of the numerous locations across your city, and drop it anywhere when you're done. Welcome to the era of dockless, urban transportation, the latest iteration of the sharing economy. Rather than shoulder the cost of car ownership, or sit…
Venture asks to convert Olympia Theater building to hotel
A public-private venture with the City of Miami could convert the Olympia Theater building into a profitable boutique hotel, with more than 50% of net revenues going directly to local charities. This unsolicited proposal from New Urban International is on today's (6/27) agenda for city commission discussion. The city owns the Olympia Theater at the Gusman Center… 174 E Flagler Street. City officials…
New 50-story Brickell tower to be mostly offices
A developer plans a gleaming skyscraper rising 50 stories in the heart of Brickell. Watson Investigations LLC is proposing a project called 888 Brickell Plaza at 830 SE First Avenue, on the corner of Southeast Eighth Street and Southeast First Avenue. The city's Urban Development Review Board on June 19 recommended approval, with a couple of suggestions. Attorney Carlos Lago represented the…
Miami Beach OKs funds to start dredging clogged waterways
Miami Beach commissioners have approved $250,000 for dredging of the Biscayne Point Waterway and Collins Canal. Homeowners celebrated the decision after waiting nearly three decades for sediment removal. Sediment continues to pile in most areas of Biscayne Point Waterway and Collins Canal, cutting boat access at certain points. It's a big issue for his residents, said Brian Gilderman, president…
40 Year Recertification Inspections for Commercial Properties
Looking to invest in South Florida real estate? If so, there's something important that you need to know about commercial properties: the 40-year recertification requirement. In Miami-Dade and Broward Counties, all buildings which are 40 years old from the date of the original Certification of Occupancy must be recertified by the Building Official. If your building has already had its 40-year recertification…
Contractors fined for fatal accident at Chetrit development in Miami Beach
2000 Park Avenue in Miami Beach (Credit: Google Maps) Two contractors were fined by the U.S. Department of Labor's Occupational Safety and Health Administration for failing to protect employees from falling at a site in Miami Beach, about six months after a worker was killed at the project. GA&L Construction Corp. and the Rinaldi Group of Florida are facing more than $87,000 in penalties after a…
Publix goes shopping, buys Doral retail center for $70M
Publix at Doral Plaza Shopping Center and Randall T. Jones Sr. Publix CEO (Credit: Google Maps) Publix Super Markets paid $70 million, or about 10 million Pub Subs, for a shopping center anchored by the grocery store in Doral. The Lakeland, Florida-based grocer bought three properties totaling 128,255-square-feet at 9755 Northwest 41st Street, 9785 Northwest 41 Street and 9701 Northwest 41 Street for $545…
Developer Amanda De Seta buys South Beach apartment building
Top, down: Amanda De Seta, Roland Ortiz and Victor Olaniel with 221 Collins Avenue Miami developer Amanda De Seta closed on an apartment building in South Beach with flexible zoning. De Seta, founder of LointerHome, which renovates distressed properties, paid $5.4 million, or about $491,000 per unit, for the former Royal condo building at 221 Collins Avenue in the South-of-Fifth neighborhood of…
Lennar Q2 earnings beat estimates, but stock falls due to effect of tariffs
Stuart Miller Lennar Corp. saw its stock drop on Tuesday after it released second quarter earnings and said that tariffs on Chinese goods are costing the company an average of about $500 per home. Still, the Miami-based homebuilder's quarterly earnings beat analysts' expectations. The company's profit, revenue and home deliveries rose thanks to lower mortgage rates and strong incentives offered…
Here are South Florida's top commercial sales in May
Homestead Pavilion, 14700 Caribbean Way, The Radice III, Congress Corporate Plaza and U.S. Customs & Border Protection building. A partnership between CREC Capital, MMG Equity Partners and Highline Real Estate Capital paid $62.2 million for one of the largest shopping centers in south Miami-Dade County. The buyers bought the 302,346-square-foot Homestead Pavilion at 2400 North…
The Fed: Key Housing Indicators Weaken Further in 2019
As of late 2018, four housing indicators that had signaled each of the three most recent recessions were on a track consistent with a late 2019 or early 2020 recession. They are: 30-year fixed mortgage rates; Existing home sales; Real house prices; Contribution of residential investment to GDP growth. In my December 2018 article, "Recession Signals: Four Housing Indicators to Watch in 2019," I compared in…
Damn The Speculative Industrial Supply – More Demand Lies Ahead!
The first half of the nine-year bull market in U.S. logistics warehousing was marked by a dearth of "speculative development," in which buildings go up based on faith in market demand and not on commitments from specific customers. Spec activity froze up during the Great Recession, and didn't pick up even after the smoke initially cleared. This would spawn the start of a powerful rise in asking rents…
7 for all Mankind to open at Dadeland Mall, luxury jeweler inks lease at Town Center, & other retail lease news
From left: Dadeland Mall, Town Center at Boca Raton and 3900 Biscayne Boulevard with Irma Figueroa (Credit: Simon Malls, Trip Advisor, and BuzzBuzzHomes) Yvel opened a store at Town Center at Boca Raton; 7 for all Mankind is heading to Dadeland Mall; Circa Lighting signed a lease on Biscayne Boulevard, and more. Here's a roundup of retail leases recently signed across South Florida. Yvel, a luxury…
Virginia Key marina operator seeks to stave off eviction by suing city of Miami
Rendering of the new boat marina by RCI-Suntex, the group that beat a development team including Rickenbacker Marina Inc. for a new city contract Amid pending approval of a new lease agreement to redevelop the city of Miami-owned boat marina at Virginia Key, the current operator is undertaking a legal maneuver to try to preempt eviction by the city. In a lawsuit filed in Miami-Dade Circuit Court…
Jeffrey Soffer's Turnberry Isle, HFZ's Shore Club hotel close refinancings
JW Marriott Miami Turnberry Resort & Spa with Jeffrey Soffer, and a rendering of the Shore Club with Ziel Feldman  The owners of two South Florida hotels closed on major refinancings of their properties, records show. JW Marriott Miami Turnberry Resort & Spa | Total loan: $340M TB Isle Resort LP, led by developer Jeffrey Soffer, received $91 million in financing for the JW Marriott Miami Turnberry…
U.S. Commerce secretary Wilbur Ross, South Florida manufacturers talk strategy
U.S. Commerce Secretary Wilbur Ross provided some advice and engaged with manufacturers during a recent South Florida visit. SFBW was the exclusive media invitee as Ross met with members of the South Florida Manufacturers Association at Dyplast Products' Opa-locka plant, which makes sheet insulation, composite foam cores and specialized products that can insulate cryogenic pipes that can be 250…
Co-living development for the creative class is coming to Wynwood
Wynwood (Credit: Metro 1) The Collective acquired property in Miami's Wynwood neighborhood for development of a co-living apartment building with art-oriented programming. The London-based company said in a press release it will invest in the $210 million Wynwood project in partnership with Tony Cho, founder of commercial brokerage Metro 1. Founded in 2010, The Collective has more…
Miami-based private equity firm pays $54.4M for Coral Gables office landmark
550 Biltmore in Coral Gables Miami-based private equity firm CGI Merchant Group paid $54.4 million for 550 Biltmore, a 16-story office building in Coral Gables. CGI, which owns co-working space operator Nexus Workspaces, paid $336 per square foot for 550 Biltmore. CGI recently opened two new Nexus Workspaces locations at commercial properties in Boca Raton and Boynton Beach that the firm acquired…
Don Peebles is launching $500M fund for emerging minority and women developers
Don Peebles Development firm Peebles Corp. is launching a $500 million investment fund for minority and women developers in markets that include New York, Los Angeles and South Florida, The Real Deal has learned. The Peebles Corp. founder Don Peebles announced the company's new fund during TRD's annual residential real estate showcase on Friday, at the London Hotel in West Hollywood, where he…
All Those Cranes You See in the Miami Skyline? Most are Apartment Buildings, Not Condos
While Miami is known for its extensive array of luxury condos, not all of those new construction projects popping up everywhere are condo towers. In fact, a huge majority of them are actually apartment buildings, geared toward young urban professionals who would rather rent than buy. According to the Miami Downtown Development Authority, in December of 2018 their Market Insights reported…
9 Reasons Why South Florida Commercial Real Estate Is One of the Hottest Markets
On a national and global level, Florida has historically been one of the strongest commercial real estate markets, with continually solid returns and safety for the capital of global & domestic investors. In fact, US News & World Report currently ranks Florida #2 in terms of fiscal stability and #9 with its economy nationwide. Within…
Investor drops $10M on South Beach hostel
Adam Hyatt and Sobe Hostel Investor Adam Hyatt bought the SoBe Hostel in Miami Beach for $10 million, with plans to upgrade the property to a hotel. Property records show Hyatt's entity bought the 48-room hostel at 235 Washington Avenue from 235 Sobe Hospitality LLC, led by Jack Avid and Steven Oved. The price equates to about $208,000 per room. Hyatt financed the deal with a $7.5…
The Coconut Grove Playhouse saga continues. County petitions court to overturn denial
Carlos Gimenez, Francis Suarez and a rendering of the Coconut Grove Playhouse Miami-Dade Mayor Carlos Gimenez has commenced the next round in the battle with Miami Mayor Francis Suarez over the fate of the Coconut Grove Playhouse. On Monday, Miami-Dade County filed a court petition seeking to nullify Suarez's veto of a controversial renovation plan for the historic theater, which was initially…
County suing City over Coconut Grove Playhouse
On June 17, 2019, Miami-Dade County filed a lawsuit against the City of Miami regarding the Coconut Grove Playhouse. The County is not going to take "no" as an answer. The county seems quite spiteful and they are going to ram the chrome and glass structure down our throats. The county is asking that the court, "issue a writ of certiorari quashing the City of Miami Mayor's veto." The long boring lawsuit…
Skyrocketing Wynwood Rents Cause Classic ABC Costume Shop to Shut Down
Miami's large community of performing artists, as well as folks who just love to dress up, will lose a favorite provider of costumes and theater props when ABC Costume Shop closes this summer. Miamians have enjoyed access to a wild array of costumes – ranging from glitzy glamour to 3-D horror – at the ABC Costume Shop, run by Italian immigrant Franco Carretti for almost 40 years. In fact, our own…
Lincoln Road in Miami Beach Gains Some Old and New Local Retailers
Three familiar businesses are returning to Lincoln Road, Miami Beach's premiere retail, entertainment and restaurant high street. Fritz's Skate, Bike & Surf Shop, Lulu Laboratorium and the Dog Bar have all had original locations in South Beach and now returned. "I think what makes streets interesting are local tenants, interesting tenants," said Lyle Stern, board member of the Lincoln Road Business…
Make it work! Fabrics store of Project Runway fame buys Midtown Miami buildings
The Midtown Miami building and Jordan Gimelstein of Dwntwn Realty Advisors New York's Mood Fabrics, featured in Bravo's "Project Runway," is heading to Miami. The famed fabrics store, owned by the Sauma family, paid $7.13 million, or about $678 per square foot, for two buildings across the street from the Shops at Midtown Miami, near the Design District, The Real Deal has learned. Dwntwn Realty…
CocoWalk announces new eclectic mix of tenants
As the redevelopment of CocoWalk progresses, four new retail concepts have signed leases to move in when they reopen to the public next year. Joining the center's tenant mix will be Mister 01 Extraordinary Pizza as we shared with you here. They are an Italian pizzeria that has become one of Miami's most popular pizzerias; Edward Beiner, a homegrown luxury eyewear boutique that will return to CocoWalk…
Rieber Lands $36M Construction Loan on Florida Medical Office and Hotel Project
BridgeInvest, a lender based in Miami, has originated $36 million of construction financing to fund the development of a mixed-use commercial building in Aventura, Fla., the company behind the project announced today. The property, dubbed Ivory 214 by its builder, Rieber Developments, will add nearly 40,000 square feet of medical office space and 11,000 square feet of retail in the Atlantic coast…
Citizens Property Insurance pulls back on rate hikes
Hurricane Irma storm damage in Florida (Credit: iStock) In some rare good news for South Florida homeowners, the state's property insurer said it will scale back on its previously planned rate hikes. Citizens Property Insurance said it will only raise its average personal lines residential premium 4.7 percent in Florida, down from its proposed rate increase of 8.2 percent, according to the Miami Herald.
Florida Zoning Appeals Law: Miami-Dade County Special Exception Denial Quashed
In the recent decision of Publix Supermarkets, Inc., v. Miami-Dade County, Case No. 17-082 AP, the 11th Judicial Circuit Court in and for Miami-Dade County held: (i) the applicant successfully carried its burden in a quasi-judicial hearing before the zoning appeals board of Miami-Dade County (the "County"); and, (ii) that the opposition failed to establish the required "competent, substantial evidence" to…
As Development Booms In South Florida, One Firm Is Raising $200 Million To Invest In Foreclosures
The U.S economy is booming. The unemployment rate is at a historic low level. There's little inflation. And investment capital is fueling a wave of commercial development throughout South Florida. Yet, the founder of a Miami-based private equity firm is doubling his initial target goal of $100 million for a fund dedicated to acquiring distressed commercial real estate loans. Ralph Serrano, principal of Safe…
Grandfathered Out Of An Opportunity Zone? Be Wary Of Doing This.
Get ready for urgency in opportunity zone investing in the coming months. Timing provisions of the federal opportunity zone program require investors to harvest capital gains in 2019 and reinvest them within 180 days to qualify for the full benefit of the program — a 15% tax break. KPMG Tax Managing Director Katherine Breaks and other panelists at Bisnow's South Florida Opportunity Zones Regulations…
Top Miami (Mainland) Neighborhoods Ranked for Public Transportation
Whether you dream of going carless or simply want to get around town without endless hours of driving, a great public transportation system can truly be a blessing. Not only does it take the stress off your daily commute, but also helps the environment. This is exactly why the City of Miami has an elaborate public transit system. (Frankly it is not yet on par with major world-class transportation systems out…
South Florida Multifamily Headed for Oversupply? Q&A with Hunt Real Estate Capital's Marc Suarez
South Florida's multifamily market has continued to see a flurry of activity, with vacancies continuing at record lows despite an outpouring of new supply. Connect Media asked Marc Suarez, Director of Hunt Real Estate Capital's Miami office, who specializes in multifamily lending transactions throughout Florida, to share insights about what he's seeing in the market right now. Check out his responses in…
Mayfair Hotel & Spa has new owners
The Mayfair Hotel and Spa was sold this week to Brookfield Asset Management. They purchased the property at 3000 Florida Avenue for around $40 million. The last sale was in 2014 for $28 million by Copperline Partners (West Palm Beach and New York) in partnership with Dallas-based TriGate Capital. The hotel is not part of the whole Mayfair complex, which today is mostly offices. The hotel is it's own…
Unused Golf Courses are a South Florida CRE Opportunity
Abandoned golf courses are prime opportunities for redevelopment—but be ready to get environmental remediation and community buy-in When Tiger Woods won the Masters in April, golf course owners across the country hoped it would be "the putt heard 'round the world." The sport has seen a steady decline in interest since its heydays from the late '70s to early '90s. As a result, courses have been…
Could Miami Get A Magnetic Levitation Train?
Many tourists don't realize this until they arrive, but Miami International Airport is located on the mainland of Florida, while Miami Beach is its own separate city, which technically lies on a barrier island. To get there, most people drive over one of several causeways (each about 3 miles long) that traverse Biscayne Bay. You might think that linking the beach and downtown by rail would have been the…