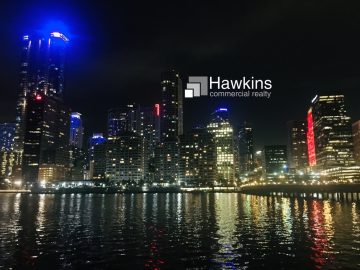 Easton Group to Develop 266,000 SF Warehouse In Hialeah Gardens
Easton Group will develop a 266,000-square-foot warehouse in Hialeah Gardens near Miami. An affiliate of Easton acquired an 8.5-acre site for $8.2 million. In September, a different Easton affiliate bought an adjacent 8.5-acre site for $5.6 million. Easton will develop the 266,000-square-foot property across the entire 17-acre site, which is located on NW 107th…
Video: Federal Reserve's Brian Bailey Discusses Commercial Real Estate in Times of Coronavirus
In this timely video, Brian Bailey, Real Estate Subject Matter Expert at the United States Federal Reserve Bank in Atlanta, discusses his views on commercial real estate in these COVID-19 affected times. As we continue our coverage on what's next for the real estate industry, this show is certainly enlightening. He discusses what is going on in the banking…
Is it The End for AMC Theaters?
As moviegoers continue to Netflix and chill during the pandemic, movie theaters have been dark. Now, AMC Theaters has disclosed it may have trouble staying in business, according to the New York Times, citing a recent Securities and Exchange Commission filing. AMC is the largest theater company in the world, with over 600 locations in the U.S. and 1,000 total.
Developers Gil Dezer, Jon Paul Perez: Problems Everywhere Else Will Benefit South Florida
Billionaire investor Carl Icahn just moved his office to Sunny Isles. Starwood Capital is building a new headquarters on Miami Beach. Over the past year or so, there has been something of an exodus of financial pros and hedge funders moving to South Florida. Even Barstool Sports founder and burgeoning day trader Dave Portnoy has been operating out of Fort…
WeWork rethinking one in five leases
WeWork may exit or rethink one in five of its leases as the troubled co-working firm slashes expenses and chases profitability. In a call with Citigroup analysts last month, CEO Sandeep Mathrani detailed the steps WeWork is taking to review its global portfolio, which had 828 locations as of March. According to the Financial Times, the troubled co-working firm…
US hotel occupancy climbs for the seventh-straight week
U.S. hotel fundamentals climbed for the seventh week in a row as the country comes out of the depths of the coronavirus pandemic. National occupancy for the last week of May was 36.6 percent, up from 35.4 percent the week prior, according to the latest figures from hotel data firm STR. Occupancy rates were below 30 percent for all of April. Revenue per…
A-Rod Faces Punitive Damages Over Real Estate Venture With Ex-In-Law
New York Yankees great Alex "A-Rod" Rodriguez is facing punitive damage claims stemming from a six-year legal battle with his ex-brother-in-law over a national multifamily partnership that went awry. Constantine Scurtis claimed Rodriguez—who was married to Scurtis' sister, Cynthia Scurtis, from 2002 to 2008—pushed him out of their real estate venture, denying…
Retail sales are bleak, unless you're selling pot
Though many retailers saw sales nosedive through the pandemic, marijuana product sales remained steady — and even saw gains in some states. As a result, landlords of cannabis production facilities and dispensaries are outperforming the market, in spite of legislative hurdles at the federal level, the Wall Street Journal reported. Innovative Industrial…
Sapir Corp goes private as shareholders approve buyout
Sapir Corp.'s Israeli shareholders have approved Alex Sapir's proposal to take his real estate investment firm private — at a somewhat higher price than originally planned. The deal is a victory for the company's namesake, after his attempt three years ago failed. Holders of a little less than 10 percent of the company's outstanding shares accepted…
5 Ways Industrial Real Estate Changed From 2010 to 2020
The start of a new decade is an excellent time to look back and reflect on how real estate markets, industries, and returns have changed over the past 10 years. Seeing what new technologies, businesses, and policies altered the market can help investors gain insight into changes that could come in 2020 and beyond. As of late, industrial real estate has been one of the top…
Construction starts in SoFla continue to plummet
Construction in South Florida is feeling the brunt of coronavirus. South Florida's total construction starts fell significantly for the second straight month, dropping 33 percent in April to $684.4 million, down from $1.03 billion in April 2019, according to a report by Dodge Data & Analytics. Residential construction fell 35 percent to $390.4 million, a year-over…
New Miami International Airport hotel on the runway
Miami-Dade has launched a process that by November could see a deal for the first new hotel at Miami International Airport (MIA) in 60-plus years take flight, but without the mayor's endorsement. Commissioners directed staff to start a three-month bid request process, followed by a 30-day review to conclude in September. The expedited timeline would leave the county…
Property insurance prices soaring, pandemic gets some blame
Experts say South Florida residents can expect to see an increase in prices as the market for property insurance "hardens" nationwide. A hard market, said David Josefsberg, partner with Century Risk Advisors, occurs when some insurance companies drop out of the market due to unprofitability while others increase their premiums to remain competitive. For the…
Despite virus challenge, Miami advances Allapattah project
The City of Miami's planning and zoning department staff has adjusted to Covid-19 and not been prevented in needed reviews for the many development projects in the pipeline. A good example is the proposed mixed-use residential building planned for Allapattah to be called 2323 Apartments. The project is moving forward despite the challenges…
County urges state funding of Miami River Commission
The Miami River Commission, the clearinghouse of the 5½-mile river that winds through the City of Miami to Biscayne Bay, hasn't received funding from the state in recent years. Because of that, Miami-Dade County commissioners passed a resolution Tuesday urging the Florida Legislature to appropriate funding for the commission. Eileen Higgins sponsored…
Ethics report should derail tainted Baylink bid negotiations
Just when our column on a Baylink railway deal went to press last week, ethics officials released a formal report that goes back two years into highly questionable ties between county officials and the rail bidders. The probe behind the scenes by the Miami-Dade Commission on Ethics and Public Trust added a new dimension that shows why the rail proposal…
All aboard? Miami-Dade to start discussions with Virgin Trains over major expansion
Miami-Dade moved forward with a proposal that could allow for a major expansion of Virgin Trains — but the funding is not yet on track. The Miami-Dade County Commission passed an amended resolution on Tuesday that gives Miami-Dade County Mayor Carlos Gimenez the authority to negotiate a proposal for the expansion and report back in 90 days. But…
Related switches gears on Terminal Island project, now plans low-rise offices
Miami's condo king is backing away from a proposal to build a luxury condo tower on Miami Beach's Terminal Island. Jorge Pérez's Related Group is now proposing a 160,000-square-foot Class A office project for a site it owns on Terminal Island. The change comes a year after the Coast Guard warned that Related's condo proposal could compromise the Coast Guard…
Florida extends freeze on evictions and foreclosures to July
Florida Gov. Ron DeSantis extended the state's freeze on residential evictions and foreclosures until July 1. The executive order, which was set to expire June 2, was renewed Monday night by the governor. It gives homeowners and renters more time in their homes if they can't make their mortgage or rent payments due to the pandemic, but it does not provide…
Data Security for Owners – Protecting Your Construction Investment From Catastrophic Loss
Even before the COVID-19 global pandemic, the construction industry has been "going global" using available technology and Cloud-based data storage and file sharing on all phases of projects. For example, an owner might hire a London-based architect to design a transportation hub in the United States. The London architect might delegate its Building…
Get your electrostatic disinfectant sprayers ready: Hotels begin reopening in South Florida
Ronny Finvarb, Sheldon Suga, and Phil Goldfarb Guests staying at the Fontainebleau Miami Beach will now be greeted with a new reality: Plexiglas at check-in, a temperature check, 24/7 access to a doctor, and a kit with masks, hand sanitizer and Clorox wipes. The beachfront resort, Miami-Dade's largest, is among hotels reopening on Monday, more than two…
The Fed on What Can We Learn from the Spanish Flu Pandemic of 1918-19 for COVID-19
The COVID-19 pandemic has spurred intense efforts among researchers to estimate the likely course of the pandemic and its economic effects. Several studies have sought insights from global pandemics of the past, including the Spanish flu pandemic of 1918-19, which is thought to have infected some 500 million persons, or about one-third of the world's population…
The Fed on Changes in Retail Sales Patterns
The FRED Blog has previously discussed the impact of social distancing on retail sales for food and beverages. In today's post, the pie graphs break down retail sales for items other than food and beverages. The first graph shows consumer shopping habits in February 2020, before social distancing was mandated or encouraged across the U.S. At that time, the largest…
24 Hour Fitness prepares for potential bankruptcy
24 Hour Fitness is preparing for a possible bankruptcy filing even as it begins reopening locations. (Getty) Gym operator 24 Hour Fitness Worldwide planning for a potential bankruptcy even has it begins reopening its locations. The fitness company, which has more than 430 mid-tier gyms, has been talking with investors about the terms of a loan…
Retailers consider store closures as protests sweep the country
Some U.S. retailers are closing stores in anticipation of potential property damage resulting from the George Floyd protests (Getty) Some retailers, hit hard by the coronavirus pandemic, are now contending with looting and vandalism in the wake of protests sparked by the death of George Floyd. Major companies like Target, Walmart and Nike, along with small family…
The Fed on How to Achieve a V-Shaped Recovery amid the COVID-19 Pandemic
The COVID-19 pandemic could result in an economic decline that rivals the Great Depression. The Federal Reserve has already set the federal funds rate to close to zero and commenced purchasing massive amounts of securities, and the U.S. government has sent out stimulus checks and implemented emergency lending programs totaling over $2 trillion…
TPG RE Finance gets $325M infusion from Starwood
Facing a cash crunch, TPG Real Estate Finance Trust has secured a major infusion a little over two weeks after it sold off nearly $1 billion of its commercial real estate debt. The real estate investment trust announced that Starwood Capital is taking a stake in the company, providing it with up to $325 million in new capital. Greta Guggenheim, TPG RE Finance CEO…
Inside South Florida's mall, retail and restaurant reopenings
Masks, one-way signs, spread-out open-air dining. Malls, stores and restaurants are reopening in South Florida, and changes are evident amid the pandemic. The Real Deal's South Florida Managing Editor Ina Cordle toured the Miami Design District with Craig Robins, Bal Harbour Shops with Carolyn Travis and Aventura Mall with Jackie Soffer on Saturday, May 23.
Elvis Dumervil's company fined in death of construction worker in North Miami
Elvis Dumervil's real estate firm was fined by the U.S. Department of Labor's Occupational Safety and Health Administration for failing to protect employees at a construction site in North Miami. The fines come six months after a worker fell from an aerial lift 20 feet above the ground that led to the employee's death at 12501 Northeast 13th Avenue in November.
Le Pain Quotidien freed from 59 leases in bankruptcy
Upscale bakery chain Le Pain Quotidien will be allowed to break 59 of its leases, in a decision the judge acknowledged is "unusual." The company filed for Chapter 11 bankruptcy protection, which allowed it to pare down debt and complete a $3 million sale to Aurify Brands pending court approval, Bloomberg reported. "The relief requested is unusual, but…"
CDC recommendations would drastically alter offices
The Centers for Disease Control released new guidelines for offices as they reopen amid the coronavirus. (Getty) Sweeping new recommendations from the nation's health protection agency would drastically alter how people work in offices. The Centers for Disease Control and Prevention guidelines range from technical — increasing air circulation and…
Robert Finvarb, Aria Mehrabi seek approval of mixed-use projects in North Beach
Two Miami Beach developers are seeking design review approval for mixed-use projects in North Beach. Robert Finvarb will go before the Miami Beach Design Review Board at a later date for a two-phased residential and retail project on 71st and 72nd streets, Abbott Avenue and Byron Avenue. Tuesday's meeting was canceled. The developer is seeking waivers and…
"We're not in the business of land-grabbing:" Hana CEO on the future of flex space
Hypergrowth has been the mantra of flex-office-space players for years. WeWork became the largest private tenant in New York City by signing leases at an astonishing rate, and venture-backed rivals from Knotel to Industrious were similarly ravenous. But when you're a flex-space player bankrolled by the world's largest commercial real estate services firm…
Berkowitz sues to evict PetSmart from Dadeland Station and Aventura Commons
Jeff Berkowitz, developer of Dadeland Station and Aventura Commons PetSmart could get the heave-ho from two Miami-Dade shopping centers for allegedly owing $62,269 in rent. Berkowitz Development Group, through two related entities, filed a pair of eviction lawsuits against the national pet retailer in Miami-Dade Circuit Court last week. The Coconut Grove…
Wynwood business group supports commuter rail proposal
The Wynwood Business Improvement District is throwing its weight behind a proposal for Brightline/Virgin Trains USA to build five commuter rail stations along the Florida East Coast Railway tracks near Biscayne Boulevard. Because the Metrorail tracks curve to the northwest after leaving downtown Miami, the neighborhood has long lacked rail…
Pandemic takes a Toll: Builder's profits drop 42%
As coronavirus battered the residential market, Toll Brothers said its second-quarter profits dropped nearly 42 percent from a year ago, to $75.7 million. The luxury home builder reported that signed contracts dipped 22 percent as buyers complied with stay-home orders. Home sale revenue was $1.52 billion, down 11 percent from $1.71 billion in the second quarter…
Not stopping for the pandemic: Fortune, Château could launch Sunny Isles project by year-end
Edgardo Defortuna and a rendering of La Playa de Varadero Developer Edgardo Defortuna could launch sales of an oceanfront project in Sunny Isles Beach by the end of 2020, despite the pandemic. Defortuna, president and CEO of Fortune International Group, is partnering with Château Group on the La Playa de Varadero condo development at 18801 Collins Avenue…
Industrious adds first female board member and eyes IPO
Flexible-office startup Industrious is moving closer to an initial public offering despite the perils of the coronavirus, which led the company to slash 20 percent of its workforce in early April. The Brooklyn-based firm has added real estate veteran Mary Hogan Preusse to its board of directors and has been interviewing investment banks ahead of a potential spring…
Prism Multifamily Group buys apartments in Tamarac, Plantation for $54M
Prism Multifamily Group, a Toronto-based firm that invests in apartment communities in the U.S., closed on two multifamily complexes in Broward County. Prism paid $53.5 million for the Hamlet Plantation apartments at 4401 Northwest 10th Court in Plantation and The Continental Apartments at 1861 Northwest 46th Avenue in Lauderhill, according to a press release.
Hotel occupancy hovers around 35% after Memorial Day boost
Hotels are slowly clawing their way back from pandemic purgatory. National occupancy rates climbed to 35.4 percent between May 17 and 23, according to weekly data released by STR. That's up from 32.4 percent the week prior, and it marks the sixth consecutive week that rates have improved. Occupancy hit a low of roughly 21 percent in early April…
"Large pools of talent": Mark Zuckerberg touts remote-work plan, less office space
After announcing that Facebook will move toward more working from home, Mark Zuckerberg has detailed why the plan will work in his company's favor. "The biggest advantages I think are access to large pools of talent who don't live around the big cities and aren't willing to move there," the CEO told Andrew Ross Sorkin during a segment of CNBC's…
Barrington Brothers plans mid-rise apartment project in El Portal
Rendering of The Kavista El Portal, a village composed of mostly single-family homes north of Miami's Upper Eastside, is opening the door to commercial development after approving a mid-rise apartment project with ground-floor workspaces near Biscayne Boulevard and Northeast 83rd Street. The village council voted last month for a development…
Charts: Commercial Property Inquiries Rebounding from COVID-19 Decline
Almost to the minute I posted about how commercial property inquiries had gone over a cliff, noting it as worthy of duh-chuckle categorization, inquiries began to rebound. This one could go in the category of "Whuuut?" As I mentioned in that prior post, if you know me, you know I'm a data hound. I collect and manipulate data, including various types…
Chart: April 1 Miami-Dade Unemployment Level Displays COVID-19 Effect
Miami-Dade County, Florida Unemployment Levels January 1, 1990 to April 1, 2020 The effects of coronavirus are clearly evident in the April unemployment rate spike in Miami-Dade as of April 1, 2020. At 11.95, the level of unemployment has yet to reach the 12.4% level reached in August 2009. Given the effects of coronavirus on commerce, however, the…
Largest Co-Living Project In The U.S. Debuts In Fort Lauderdale
Last week, move-ins began at Society Las Olas, a 34-story, 639-unit development on the Fort Lauderdale Riverfront that has taken the title of the largest co-living development in the country. Property Markets Group Brand and Marketing Director Brian Koles said 20% of its units are rent-by-the-bedroom. Koles downplayed the buzz around the word "co-living…"