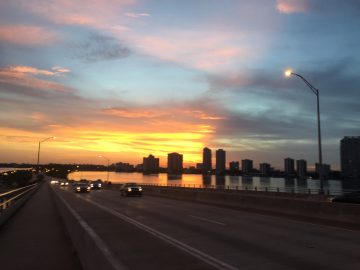 Beckham group submits draft lease deal for Miami Freedom Park complex
David Beckham and his partners moved forward with their plans to redevelop the Melreese Country Club property in Miami into a $1 billion mega mixed-use soccer complex. Miami Freedom Park submitted a draft lease agreement to the city of Miami that outlines the terms of the deal that Miami voters approved in November. The referendum allowed the city to negotiate and execute the 99-year…
Beckham Group Submits Proposed Lease To Miami
David Beckham's plan to build a Major League Soccer stadium and install a team in South Florida is getting closer to reality, as his partners in the proposed Miami Freedom Park project submitted a draft lease agreement to the city of Miami Wednesday. Voters last November gave the OK for the city to negotiate a no-bid contract exclusively with the Beckham group to build on the city-owned…
Miami Office Building Trades for $14 Million
Key International has disposed of Highland Park Center, a Class A office building in Miami. TopMed Realty, a healthcare real estate private equity firm, acquired the asset for $13.9 million. Institutional Property Advisors, a division of Marcus & Millichap, negotiated on behalf of the seller. The asset – located at 1011 NW Sunnybrook Road – previously changed hands in 2014, when it traded for $7.9 million.
Key International, 13th Floor Investments Sell Office Building in Miami for $13.9 Million
Key International and 13th Floor Investments have sold Highland Park Center, a fully occupied, 44,740-square-foot office building in Miami's Health District, for $13.9 million. TopMed Realty, a healthcare real estate private equity firm, acquired the property. Highland Park Center was built in 2011 and is situated two blocks from the Miami-Dade Courthouse and less than one mile from the intersection of…
Developers Snatch Up Land in Hialeah as Property Values Increase
Hialeah calls itself the City of Progress — though the general perception is probably otherwise. While Hialeah doesn't exactly have a reputation as the hottest place to be in Miami, property values show the city is progressing quite well after all. Late last week, the Miami-Dade property appraiser released preliminary estimates of 2019 property values for every city in the county. Among the top three cities…
Prologis Trade And Logistics Lab Opens In Miami
Logistics real estate firm Prologis, Inc. and the Miami-Dade County Public Schools opened the Prologis Trade and Logistics Lab at Miami Springs Senior High School this week, launching a career development program that will reach 300 students, the organizations said. The lab simulates an operational warehouse and uses a Prologis-designed curriculum to educate high school students interested in careers…
As Records Fall, South Florida Industrial CRE Lures Institutional Capital To Local Projects
Last year, Miami added nearly 10,000 jobs in logistics alone — more than double the number added in any previous year and almost half the number created across the state according to Transwestern's most recent market reports. Miami's industrial vacancy rate has been below 5% since 2015, and even with new product having come online, it is still just 4.5%, with activity strongest in North Miami Beach…
Jorge Pérez unveils plan to develop luxury condo tower on Miami Beach's Terminal Island
Related Group CEO Jorge Pérez is reviving plans for a luxury condo project he wants to build in Miami Beach. The Miami condo developer went before the Miami Beach City Commission on Wednesday to present the firm's latest proposal for a waterfront property it owns on Terminal Island. Over the years, Related has proposed building different projects on the 3.7-acre parcel at 120 MacArthur Causeway.
5 More Tech Markets Emerging In Unexpected Places ~ Miami Among Them
Number of metro-area STEM jobs (2018): 93,530 STEM job increase year over year: 2.2% A notable tech company in metro Miami: Magic Leap, which specializes in augmented-reality goggles. The company has already raised $2.3B, an exceptional amount for a startup, and recently obtained $280M from Japanese cellphone service provider NTT DoCoMo, as part of a new partnership between the two. Why…
Aztec Group Provides $11.9 Million Loan for Redevelopment of Office Building in Miami
Aztec Group has provided an $11.9 million loan to 4141 Design LLC, an affiliate of JCube Development, to redevelop an office building in Miami at 30 NE 39th Street. The borrower plans to fully renovate the 15,843-square-foot building to include 6,100 square feet of ground-level retail space, 4,400 square feet of office space on the second and third floors and 4,000 square feet of rooftop event space. The building…
CenterPoint Properties to build massive logistics center at Port Everglades
CenterPoint Properties is planning to build a massive, 296,207-square-foot logistics center at Port Everglades. The Oak Brook, Illinois-based industrial powerhouse is planning to build two logistics/industrial buildings on 16.5 acres at 3413 and 3423 McIntosh Road in Fort Lauderdale. The property will be used for storing cargo coming into Port Everglades that requires U.S. Customs and U.S. Department of…
CenterPoint Properties Breaks Ground on Miami-Area Logistics Park
CenterPoint Properties has just broken ground on Port Everglades International Logistics Center, a two-building industrial and distribution facility totaling 296,207 square feet in Hollywood, Fla. The company signed a ground lease with Port Everglades of Broward County in May 2019 and the project is slated for delivery in Spring 2020. RLC Architects headed up the project design and ANF Group will lead…
Massive I-395, I-95, SR 836 and signature bridge work rolling
All three pieces of the $802 million design-build project encompassing I-395, I-95 and SR 836 are underway and on-schedule, Florida Department of Transportation (FDOT) spokesperson Oscar Gonzalez said. Mr. Gonzalez confirmed this week that while some parts of the design-build project are "being further developed" by contractor Archer-Western-de Moya Joint Venture, FDOT still targets fall 2023…
Naeem Khan fashion studio and school gets new plan
A modified plan for a fashion studio and school on riverfront land owned by Miami-Dade County earned support Monday from the Miami River Commission. On a 9 to 4 vote, the commission recommended approval of the project, with some conditions. New York fashion designer Naeem Khan plans to build a studio for design and manufacture at a county-owned site at 1175 NW South River Drive...
Vote coming on Jackson South Medical Center expansion
Significant additions to Jackson South Medical Center will wait until June 20 for an OK, as Miami-Dade lawmakers Tuesday deferred a hearing and vote on plans to expand the Kendall facility. Sponsor Daniella Levine Cava asked for the deferral. Expansion would enlarge the hospital's campus footprint from roughly 104,000 to more than 360,000 square feet by 2021. Proposed additions include: A four-story…
Developer proposes partnership on Miami's Olympia Theater
A developer is proposing a public-private partnership with the City of Miami for one of the city's most valuable gems: the Olympia Theater at 174 E Flagler Street. Details of the proposal haven't been formally released, but the idea is expected to be a discussion item for city commissioners when they next meet June 13. Daniel Rotenberg, director of the city's Department of Real Estate and Asset Management…
The Plaza Coral Gables scores $100 million construction loan
Agave Holdings, a group that includes the family behind the Jose Cuervo spirits business, closed on a $100 million construction loan for The Plaza Coral Gables. Agave Ponce secured the loan from PNC Bank, according to property records. The Plaza, a major mixed-use project under construction at 2901 Ponce de Leon Boulevard, will have a high-end hotel, Class A office space, retail, and luxury rentals.
HFF Arranges $100M Construction Loan for Mixed-Use Development in Metro Miami
HFF has arranged a $100 million construction loan for the development of The Plaza Coral Gables, a mixed-use project in downtown Coral Gables. Developer Agave Holdings LLC will use the loan to finance the first of two phases of the project. Phase I will include a 14-story, 291,129-square-foot office building; 135 residential units; and 101,439 square feet of retail space. CallisonRTKL is designing the first…
FM Capital Originates $21 Million Loan to Refinance Cold-Storage Warehouse in Miami
FM Capital has provided a $21 million refinancing loan for a cold-storage warehouse in Miami. The 235,758-square-foot warehouse was originally built in 1968 and is located near I-95 with access to the Florida Turnpike. The property was 82 percent leased at the time of the refinancing to South East Frozen Foods and Super Value. The undisclosed borrower will also invest $1.1 million in capital improvements…
Sapir Corp. posts $7 million loss in first quarter of 2019
Developer Alex Sapir's Israeli real estate company Sapir Corp. reported a loss of 26 million shekels in the first quarter, the equivalent of roughly $7.2 million. The company's revenue in the first quarter totaled 23 million shekels, or about $6.4 million, which grew from nearly zero the previous year, Globes, an Israeli financial newspaper, reported. Revenue was up year-over-year because Sapir Corp. bought…
Former NFL star Dumervil adds to North Miami multifamily portfolio
Former NFL star Elvis Dumervil paid $10 million for an apartment building in North Miami, adding to his multifamily portfolio, The Real Deal has learned. Dumervil's Prestige Estates bought the 91-unit Arlington Manor property at 12501 Northeast 13th Avenue, with plans to rename it Prestige Biscayne, said John Sasso of Charles Rutenberg Realty. Sasso and his partner Shuli Stock brokerered…
Avra Jain teams with Bob Zangrillo on $200 million mixed-use project on Miami River
Developer Avra Jain and her partners, who include Bob Zangrillo, are planning a $200 million mixed-use project with a Sixty Hotel along the Miami River. About two years ago, a partnership led by Jain and Zangrillo paid $5 million for partial ownership of the 2.3-acre property at 555 Northwest South River Drive. Zerby Interests, a developer out of Oklahoma City, is the majority owner. Jain's partners include…
Spaces continues its Florida expansion by opening a new location at 1111 Lincoln Road in Miami Beach. CBRE Global Investors inked a 51,064-square-foot lease with the coworking firm, which currently has two locations in the state. The former Suntrust Bank Building underwent significant renovations in 2010, which resulted in 94,488 square feet of creative office and 51,839 square feet of Class A…
Fake sultan sentenced after allegedly defrauding Jeffrey Soffer and others
Two years ago, Anthony Gignac was living the life of royalty. Going by the name "Khaled Al-Saud," he had convinced investors that he was a Saudi Arabian prince and had access to the family's vast trove of wealth. Gignac was sentenced on Friday by a U.S District judge for fraudulently assuming the identity of a member of the Saudi royal family. His scheme caused investors to lose more than $8 million…
American Legion project's developers allegedly stiffed Berkadia of $500K: lawsuit
Berkadia is suing the developers of an American Legion project under construction in Miami's MiMo District, alleging nonpayment of a $500,000 "success fee." Berkadia filed suit against ACRE GCDM Investments and Montreal-based real estate development firm Quadreal Property Group in Miami-Dade Circuit Court this month for breach of contract and unjust enrichment in connection with a $51 million…
Mortgage guarantors Fannie Mae and Freddie Mac to return to private control
More than a decade after the government seized control of Fannie Mae and Freddie Mac, the Trump administration is finalizing a plan to return the mortgage guarantors to private shareholder membership. That would be a boon for investors who have been banking on the move. The proposal could be on President Trump's desk for approval in the coming weeks. The plan will likely be a version of what has…
Leo Ghitis sells office building in Fort Lauderdale's Cypress Creek
Real estate investor Leo Ghitis sold a seven-story Class A office building in Fort Lauderdale's Cypress Creek market for $24.1 million. Ghitis sold the 139,864-square-foot building known as Radice III at 1000 Corporate Drive for $172 per square foot, records show. A company managed by Greenberg Traurig lawyer Paul Berkowitz bought the property. The Radice III is part of the Radice Corporate Center that…
Video: May 2019 Multifamily Update by RealPage Deputy Chief Economist and VP of Asset Optimization Jay Parsons
Deputy Chief Economist and VP of Asset Optimization at Real Page Jay Parson discusses the multifamily property market, touching on topics like rent growth, urban vs suburban multifamily trends and observations, construction costs, and apartment supply levels. He talks about the wide difference today between class A and class B properties, with a 40% difference between the two, and how this insulates…
Two Hialeah construction execs sentenced for defrauding low-income housing program
Two Hialeah construction executives were sentenced by a federal judge after being convicted of hiding people on their payrolls and defrauding the low-income housing tax credit. Aaron Construction Group President Javier Estepa of Davie was sentenced to 51 months in prison, while Vice President Diego Alejandro Estepa Vasquez of Boca Raton was sentenced to 41 months in prison. The sentencing…
Burke Leighton asks $45M for Little Havana apartments
A portfolio of three apartment buildings in Little Havana is being listed for sale for $45 million in one of the largest portfolio listings to hit the market in the… The properties are: the 63-unit, 11-story Ipanema building at 120 Southwest Eighth Avenue; the 60-unit, six-story Victorian building at 1430 Southwest First Street; and the 44-unit, five-story Miramar building at 1023 Southwest Sixth Street.