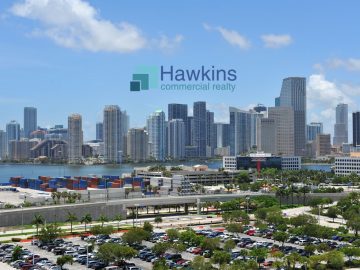 Hyatt, Gencom advance three-tower project planned for Knight Center site
Developers' nearly $2 billion plan to build a hotel and multifamily towers on the Miami River site of the James L. Knight Center and Hyatt complex in downtown Miami is gaining ground. The Miami River Commission unanimously voted on Monday to move forward the proposal by Hyatt Hotels and Gencom to the next step. The board, which is charged…
Trion Properties Acquires Art 88 Apartments Near Miami International Airport for $87.3M
Trion Properties, a private equity investment firm with offices in West Hollywood and Miami, has purchased Art 88 Apartments in Miami for $87.3 million. The seller was not disclosed, but South Florida Business Journal reports that Grand Peak Properties was the previous owner. Built in 1971 within one mile of Miami International Airport, Art 88 comprises 294…
South Florida Retail Real Estate Summary: Leases, Sales & Construction Projects
Market Snapshot for South Florida Retail Real Estate A summary of the statistical highlights, latest retail transactions, vacancy / lease trends, and current market activity for South Florida commercial real estate focusing on Miami-Dade County. The retail real estate report is updated every quarter by our CRE experts. The analysis is derived and compiled from…
Aimco's spinoff Air Communities pays $211M for bayfront Edgewater rental tower
The tower at 2150 North Bayshore Drive in Miami with Air Communities CEO Terry Considine and Mill Creek Residential CEO William MacDonald: Aimco's spinoff Air Communities scooped up a bayfront apartment tower in Miami's Edgewater neighborhood for $211 million. Air Communities, or Apartment Income REIT, bought the 296-unit Watermarc at Biscayne Bay…
Miami Office Property Investment Volume Increased in April
Year-to-date through April, Miami's office market has seen $350 million in investment volume, with the average price reaching $367 per square foot, according to CommercialEdge data. In the first quarter of the year, the metro's office investment volume added up to merely $209 million, but an acceleration in April saw ten properties traded, comprising a combined…
The Sky is Not Falling for Miami's Retail Market as Healthcare, Dining Activity Soars
When the world shut down in March 2020, "Chicken Littles" everywhere proclaimed the end of one of the primary asset classes in commercial real estate: retail. Retail tenants largely abandoned expansion plans and entered survival mode by shifting focus to seeking rent abatements and lease restructurings. Landlords in weak financial positions fought to meet…
Vornado Realty Trust says the land beneath its office building at 330 West 34th Street is worth $145 million. The land's owner, Haymes Investment Company, claims its value is $225 million — entitling Haymes to more than $5 million in additional annual rent. Assuming no further hikes, that would be nearly $170 million over the course of Vornado's 30-year lease.
28 Industrial Acres in The Homestead Park of Commerce Trade for $10.9M+
We are pleased to announce the sale of 28 acres located within The Homestead Park of Commerce in south Miami-Dade County. The closing price was $10,900,000. There was also an additional, non-disclosed assignment fee. The Buyer is EastGroup Properties, Inc. (NYSE: EGP), a S&P Mid-Cap 400 Company who is a self-administered equity real…
Miami hotel room rates up 56% since 2019
Hotel room rates have surged in Miami during the past three years, more so than in several other tourist destinations nationwide. The average daily hotel room rate in Miami for the first five months of the year reached $369.51, according to an analysis from Bloomberg. That represents a 55.6 percent increase from the same period in 2019, when the average was…
$1B Surfside settlement signals condo association, construction insurance premium hikes
The $1 billion-plus Surfside settlement marks a milestone in the lawsuit over the deadly condominium collapse. It also reveals the role of real estate insurance — and is a harbinger of premium hikes that could reverberate across the industry. The insurance carriers for 31 entities are contributing toward the $1.02 billion total disbursement. All who settled have…
The man from Morocco: The untold story of developer Joseph Chetrit
Though his close friends and family might quibble over the precise ingredients required for a good Joseph Chetrit story, they can all agree on one thing: There's probably a negotiation involved. Robert Verrone's favorite took place during the 2006 FIFA World Cup, when the top debt broker and his father attempted to enter a soccer stadium with Chetrit…
City office tower targeted for soccer complex at Melreese
Miami's new city government office building may rise next door to the new Miami Freedom Park, soon home to David Beckham and partners' Major League Soccer stadium and a commercial park. Meeting today (6/9), the city commission is to consider a vote to select the 1550 NW 37th Ave. site for the administrative building. This location is generally where the Melreese…
County may seek bids in July to redevelop 20 acres of downtown Miami
County staff is still working on putting together a bid solicitation to be out in July to redevelop over 20 acres of county-owned land in downtown Miami. "It seems like we're pretty close to a July release," confirmed Commissioner Eileen Higgins, who has been working to present an item to the commission for the redevelopment for over a year and a half.
Construction costs for multifamily housing rise by half
Multifamily developers are still facing delayed shipments of construction material and rising project costs due to inflation and interest rates. Construction costs are up about 50% for most development projects, said Matthew Jacocks, principal for Lee & Associates South Florida, who specializes in multifamily development. "Every month we're having…"
Miami mayor seeks city support of rejected Rickenbacker Causeway plan
Miami city commissioners are considering a continued show of support for the Rickenbacker Causeway Project, also known as Plan Z, advanced by Zyscovich Architects and others. At its meeting today (6/9), the city commission is set to vote on a resolution reaffirming its endorsement of Plan Z and urging Miami-Dade County to immediately reopen the…
Miami's indefinite deferral stalls Marine Stadium restoration
Miami city officials continue to delay action to reauthorize funding necessary for the long-awaited restoration of Miami Marine Stadium. Miami Today reported the possible further delay of the funding in late March. In February, city commissioners sidelined a resolution to reauthorize issuance of bonds to help pay for the restoration.
Despite aid, business struggle in Flagler Street revamp
The 30-month Flagler Street Beautification downtown is starting its second year of construction with businesses struggling to get customers and keep their doors open. Miami's Downtown Development Authority has provided $5,000 apiece to businesses that have been hardest hit by the construction. On Friday, the authority is to add $2,000 more for each to help…
How Much Does a Commercial Building Inspection Cost?
Buying commercial real estate is very different from buying a house. What does a commercial building inspection cost? Many consider real estate of any kind an investment, but commercial real estate has a much more direct impact on your finances than purchasing a house. With residential real estate, you hope that the home will pay off eventually, but with a…
Muy caliente! Little Havana multifamily submarket sizzles with three deals totaling $29M
A trio of Little Havana apartment buildings, 2900 Northwest 7th Street, 1250 Southwest 6th Street, and 718 Northwest First Street, traded for a total of $29 million, a sign investors are flocking to another South Florida multifamily submarket that's catching fire. Investors are scoping out Miami's Little Havana because the neighborhood is experiencing…
Michael Shvo buys ex-Epicure South Beach site with plans for retail-office redevelopment
Michael Shvo along with an aerial view of his newly-acquired retail properties between 16th and 17th Streets along Alton Road in Miami Beach: Michael Shvo is betting big on Miami Beach. The New York developer, who made his debut in South Florida with the purchase of three South Beach hotels in 2019, bought a commercial strip on Alton Road — including…
Lease roundup: Fintech firm moves HQ to Aby Rosen's 100 Biscayne in Miami
FundKite I 100 Biscayne I downtown Miami FundKite is the latest firm in the financial and tech fields to shun New York and opt for Miami. The fintech firm is moving its headquarters into Aby Rosen's 100 Biscayne office tower in downtown Miami. FundKite took 5,302 square feet at the 30-story office building at 100 Biscayne Boulevard, according to a news release…
Here are the residential projects planned for Miami's Wynwood
Developers seem to agree: Wynwood is a winning bet. Similar to other areas of Miami, developers are descending into the neighborhood and have over a dozen projects at various stages in the pipeline. An analysis by The Real Deal found that over 2,200 apartments and condos are coming to Wynwood. That number will likely rise as developers reveal unit…
Alta reels in multifamily dev site near Miami River for $15M
Alta Development picked up an assemblage near the Miami River for $14.6 million, with plans to build a multifamily project. An affiliate of Miami-based Alta Development, led by Principal Henry Pino, bought six properties at 1410, 1420 and 1428 Northwest 14th Avenue; 1420 and 1430 Northwest 14th Terrace; and 1451 Northwest 14th Street, according to records.
Wynwood BID Façade Improvement Grant Program- Inaugural Release
On behalf of the Wynwood Business Improvement District ("BID") Board of Directors ("Board"), we are pleased to announce the inaugural Façade Improvements Grant Program for our District Members. The Grant is aimed at encouraging and assisting businesses and property owners within the district to restore and improve the appearance of their storefront and…
Robert Rivani's Black Lion sells Brickell restaurant space for $13M
Black Lion Investment Group's Miami commercial condo portfolio is a little lighter after selling a waterfront restaurant space for $13 million. An entity managed by Robert Rivani, president of Los Angeles-based Black Lion, sold the 10,700-square-foot space in the mezzanine level of Tower 4 at the Four Ambassadors Condominiums at 801 Brickell Bay Drive, according to…
Here are the resi projects planned for Miami's Edgewater
More than a dozen projects will bring nearly 6,000 apartments and condos to Miami's Edgewater, as developers bet big on the Miami housing market. Developers spent about $500 million on property acquisitions in Edgewater alone since late 2020, an analysis by The Real Deal found. Edgewater is hardly alone — other neighborhoods, like Brickell, also have many…
Richard LeFrak On South Florida, New York Affordability and Succession
Richard LeFrak could well be considered the elder statesman of New York's real estate scene — the scion of a rental empire, the LeFrak Organization, which built and owns tens of millions of square feet there and across the country as well as being a longtime friend of former President Donald Trump. Richard LeFrak's grandfather, Harry, founded the eponymous…
The Fed's Beige Book: Growth Chugs On amid Signs of Inflation's Impact
The Federal Reserve Bank of Atlanta's new Beige Book compilation of on-the-ground reports shows that economic activity kept growing modestly from April through mid-May, with ongoing tightness in labor markets and rising costs. By and large, business contacts continued to report record profit margins, though several noted a "slight dampening of demand…"
Brooklyn developer plans 1,100-unit Fort Lauderdale project
Brooklyn-based developer Dependable Equities is moving forward with its plans for an 1,100-unit luxury rental project in Fort Lauderdale, the latest multifamily proposal in the Broward County city where thousands of apartments are already in the pipeline. The firm, led by Isaac Schlesinger and Rabsky Group co-owner Simon Dushinksy, went before the city's…
Grocery store-anchored shopping center sales ignite South Florida's retail market
Barron Real Estate principal Charles Ladd with JBL Asset ManagementManaging Partner Jacob Khotoveli and Plantation Marketplace at 7023 West Broward Boulevard in Plantation and Rivertowne Square at 1015 South Federal Highway in Deerfield Beach: A flurry of grocery store-anchored shopping center deals is setting South Florida's retail…
Aimco drops $64M for mixed-use dev site in Fort Lauderdale's Flagler Village
Aimco acquired a redevelopment site in Fort Lauderdale's Flagler Village for $64 million that is part of an assemblage for a new mixed-use project An entity managed by executives of the Denver-based real estate development and investment firm bought the former Searstown Plaza at 901-927 North Federal Highway, according to records. The 5.6-acre site has a 155,760…
Nuveen buys Sunrise apartment complex for $44M
Nuveen Real Estate bought the Oasis at Springtree apartment complex in Sunrise for $43.7 million, marking continued investor interest in South Florida multifamily properties. Chicago-based Nuveen Real Estate, through an affiliate, bought the 276-unit, garden-style complex at 3551 Northwest 85th Way from an entity that lists Nancy Kodsi…
Ferreira family buys grocery-anchored North Palm Beach shopping center for $36M
Investors tied to the Ferreira construction and utility companies scooped up the Shoppes at City Centre retail plaza in North Palm Beach for $36 million. Brothers Antonio and Nelson Ferreira, through an affiliate, bought the property at 11201-11261 U.S. Highway 1 from an entity tied to Martin and Irving Osher, according to the broker's release and state…
From tenant to owner: CTS Engines buys 44-acre industrial facility in northern Palm Beach County
CTS Engines paid $16 million for the northern Palm Beach County industrial facility it has been leasing for jet engine testing. CTS, a Fort Lauderdale-based turbine engine maintenance and repair company, purchased the 44.4-arce property at 18855 Bee Line Highway from Apogee Investment Partners, according to the broker's news release. The property is in…
Publix pays $57M for shopping center it anchors in West Palm Beach
Publix boosted its South Florida retail real estate holdings with a $56.5 million acquisition of a West Palm Beach shopping center anchored by one of its stores. The Lakeland-based grocery chain, led by CEO Todd Jones, bought River Bridge Centre, a 229,781-square-foot retail plaza and nine outparcels at 6714-6868 Forest Hill Boulevard, according to a press…
Personal injury lawyers drop $9M for Palm Beach Gardens office building
A trio of Phoenix-based personal injury law partners paid $8.6 million for an office building in Palm Beach County. An entity managed by Sean Greene, Michael Steinger and Michael Feiner bought the two-story building at 11360 North Jog Road 101 in Palm Beach Gardens, records show. The three lawyers head Greene, Steinger & Feiner, a personal injury law…
Bainbridge and TPG team up for $161M purchase of a Jupiter apartment complex
Bainbridge Companies and TPG Real Estate Partners teamed up to buy a Jupiter apartment complex for $161.1 million. Through an affiliate, the joint venture acquired Allure at Abacoa, a 304-unit rental community at 1456 Cades Bay Avenue and 4515 Main Street, according to records. Wellington-based Bainbridge and Fort Worth, Texas-based TPG Real Estate paid…