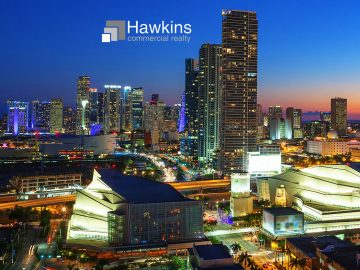 24M-Square-Foot Downtown Miami Metrocenter Moves To RFQ Phase
The massive Metrocenter project in downtown Miami has moved to the Request For Qualification phase, according to the SFBJ. RFQ packages were issued February 10, the report said. After development teams are selected in the RFQ, a Request For Proposals will be issued to get detailed development plans and terms from those teams. The winning bidder will have the right…
Related, BH unveil plans for Icon Aventura
Related Group and BH Group submitted a site plan for their joint venture's proposed mixed-use project in Aventura. The developers plan Icon Aventura as a 26-story tower with 308 apartments, 12,000 square feet of ground-floor retail and a garage on a 4-acre development site at 2999 Northeast 191st Street, according to an application submitted to the city of Aventura.
North Miami Beach Laurenzo's Italian Food Market site could be replaced with 3 towers (Photos)
The former home of Laurenzo's Italian Market in North Miami Beach could be redeveloped into a mixed-use project with three towers. May NMB LLC, an affiliate of Lakewood, New Jersey-based Accurate Builders, filed a municipal pre-application with Miami-Dade County concerning the 3.03-acre site at 16445 and 16385 W. Dixie Highway, plus 2255 N.E. 164th St. The site…
Terreno closes on $174M Countyline Corporate Park dev site
Terreno Realty closed on its purchase of a 123-acre development site at Countyline Corporate Park in Hialeah. The real estate investment trust paid $173.6 million for land on the northern edge of the industrial campus, with plans to develop 10 distribution facilities spanning up to 2.2 million square feet, according to real estate database Vizzda and the buyer's filings to the Securities…
Chart: Adjusting Value Perceptions for the Recent Inflation Surge
We had an exceedingly long stretch of low inflation. In the five years that ended five years ago (2012 to 2017), prices as measured by the CPI increased a mere 7.17% total, a 1.39% annualized rate. It had been this way for so long, people in general forgot how to adjust their valuation perceptions. We intuitively consider value to be largely set, i.e. to not generally move over time.
LVMH & Jungle Island? Talks Reportedly Underway, New Renderings Released
LVMH is said to be in talks with the owners of Jungle Island to partner on dining and entertainment at the resort, according to World Red Eye. New renderings of the project have also been released. In December, plans were submitted to Miami's Urban Development Review Board for an expansion of the complex, including a 12-story, 300 room resort hotel, and a 7-story parking…
Rickenbacker Causeway master plan on fast track
Expediting a Rickenbacker Causeway upgrade, Miami-Dade Mayor Daniella Levine Cava told commissioners last week that the administration is selecting a consultant for a causeway master plan due early next year. The master plan, her memo said, is geared for causeway improvements "to work to aggressively prioritize pedestrians' and cyclists' safety" along the only…
Miami's Pull As A Corporate Relocation Magnet Is Only Getting Stronger
Most of the corporate headlines in 2023 so far have focused on layoffs and cost-cutting, but just like in 2022, the news in Miami is playing a different tune. This month alone, global banking giant Rothschild & Co. signed a lease for its first Miami office, Silicon Valley tech firm LeverX moved its global headquarters to the Magic City, and local IT company Kaseya announced…
DXD Capital Harnesses Allapattah Apartment Density for $19M Self-Storage Development
DXD Capital, a real estate and private equity fund based in Albuquerque, NM, is building a $18.7-million self-storage project located the Allapattah submarket of Miami, FL. The facility will be a five-story building with 865 units situated in an area with strong rental growth. According to DXD Capital, Allapattah is a prime market for self-storage due to its high multifamily occupancy…
DXD Capital plans $19M Allapattah self-storage project
DXD Capital is breaking ground this week on a $18.7 million self-storage facility in Miami, The Real Deal has learned. The Albuquerque-based real estate development and private equity firm is planning a five-story building with 865 units at 3500 Northwest 35th Street in the city's Allapattah neighborhood, according to a press release. The facility will be managed and operated…
Miami Center for Mental Health and Recovery nears opening
The judge spearheading a project to end the homelessness-to-jail cycle confirmed the Miami Center for Mental Health and Recovery will open this year. The pioneer facility is to be a one-stop shop for primary care and psychiatric services for unhoused people with acute mental illnesses who are in the criminal justice system or at risk of entering it. Miami-Dade County…
Havenicks finalize $96M sale of Magic City Casino
The Havenick family's era at Magic City Casino is officially over. PCI Gaming Authority, an affiliate of Alabama-based Poarch Band of Creek Indians, paid $96 million for the nearly 30-acre gambling site at 450 Northwest 37th Avenue, according to records and Vizzda. The deal is part of PCI's acquisition of Magic City Casino's operations, inventory, and state gambling license…
43-story Edgewater residences to feature robotic parking
A new mixed-use residential tower is planned for Miami's Edgewater neighborhood, and with it a robotic parking system. Nardware Properties LLC and 510 NE 34TH LLC are the owners and developers of the properties at the southeast corner of Northeast 34th Street and Fifth Avenue. The project, One Edgewater, is to include a 43-story tower with 204 residential units…
Miami denies appeal, Marine Stadium boat ramp on fast track
The city is proceeding with plans to construct a new boat ramp at Miami Marine Stadium as it denied an appeal last week that listed more than 20 reasons why it shouldn't. On Feb. 23, city commissioners heard an appeal by the Dade Heritage Trust urging they reverse the Planning, Zoning and Appeals Board (PZAB) decision recommending an exception to the Miami 21 code…
Brickell-based Kaseya gets incentive to add 3,400 IT jobs
Information technology and security management software company Kaseya has announced it will create 3,400 new tech jobs in three years, the largest tech job creation project in the county, along with a $16 million capital investment. Supported by the Miami-Dade Beacon Council, the county's official public-private economic development partnership, under its Miami-Dade…
41st Street is Main Street in government vs. the people battle
Community news isn't just local: some has broad, even national, implications. Our report last week on a meeting to revamp Miami Beach's 41st Street should resonate wherever government decides what an area should be like. The tensions are similar. As our web headline said: "Miami Beach hypes aesthetics, residents just want the parking." Planners showed a finished $500,000 design…
Brickell's St. Regis Residences Gets Water & Sewer Utilities
The developers of the St. Regis Residences project in Brickell have signed a deal with Miami-Dade to supply water and sewer. According to the February 22 agreement, St. Regis Residences will include: 350 residential units 30 hotel rooms The developer will pay a connection charge estimated at $97,720.20. There's also a Brickell Basin II sanitary sewer special connection charge…
Most Residents Living Car Free At New 1600 Unit Transit Oriented Development
Link at Douglas, a massive transit-oriented development next to the Metrorail, is attracting lots of residents living a car-free lifestyle. More than half of residents who have moved into the newly completed apartments don't have a car, the developer told Local10. The Douglas Road Metrorail station is attached to the complex and is getting a beautification as part of the project.
FDOT Considers Double Decking Julia Tuttle Causeway
FDOT is considering adding a double deck to the Julia Tuttle causeway. An "overhead viaduct" for the Julia Tuttle is one of several possibilities being considered by the agency to expand highway capacity. Miami Today first reported on the possibility. The project is currently in the Project Development and Environment phase. This PD&E Study started in June 2022…
249-Unit Apartment Building Proposed Near River Landing
An 8-story apartment building has been proposed in Allapattah. The project is proposed to include: 249 dwelling units 8,753 square feet of retail an on-site parking garage providing 425 parking spaces Metrorail's Civic Center station is an 8 minute walk from the site, according to Google Maps. The project was submitted to Miami's Urban Development Review Board…
Commissioners Approve Buena Vista Yards Intensity Preservation Area In Midtown Miami
Miami commissioners voted February 23 to approve the Buena Vista Yards Intensity Preservation Area. They also voted to approve a second item amending the Midtown overlay district. The items cover residential density, floor area, and building height in the area. According to an explanation attached to the Buena Vista Yards Intensity Preservation Area…
Twist owner buys nightclub's South Beach building
Joel Stedman, owner of South Beach gay nightclub Twist, purchased the venue's building. Stedman, through an affiliate, bought the two-story, 9,600-square-foot building at 1057 Washington Avenue for $7.6 million from an entity led by Olga Rodriguez of Coral Gables, according to records and real estate database Vizzda. The deal marks the first time the South Beach…
MG Developer could replace 20 homes in Hialeah with apartment complex
MG Developer wants to replace a full block of 20 single-family homes in Hialeah with an apartment complex. The City Council will consider a land use amendment for the 3.84-acre site a block west of the Hialeah Tri-Rail/Metrorail Transfer Station on Feb. 28. It covers 901 to 983 East 26th Street and 906 to 990 East 27th Street. Metro Parc Hialeah II LLC, an affiliate of Coral…
Miami development site prices nosedive
At this time last year, Miami developer Harvey Hernandez found himself in a tough seller's market as he competed with out-of-state high-rise builders for land deals in the city. "It was very difficult to do a deal," Hernandez said. "Expectations were much higher than we thought land values were. Even if we found something that made sense, the pricing and the conditions were…
Mast Capital, Angelo Gordon Sell 306-Unit Townhome Community in Homestead
Mast Capital, in partnership with Angelo Gordon, has sold Seascape Pointe, a townhome community located in Homestead, roughly 40 miles southwest of Miami. IMC Equity Group purchased the property for an undisclosed price. Located on 31.7 acres at 1140 S.E. 24th Road, the Seascape Pointe features 54 buildings comprising 306 two-story, direct-access townhomes.
South Florida's surge in office demand skirts Broward
South Florida's office market is still riding a wave of Covid-era corporate migration to the Sunshine State. But it's clear that most of the benefits are accruing to Miami-Dade and Palm Beach counties, with Broward County largely missing out. In Miami-Dade, net office absorption jumped more than 30 percent, year-over-year, in the fourth quarter of 2022, finishing the year…
Commercial Borrowers Seek Flexibility Amid Volatile Lending Landscape
After eight interest rate hikes totaling 450 basis points over the last 10 months, courtesy of the Federal Reserve's war on inflation, commercial borrowers can only hope that the fundamental law of gravity — "what goes up must come down" — will start to become reality in 2023. But the economic clarity that the commercial lending community seeks is muddied…
Top Markets for Multifamily Deliveries 2022; Miami Comes in Fourth
Image by BarryD via Pixabay.com Rising inflation and interest rates have softened the amount of incoming multifamily stock in 2022. The record amount delivered in 2021—when 433,838 units were brought online—was always going to be tough to outdo, but few expected the drop-off to be as significant in 2022, which ended with 348,714 units delivered nationally…
Terra and AB Nab $44M to Begin Work on Coconut Grove Lux Condo
Terra and AB Asset Management secured a $43.2 million loan to begin site work for a luxury condo in Miami's Coconut Grove neighborhood, the lenders and developers announced. The five-story project, called the Residences in the Grove, will feature 148 units as well as 22,000 square feet of wellness-focused retail space on the ground floor.
BlackRock Renews Lease at Brickell Office Tower
BlackRock has renewed its 5,103-square-foot lease at 701 Brickell in Miami's Financial District, according to the brokerage that represented the landlord, Nuveen Real Estate. BlackRock, the world's largest asset manager, opened its Miami office in 2018 on the 12th floor of the 33-story building, providing space for roughly 40 employees. Last August, it leased a second…
Proposed laws could have "chilling effect" on challenges to development approvals
The Florida Legislature is considering two sets of laws that aim to impose responsibility for attorneys' fees in cases where litigants challenge local development approvals. The first group of laws, Florida House Bill 359 and Senate Bill 540, filed in January, would mandate that those who sue local governments over approvals pay the municipalities' legal fees…
MG3 scoops up office building dev site in Aventura
MG3 Group bought a development site in Aventura in a bet on the city's growth as an office market. MG3 paid $10 million for the assemblage at 21001 Biscayne Boulevard near Aventura Hospital, according to records and real estate database Vizzda. The firm plans to include medical office space in its project. The deal, which breaks down to $9.5 million per acre, comes…
Rothschild opening first Miami office at Doronin's 830 Brickell
Rothschild & Co. leased space at 830 Brickell for its first Miami office. The Rothschild family's global financial services firm took 5,000 square feet at the 55-story tower being developed by Vlad Doronin's OKO Group and Jonathan Goldstein's Cain International at 830 Brickell Plaza, according to the ownership group. The deal marks a continuation of the influx of new-to-market…
10-Story Condo Building Designed By Arquitectonica Planned In Miami Beach
Developers have filed plans for a 10-story condo building in North Beach. The property is at 6940 Abbott Avenue and was formerly owned by AT&T. The new building is planned to include: 96 residential units ground floor retail and co-working space rooftop pool, lounge, fitness, and pickleball court 90 parking spaces on levels 2 and 3 21 of the units will be below 550…
Mo Vaughn's Omni America proposes mixed-use project on Edgewater-Wynwood border
Former Major League Baseball star Mo Vaughn's company is planning a $17 million mixed-use project on the border of Miami's Edgewater and Wynwood. An affiliate of Omni America, the New York-based development firm co-founded by Vaughn and his partner Eugene Schneur, recently submitted plans with the city of Miami's building department for Omni 21.
Experts warn rising sea levels caused billions in damages in costal communities
On Wednesday, climate experts raised concerns to the U.S. Senate Committee on the Budget about rising sea levels and tidal flooding caused by global warming, warning that such changes are responsible for billions of dollars in damages to coastal communities. In the hearing titled, "Rising Seas, Rising Costs" experts also warned that the risk is still growing. Matthew Eby…
Demolition Underway At Edgewater Site Where 199 Room Hotel Planned
Two Edgewater buildings are now being demolished, on a site where a hotel is planned. Records show that two demolition permits were issued January 11, for buildings at 229 and 237 NE 32nd Street. The multifamily buildings being demolished date to 1925 and 1947, with a combined 14 living units. Green Circle Development LLC owns the properties, along with the adjacent 3200…
Renderings Show Omni 21 Apartment Building Planned In Edgewater
Newly obtained renderings show an apartment building called Omni 21 that is close to construction next to the Braman Motors property in Edgewater. The plans were submitted to Miami's Planning Department in February 2022, with a request for 7 waivers – including a 30% parking requirement reduction due to proximity to a transit corridor. Omni 21 is planned to rise 12 stories…