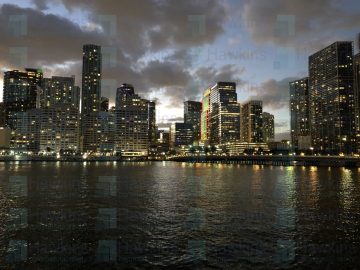 Ruger proposes 76-room hotel near Miami Beach Convention Center
Ruger Holdings KG plans to convert an apartment building near the Miami Beach Convention Center into a hotel, The Real Deal has learned. On Monday, the Miami Beach Preservation Board will consider Cologne, Germany-based Ruger's proposal to renovate and partially demolish Riviera Plaza, a Mediterranean Revival building at 337 20th Street. Completed in 1926…
Mast Capital JV Breaks Ground on Luxury Miami Project
Mast Capital and Rockpoint have begun construction on a 178-unit luxury community in Miami Beach, Fla. Nine stories tall, the development is anticipated to deliver in the fall of 2024. Construction began in February. Last November, the partnership landed $64 million in construction financing for the project from PNC Bank. Situated at 3900 Alton Rd., the community…
Logistics firm pays $17M for Brownsville industrial site
Miami-based logistics firm Bulk Express Transport snagged an industrial site in the city's Brownsville neighborhood for $17 million. A Bulk Express affiliate paid $3.8 million per acre for the 4.4-acre site with a 14,000-square-foot warehouse, according to Vizzda. The buyer obtained a $13 million mortgage from Banesco USA. The seller, CUSA Investments managed…
In Miami Population Surge, Brickell Zip Codes Rank Highest
Two Brickell zip codes are the top ranked for people moving from out of state, according to a new analysis of Miami's population surge by moveBuddha. The study analyzed searches by individuals who were either planning to move themselves or hire a moving company in the subsequent year. Brickell had significantly more inbound moving demand than outbound. Brickell's 33131 zip code…
New Jersey investor proposes Miami Overtown mixed-use project
A New Jersey investor is proposing a 25-story mixed-use project in Miami's Overtown neighborhood. The Miami Urban Development Review Board on Wednesday will consider… 413 apartments, 23,000 square feet of ground-floor retail and a parking garage. The 1.3-acre vacant development site is at 1135 Northwest First Court… An entity managed by Mitchell Newman in Morganville…
"A phenomenon": What's holding up South Florida projects?
Developer Jerry Aguirre has plans for a 220-unit apartment complex in West Kendall. But until next year, or maybe even 2025, the community will exist only on paper, as the site remains untouched by construction crews. "We want to start construction," said Aguirre, co-founder of Miami-Dade County-based SH Communities. "But we need to hold it." The project is on pause…
Brickell Area Street Proposed To Become One-Way Due To 'Large Amounts Of Pedestrian Traffic'
Miami commissioners are set to vote on a resolution that could see a busy Brickell Street reconfigured. The change is proposed for a 338 foot stretch of Southwest 9 Street, from Brickell Plaza to South Miami Avenue. The buildings on that stretch include: the 58-story SLS Lux (completed in 2018), a multi-level Chabad Shul and community center (completed 2014), and the…
LeFrak, Turnberry Break Ground on Miami Luxury Tower
Oleta Partners, a joint venture between LeFrak and Turnberry, has broken ground on 2400 Laguna Circle, a 328-unit luxury multifamily community in North Miami, Fla. The 30-story tower is the fourth residential project at SoLe Mia, a $4 billion master-planned development. Designed by Arquitectonica and Stantec, the high-rise is expected to deliver in 2025. The property will encompass…
Club Studio Fitness Concept Signs 38,400 SF Lease at Grove Central Mixed-Use Development in Miami
Club Studio, a fitness retail concept and part of Fitness International LLC, has signed a 38,400-square-foot lease at Grove Central, a mixed-use development underway in Miami's Coconut Grove neighborhood. A joint venture between Miami-based developers Terra and Grass River Property is developing Grove Central, which is expected to open in 2024. The project will feature a 23-story…
Sports bar Bru's Room wins $6M judgment against former landlord
A South Florida sports bar won a $6.1 million judgment against its former landlord at a Miami-Dade County shopping center. Miami-Dade Circuit Court Judge Charles Johnson ruled last week that Bru's Room Sports Grill was wrongfully evicted from 84 Shopping Plaza at 8358 Southwest 40th Street in the unincorporated Miami-Dade neighborhood of Westchester.
Retail Real Estate 101: 6 Questions and Answers
Whether you want to invest in commercial real estate ('CRE' sectors, such as retail real estate) or get the best deal on a lease, understanding the fundamentals of commercial real estate can help you make the best decisions. Let's begin with a definition: what exactly is commercial real estate? Any real estate utilized solely for…
Way cleared for Miami Fire Station 4 inside 64-story tower
The City of Miami amended an agreement with the developer of a 64-story tower in Brickell to expedite the project and a complementary fire station included in the deal. Commissioners last week unanimously approved an amendment to the public benefits agreement with 191 SW 12 Owner LLC, an affiliate of the New York-based JDS Development Group behind One Southside Park.
PortMiami builds team for billions in new projects
A total of $17.6 million was divided equally among four contractors by county commissioners last week, a step forward in Miami-Dade County's masterplan for Port Miami. "The current magnitude of the Seaport's Capital Improvements Program (its 2035 master plan) and its complexity," Mayor Daniella Levine Cava explained in a report to the commission, "requires teams of qualified…"
Two Roads seeks approval for Edgewater mega-project
A mega-project that would add another 705 condos to Miami's Edgewater neighborhood is up for a key city vote tied to its design. The Miami Urban Development Review Board on Wednesday will consider approving a three-tower development that includes an Edition-branded condominium at 2121 North Bayshore Drive. Two Roads Development, a Miami-based and…
One Biscayne Tower seeks zero setback makeover
One of Downtown Miami's longstanding and high-profile skyscrapers is planning a major new look and other exterior improvements. One Biscayne Tower, at 2 S Biscayne Blvd., is a 40-story multi-tenant office and mixed-use project owned by CP Group. The city's Urban Development Review Board recommended approval of its modification plans to the planning director.
Chilean developer launches Artefacto-branded condo project
A Chilean developer is launching sales of a waterfront condo project planned for Bay Harbor Islands, adding to the pipeline of new developments in the town, as well as the trend of branded buildings across South Florida. VDA | Origin Miami, led by Mauricio Moya and Sergio Guzmán, is developing Origin Residences by Artefacto, a 27-unit condo building planned…
With $215 million funding, vast Wynwood Plaza gets moving
The owner-developer behind one of the largest mixed-use residential and office projects to rise in Wynwood, The Wynwood Plaza, held a groundbreaking after announcing it has secured major funding for the… development. The milestone was announced by L&L Holding Company and Oak Row Equities, along with project partner Shorenstein Properties and co-investor Claure Group…
310 Apartments Proposed Across From Kush In Wynwood
Plans have just been sent to Miami's Urban Development Board for an apartment building in Wynwood. The 11-story project is proposed to include: 310 residential units 9,909 square feet of commercial 311 parking spaces There are 5 walk-up residential units on the ground floor, in addition to commercial space. Zoning would normally require 431 parking spaces. The developer…
166-Unit Apartment Building Proposed On Coral Way
Plans have just been sent to Miami's Urban Development Board for an apartment building on Coral Way. A gas station is currently on the property. The 10-story project is proposed to include: 166 residential units 10,100 square feet of commercial 283 parking spaces The proposed number of parking spaces is exactly at the minimum required by the Miami 21 zoning code.
Urban Network Capital Group to Develop $50M Condo-Hotel Project in Miami
Urban Network Capital Group (UNCG) has announced plans for Visions at Brickell Station, a 111-unit condominium/hotel project in Miami. Upon completion, the community will feature residences in studio and one-bedroom layouts, with no rental restrictions. Owners of the units will be able to rent them out through a booking platform or participate in a professionally managed program.
Oleta Partners Breaks Ground on 30-Story Residential Tower in North Miami
Oleta Partners, a joint venture between developers LeFrak and Turnberry, has broken ground on 2400 Laguna Circle, a 30-story residential tower in North Miami. Situated within the 184-acre master planned community SoLé Mia, the multifamily development will feature 328 rental residences ranging in size from 686 to 1,315 square feet. Arquitectonica and Stantec are the architects…
Plans Submitted For Three Towers At Biscayne 21 In Edgewater, Rising 649 Feet Each
A developer has submitted plans to Miami's Urban Development Review Board for a three tower project in Edgewater called Biscayne 21. Sales for one of the towers, known as Edition Residences, is already underway. All three of the towers are proposed to rise 649 feet above sea level, which is the maximum permitted by aviation rules in the area. Two will have 56 stories, and one…
New: Building With 424 Residential Units Planned Near Metromover Station
Plans have just been sent to Miami's Urban Development Board for a 26-story residential project near a Metromover station. Renderings in the submittal show the name of the project as Excel Miami. The project is proposed to top off at 474 feet and include: 424 residential units (of which 216 will be micro-units) 128 off-street parking spaces No retail is shown in the plans.
LeFrak & Turnberry Break Ground On 'World Class' Luxury Apartment Tower At SoleMia
A 30-story luxury apartment tower has just broken ground in North Miami. Oleta Partners, a joint venture between LeFrak and Turnberry, said in a press release that they had begun construction on 2400 Laguna Circle at SoLé Mia. "We are creating a world class, luxury residential tower within the vibrant, growing community of SoLé Mia which will set a new standard…"
Florida commercial property in for big insurance hikes this year
Florida commercial property owners that have been dealing with escalating insurance costs for years are in for more bad news. This year, insurance rates in the state are expected to go up by 45 percent to 50 percent, and a doubling of premiums won't be out of the question, according to a new Yardi Matrix report. While coastal regions are most susceptible to hurricane damage…
Video: Costar's National Director of Office Analytics Phil Mobley Provides 2023 Office Market Update, Outlook
In these America's Commercial Real Estate Show videos, Phil Mobley, National Director Office Analytics at CoStar Group, provides an office market update, then offers his thoughts on the office market moving forward to 2023 and 24. The office market update is particularly interesting given that the COVID-19 experience has largely been put behind us. Discussions include office…
The Fed's Beige Book: Housing, Child Care Continue to Constrain Labor Supply
Economic activity across the Southeast grew modestly in January and early February as employers reported some easing of labor shortages despite continued reports that scarce affordable housing and child care discouraged some low-wage workers from seeking full-time jobs, according to the Federal Reserve Bank of Atlanta's new Beige Book report of economic…
TPA pays $36M for industrial dev site in Palm Beach County
TPA Group bought an industrial development site west of Loxahatchee Groves for $36 million. The Atlanta-based firm bought nearly 60 acres of land at 20305 State Road 80, in an unincorporated area of west Palm Beach County, from an affiliate of mining company Palm Beach Aggregates, according to records and real estate database Vizzda. TPA took out a $10 million loan…
Bucking the trend: Mega church plans to convert Jupiter gym to house of worship
While churches across South Florida are selling off properties to developers, a mega church in Palm Beach County is planning to convert a gym into a house of worship. Christ Fellowship Church has applied for a special exception to convert the 20,000-square-foot Jupiter Fitness Center at 1200 West Indiantown Road to a church with seating for 368, according to Jupiter…