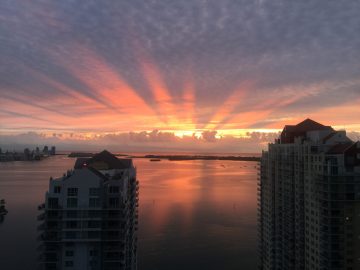 SoFla landlords, retailers brace for coronavirus impacts
FroCommercial landlord Scott Sherman is trying to get ahead of potential losses and hardship South Florida retail tenants are facing. His Miami-based Tricera Capital is giving them the ability to defer rent payments for the near future, as bars and restaurants are forced to close and the fallout from the coronavirus pandemic unfolds. Across South Florida, from…
Barry Sternlicht calls coronavirus "World War III for 90 days"
Barry Sternlicht has voiced worries of the next "calamitous recession," but now he is optimistic that the epic disruption of the global coronavirus pandemic will be over in three months. "I don't think in the history of the world have you ever had this many labs, this many people focused on a cure or a vaccine with technology that didn't…
Insight into the coronavirus impact on commercial real estate
There's a lot of economic comparisons between the Great Recession and the coronavirus, but there are a couple of key differences this time when it comes to commercial real estate, says Marc Shuster, a partner at the Berger Singerman law firm. Shuster brings a lot of insight from representing family offices, high net worth individuals and private equity funds. Those…
Social distancing? Coronavirus not stopping South Florida construction projects — for now
The concrete will continue pouring at South Florida construction sites. As other aspects of everyday life are shut down due to the coronavirus pandemic, the building industry is still forging ahead — for now, according to general contractors, trade association representatives and government officials. Peter Dyga, president and CEO of Associated Builders and…
Starbucks transitioning to temporary "To-Go" model
In light of recent public health concerns, all company-owned Starbucks stores in the U.S. will be open for to-go and delivery orders only. This decision was made public on March 15th and, according to Starbucks representatives, will remain in effect for at least two weeks. Though the high-traffic chain has shut down all indoor and outdoor seating…
International Council of Shopping Centers requests federal help amid massive shutdowns
The International Council of Shopping Centers is requesting aid from the Trump administration amid a host of restaurants, retailers and entertainment operators shutting down. ICSC wants the federal government to directly pay for or guarantee business interruption coverage for retailers, restaurants and other impacted businesses, according to the Wall Street…
Trump suspends HUD evictions, foreclosures amid coronavirus pandemic
President Donald Trump announced Tuesday that the Department of Housing and Urban Development will suspend all foreclosures and evictions through April in response to the coronavirus pandemic. The moratorium would apply to mortgages insured by the department's Federal Housing Administration, or around 8.1 million households, according to…
"We are not close to the bottom in the US": Hotels suffer declining revenues, mass layoffs
By every conventional measure, the hotel industry took a beating last week as the country went further into lockdown to contain the spread of the coronavirus. Occupancies, average daily room rates and revenues per available room fell drastically last week, according to new figures from the hospitality research firm STR. "Through comparative analysis of the…"
Miami Self Storage Portfolio Commands $44M Refi
Two of the properties are situated in Miami, at 490 NW 36th Street and 1100 NE 76th Street, while the third one is located at 812 NW First St., in Fort Lauderdale, Fla. CubeSmart manages the Miami facilities, while Public Storage operates the one in Fort Lauderdale. The portfolio encompasses 1,836 units spread across three multi-story buildings, which came online…
Airbnb calls for federal aid as hosts voice anger over policy changes
Airbnb's business model relies on making both hosts and guests happy, but the startup is facing pushback from both sides as it flip-flops over who should cover the cost of cancellations. With demand for short-term rentals falling amid a global coronavirus pandemic, the company is now seeking government support for its hosts. But many of them have voiced anger…
Miami lacks appetite for new food truck regulations
Legislation that would add additional food trucks regulations in the City of Miami has stalled, as the discussion among commissioners centered on the ways food trucks operate in the city among brick-and-mortar businesses. Last week, city commissioners deferred an item sponsored by Commissioner Ken Russell that would address food trucks operating…
Property insurance costs likely to soar
There may be bright spots on the commercial insurance horizon – workers' compensation among them – but property insurance won't be one of them, said Mark Schwartz, CEO of Corporate Insurance Advisors. "In general, we are a cat-exposed state," he said, meaning frequent hurricanes dampen the profitability of insurers and re-insurers in Florida, causing many to leave…
Allapattah midrise plans 47 micro-unit apartments
A developer plans to build a midrise building in Allapattah that will include smaller micro unit apartments. 2323 Pointe Group LLC is asking the City of Miami to approve its plan to construct an 8-story mixed-use residential building at 2323 NW 36th Street. The city's Urban Development Review Board recommended approval. The project's working name is 2323…
State to order bars shut for 30 days
The normally festive St. Patrick's Day took on a very somber note Tuesday as Florida Gov. Ron DeSantis planned a 5 p.m. press conference to issue an order for bars to close for 30 days, multiple media outlets were reporting. Bars are being defined as establishments where more than 50 percent of sales are from alcoholic beverages. Restaurants will be told to reduce…
Real estate pros weigh in Fed and Trump's moves to bolster economy from COVID-19 pains
The Trump administration's effort to work with Congress on an $850 billion stimulus package to bolster the economy may be getting a positive response from investors, but it may not be enough to ultimately calm markets and those same investors. As the U.S. fights to contain the coronavirus epidemic, the Federal Reserve on Tuesday resurrected a program…
SoftBank may bail on WeWork bailout: report
SoftBank no longer plans to proceed with all of its bailout of WeWork, justifying its decision to back out of its $3 billion pledge to buy shares back from investors by citing several regulatory investigations of the troubled shared office–space giant. According to the Wall Street Journal, WeWork's shareholders were sent a notice Tuesday stating that SoftBank believes…
Eric the Jeweler blames Mondrian South Beach owners for $2M heist: lawsuit
Eric the Jeweler suing Mondrian South Beach owners Eric Mavachev, a New York City jeweler who counts Sean "Diddy" Combs and Drake among his A-list clientele, is blaming the owners and two employees of the Mondrian South Beach Hotel for the theft of nearly $2 million in baubles from his hotel room last month, according to a recently filed lawsuit. Mavachev…
Restaurants, bars, gyms and theaters ordered to close in Miami-Dade
Miami-Dade County ordered all restaurant dining rooms, bars, gyms, movie theaters, bowling alleys and other businesses closed due to coronavirus, or COVID-19. Deputy Mayor Jennifer Moon made the announcement along with Miami Beach Mayor Dan Gelber on Tuesday morning at a press conference at Joe's Stone Crab in South Beach. The order will go into…
CenterPoint Properties Acquires Airport-Adjacent Land Site In Miami-Dade County
CenterPoint Properties has announced the acquisition of a 17.14-acre land site in the Miami-Dade County submarket. Located at 3200 NW 67th Avenue in Miami, this site is currently 100% leased to a leading e-commerce retailer. Located in the highly coveted "Airport West" submarket of Miami-Dade County, the property is directly adjacent to Miami International…
With curfews and public assembly restrictions, what will happen to malls?
As cities around the country curtail large public gatherings, institute curfews and shut down schools to prevent the spread of the coronavirus, questions hang over the fate of malls — which have already been on a knife's edge thanks to retailer bankruptcies and store closures. Some industry watchers have said retail will be among the first industries to…
Coronavirus closures hit South Florida restaurants and stores
Popular Miami restaurants like Mandolin Aegean Bistro and Cafe La Trova are temporarily closing their doors amid the coronavirus crisis. National retailers are announcing closures by the hour. In Miami-Dade County, all bars and clubs must close by 10 p.m., and all restaurants by 11 p.m. The wave of closures is expected to continue locally and throughout the county…
Starwood snags Homestead apartment complex for $28M
An affiliate of Starwood Capital Group bought the Villa Biscayne Apartments in Homestead for $28.3 million, reflecting growing demand for multifamily properties in south Miami-Dade County. A company tied to Michael J. Hornbrook, president of Lakeside Capital, sold the 180-unit complex at 15350 Southwest 284th Street for $157,222 per unit to…
Building towers with stone could be the future, architects say
A group of architects wants to bring their practice back to the stone age. Groupwork and structural engineering firm Webb Yates collaboratively designed a 30-story office tower built of stone they say could be cheaper and more sustainable than a similar tower built with steel or concrete, according to Dezeen. The project was an investigation of how tall one…
Miami Beach orders all restaurants with occupancy over 250 to close or reduce capacity due to coronavirus
The city of Miami Beach late Friday ordered all restaurants and nightclubs with occupancy of over 250 people to cease operations due to the coronavirus pandemic. Restaurants and nightclubs can remain open if they maintain a capacity of fewer than 250 people, according to the city's announcement. Miami Beach's mayor and commission extended the…
Carl Icahn's biggest short? Commercial real estate
The U.S. commercial real estate market is ripe for a meltdown, according to activist investor and notorious corporate raider Carl Icahn. And he's putting a lot of money where his mouth is. "You're going to have this blow up, too, and nobody's even looking at it," Icahn said on CNBC. The investor revealed that he's shorting the commercial mortgage bond market, noting that it…
Miami-Dade suspends evictions due to coronavirus
Miami-Dade suspended all eviction activities amid the coronavirus pandemic. The county's police department announced it would not assist with evictions now that Miami-Dade County is under a state of emergency. Mayor Carlos Gimenez, who self-isolated after a meeting with Brazilian President Jair Bolsonaro's aide, declared the state of emergency on…
Coronavirus threat could help sink Anbang's $5.8B hotels deal: report
CEO Andrew Miller and clockwise from top left: JW Marriott Essex House in New York, the Westin St. Francis in San Francisco and the Four Seasons in Jackson Hole Anbang Insurance Group's pending deal to sell a $5.8 billion portfolio of 15 U.S. hotels to a South Korean money manager could be in doubt. A group of lenders led by Goldman Sachs failed to receive enough…
Edgewater condo building hits market as dev site
An older condo building on a 3.4-acre waterfront site in Miami's Edgewater neighborhood is hitting the market and could be redeveloped into a 60-story tower. The older condo building, called Biscayne 21, at 2121 North Bayshore Drive, could be sold in a bulk deal. It represents one of the last remaining waterfront development opportunities in Miami's Edgewater…
Developer breaks ground on mixed-income rentals in Little Havana
Rendering of Bonsai I with Ivanna Jimenez, Fernando Murzi and Jesus Luongo A Miami developer is taking advantage of the city's mixed-income housing program to build a rental development in Little Havana. Forth Development, founded by Ivanna Jimenez, Fernando Murzi and Jesus Luongo, broke ground on Bonsai I, an eight-unit building at 519…
Wynwood BID proposes to allow outdoor music until 3 a.m.
If they agree to keep the volume down, Wynwood nightclub and bar owners could get a reprieve for playing outdoor music into the wee hours of the night. On Wednesday, a Wynwood Business Improvement District committee proposed legislation that would carve out an exemption for the trendy neighborhood from adhering to a Miami ordinance that prohibits…
How Quickly Does Fiscal Policy Get Implemented?
There are recent calls for fiscal policy intervention to mitigate the economic impact of the COVID-19 virus outbreak. It is worth recognizing that fiscal and other stabilization policies exhibit "long and variable lags," as noted by Nobel-prize winning economist Milton Friedman.1 These lags involve moving from (i) the initial proposals to conduct a stimulus policy to (ii) the…